QUESTION: I'm trying to embrace intuitive eating but I'm new to the idea of rejecting diets and allowing all foods. I find I'm struggling with really intense cravings for unhealthy foods. Things like ice cream, pizza, chips, etc. that I never let myself have before. It's making me really uncomfortable because I don't want to only eat unhealthy food – what can I do about this?
ANSWER: First, let's take a minute to celebrate the fact that you're cultivating so much awareness about what you want to eat and how those foods make you feel. This is something that's often numbed from years of dieting, so that reconnection to our body is so important!
That being said, it can feel really uncomfortable to realize the only foods you want to eat are things you previously didn't allow yourself to have. Those "unhealthy foods" you're referring to are typically higher calories, sugar, fat, etc. or are labeled as "unhealthy" but societal standards. But let's keep in mind that all foods – no matter what they are – are made of carbohydrates, protein, and fat. Yes, the ratios may differ and there might be other things in there, but at the core of it, food is just food. Our bodies don't differentiate between a gram of carbohydrate from ice cream vs. yogurt. Or a gram of protein from a pepperoni vs. chicken breast. It can help to remind ourselves that we don't eat individual nutrients, we eat food.
What Causes Cravings?
Cravings can be triggered by a number of factors. Sometimes it is an actual physical hunger – this happens if we've waited too long to eat between meals, experience rebound hunger at the end of a stressful day when we didn't eat much, or any other scenario in which it comes out of no where and seems to hit you like a brick wall. Honoring that hunger might mean that our highest priority in that situation is to not be hungry. Our body is telling us we need something and we usually have the means to provide that.
In other cases, a craving is sparked by something in our environment. Maybe we saw someone on TV eating something that looked delicious or someone walked by us eating something we're now craving. Or perhaps it's a craving stemmed from habit. If you created a routine of having a particular food each time you sat down on the couch to enjoy your favorite show, you've created what is likely a strong association with that food and that act regardless of whether physical hunger is present or not.
So when struggling with cravings, it can be helpful to identify what's actually triggering the craving. Cravings and emotional eating are often the manifestation of unmet needs – so take a minute to assess if you're craving something food can't provide, such as relaxation, a mental break, a distraction, a relief for stress, or connection to something/someone. This is also a good time to check in with your self-care practices and see if that's something missing from your day or week.
Cravings Don't Last Forever
I mean this in the sense that an individual craving is fleeting, but also that this period of intense cravings for particular foods is also going to pass.
Here's an example that can be helpful: think of your favorite food, your absolute, hands-down, all-time would never say "No" to it food. Now imagine you could eat this favorite food for every meal, every day for the rest of time. It sounds amazing, right? The first meal would seem like the best thing ever ("I can't believe I'm eating [insert favorite food] for breakfast!). The next few meals or days would continue – a state of bliss because, finally, FINALLY you have that unconditional permission to enjoy something you love unapologetically and without any stipulations for being able to have it.
But…fast forward a little bit. Eventually you start to get a little burnt out by it. It's no longer as pleasurable and enjoyable as it was in those first few meals or days. You notice it's become boring, perhaps even unpleasant to some degree. And you really, really want the opportunity to eat something else. In fact, you might even have a "craving" of sorts for something of a different flavor, texture, temperature. All of this favorite food in unlimited amounts might leave you feeling sluggish, uncomfortable because of GI symptoms, or otherwise less than your best.
If we trust our body and give it time for these rebellious cravings to run their course, eventually you will start to desire other foods. Variety is what helps make eating experiences fulfilling and satisfying beyond physical fullness. You might be in this place right now, where you logically know and understand the importance of nutrition but haven't reached the point where the novelty of reintroducing these other foods has run it's course.
So I encourage you to stay the course. As tempting as it is to go back to restriction and as fearful as we might be about weight gain or body changes, this is a really key part of healing your relationship with food. In these times, it can be helpful to seek support or messages from a non-diet practitioner, such as an intuitive eating dietitian or therapist who can equip you with specific coping strategies for your individual situation. It might also be a good time to remove some of the contradicting or food shaming social media messages to eliminate some of the comparisons or negative thoughts around food.
[Tweet "Struggling with cravings while working towards intuitive eating? Here's how to learn from them without going back to dieting"]
---
So in summary, cravings don't always leave us feeling comfortable with the intuitive eating journey, but they can teach us a lot about what it is we really need. What have you learned about cravings and how do you respond to them now? What has been helpful for you in moving through this process?
Want to read more about intuitive eating? Start here: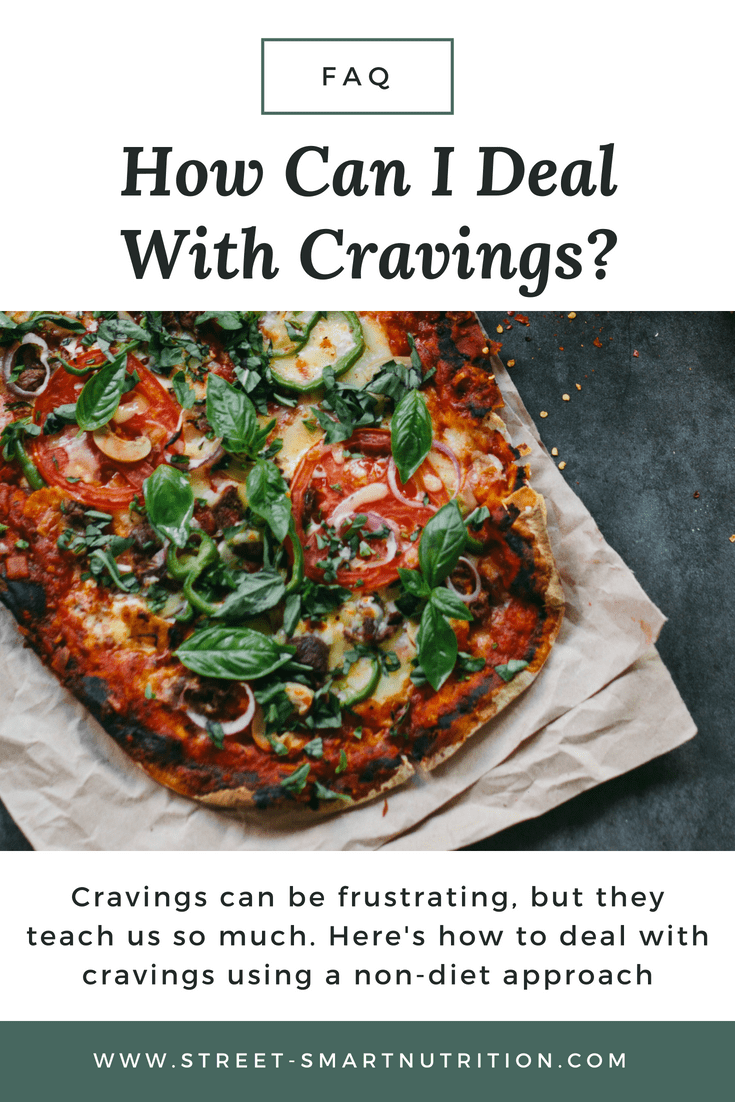 And if you're looking for more support for a non diet approach and intuitive eating, be sure to check out my Intuitive Eating Workbook. It's full of resources and tools to help you kick the dieting mentality and find food freedom!