Kimchi grilled cheese is one of my favorite comfort foods! There are tons of variations of kimchi grilled cheese, but I always make mine using this method. Enjoy this elevated version of a classic!
---
If you love a good grilled cheese sandwich with crispy toast that's stuffed with gooey melted cheese, you might think there's no possible way to improve upon that. But you'd be wrong! Kimchi Grilled Cheese is an easy way to take a sandwich from good to great. I hesitate to call it perfect, but more on that later.
Regardless…it's a pretty damn good sandwich. Case in point: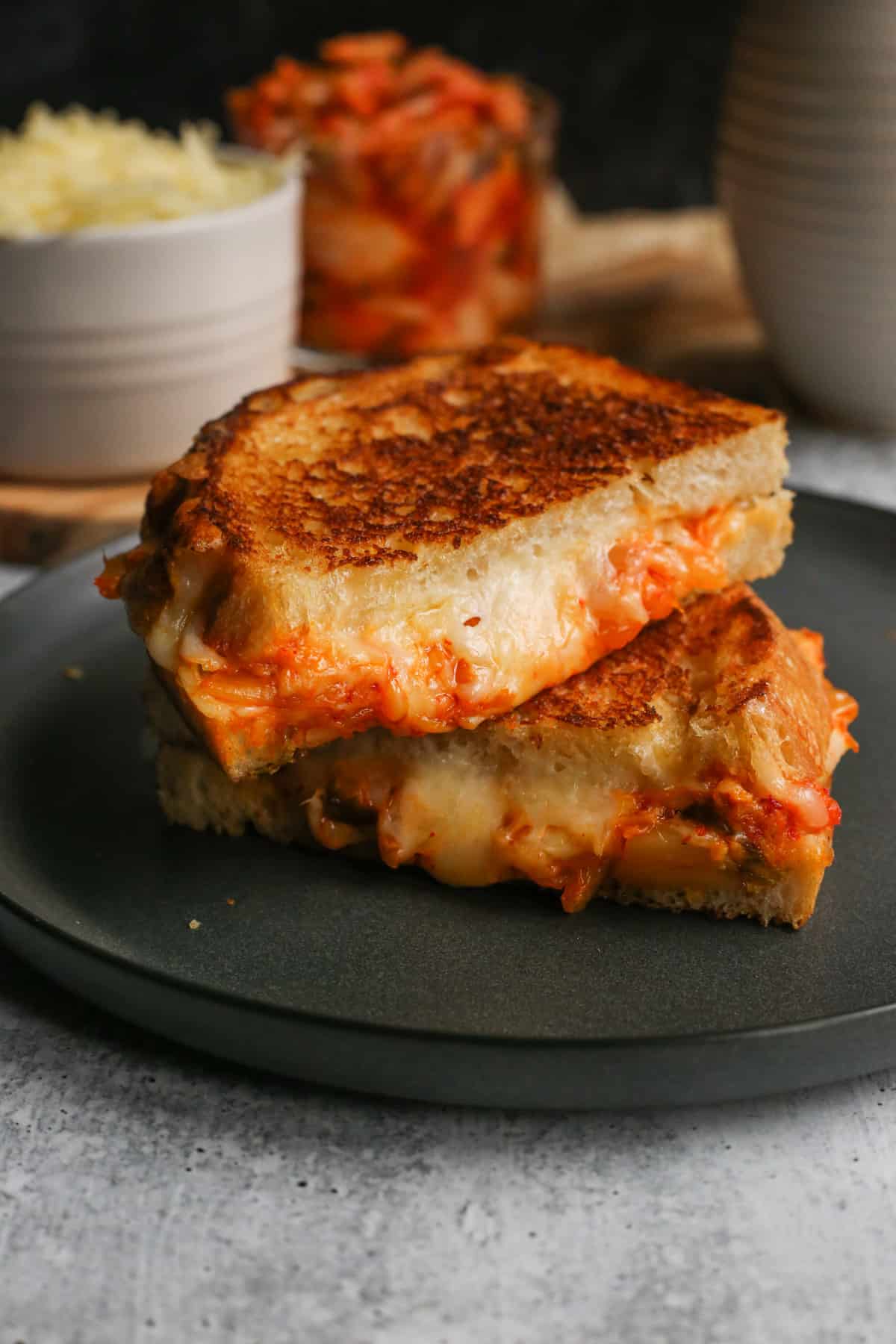 Why You'll Love This Kimchi Grilled Cheese Sandwich
You might already be drooling. But just in case you're not, here are a few reasons to love it:
It takes the classic grilled cheese sandwich to a whole 'nother level by adding tangy, umami, slightly spicy kimchi

The mayo-method of making grilled cheese helps you get the perfect crispy toast without burning the bread

Kimchi was just named a "top superfood of 2023" so you'll be ahead of the trend. Get ready to start seeing kimchi everywhere!
While I honestly don't love the idea of labeling anything a "superfood" it's worth mentioning that kimchi and other fermented foods have been staples in global cuisines around the world for centuries. Korean kimchi is near & dear to my heart for very personal reasons, so I'm glad everyone is taking notice to celebrate it instead of shaming it!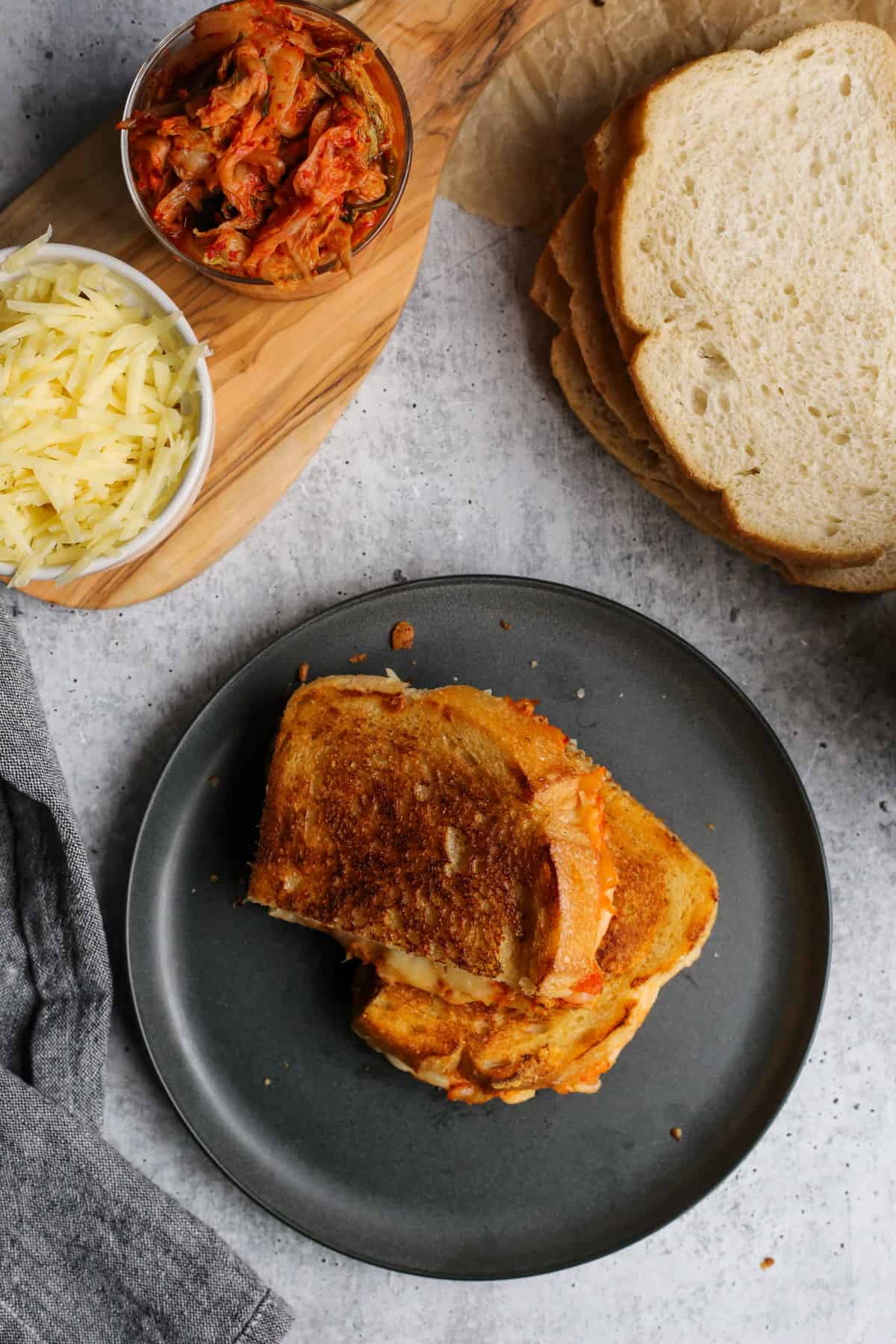 Ingredients You'll Need
Here's what you'll need to make an "almost perfect" Kimchi Grilled Cheese sandwich:
Sourdough bread:

this is my top choice for it's sturdy structure. It also contributes great flavor whether homemade or store bought 

Melt-able cheese:

look for a softer style cheese like havarti, American, or mozzarella. Slices are less messy than shreds, but I think shredded cheese melts faster and more evenly

Kewpie mayo:

this

Japanese-style mayonnaise

is tangy with umami (savory) flavor. Use it instead of butter to achieve the perfect sear when toasting your kimchi grilled cheese

Kimchi:

there are hundreds of styles of kimchi, but you're most likely to find a version using napa cabbage (

baechu kimchi

or simply

kimchi

) in your local grocery store

Toasted sesame oil or honey: I lightly brush the inside-facing side of the bread with toasted sesame oil or honey to add even more flavor, but both of these are totally optional. Use one or the other or skip altogether if you're aiming for simplicity
If you can't find or don't have kewpie mayo, no worries! Just use regular, full-fat mayonnaise. Skip the light or "lite" stuff which has a higher water content and can make your sandwich very soggy.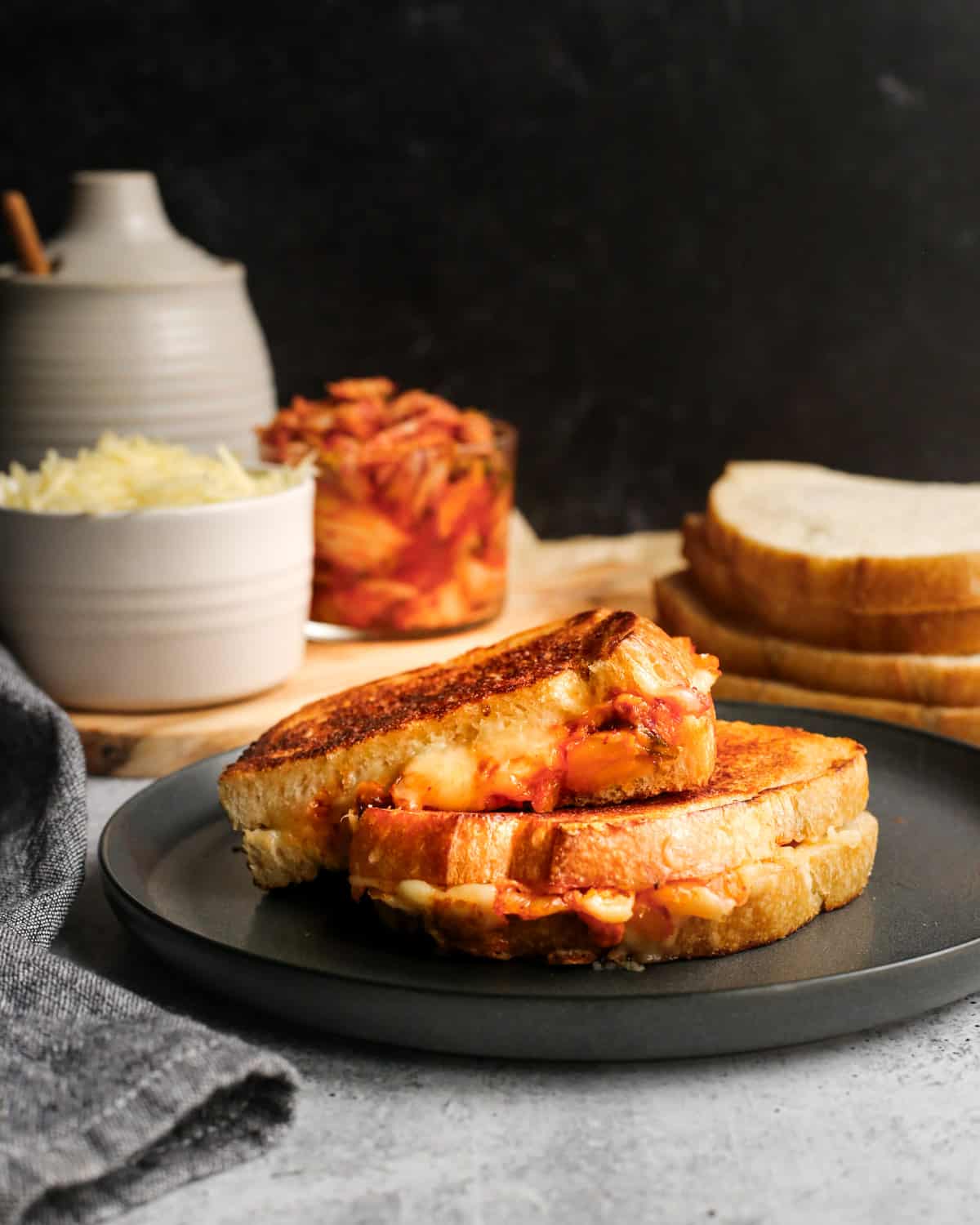 Kimchi flavor will change as it ages. When it's freshly made (as in, the first few weeks) it will have a sharper, tangier flavor. As it gets older (AKA more fermented) the flavor will have more of a funk to it and the crispier pieces will soften. Keep this in mind as you build your kimchi grilled cheese, and select the pieces and type of kimchi that you like best.
Wondering how to use what's left in the jar? I recommend adding kimchi to my Korean Beef & Rice Bowls, mixing it into Weeknight Chicken Fried Rice, or using it along with other favorite toppings for burgers. And of course you can always serve it the Korean way, as banchan or a shareable side dish to accompany any meal!
Can I use something other than cabbage kimchi?
Yes! I've also made this with green onion kimchi (pa-kimchi) and white kimchi (baek kimchi). White kimchi is less spicy because it doesn't use Korean red pepper flakes (gochugaru). If you're sensitive to spice or just want a milder flavor, this can be a good option.
If you're moving away from kimchi entirely, this will no longer be a kimchi grilled cheese sandwich. But hey, that's still an option. Try it with sauerkraut, which is another fermented vegetable, or sun-dried tomatoes for umami flavor and color.
Look for kimchi in the "health food" section of your grocery store, or at any Asian or Korean market. Keep it refrigerated, and after opening it should last at least a couple of months.
How To Make Kimchi Grilled Cheese
This recipe is written for one sandwich, but just repeat the basic steps for however many sandwiches you need or want!
Start by heating your nonstick skillet or griddle. Aim for medium heat so it's hot enough to toast the bread and melt the cheese, but not so hot it scorches or burns the bread before the inside is heated.
Drain the kimchi to get rid of extra moisture and give it a rough chop. Shred your cheese if you're not using slices or a pre-shredded option.
Brush the inside of one piece of bread with toasted sesame oil or honey (if using). Then build your sandwich by adding a layer of cheese, a layer of kimchi, then another layer of cheese. Brush the second piece of bread (optional) and place it on top.
Carefully spread the kewpie mayo in an even layer on the top piece of bread. Once your pan is heated, carefully and quickly flip the sandwich upside down into the pan so the mayo layer cooks first. As it grills, brush the remaining outside layer of bread with mayo.
Quickly flip with a spatula after 3-4 minutes or when the cheese begins to melt and the bread is toasted to your liking. Cook another 2-3 minutes so the other piece of bread is toasted and the cheese is fully melted. Serve hot and enjoy!
Kimchi will stain a lot of things, including clothing, countertops, and cutting boards! To minimize mess, you can use kitchen shears to chop the kimchi into smaller pieces over a bowl instead of chopping on a cutting board. Or, follow my lead and designate a special cutting board for anytime you're cooking with kimchi.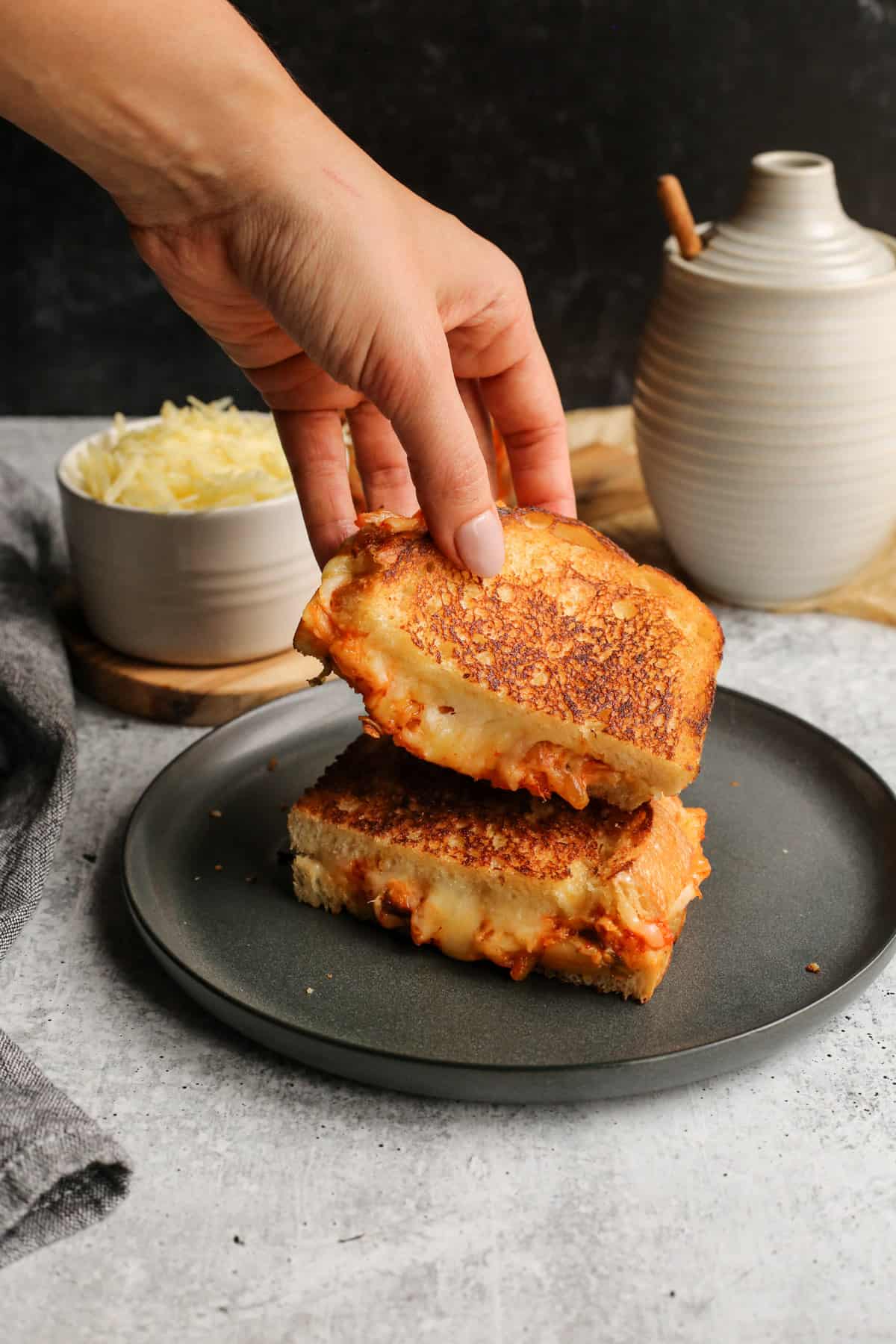 While this flipping method isn't the cleanest, I find it to be the most convenient to avoid smearing mayo all over the place. I admit, it does make a mess sometimes, which is why I call it "almost perfect" kimchi grilled cheese. But if you don't mind that, just smear the mayo first and build your sandwich before placing it in the heated skillet with a spatula.
Why Use Mayo for Kimchi Grilled Cheese?
I'm certainly not the first to recommend using mayo for grilled cheese sandwiches. Food experts and chefs have been saying this for years!
Mayonnaise is an oil-based fat, which has a higher smoke point than butter. This will let you cook it longer before it scorches or burns, while still keeping the inside of the bread fluffy or chewy. The egg component of mayo is also helpful for getting the beautiful brown color. That's always my signal that the bread is deliciously toasted and crispy.
This resource from The Kitchn experimented with different cooking fats and oils. According to their testing methods, the best results were actually from mayo + butter. But honestly, that extra step and extra ingredient doesn't always seem worth it to me when I can get an "almost perfect" sandwich using just mayo. I really don't agree with their rating for mayo only, which is another reason why I recommend kewpie mayo instead of regular mayo if possible. Kewpie mayo includes MSG (monosodium glutamate) which adds rich, savory, umami flavor that might have been missing in The Kitchn's taste test.
As always, adjust this recipe based on what you like best. There's no judgment so make it your own!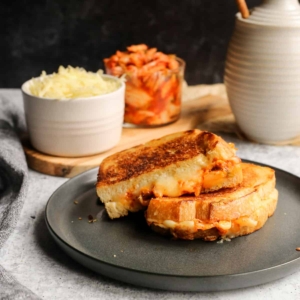 Kimchi Grilled Cheese
This kimchi grilled cheese sandwich is so easy to make. You'll fall in love with the gooey, flavorful filling of melted cheese and Korean kimchi stuffed inside toasty sourdough bread!
Equipment
nonstick skillet or griddle

Spatula
Ingredients
2

slices

sourdough bread

3/4

tbsp

kewpie mayonnaise

3

oz

cheese

,

such as havarti, American, or mozzarella in shreds or slices

1/4 to 1/2

cup

sliced cabbage kimchi

,

drained and roughly chopped

1/2

tsp

toasted sesame oil

,

optional

1

tsp

honey

,

optional
Instructions
Heat the nonstick skillet or griddle over medium heat.

Drain the sliced cabbage kimchi to remove excess moisture. Roughly chop into smaller pieces.

Meanwhile, build the sandwich by lightly brushing one side of the bread slices with toasted sesame oil or honey (if using). Layer half of the cheese onto one slice, followed by the drained and chopped kimchi and the remaining cheese. Top with the second slice of bread.

Evenly spread half of the mayonnaise onto the top slice of bread. Quickly and carefully flip it upside down into the heated skillet to grill. Spread the remaining mayo in an even layer on the second slide of bread.

Once the bottom slice is toasted and the cheese begins to melt (about 3 minutes), use a spatula to flip the sandwich and grill the other side for about 2-3 minutes until the cheese is fully melted and the sandwich is toasted to your liking.

Remove from heat and allow to cool slightly before serving. Slice in half and enjoy while hot.
Notes
Avoid staining by using kitchen shears to chop the kimchi over a bowl. 
Nutrition
Serving:
1
sandwich
,
Calories:
801
kcal
,
Carbohydrates:
72
g
,
Protein:
34
g
,
Fat:
42
g
,
Saturated Fat:
19
g
,
Polyunsaturated Fat:
8
g
,
Monounsaturated Fat:
9
g
,
Trans Fat:
0.02
g
,
Cholesterol:
89
mg
,
Sodium:
1583
mg
,
Potassium:
276
mg
,
Fiber:
3
g
,
Sugar:
10
g
,
Vitamin A:
894
IU
,
Vitamin C:
0.02
mg
,
Calcium:
681
mg
,
Iron:
6
mg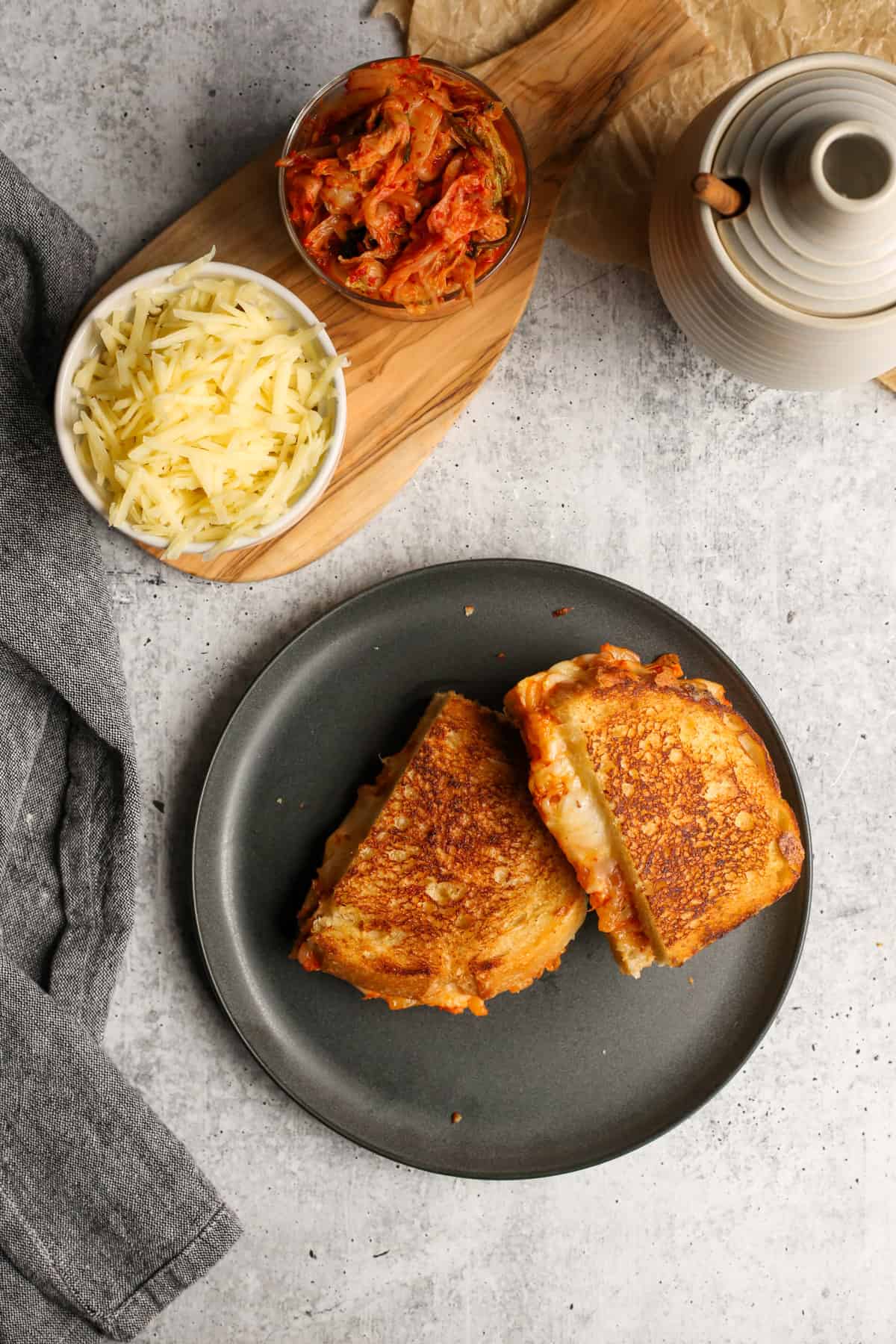 If you try this kimchi grilled cheese, leave a comment and rating to let me know what you think. 
As always, thanks for stopping by Street Smart Nutrition. Cheers to more fearlessly nourishing meals!