I don't know about you, but I never get tired of easy skirt steak recipes. It's my favorite cut of beef! You'll love how much flavor is packed in my recipe for Skirt Steak with Roasted Red Pepper Relish. Keep reading for the recipe plus some tips for the perfectly seared skirt steak!
---
If you've been following me for a while, you know skirt steaks are my jam. We use them all the time, in everything from stir fries to quesadillas. But today we're sticking with the classic seared version for this Skirt Steak with Roasted Red Pepper Relish recipe!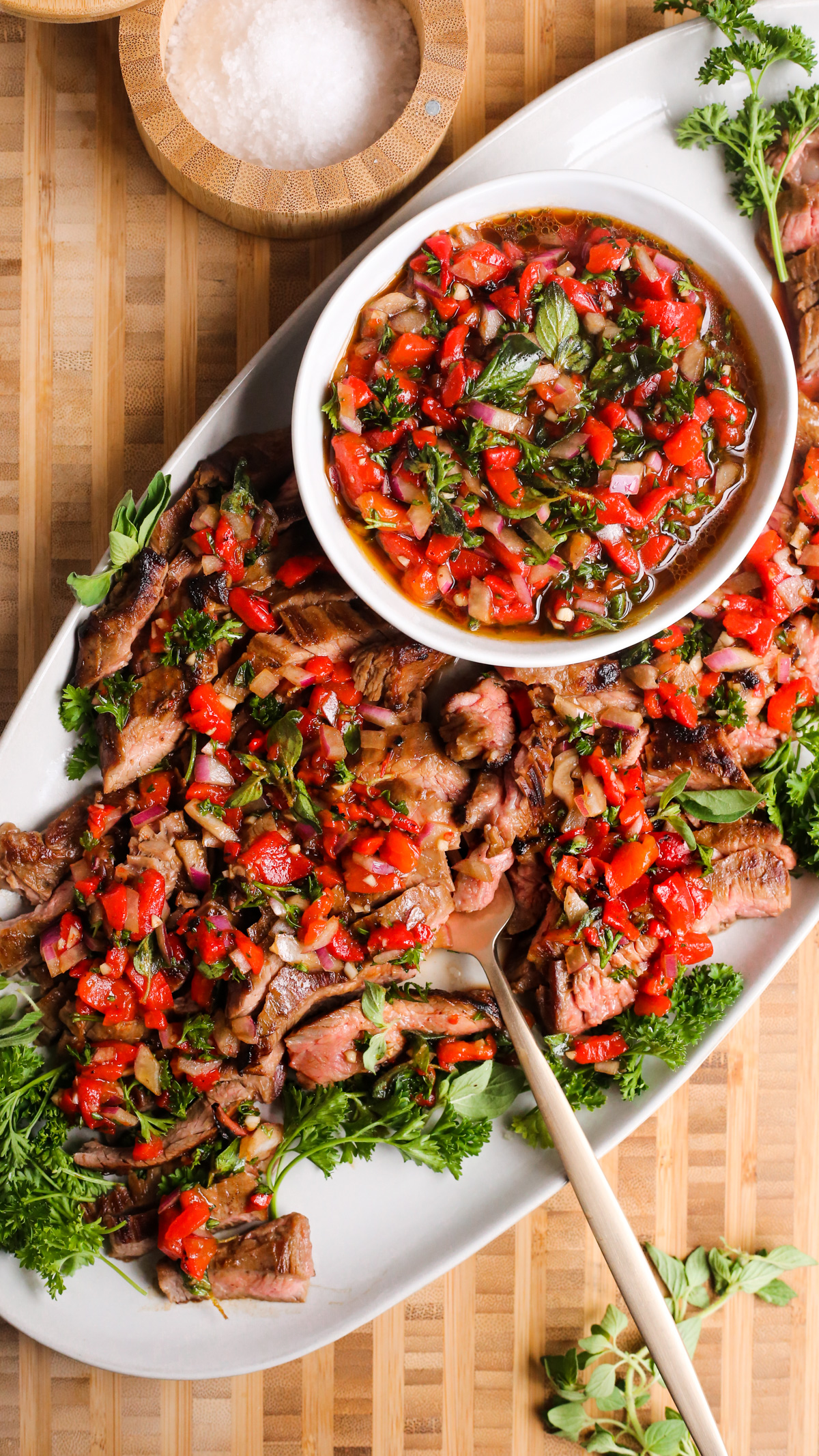 Why You'll Love This Easy Skirt Steak Recipe:
The skirt steak is deliciously flavorful and so, so tender. I'll share my tips for getting the perfect bite!
It's quick and simple because skirt steak is such a thin cut. Just prep a handful of ingredients for the Roasted Red Pepper Relish (which you can make ahead of time) and you'll have your main entree ready in no time
You can add even more flavor with extra herbs or other seasonings for the marinade or relish
I love it when my meals are so colorful and vibrant they seem to just jump off the plate. I don't know if the photos will do it justice but just take another look!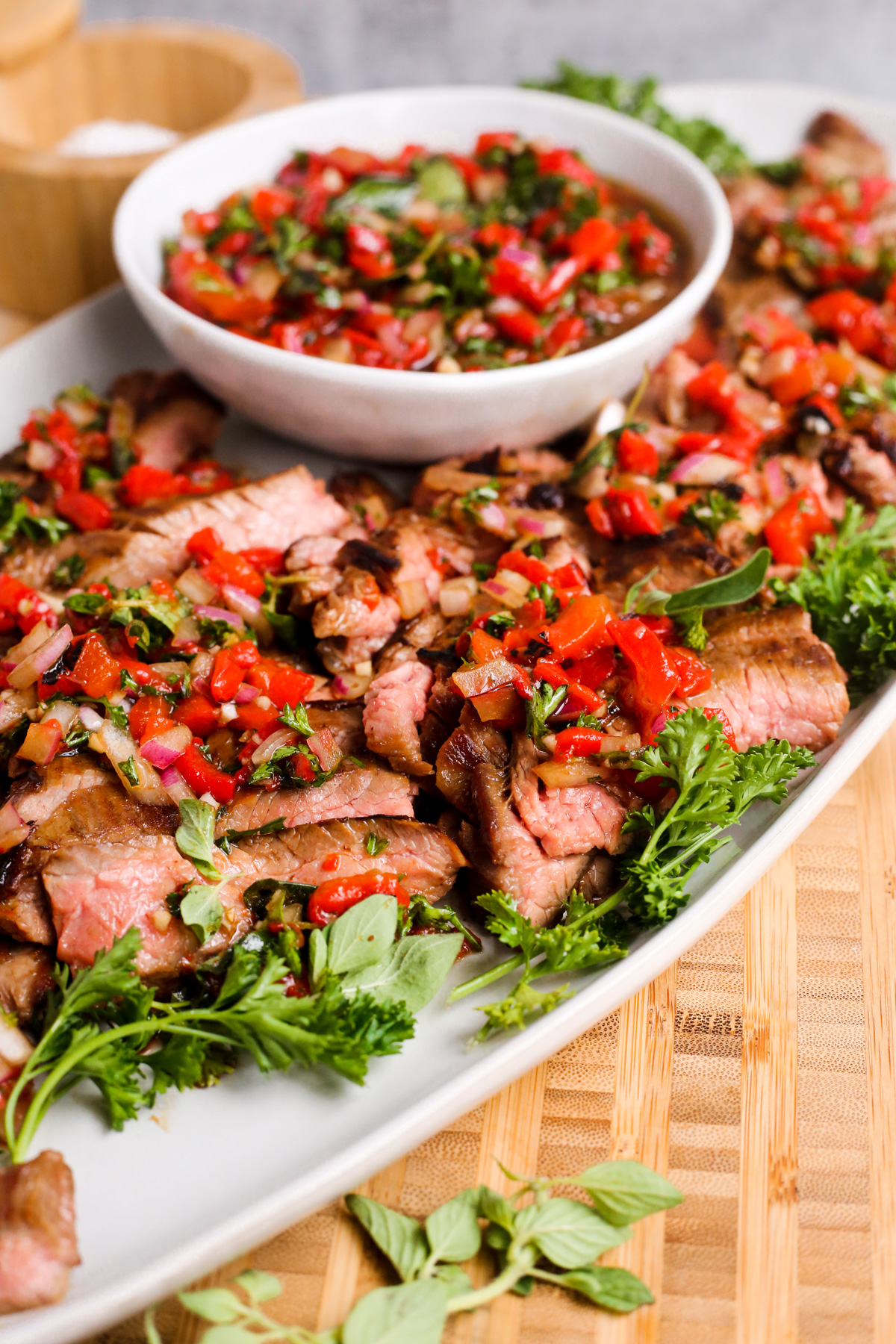 Ingredients You'll Need
Start with a solid cut of skirt steak. In other words…whatever looks best to you at the meat counter. I try to go for one that's at least 1 1/4 pounds, or combine two smaller cuts to equal about 1 1/2 pounds.
Skirt steak is a very flat cut, more long and rectangular than other steaks. It may be wrapped or packaged flat, or rolled. But here's why it's great: surface area + beefy flavor! I think it's one of the more flavorful cuts of beef so I usually use a very simple or light marinade and seasoning because I want to actually taste the beef itself. This time it's our standard mix of a little sesame oil, soy sauce, and brown sugar.
Street Smart Nutrition Tip: Adding a little bit of brown sugar helps caramelize the bits of steak searing on your grill or pan. It's not totally necessary, as you can achieve a great sear without it. But that's just how we like to do things in our kitchen!
For the roasted red pepper relish, make sure to grab:
A jar of roasted red bell peppers. They aren't spicy, but instead sweet and slightly pickled. Drain in a colander and pat dry before chopping.
Diced red onion. This adds a crispiness and sharpness that I really like, but if you don't have a red onion you can swap for a white or yellow onion. Shallots could also work well!
Fresh herbs. I think curly parsley is incredibly underrated. I like the firmer texture compared to flat leaf parsley, and it adds lots of body to the relish. I also use fresh oregano, but feel free to swap for other herbs if you prefer.
Beyond that, use garlic, olive oil, balsamic vinegar, and brown sugar to finish out the relish. I mix everything together and add a pinch of salt before letting it sit until we're ready to eat. The flavors seem to blend together rather quickly so it's ready to enjoy by the time you slice you seared skirt steak!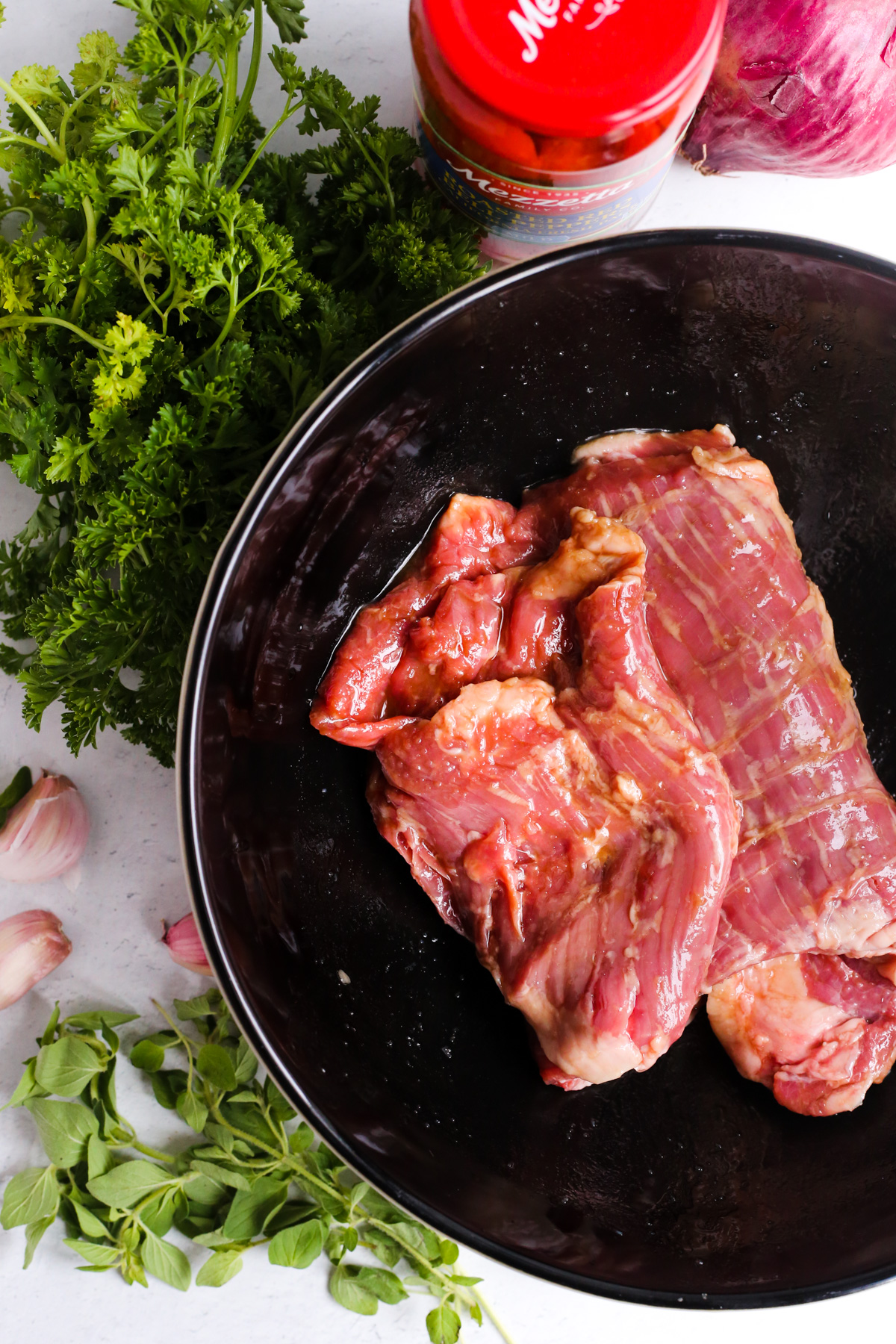 Can I use something other than skirt steak?
Sure! If you can't find a skirt steak, try one of these alternatives:
Flank Steak: may be slightly more tender but a little less flavorful
Hanger Steak: a good equivalent for tenderness and flavor but may be harder to find. That's because unlike other cuts, which come from both the left and right side of the animal, there's only one hanger steak. This cut hangs (hence the name) below the diaphragm
Denver Steak: may be thicker than a skirt steak, as it comes from the chuck section vs. the plate section of the cow, so adjust cooking times accordingly
And while I generally think skirt steaks are among the more affordable cuts of beef, ounce for ounce, affordability is subjective. There are times I see the price per pound and it's higher than what I can spend, other times I think, "Huh, that's pretty good, I'll get another one and freeze it for later." What I'm trying to say is, stick with what feels right for your budget and preferences. Just because this recipe is called "Skirt Steak with Roasted Red Pepper Relish" does not mean you're limited to using a skirt steak!
How To Make a Roasted Red Pepper Relish
You can totally roast your own red bell peppers over an open flame or under the broiler…but you don't have to.
I'm just trying to get dinner on the table! So I use the stuff in a jar. I'm sure there's a difference if you compared the two side by side but I'm also sure you can still get a delicious, flavorful relish to enjoy with your skirt steak if you use the stuff in a jar.
A relish is really just a chunky condiment. Think of chutneys from around the world or pico de gallo (which would also be delicious with a seared skirt steak).
A relish has these basic elements: something pickled, cooked, herby, and wet. So I start by straining the roasted red peppers (skip if you awarded yourself a gold star by roasting your own). Then roughly chop into smaller, easier to eat pieces. Mix that with finely diced red onion, chopped parsley and oregano, seasonings like minced garlic, salt, pepper, and anything else that sounds good to you, then drizzle in the olive oil and balsamic vinegar.
The vinegar adds an acidic component but by using balsamic, there's some subtle sweetness to balance it out. The salt pulls a little additional moisture from the ingredients, so you should else up with a loose (but not sopping wet) mixture. Mine usually looks a little something like this:
If you're super short on time, don't worry about making this while cooking the skirt steak. It can be prepped up to two days in advance. The flavors will mellow and blend together, and if needed just spoon off some of the extra liquid if it's a little too wet. We want to top each bite, not drown each bite!
Cooking Tips for Perfectly Seared Skirt Steak
You don't need a grill to get a perfect sear on a skirt steak! I share some tips for cooking one without a grill in this post. You can use an outdoor grill, indoor grill pan, large stainless steel skillet, cast iron skillet or griddle…basically, anything with a large, flat surface that gets hot. Here are some tips to help you out no matter what cooking method you're using:
Bring the steak to room temperature (or close to it) first. This reduces the amount of time needed to cook to medium doneness. Skirt steak can get tough if you cook it beyond that, but if it's super chilled when it hits the grill, you may scorch the outer edges before the inside is heated through.
Get the grill or skillet nice and hot. For a similar reason as above, get your grill nice and hot before laying the skirt steak down. You should hear a very satisfying sizzle when you start cooking.
Leave it alone! As someone who love to mix and stir, this part is tough. But if you keep lifting the edges to check for a sear, or moving it around on the grill, you won't get what you're going for. Skirt steaks cook very quickly because of their flat shape, so set a time for 2 1/2 to 3 minutes per side. Resist the temptation to mess with it!
We've had a lot of success cooking with this cut using multiple methods, but these three tips should not be discounted. They're what help you achieve the perfect sear for delicious grilled flavor in every bite!
Now let's get to the recipe for my Skirt Steak with Roasted Red Pepper Relish!
Seared Skirt Steak with Roasted Red Pepper Relish
You'll love this easy skirt steak recipe! It's tender, juicy, and full of flavor thanks to the simple roasted red pepper relish. Enjoy!
Ingredients
1 1/2

lb

skirt steak, trimmed

2

tbsp

sesame oil

1

tbsp

soy sauce

1/2

tbsp

brown sugar

salt and pepper to taste
For the Roasted Red Pepper Relish
1

jar

roasted red peppers, drained

,

about 1 cup

1/2

cup

diced red onion

2

cloves

garlic

,

minced

1/4

cup

extra virgin olive oil

1/4

cup

parsley

,

chopped

1/4

cup

oregano

,

chopped

2

tbsp

balsamic vinegar

1

tsp

brown sugar

1/4

tsp

kosher salt
Instructions
Begin by adding the trimmed skirt steak to a large mixing bowl. Add the sesame oil, soy sauce, and brown sugar and use clean hands or tongs to coat the skirt steak. If desired, season with additional salt and pepper to taste. Set aside for 30 minutes to allow the steak to come to room temperature.

In the meantime, prepare the roasted red pepper relish. Roughly chop the drained roasted red peppers into small pieces. Add to a mixing bowl along with the diced red onion, garlic, parsley, and oregano. Fold together to combine.

Drizzle the olive oil, balsamic vinegar, brown sugar, and salt over the mixture and fold together again until well combined. Set aside until ready to serve.

To sear the steak, heat your grill, grill pan, or large stainless steel skillet over medium-high heat. Lay the steak onto the grilling surface and cook for 2 1/2 to 3 minutes before flipping. Cook another 2 1/2 to 3 minutes, then transfer to a cutting board to rest.

Allow the steak to rest for at least 5 minutes before slicing against the grain into thin strips. Transfer to a serving platter or dinner plate, then add the roasted red pepper to the top. Garnish with additional oregano or relish according to personal taste.
Notes
To make it easier to slice across the grain, position the skirt steak perpendicular to your body on the cutting board. Cut it first into thirds or quarters before rotating each section 90 degrees, allowing you to more easily slice across the grain (instead of with it).
Nutrition
Serving:
1
serving
,
Calories:
496
kcal
,
Carbohydrates:
12
g
,
Protein:
39
g
,
Fat:
34
g
,
Saturated Fat:
8
g
,
Polyunsaturated Fat:
5
g
,
Monounsaturated Fat:
18
g
,
Trans Fat:
1
g
,
Cholesterol:
107
mg
,
Sodium:
1679
mg
,
Potassium:
737
mg
,
Fiber:
3
g
,
Sugar:
5
g
,
Vitamin A:
823
IU
,
Vitamin C:
47
mg
,
Calcium:
111
mg
,
Iron:
5
mg
If you try this easy skirt steak recipe, let me know what you think! Leave a comment or rating, and be sure to save it and share.
Thanks for reading, cheers to more fearlessly nourishing meals!