Healthy breakfast quesadilla, anyone? You'll love this Breakfast Beef Quesadilla recipe. It's loaded with steak, eggs, cheese, and veggies. It's delicious any time of day – not just for breakfast!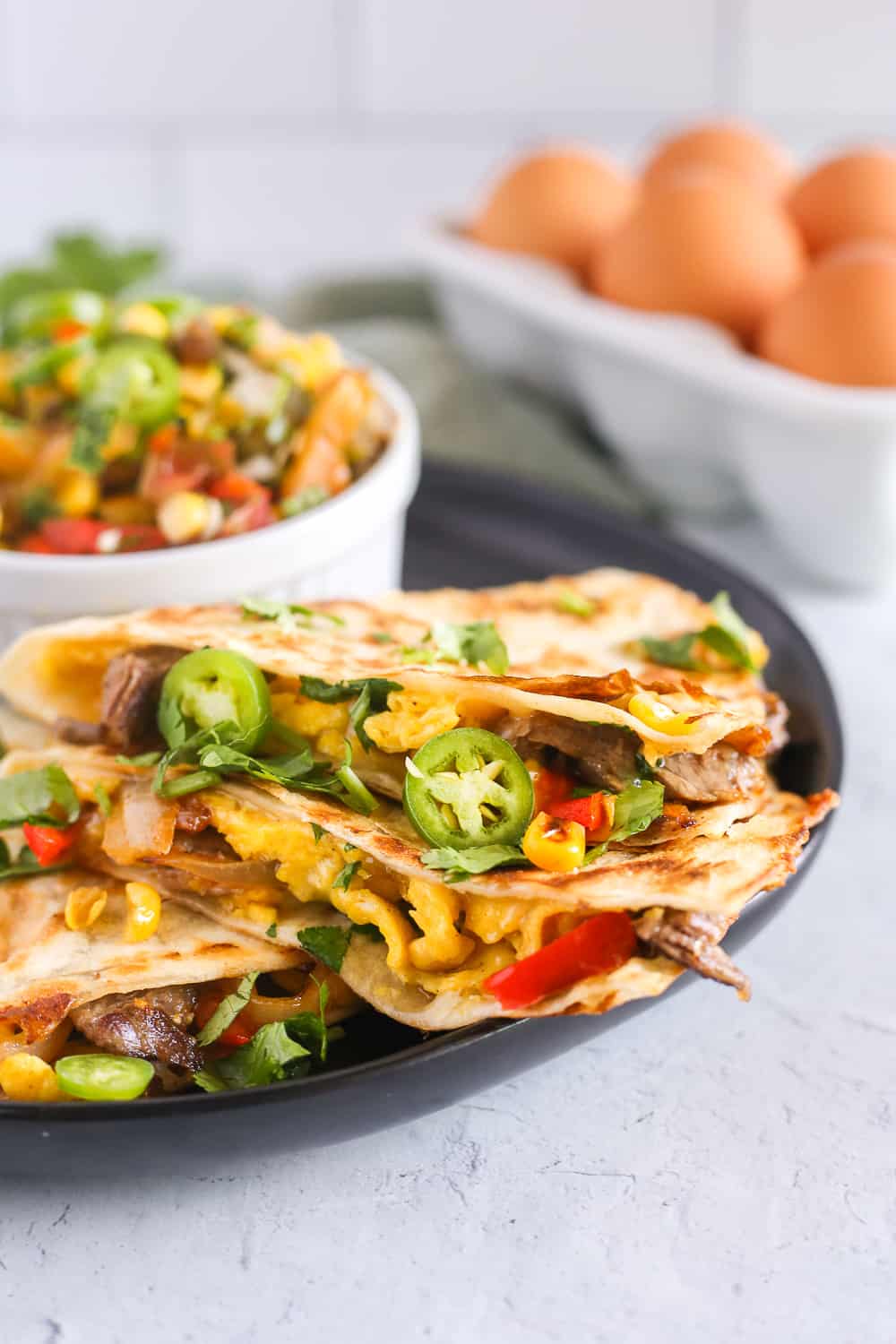 This Breakfast Beef Quesadilla is exactly what hot, cheesy breakfast dreams are made of. I had some leftover skirt steak and spare veggies, so it only made sense to add them a tortilla with eggs and cheese!
Here are my tips to cook the perfect skirt steak. And you don't even need a grill!
Breakfast Beef Quesadillas
I don't always have time for a hot breakfast, especially not one cooked from scratch. But you don't have to start completely from scratch for this beef quesadilla recipe!
I use leftover skirt steak from the night before, along with some pre-sliced peppers and onions for the filling. The only thing I really needed to make "fresh" for this beef quesadilla recipe was the scrambled eggs and the side of pico de gallo. In a pinch, I even skip that step and reach for a jar of salsa instead.
And since I know you don't have a lot of time either, I won't make you scroll all the way to the end to find the recipe!
Here's my Breakfast Beef Quesadilla recipe!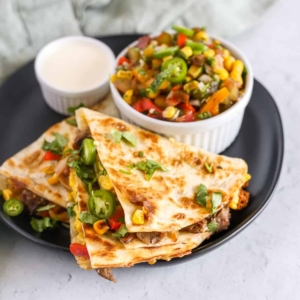 Breakfast Beef Quesadilla
This easy beef quesadilla recipe uses leftover steak, scrambled eggs, shredded cheese, and fresh veggies. Enjoy for breakfast, or for any other meal!
Ingredients
1

extra large

flour tortilla

3

oz

steak

,

cooked, thinly sliced

1/2

tbsp

cooking oil

1/2

cup

sliced peppers and onions

2

tbsp

sweet corn kernels

,

canned or frozen

2

large

eggs

1/2

jalapeno or serrano pepper

,

thinly sliced crosswise

1/3

cup

shredded Monterey Jack or mozzarella cheese

Kosher salt and pepper

,

to taste
Garnish
Fresh pico de gallo

Crema or sour cream

Cilantro

,

chopped
Instructions
Heat a large, nonstick skillet over medium-high heat.

Once heated, add the cooking oil. Add the sliced peppers, onions, and corn to the skillet and saute 4-5 minutes, stirring occasionally. Remove from the skillet and set aside.

Whisk together the eggs and season with salt and pepper to taste. Pour the egg mixture into the heated skillet and scramble until fully cooked. Remove from the skillet and set aside.

Reduce heat to medium-low. Place the extra-large tortilla in the skillet and layer half of the shredded cheese onto one half. Arrange the thinly sliced steak, cooked veggies, and cooked eggs on top of the cheese. Add the thinly sliced peppers and top with the remaining cheese. Carefully fold the other half of the tortilla over the top. Cook 2-3 minutes, or until the tortilla starts to brown and the cheese begins to melt.

Carefully flip the tortilla onto the other side and cook for another 2-3 minutes until the cheese is fully melted and the quesadilla is heated through. Remove from the skillet and place on a cutting board to cool slightly.

Carefully cut into four triangular pieces and serve immediately. Garnish with fresh cilantro and serve with crema, pica de gallo, or your other favorite toppings.
Nutrition
Serving:
1
serving
,
Calories:
339
kcal
,
Carbohydrates:
14
g
,
Protein:
22
g
,
Fat:
22
g
,
Saturated Fat:
9
g
,
Trans Fat:
1
g
,
Cholesterol:
232
mg
,
Sodium:
315
mg
,
Potassium:
344
mg
,
Fiber:
2
g
,
Sugar:
3
g
,
Vitamin A:
1708
IU
,
Vitamin C:
53
mg
,
Calcium:
186
mg
,
Iron:
2
mg
If you have something other than skirt steak, feel free to make that swap! You can use ground beef, shredded beef, or any other kind of steak sliced into thin strips.
The same goes for vegetables. I think mushrooms, green onions, or even asparagus could be yummy in this Breakfast Beef Quesadilla.
The hardest part of this recipe is trying not to overfill the quesadilla. With so much goodness packed in there, it's easy to do, but it makes it really tough to flip or slice without losing some ingredients! You might be reading through the recipe and thinking, "Well, that doesn't sound like enough." But trust me, this will help keep your quesadilla keep a flatter shape rather than turning into a burrito!
Not that there's anything wrong with that…in fact, this entire recipe could very easily turn into a breakfast burrito and I'm sure it would be amazing. Kind of like when an omelet accidentally turns into scrambled eggs.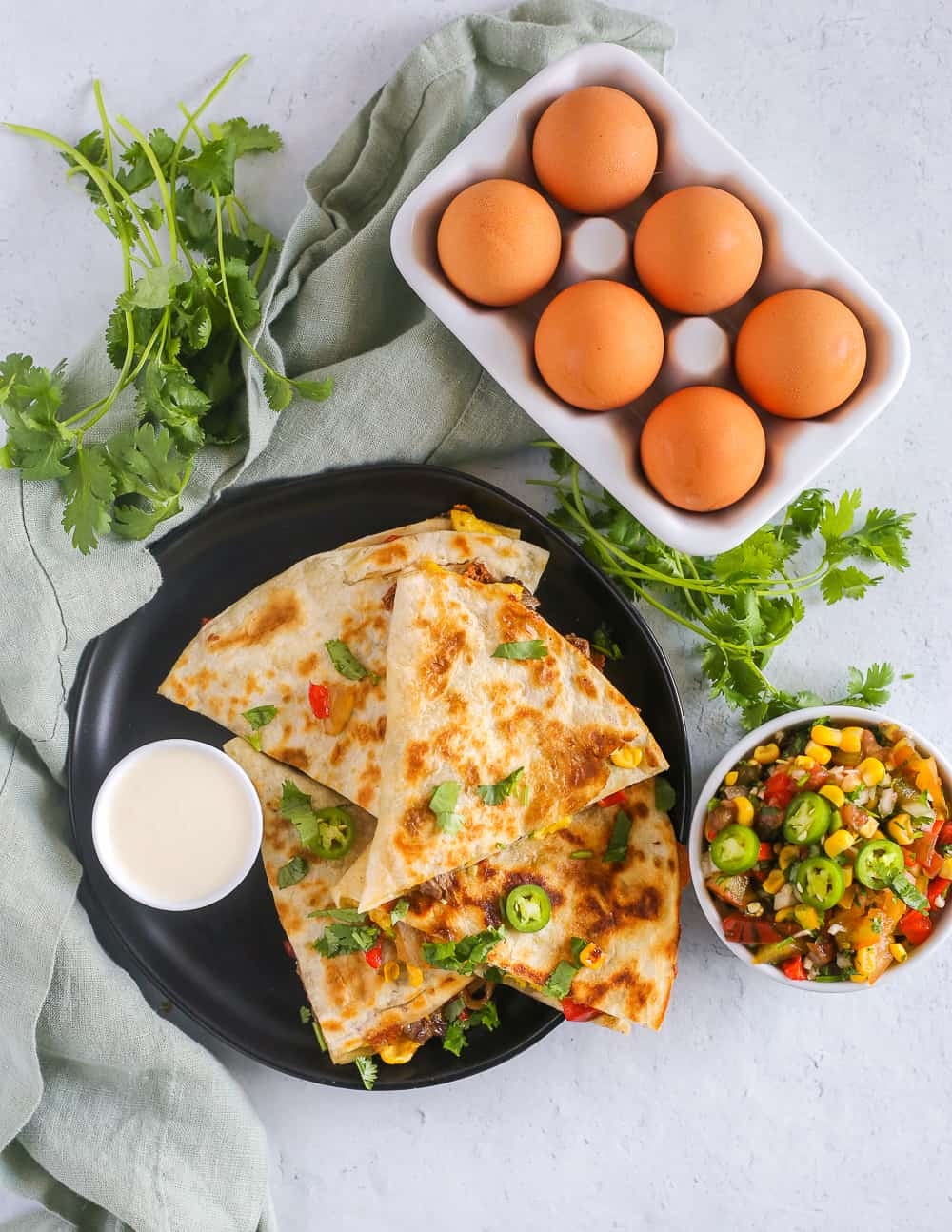 How to Make a Healthy Breakfast Quesadilla
"Healthy" isn't one of my favorite words to describe food. But as a dietitian, I'm often asked about how to make a recipe more nourishing.
Here's what I like to say: healthy looks different for everyone.
For me, I like to include some variety, bright colors, and different textures. That makes a meal more enjoyable to eat. And there's the added benefits of increasing the variety of nutrients I get. Plus, variety usually equals satisfaction, which gives me a chance to eat more mindfully and notice when I start to reach my point of physical fullness.
This beef quesadilla recipe is a perfect example of that. I can prioritize the ingredients I like most or need to use up to avoid wasting them. I encourage you to do the same! From there, I consider if there is variety in the nutrients on my plate: carbohydrates, protein, fats, and fiber. Again, we've got our bases covered! Finally, "healthy" should be fun, not boring. So I look for those bright colors, fun flavors, or unique textures.
Not every meal is going to be a five-star dining experience. But if your goal is to enjoy a hot, tasty, healthy breakfast quesadilla, I think you'll be doing alright if you go with this one or something like it.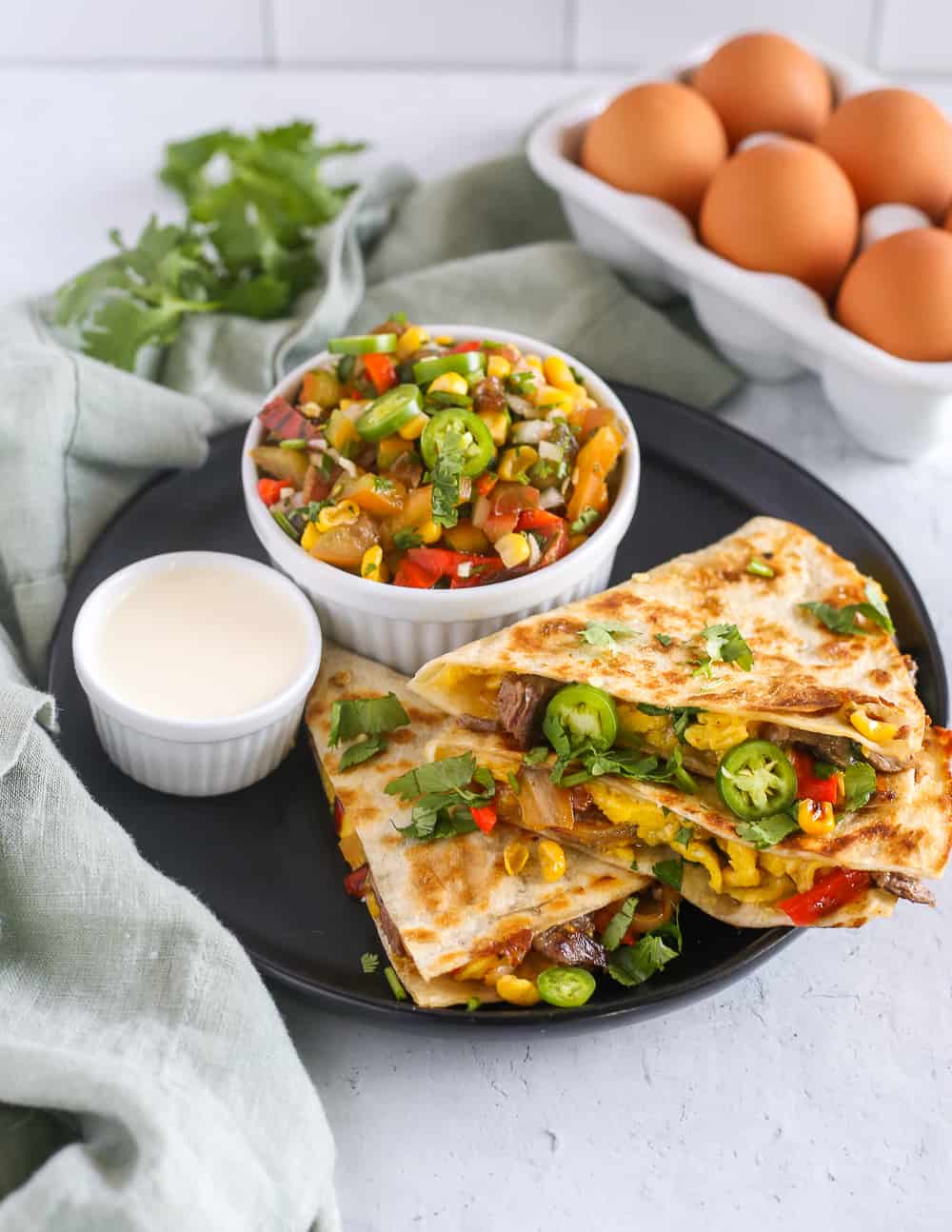 A Note on Quesadillas
I really enjoy learning through food. Developing recipes and experimenting in the kitchen is always a fun way to do that. So when I was working on this beef quesadilla recipe, I tried to learn a little more about the origins of quesadillas.
Quesadillas originated in central Mexico after colonizers brought dairy (and thus, cheese) to the regions of Mexico where the Aztec people lived. This happened around the 16th century, and since then quesadillas became part of the cuisine throughout Mexico. Although "quesadilla" translates to "cheesy little thing" cheese doesn't necessarily have to be part of it. For example, if you order a quesadilla from a street vendor in Mexico City, you may not have any cheese at all unless you ask for it.
My recipe for Breakfast Beef Quesadillas is not designed to represent authentic Mexican cuisine – it's the result of my desire to avoid food waste and create a meal that is filling, satisfying, and enjoyable to me. I hope you feel the same if you give it a try!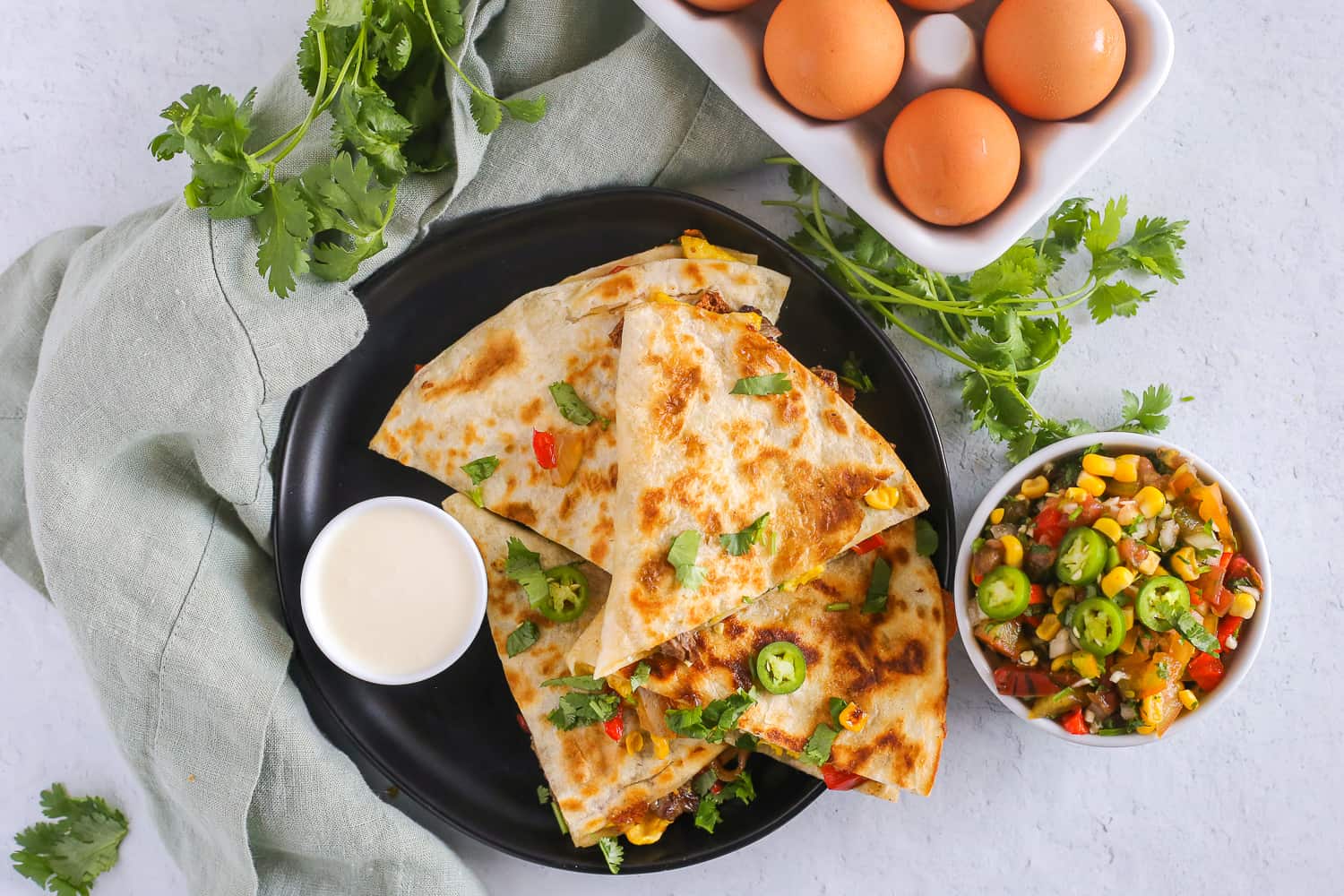 If you like this easy breakfast recipe, check out a few of the other favorites from the Street Smart Nutrition blog!