Dazzle your guests when you bring out this Baked Brie in Puff Pastry with Caramelized Onions. Sweet & savory flavors are waiting for you to dig in. What's not to love about golden brown flaky pastry and melty creamy brie cheese? If your mouth is watering, scroll down to see how easy it is to make this easy baked brie appetizer!
Disclosure: This post and recipe were sponsored by Midwest Dairy as part of the 2021 Cheeseboard Chat event. I was compensated for my time. Since then, updates have been made to the information and/or images to improve the overall quality. As always, thank you for supporting the partners who support Street Smart Nutrition!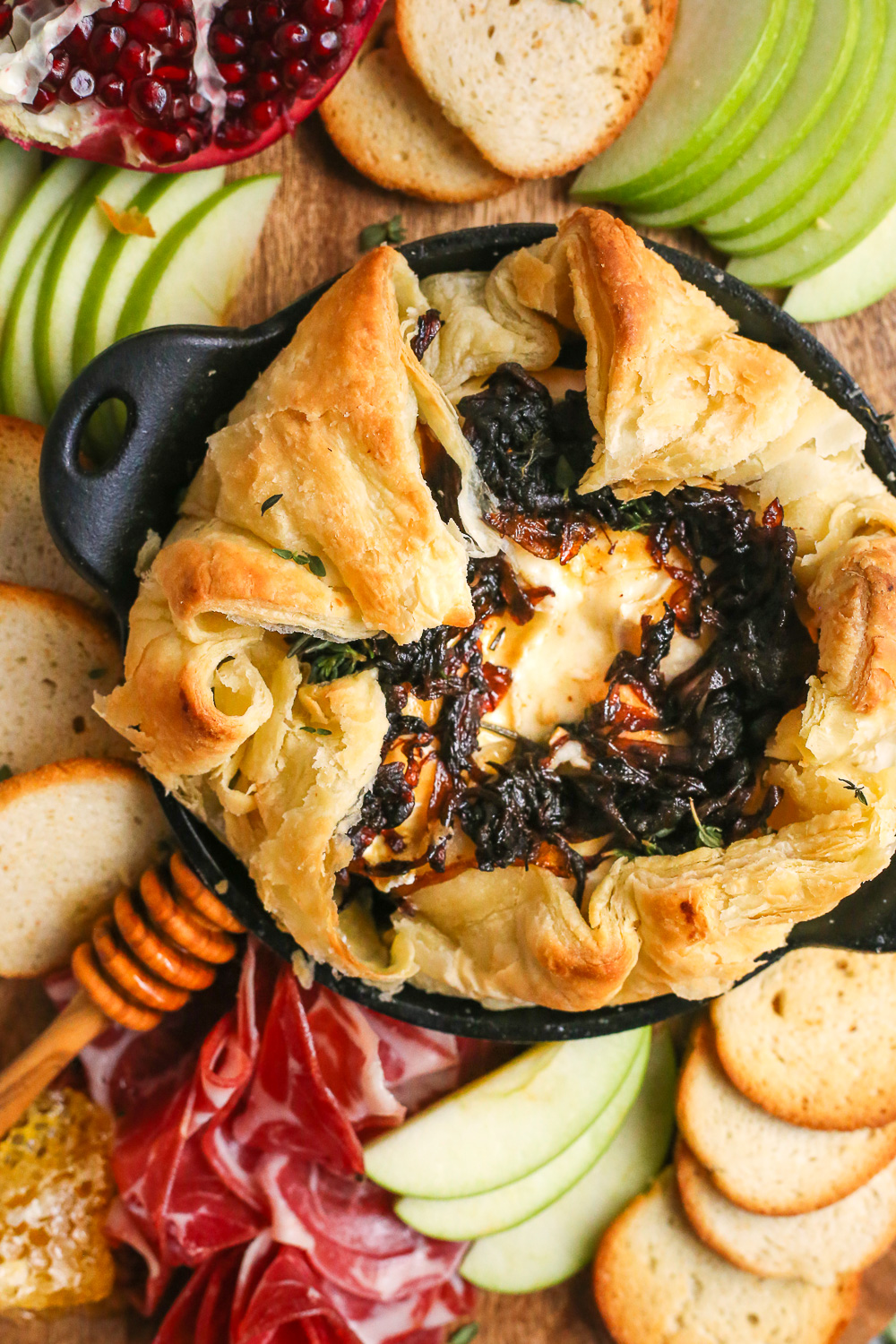 If you peeked in my fridge right now, you'd see at least a few types of cheese, chocolate milk, cottage cheese, and yogurt galore. It's safe to say we're a pro-dairy house and always have been. And now that we're heading into the holiday season, I'm excited to share my updated recipe for a delicious baked brie appetizer packed with cheesy goodness: Baked Brie in Puff Pastry with Caramelized Onions!
This easy appetizer is in high demand from my family and friends. And especially this time of year, it's my most-requested holiday appetizer! It's such a crowd pleaser and I seriously can't wait for you try it out.
Why You'll Love This Easy Baked Brie Appetizer
It's an upgraded version of my Basic Baked Brie. Your confidence should be soaring if you've perfected your puff pastry skills, now it's time to pump up the flavor!
You get a combo of sweet and savory flavors in every bite. The payoff is even better if you're patient with the caramelized onions (don't rush it!)
It's perfect for a small gathering or if you're feeding a crowd. Serve it up on its own for smaller groups, or feature it as the centerpiece of a decked-out charcuterie board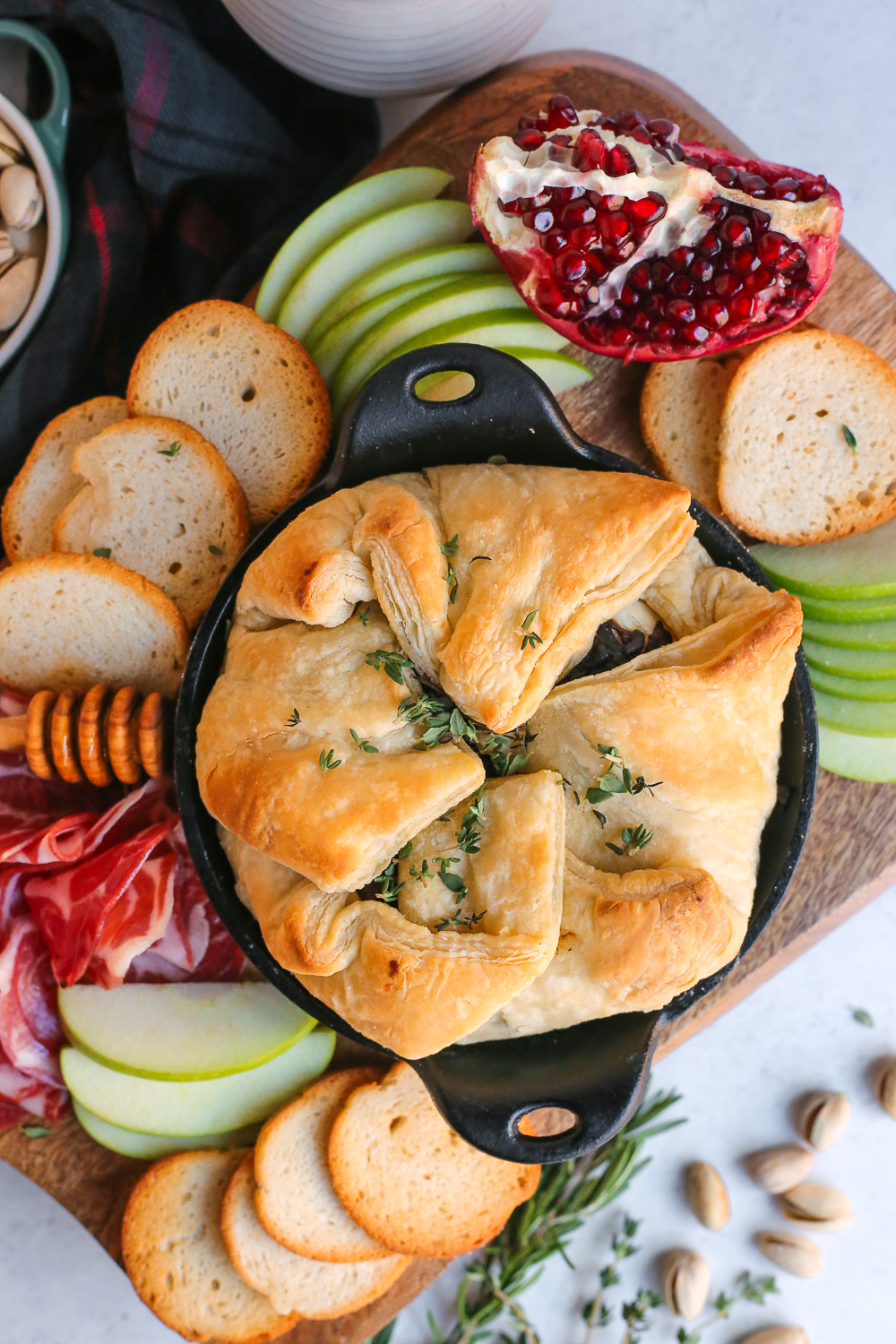 For the Love of Cheese!
This recipe was part of my ongoing work with Midwest Dairy. I was super excited to be partnering with them again for the second Cheeseboard Chat event in 2021! The year before, I shared an entire series on dairy sustainability that culminated with a recap of our dairy farmer panel, cheesemonger-led cheese tasting, and how to build the perfect cheese and charcuterie board. You can read all about it HERE.
And be sure to check out the other posts in the "Dive Into Dairy" series:
It's always a treat for me to be able to talk with farmers and ask them questions. I've been fortunate to visit multiple dairy farms to see operations of all sizes and if there's one thing I've learned, it's that dairy farmers are deeply passionate about producing the highest quality, safest milk they can.
You and I are the end consumers they're always thinking of, and I think of them every time I reach into the dairy case at my local grocery store. It comes full circle with recipes like this, so let's get into it!
But I know you came for the recipe, so let's turn our attention to this showstopper of a baked brie appetizer!
Ingredients You'll Need
Simplicity is the name of the game around the holiday season, so no hard-to-find ingredients here. Make this easy baked brie appetizer recipe even easier by scheduling a grocery delivery. We partner with Instacart to create ready-to-shop lists for all our recipes. Just click HERE to get what you need!
Triple cream brie. Get a wheel of brie vs. a wedge of brie so you'll be able to easily wrap it
Sheet of puff pastry. I'm not much of a baker so I use store-bought puff pastry sheets, but if you're feeling ambitious and want to use homemade, go for it!
Two large sweet onions (Vidalia or similar)
Salted butter
Brown sugar
Balsamic vinegar
Fresh thyme or a sprig of fresh rosemary

I like to use a small cast-iron skillet for my baked brie appetizers. This 14-oz. size seems to be perfect for an 8-oz. wheel of brie, which is a pretty standard size.
Make sure you also have a cutting board and share knife, plus a big skillet for caramelizing the onions. 
How To Make Baked Brie in Puff Pastry
Before starting anything, make sure the puff pastry dough is fully thawed. It's best to pull it out to room temperature in advance or move it from the freezer to the fridge a day or two before you plan to cook your baked brie.
When you're ready to start, thinly slice the onions. Heat your large skillet over medium heat and melt the butter. Add the onions and cook, stirring occasionally, for a minimum of 20-25 minutes or until they are browned with a sweetened fragrance.
Add the balsamic vinegar, salt, and brown sugar and stir to combine. As the mixture thickens, cook for an additional 5-10 minutes to reach a jam-like consistency. At this time, you can also preheat your oven to 400 degrees F.
Remove the caramelized onions from heat and allow to cool slightly. At this point, spread the puff pastry onto a clean work surface or drape it over the skillet. Remove the brie from its packaging and place it in the center of the puff pastry.
Spoon the caramelized onions on top of the cheese and around the sides. Sprinkle in the thyme and rosemary at random, then fold the edges of the puff pastry over the top. Crimp some of the folded edges if needed to seal it closed (see below).
Place the wrapped brie into the cast iron skillet if it's not already in there and bake for 20 minutes or until the flaky puff pastry is golden brown. Pull it out of the oven and allow it to cool slightly before serving. Enjoy!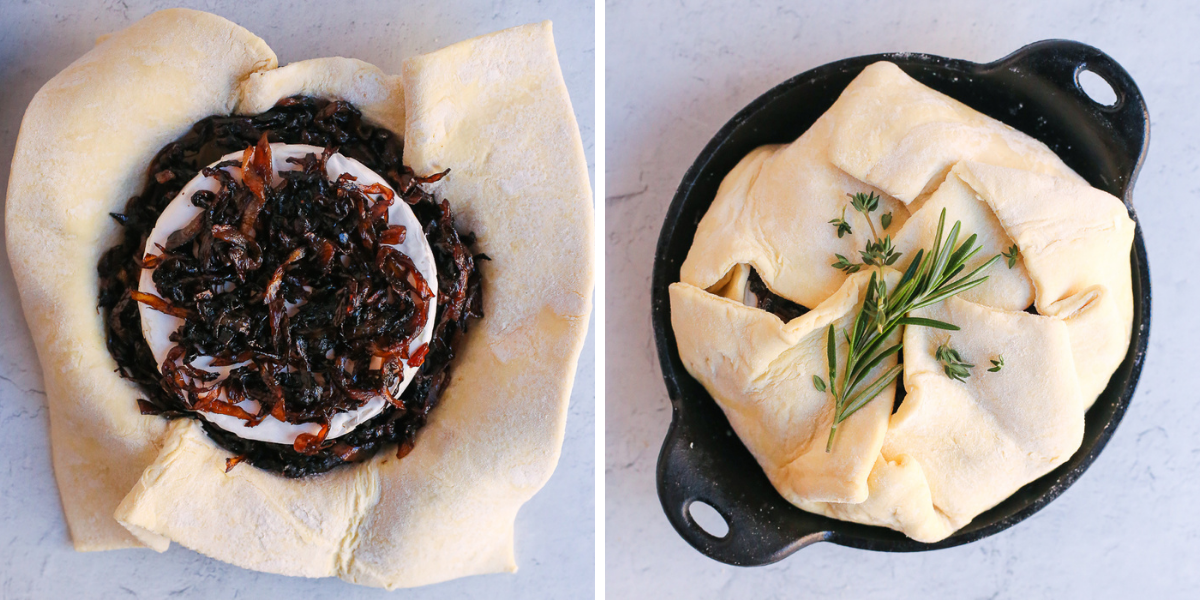 Tips for Caramelized Onions and Baked Brie
To caramelize the onions, use low heat and at least 20 to 25 minutes of cooking time. 30 minutes is even better! It helps if you slice all the onion in similar-size slices so they cook at the same rate. I used two good sized onions and ended up with about 1 cup of caramelized onions when it was all said and done. They'll reduce in size quite a bit, especially after you add the balsamic vinegar and brown sugar.
Don't be intimidated because baked brie is actually much easier than your eyes might be telling you. Here are three tips to help you get the best result when you try this recipe:
Thaw your puff pastry so it doesn't break when you fold the edges. I made the mistake of skipping this critical step the first time I tried to make baked brie. And I haven't made that mistake since!
Leave the white rind on your wheel of brie. If you take it off before baking, you'll likely have a big mess to clean up, so if you prefer not to eat the rind, carve it off after it's finished baking
Embrace the "elegantly disheveled" look! This recipe is not about perfection – whoever you're serving this to will be blown away by the delicious flavors no matter what it looks like
And finally, it's totally optional to add an egg wash on the corners of the dough if you want a shiny, extra golden finish. It might help your baked brie appetizer look more impressive, but it's an optional extra step.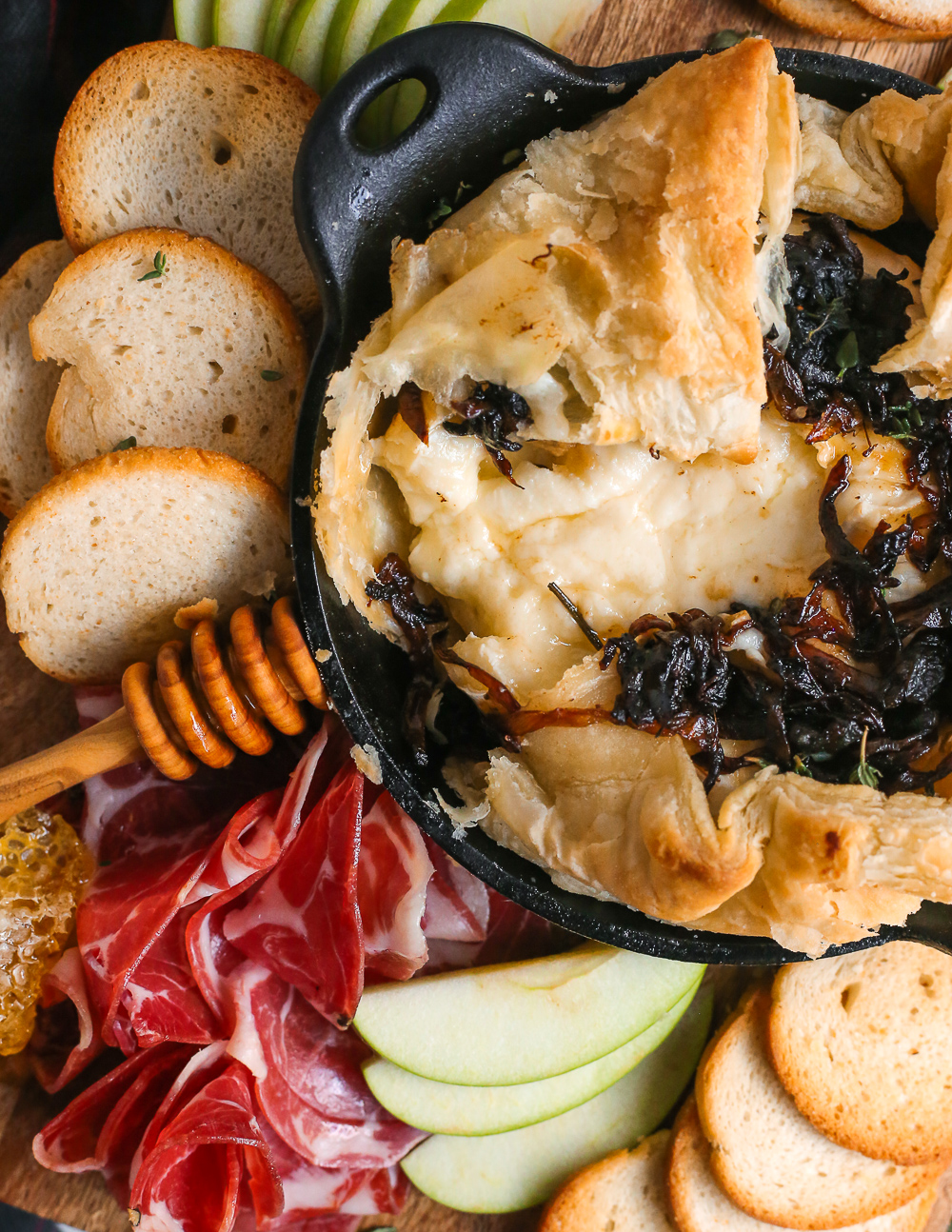 Serving Suggestions
This recipe will make about 4 to 6 servings. If you want some contrasting flavors and textures, or you're serving a bigger crowd, add these options to your serving platter:
Fresh fruit, such as grapes, berries, apple slices or sliced pears , pomegranate
Dried fruit, like dried cherries, apricots, or sliced mango
Crunchy veggies, especially baby carrots, broccoli or cauliflower, or sliced bell pepper
Honeycomb or hot honey drizzle, or orange marmalade, apricot preserves, or fig jam
Mixed nuts, like pistachios, almonds, walnuts, or pecans
Pita chips, crackers, or baguette slices
Your favorite charcuterie meats, pepperoni, or summer sausage
Just remember to give your melty brie a little time to cool before you dig in. It's going to taste incredible, but it's not worth burning all your taste buds off!
If you love cheesy, savory appetizers, you might also like my Green Chile Queso Recipe with Chorizo! It's a great option for gameday entertaining or tailgating.
Baked Brie in Puff Pastry with Caramelized Onions
This decadent appetizer is sure to delight! Baked brie is surprisingly simple to prepare as long as you don't rush the process, and add your own creative toppings for more sweet and savory flavors.
Equipment
cutting board and sharpened knife

baking dish or skillet

large nonstick skillet or saute pan
Ingredients
2

yellow or sweet onions

,

thinly sliced

2

tbsp

salted butter

1 ½

tbsp

balsamic vinegar

pinch

of salt

½

tsp

brown sugar

8

oz

wheel of triple cream brie

1

sheet

puff pastry dough, thawed

,

about 10" square

fresh thyme and rosemary

,

optional
Instructions
Heat a skillet over medium heat and melt the butter. Add the onions and cook, stirring occasionally, for a minimum of 20-25 minutes or until they are deeply browned with a sweetened fragrance. Add the balsamic vinegar, salt, and brown sugar and stir to combine. As the mixture bubbles and thickens, cook for an additional 5-10 minutes to reach a jam-like consistency.

Remove from heat and allow to cool (this can also be done the evening before and stored in the fridge until ready to assemble).

Preheat your oven to 400 degrees F. Place the thawed puff pastry in the center of a prepared baking sheet or small cast-iron skillet. Place the wheel of brie in the center.

Spoon the caramelized onions over and around the wheel of brie. Sprinkle in the fresh thyme and rosemary, if using. Then fold the edges of the puff pastry over the top, crimping the edges if needed to seal.

Bake for 20 minutes or until the edges are golden brown and flaky and the puff pastry is baked through. Remove from oven and allow to cool for 5 minutes before serving.
Notes
To serve, arrange on a board or serving platter with cheese cubes of different varieties, charcuterie or salami, mixed nuts, berries, grapes, apples, or preserves.
Add additional notes of sweet & savory flavors (optional) with a layer of fig jam, honey, pomegranate arils, browned butter-fried crispy sage, toasted pecans, or roasted garlic cloves
Nutrition
Serving:
1
serving
,
Calories:
404
kcal
,
Carbohydrates:
23
g
,
Protein:
11
g
,
Fat:
30
g
,
Saturated Fat:
13
g
,
Polyunsaturated Fat:
2
g
,
Monounsaturated Fat:
13
g
,
Trans Fat:
1
g
,
Cholesterol:
48
mg
,
Sodium:
382
mg
,
Potassium:
143
mg
,
Fiber:
1
g
,
Sugar:
3
g
,
Vitamin A:
342
IU
,
Vitamin C:
3
mg
,
Calcium:
85
mg
,
Iron:
1
mg
I hope you enjoy this delicious baked brie in puff pastry recipe! To get even more inspiration for holiday appetizers, be sure to check out Midwest Dairy's recipe archive!
If you try this at home or bring it to any of your holiday parties, let me know! Leave me a comment or rating on the recipe card to let me know what you think.
And as always, thanks for stopping by the Street Smart Nutrition blog. We're all about fearlessly nourishing meals, so if you want more of that you can find more and follow along on Instagram and YouTube (plus all the other social media platforms). And don't forget to sign up for my newsletter so you never miss a new post!