Easy appetizers are key for low-stress holiday gatherings, so check out this Apple Brie Crostini featuring Arctic® apples. It's one of the best apple appetizers I've ever tasted!
Disclosure: This is a sponsored post written in partnership with Arctic® apples. I have been compensated for my time and as always, all opinions are my own.
---
'Tis the season to keep things simple!
Don't get me wrong, I love the extravagance and excitement of the holidays as much as anyone else. But I draw the line when it comes to prepping appetizers or snacks for all the parties and family gatherings I end up at. It just gets to be too much sometimes!

If you find yourself feeling that way, keep this post in mind. These Apple Brie Crostini appetizers are one of those recipes that takes practically no effort to create but looks impressive when you serve it up.
Why Cook with Arctic® Apples?
Well…you know what I mean. Technically, you aren't "cooking" this recipe, but you certainly can if you want to! There are few things in the world better than melted, gooey brie with apples so that is definitely an option.

But back to this.
Arctic® apples are the world's first non-browning apple. Browning happens when the flesh of the apple is exposed to oxygen, just like with bananas, avocados, or potatoes. It doesn't mean the food has gone "bad" but it doesn't look as appetizing and premature browning can affect flavor and texture after time, which is why Arctic® apples are more appetizing. Not only are they delicious, but because they stay more appetizing longer, it cuts down on food waste.
It's perfectly fine to have a food preference like that, but I was surprised to learn over 40% of apples that are grown end up wasted. Superficial browning from bruising and slicing is a big contributor. It really made me rethink how strongly the visual presentation of a food affects my decision to eat it (or not).
Thanks to innovative technology for plant breeding, the Carter family and Okanagan Specialty Fruits® found a solution for this particular food waste issue with Arctic® apples.
The genes that enable enzymatic browning were successfully identified and "turned off". Arctic® apples will not brown after being cut, bitten, or bruised! 
Read more about the technology behind Arctic® apples and see where they're grown HERE.
This makes them a great option for recipes like this Apple Brie Crostini appetizer. Though they're delicious enough to not last long at a party, potluck, or family event, it's possible they may be sitting out for a little while!
Arctic® apples are also a good fit for cocktails and mocktails (something else I really enjoy during the holidays) and baked dishes.
Here's the recipe for Apple Brie Crostini Appetizers with Arctic® apples!
Apple Brie Crostini with Arctic® Apples
Easy appetizers are key for low-stress holiday gatherings, so check out this Apple Brie Crostini featuring Arctic® apples. It's one of the best apple appetizers I've ever tasted!
Ingredients
25

slices

crostini, crackers, or flatbreads

4

oz

triple cream brie

,

softened

6-8

slices

Arctic® Goldens

,

chopped

1/4

cup

pecans

,

chopped

1

tbsp

honey

fresh thyme

cracked black pepper
Instructions
Arrange the crostinis in a single layer on a serving platter. Slice the brie into thin sliver and place on top. Add the chopped apples and pecan pieces. Drizzle lightly with honey, then top with fresh thyme and a sprinkling of cracked black pepper.
For Hot Appetizers
Heat oven to 300 degrees F. Layer the sliced brie onto the crostinis and arrange on a baking sheet in a single layer.

Bake 3-4 minutes or until the brie is softened and starting to spread. Remove from oven and immediately top with apples, pecans, honey, thyme, and cracked black pepper. Serve immediately.
Notes
If preparing in advance, place a lid on top of the serving platter or gently wrap with foil to cover. Chill for up to 4 hours, then remove prior to serving to allow brie to soften again. 
If preparing the warmed version, wait to prepare until ready to serve. 
Nutrition
Serving:
1
piece
,
Calories:
29
kcal
,
Carbohydrates:
2
g
,
Protein:
1
g
,
Fat:
2
g
,
Saturated Fat:
1
g
,
Cholesterol:
5
mg
,
Sodium:
34
mg
,
Potassium:
11
mg
,
Fiber:
1
g
,
Sugar:
1
g
,
Vitamin A:
27
IU
,
Calcium:
9
mg
,
Iron:
1
mg
The Arctic® Goldens are my favorite variety to use for these Apple Brie Crostini appetizers. They have a slightly sweeter flavor (versus the Arctic® Grannys that are more tart) but if you prefer that, go right ahead! I'm also excited for 2021 because Arctic® Fujis will be available!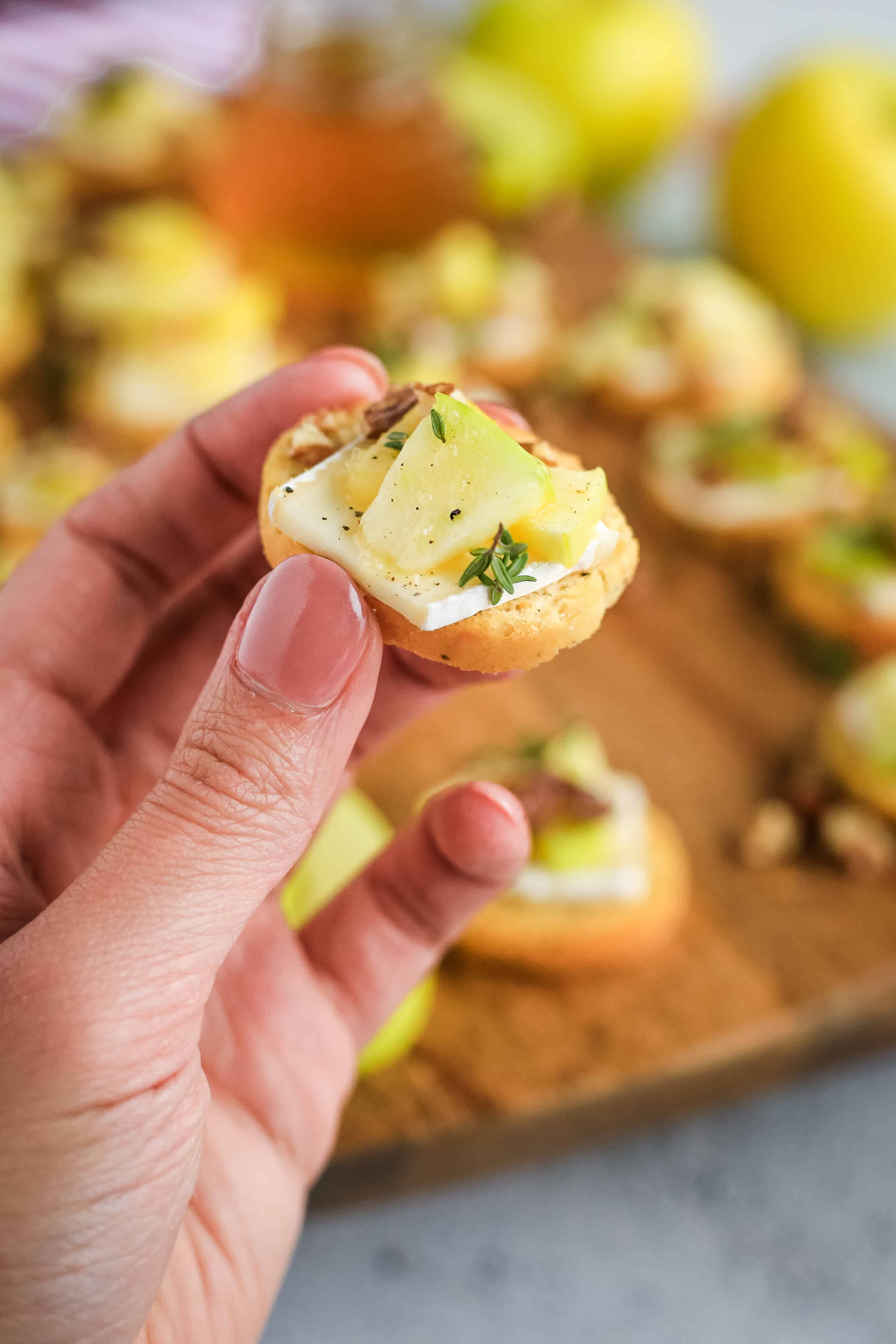 I can't wait to serve these up at get-togethers and parties this holiday season. Since Arctic® apples don't brown, they can last weeks in the fridge without losing quality or flavor. I'm big on trying to save time and shop as efficiently as I can, so stocking up won't be a problem…that is, as long as I don't snack my way through them! That's a very, very real possibility.
If you enjoyed this recipe, be sure to Pin It for later or share with friends & family. Enjoy your (hopefully) low-stress holiday festivities!