Athletes are always looking for simple snacks to fuel and recover from intense workouts. These Loaded Apple Nachos made with Arctic® apples provide essential nutrients to support an active lifestyle!
Disclosure: This is a sponsored post written in partnership with Arctic® apples. I have been compensated for my time and as always, all opinions are my own. 
---
Pop quiz!
What qualifies a food to be one of the best simple snacks for athletes before or after a workout?
Provides carbohydrates, plus some protein and fat
Appealing taste and texture
Convenient to eat or prepare
Specially formulated and marketed to athletes
If you guessed one of these doesn't belong, you'd be right! Although there is an entire market devoted to sports nutrition products that are designed with athletes in mind, there are still plenty of foods that can provide the same benefits. Often, these foods are ingredients or products that can already be found in most kitchens and aren't difficult to find in most grocery stores. No need to search all over town for specialty products or place online orders – for most athletes, there's a lot of benefit in going back to basics with sports nutrition.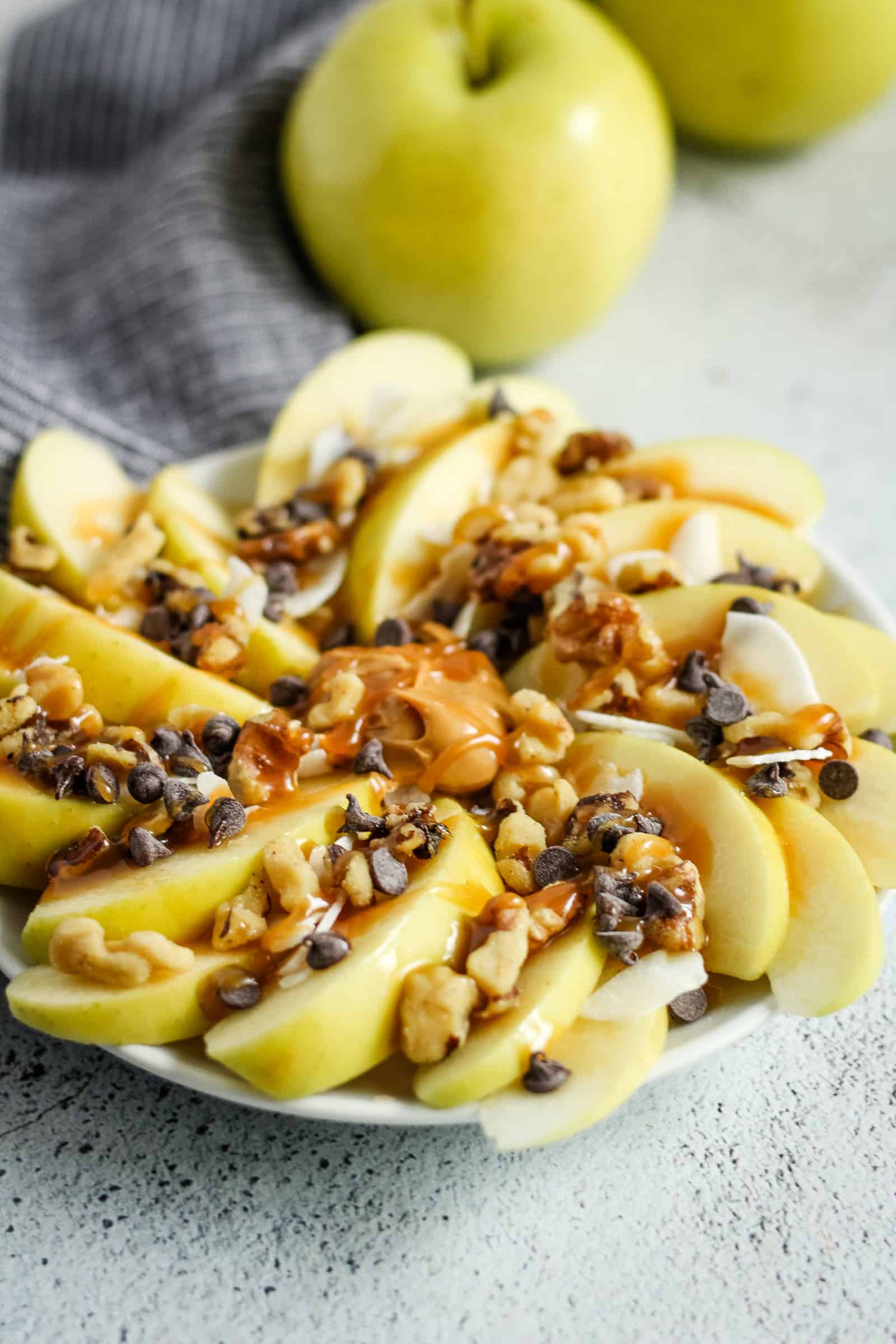 Sports Nutrition Basics
Regardless of your fitness or training goals, most of us aren't going to perform our best or feel our best on an empty tank. But it's a fine balance between eating enough to feel satiated and energized and feeling overly full and uncomfortable (we can spare the details of what might happen in a worst-case scenario). The gastrointestinal (GI) system performs a lot of functions but can be overlooked during training. Just as we make an effort to train the heart, lungs, muscles, even the brain, we can "train" the GI tract. This can help minimize GI distress or discomfort during training or activity.
As a dietitian, I recommend working with someone who can help you work towards your individual goals for performance and fitness. But these tips offer some basic suggestions to keep in mind as you plan for snacks before and after training.
Don't skip meals. Even on days when you are less active, meals are the most reliable way to get the nutrition your body needs to perform. Skipping meals can lead to more chaotic patterns in your eating habits, which can affect energy levels, blood sugar, and your ability to focus in a workout.
Don't avoid snacks. Training for a fitness goal or big sporting event often means athletes have chaotic schedules. If you're balancing a lot on your plate and finding there's not much time to prepare large meals, think of snacks as mini-meals. They are still a great opportunity to provide the energy and nutrition your body needs.
Here are some mini-meal ideas that can be quick and easy to pack and carry before workouts. 
Practice makes perfect. Some athletes are able to eat shortly before a workout while others need more time. But you won't know how your body responds to the timing of food until you experiment. Give yourself 30-60 minutes before exercising after a snack, and one to two hours (or more) after a big meal. However, don't wait longer than 3-4 hours. At that point, a small snack containing carbohydrates can be helpful.
Don't get too caught up in the details. Your overall pattern is more important than getting fixated on things like the precise timing of your meals and snacks or measuring every gram of nutrition. Step back to look at the big picture of how you're eating before you focus too much on those small adjustments. 
Remember, convenience and taste are some of the biggest factors that go into deciding what to eat. Try to think of snacks that you can carry with you in a backpack, gym bag, or purse. Apples and a jar of peanut butter are almost always with me where I am because they don't need to be kept cold and they can get tossed in a bag without getting damaged like some softer fruits.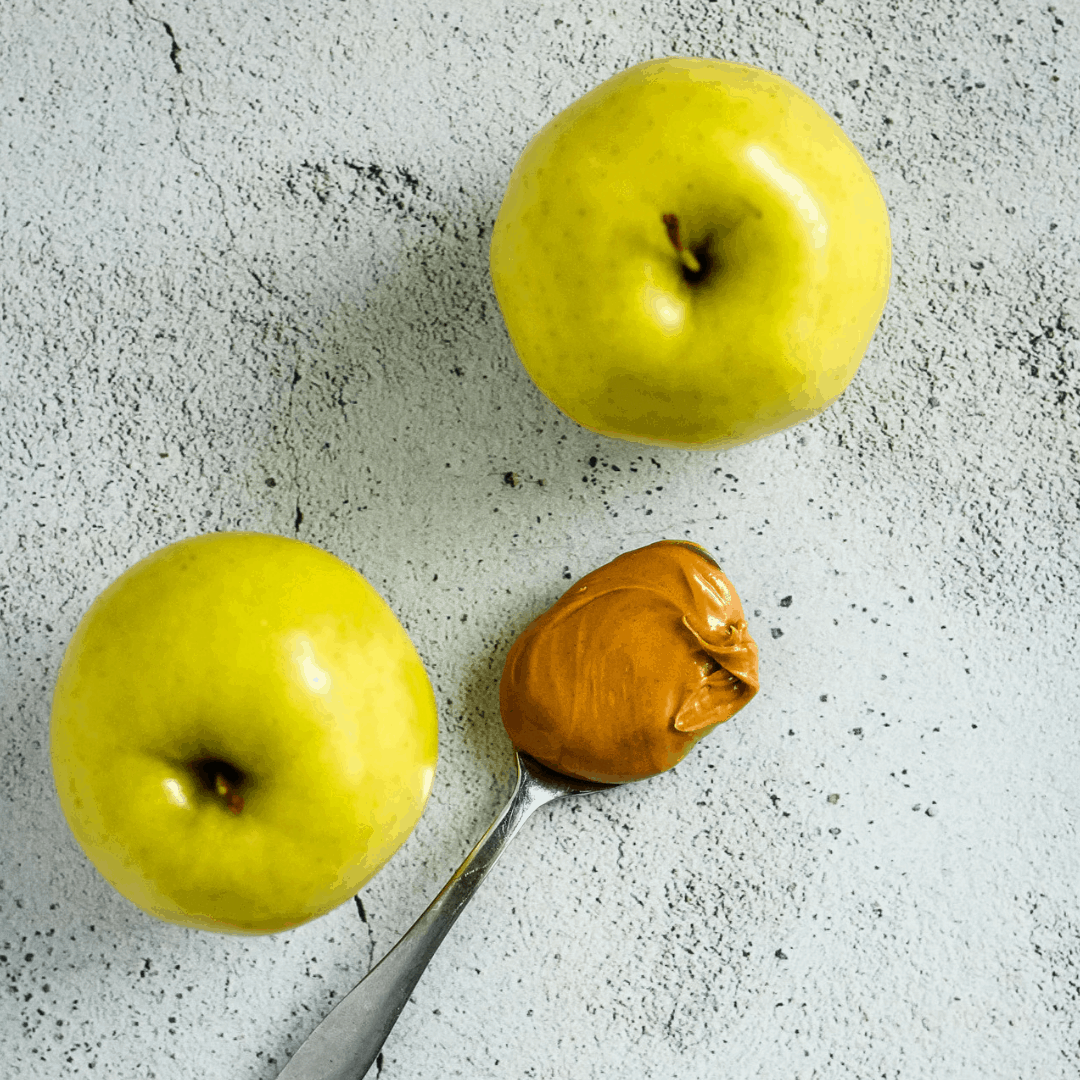 What Should I Eat Before A Workout?
Here are some things to keep in mind while planning your pre-workout snacks:
The closer you are to your workout, the less protein, fat, and fiber you should have. These nutrients are slower to breakdown and absorb and may cause some GI distress. Aim for carbohydrate-rich foods and a small amount of protein, which might help reduce soreness afterward.
Include hydration in your plan. Consume fluids in the hours before your workout, especially if the weather is hot or humid.
Base your snacks on tolerance. This might be the time when "normal" nutrition recommendations, like aim for high-fiber foods, might not apply. Again you won't know until you try it but be sure to pay close attention to how your body responds to certain foods. You'll start to see patterns that you can use to inform future food choices for snacks.
What Should I Eat After A Workout?
Once training is finished, there are three primary goals for sports nutrition: rehydrate, replenish, and recover. Here are some ways to do that:
If your workout lasted an hour or more or involved high-intensity movements, be sure to replace the fuel that got you through that workout. Carbs aren't the enemy! This is the time when your body needs to restore energy for future workouts. Plus, if you exercise early, you still need the energy to get you through the rest of your day! Aim to consume a small carb-containing snack within about an hour afterward.
Fluid and electrolytes are lost through sweat and need to be replaced. Water is usually fine for shorter workouts but consider a sports drink or tablets designed to replace important electrolytes like sodium and potassium.
Don't feel like you need to slam down a lot of protein immediately after every workout. Just 15-25 grams of high-quality protein is enough to support recovery.
Sometimes liquid options make more sense. If you're short on time or don't have much of an appetite, something like chocolate milk can be a good choice. Having something is often better than going without and being underfueled!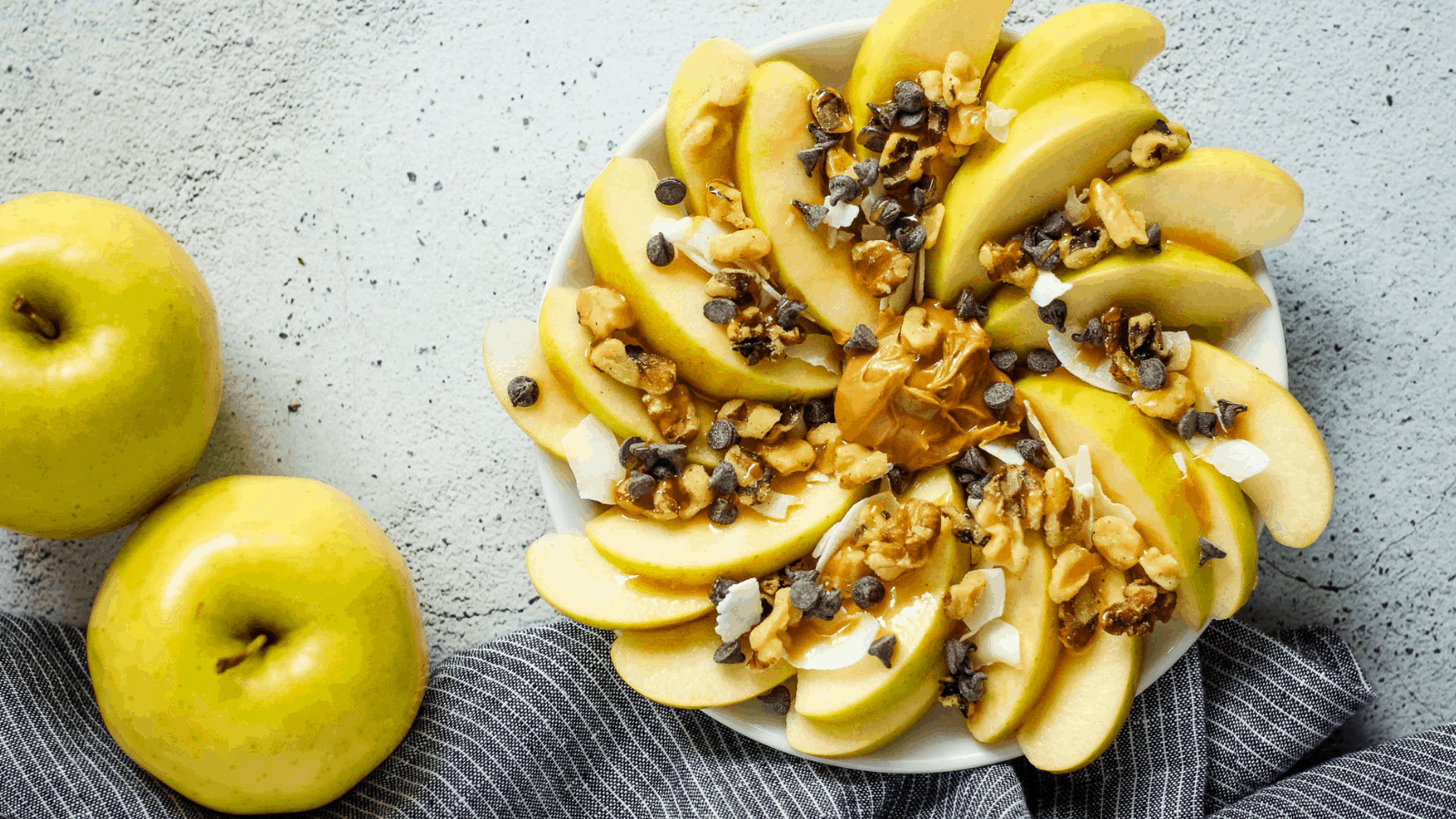 Loaded Apple Nachos
There are a lot of reasons I always keep apples on my list for simple snacks for athletes. I love to recommend them because they're so convenient to carry around. They're also widely available year round, so you don't have to worry about a lack of selection when you're making your regular shopping trips. Apples provide some of the simple carbohydrates we need for energy, plus enough fiber to feel satiated (but not too full). When paired with peanut butter or nut butter, you can also get a little boost of flavor. It's one of my all-time favorite flavor combos!
This recipe is so simple I'm not even sure if we can call it a recipe! Apples and peanut butter have always been a favorite of mine but this time of year I have caramel apples on my mind. Why not combine the two?
These Loaded Apple Nachos with Arctic® apples provide all the benefits we covered in this post. And because Arctic® apples resist browning, they're the perfect variety to use. They can sit out without losing their crispy, crunchy texture or great taste – which is perfect in case you need a little extra time to recover before eating anything post-workout.
Read more about these non-browning apples HERE.
Arctic® apples are currently available in pre-packaged slices, which means there's no apple core to discard when you're finished snacking. This is especially good for athletes who train outside the home or youth athletes who are hopping from school to training without much time for other snacks.
Plus, Loaded Apple Nachos are just really fun to eat. It's a way to take simple, familiar ingredients and upgrade them into something that feels a little more special and fun. They're simple to prepare: just pick out a few different toppings and arrange them on a plate. It really is that easy!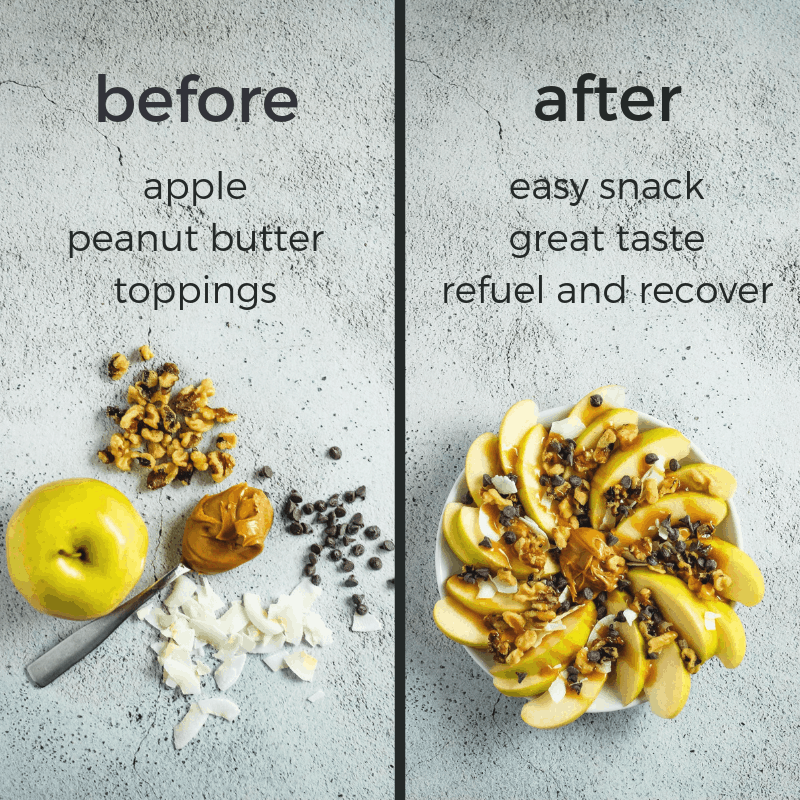 If you have a peanut allergy, I recommend almond butter or sunbutter (made from sunflower seeds) as an alternative. You can get really creative with loaded apple nachos, too. Try different nuts, dried fruit, or replace the caramel sauce with something else like chocolate syrup, white chocolate chips, or more peanut butter.
Here's the recipe for Loaded Apple Nachos with Arctic Apples!
Loaded Apple Nachos
Apples are a great snack option year round. This version of apple nachos is loaded up with flavors and textures that complement the natural sweetness of Golden Delicious apples.
Ingredients
1

Arctic® Golden apple or other Golden Delicious apple

,

sliced thin

1

tbsp

peanut butter

1 1/2

tbsp

chopped walnuts

1 1/2

tbsp

mini chocolate chips

1 to 2

tbsp

unsweetened coconut

,

shredded or flaked

1

tbsp

caramel sauce
Instructions
Spoon the peanut butter onto the center of your serving plate or bowl. Arrange the apple slices around the peanut butter in a circular pattern, repeating a second layer if needed.

Sprinkle the walnuts, mini chocolate chips, and coconut over the top. Distribute evenly across the top of the apple slices.

Drizzle with caramel syrup and serve immediately.
Nutrition
Serving:
1
serving
,
Calories:
483
kcal
,
Carbohydrates:
60
g
,
Protein:
8
g
,
Fat:
27
g
,
Saturated Fat:
9
g
,
Cholesterol:
4
mg
,
Sodium:
163
mg
,
Potassium:
365
mg
,
Fiber:
8
g
,
Sugar:
35
g
,
Vitamin A:
149
IU
,
Vitamin C:
8
mg
,
Calcium:
62
mg
,
Iron:
1
mg
And remember – training the gut can take time, so don't be afraid to experiment to find what works best for your body. The best simple snacks for athletes are the ones that don't cause GI distress, taste great, and fit into a busy training schedule without being an inconvenience. Just don't try anything new before a big event! Race day or right before a big game is not the ideal time to experiment.
What have you learned about fueling your body? Have you found any simple snacks that help you feel your best?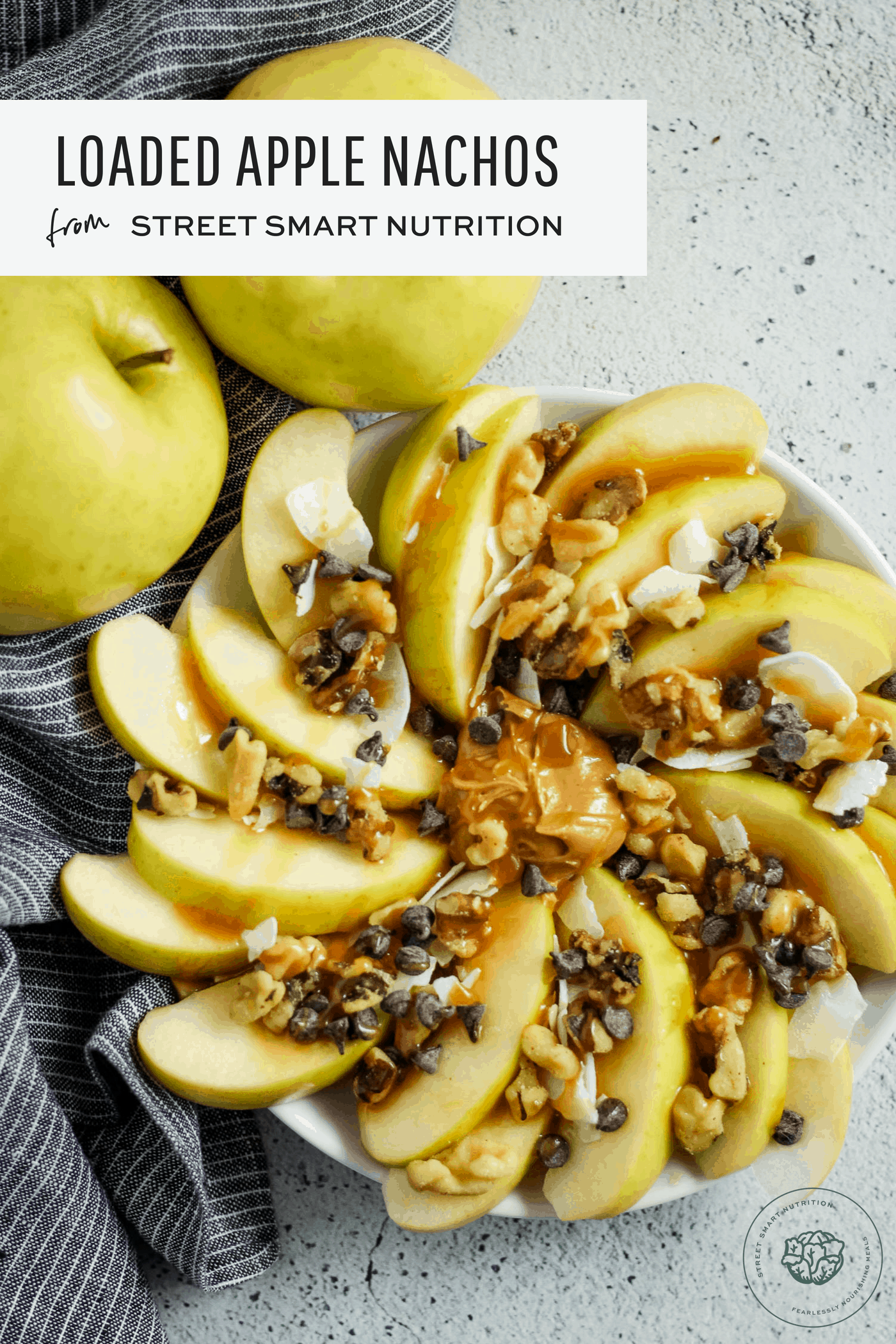 [Tweet "Looking for a simple snack for athletes? Try these Loaded Apple Nachos featuring @ArcticApples! (ad)"]
Be sure to check out the latest recipe using apples: Apple Brie Crostinis! These bite-sized snacks are perfect for entertaining, holidays, and weeknight snacks!