This easy baked brie recipe is the type of appetizer you can put together in minutes! It's a great last-minute option if you're hosting guests. And once you master the basic baked brie technique you can add any sweet or savory toppings you like.
---
If you're here, you might be searching for an easy appetizer recipe. Maybe you got invited to a potluck and procrastinated until the day of. Now you're thinking, "Oh dangit, I knew I shouldn't have waited!" Or maybe it's the holiday season and surprise! Guests are coming over and you need an easy appetizer before the main meal.
Whatever has you scrambling for an easy savory appetizer, don't worry! This Easy Baked Brie recipe will save the day. And it's not an urgent matter, well, you're still in luck! You can enjoy this basic baked brie anytime you're craving a savory appetizer.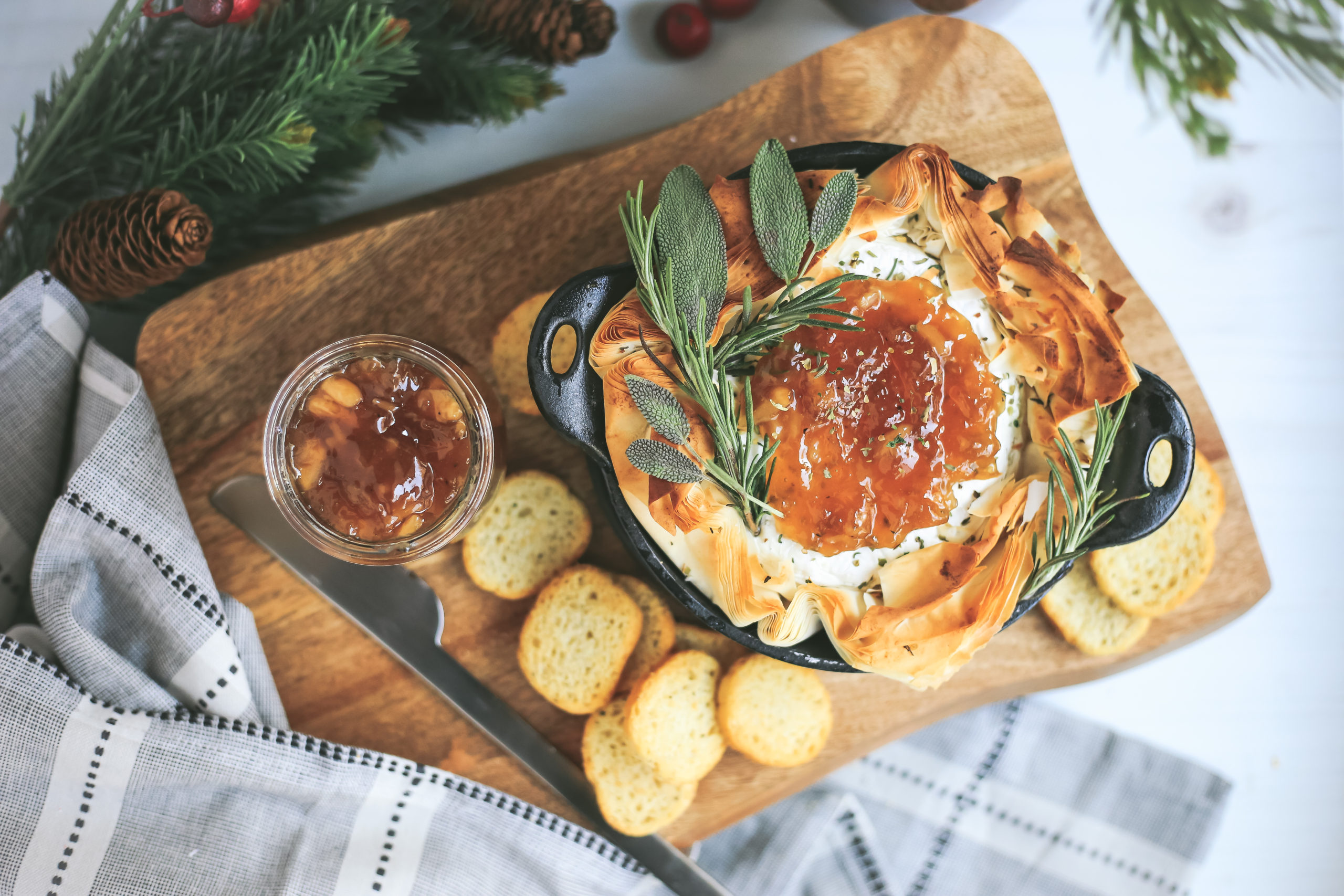 Here are a few reasons to love this simple baked brie recipe:
It truly does not get any easier than this. Just two ingredients, plus some simple toppings, and 20 minutes in the oven. That's it! The thawing time and cooking time don't make for the shortest recipe but it's nearly all hands-free.
It's deceptively impressive. Baked brie might feel like an intimidating dish to tackle, but trust me, it's far easier than it looks!
Once you've mastered the basic baked brie technique, you can get more creative by adding sweet or savory toppings like the caramelized onions in this recipe. If you're like me and can't choose between the two, try both!
Baked brie is definitely one of the appetizers I get really excited about. I don't often order it at restaurants (in fact, I don't know that I've even seen it on many menus lately). But that's only because my enthusiasm + the gooey melty mess that ensues is not always the look I want to be giving in public!
At home though, it's another story. I used to be intimidated by the idea of making my own baked brie recipe at home, especially because the events and menus where I'd seen it before always seemed really upscale and fancy. But when I found myself with an extra sleeve of phyllo dough on hand, I thought, why not?
How to Make a Basic Baked Brie
At this point, I almost always have some prepared pastry dough in the freezer. Even though I've seen every season of Great British Baking Show, I've yet to attempt my hand at making puff pastry or phyllo dough from scratch!
For this easy baked brie recipe, I opted for phyllo dough instead of puff pastry. But either option works. If you're using puff pastry, you may need a slightly higher oven temperature and longer baking time. And I know, I know, the baking snobs might be rolling their eyes at this advice, but this is such a simple recipe you don't have to get too caught up with getting it perfect! You can read more about the differences between phyllo dough and puff pastry HERE.
If you're looking for a no-bake appetizer that uses brie, check out my Apple and Brie Crostinis!
To make this recipe, just be sure you're working with thawed pastry dough. If you try to fold the edges while it's still frozen, you'll likely break the dough, plus the cooking time is based on pre-thawed dough. I pull mine from the freezer the day before and store it in the fridge, or leave it on the countertop for a couple of hours.
Once thawed, lay it flat the place your wheel of brie in the center. With clean hands, gently fold the edges around the wheel of brie to enclose it inside the pastry dough, crimping the edges if needed to hold it together. You can put this directly on a baking sheet, or if you happen to have a small skillet or gratin dish, you can tuck it into there for a nicer presentation.
Street Smart Nutrition Tip: Don't remove the rind! Brie cheese has an edible rind and it helps prevent the cheese from spilling out as it bakes. I personally like to eat the rind, but if that's not your jam, just cut it open and remove when you're ready to serve.
What do I serve with Baked Brie?
As you can see, the baked brie in phyllo dough looks amazing when garnished with fresh or dried herbs. They get incredibly aromatic thanks to the heat given off by the baked brie as it cools, and you can use any variety or combination you have on hand. During the winter season, I think it's especially delicious with sage, rosemary, and thyme.
You can tear off pieces of the pastry dough to dunk or dip into the melty, gooey brie but it can get a little messy, especially since phyllo dough is flaky. Here are some other serving options:
Crackers, pita chips, or bagel chips
Fresh veggies like broccoli florets, baby carrots, or sliced bell peppers
Crispy fruit like apples or pears, sliced thin
What kinds of toppings can I use?
Here's where I think it gets really fun. Once you've mastered the basic baked brie technique, the sky's the limit for other flavors. I tend to think of them as sweet and savory, depending on the flavor profile you're going for. It can be doubly delicious to include a little bit of both!
If you're going for sweet, try these flavor combos:
Maple pecan (or walnuts, almonds, macadamia nuts, or other favorites)
Honey and lavender
Different sweet jams, like apricot, peach, fig, or cherry
Cranberries or pomegranates (this is especially nice for holiday meals because they look so seasonal and pretty!)
Blueberry balsamic, using frozen blueberries and balsamic glaze
If you're going for savory, don't be shy about trying these options:
Savory jams like hot pepper jelly, onion jam, or
Mushroom and herbs
Browned-butter sage
Roasted garlic
Pesto and pine nuts
Sun-dried tomatoes or roasted red peppers
If you're going for both, you don't have to choose if you pick one of these:
Caramelized onion and fig jam
Hot honey
Chili-roasted pistachios
What other flavor combos is this inspiring you to try? I'd love to hear what you come up with, so leave a comment and let me know!
Here's the recipe for my Easy Baked Brie!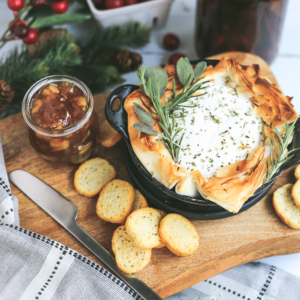 Easy Baked Brie
This simple baked brie recipe is as simple as thawing phyllo dough, preheating an oven, and waiting patiently for 20 minutes. Enjoy this quick and easy savory appetizer!
Ingredients
8

oz

wheel of triple cream brie

1

sheet

prepared phyllo dough, thawed

,

about 9" square

Fresh sage, rosemary, or thyme

,

optional, for garnish
Instructions
Preheat your oven to 400 degrees F.

Place the thawed phyllo dough in the center of a prepared baking sheet or small cast-iron skillet. Place the brie in the center.

Carefully fold the edges around the wheel. Crimp the edges if needed to secure the folds. *Note: Do not remove the rind.

Sprinkle with herbs (if using) and bake for 20 minutes until the center of the brie is soft and the phyllo dough is golden brown and flaky.

Remove from the oven and allow to cool for 3-5 minutes. Arrange the fresh herbs on top (optional), then serve with crackers, crudités, or your other favorite accompaniments for dipping.
Nutrition
Serving:
1
serving
,
Calories:
267
kcal
,
Carbohydrates:
25
g
,
Protein:
11
g
,
Fat:
13
g
,
Saturated Fat:
7
g
,
Polyunsaturated Fat:
1
g
,
Monounsaturated Fat:
5
g
,
Cholesterol:
38
mg
,
Sodium:
466
mg
,
Potassium:
92
mg
,
Fiber:
1
g
,
Sugar:
1
g
,
Vitamin A:
224
IU
,
Calcium:
75
mg
,
Iron:
2
mg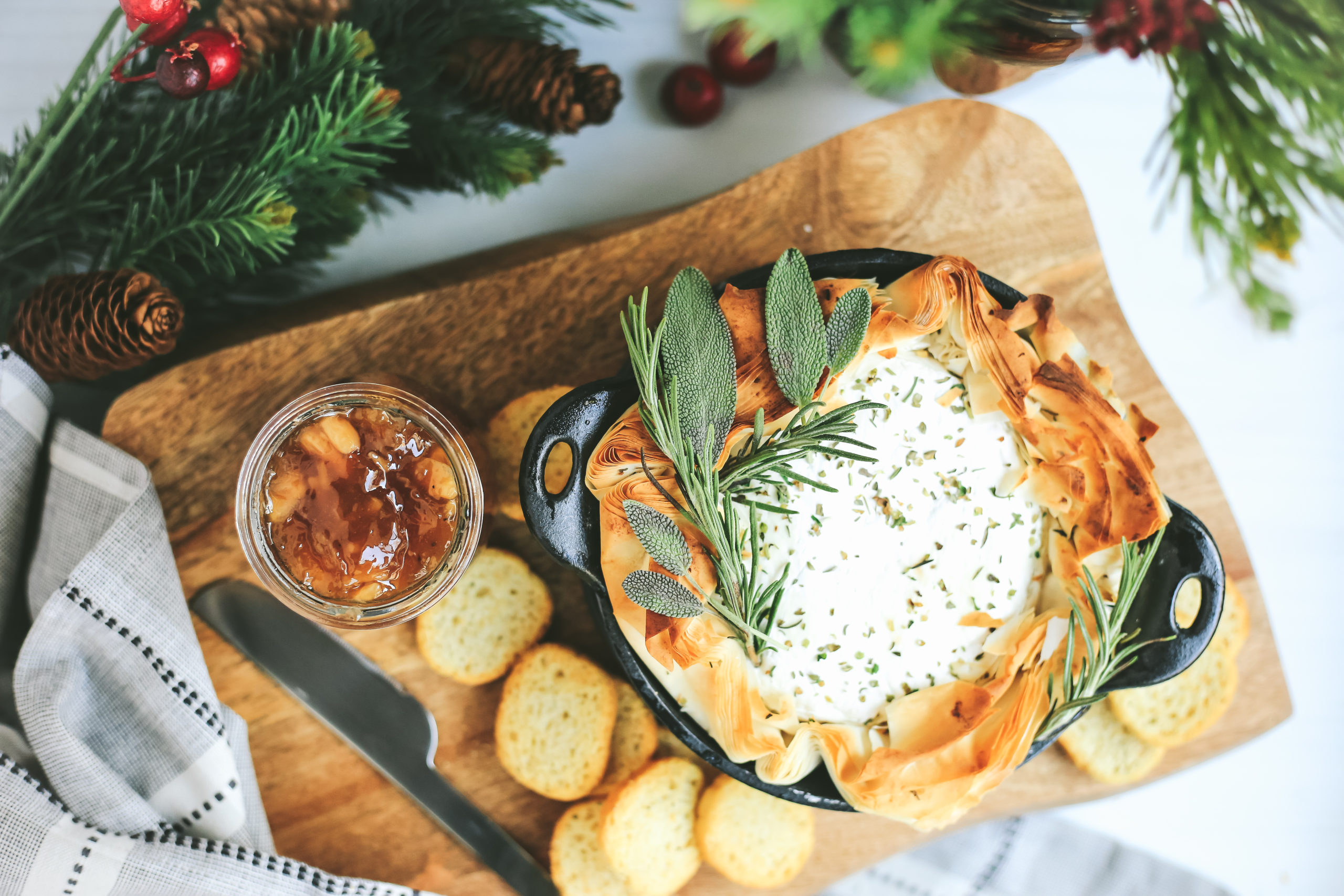 If you like this Easy Baked Brie recipe, you might also like: