These Glazed Pork Tenderloin & Fig Kebabs might be my best grilling recipe EVER (well, so far anyways). They're sweet and savory, hot and sticky, and surprisingly simple to make! Read on to see how!
---
This recipe and post for Glazed Pork Tenderloin & Fig Kebabs was sponsored by Kansas Pork. I received compensation for groceries and my time. As always, all opinions are my own.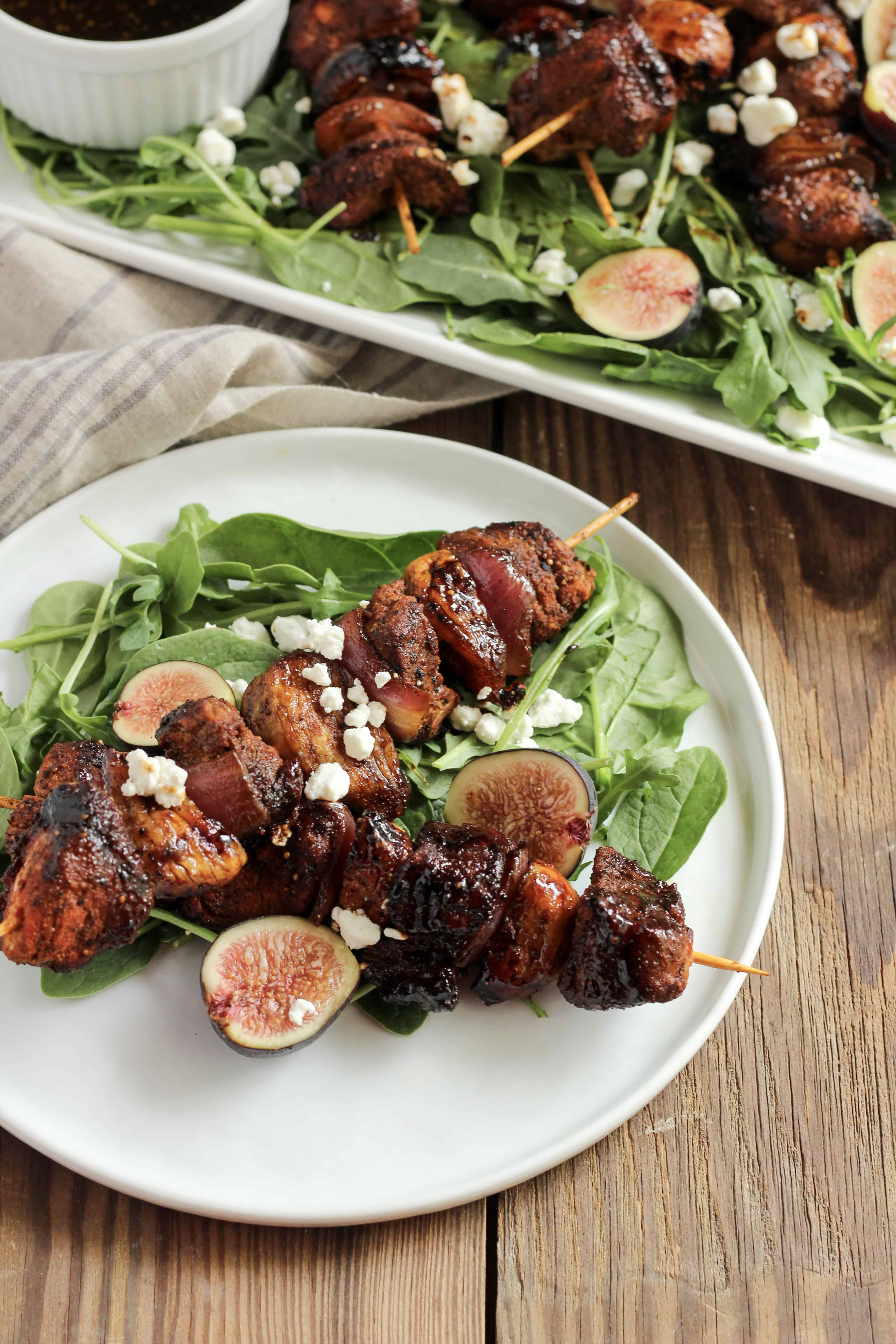 You guys…I'm super pumped about this recipe. I will never claim the title of "Grillmaster" in our house (that's reserved for Mr. Street Smart), but I did manage to outdo him when it comes to pork tenderloin.
I was inspired to make this recipe for a few different reasons. First, because I recently had the opportunity to tour a hog farm in Minnesota (sponsored travel) but also because I'm really excited by the idea of cooking with figs. I saw some in my local grocery store, looking amazing like figs always seem to do, and had to find a way to use them!
My trip to a Minnesota hog farm was my first glimpse into how pigs are raised in today's modern world. Way back when, my grandfather raised hogs and one of my dad's first jobs was hauling them by truck to the stockyards in Kansas City. Though I grew up in the country, this aspect of life was long gone by the time I came around. It was an eye-opening experience to see how today's pigs are raised with high tech practices that my grandfather probably never dreamed of using on his farm.

I enjoyed the chance to get behind-the-scenes at a hog farm…it was quite the ordeal just to even get there. Because pigs can easily become sick from contact with humans, biosecurity is a big concern for pork production these days. The first thing we did at this farm was a complete "shower-in" process. Yup, I stripped down, showered in a strange locker room, and threw on unisex scrubs and Crocs. After we wrapped up our tour I repeated that entire process in reverse, making sure no contamination from either side crossed over to the other. Definitely a new experience for me, but speaks volumes to the lengths these farmers will go to in order to protect the health of their pigs!
In addition to the farm tour, there was a fun culinary component of this trip. Our group spent the next day in the kitchen, experimenting with a wide variety of pork recipes. This is where I watched my first ever hog fabrication, which is the process of breaking down a pig carcass into the cuts you would recognize in your butcher shop or at the meat counter.
Although I thought I might be uncomfortable in the presence of what used to be a living, breathing animal, it was actually one of the most fascinating things I've ever watched. The butcher who walked us through this process was incredibly informative and made sure we felt comfortable asking all of our questions. Don't worry, I took full advantage of that opportunity! My curious mind was thinking through all the ways these parts of the animal could be used – it never ceases to amaze me how selective (read: picky) we are as Americans. He explained that if it wasn't for the export market, much of that animal would go to waste because we simply aren't interested in some of the cuts.
I suspect part of that is because we aren't always sure how to prepare pork (or any other food) in a way that will taste good. That's certainly the case for me. That's why I stuck to familiar territory with this recipe – I know pork tenderloin is a lean, flavorful, easy-to-cook cut of meat. It made a great canvas to work with for these bold flavors.
And, of course, some beautiful seasonal figs!
[Tweet "#ad Glazed Pork Tenderloin and Fig Kebabs will take your grilling game to a new level!"]

The spice rub on this recipe is a little smoky, a little spicy, and 100% delicious. Cutting the pork tenderloin into small cubes increases the surface area, meaning there's just more real estate for this spice mixture to stick to. I added the cubed pork tenderloin to a large gallon bag, mixed the spices together and sprinkled it on top.
"Shake, shake, shake…shake yo' booty!"….I mean…shake your cubed pork tenderloin.
Threading the kebabs took just minutes, and this is where you can get really creative. I love grilled onions, and looking back I could have easily added double the amount I used. But other seasonal vegetables would work well on these kebabs, too. And don't forget to remove the stem from your dried figs. They're fine to eat (if you like that kind of thing) but crunching into the stem of a dried fig isn't my idea of fun! I also cut mine in half so the size matched with everything else on the skewer.
Grilling over high heat helps the natural sugars in the figs and glaze caramelize over the entire kebab, and trust me when I say your neighbors might be peeking over the fence to see what you've got going on. I'm planning to repeat this recipe over the winter with my stovetop grill pan. If that's the situation you find yourself in, I'd recommend reducing the amount of glaze by half, simply because there won't be any grill grates from excess drippings to fall through. Built-up glaze has the potential to burn onto the pan, leaving an off-flavor on your kebabs that you may not enjoy.

Be sure to cook your pork to the safe internal temperature of 145 degrees F. For cubes this size, that was about 8 to 10 minutes. A meat thermometer is a good investment (very cheap!) that will let you know exactly when your meat is finished cooking – not only do you avoid food borne illness from undercooked meat, but you'll also eliminate the issue of overcooking meat and ending up with a meal that's dry or chewy.
For more tips on cooking pork, check out this resource from the Pork Be Inspired campaign. They have a lot of recipe inspiration, but be sure to also check out mine for Red, White, and Blue(berry) Glazed Pork Tenderloin!
(And if you're here for the figs, I've also got my Lemon & Fig Baked Oatmeal Cups)
[Tweet "#ad There's never a wrong time to grill! Check out these Glazed Pork Tenderloin and Fig Kebabs"]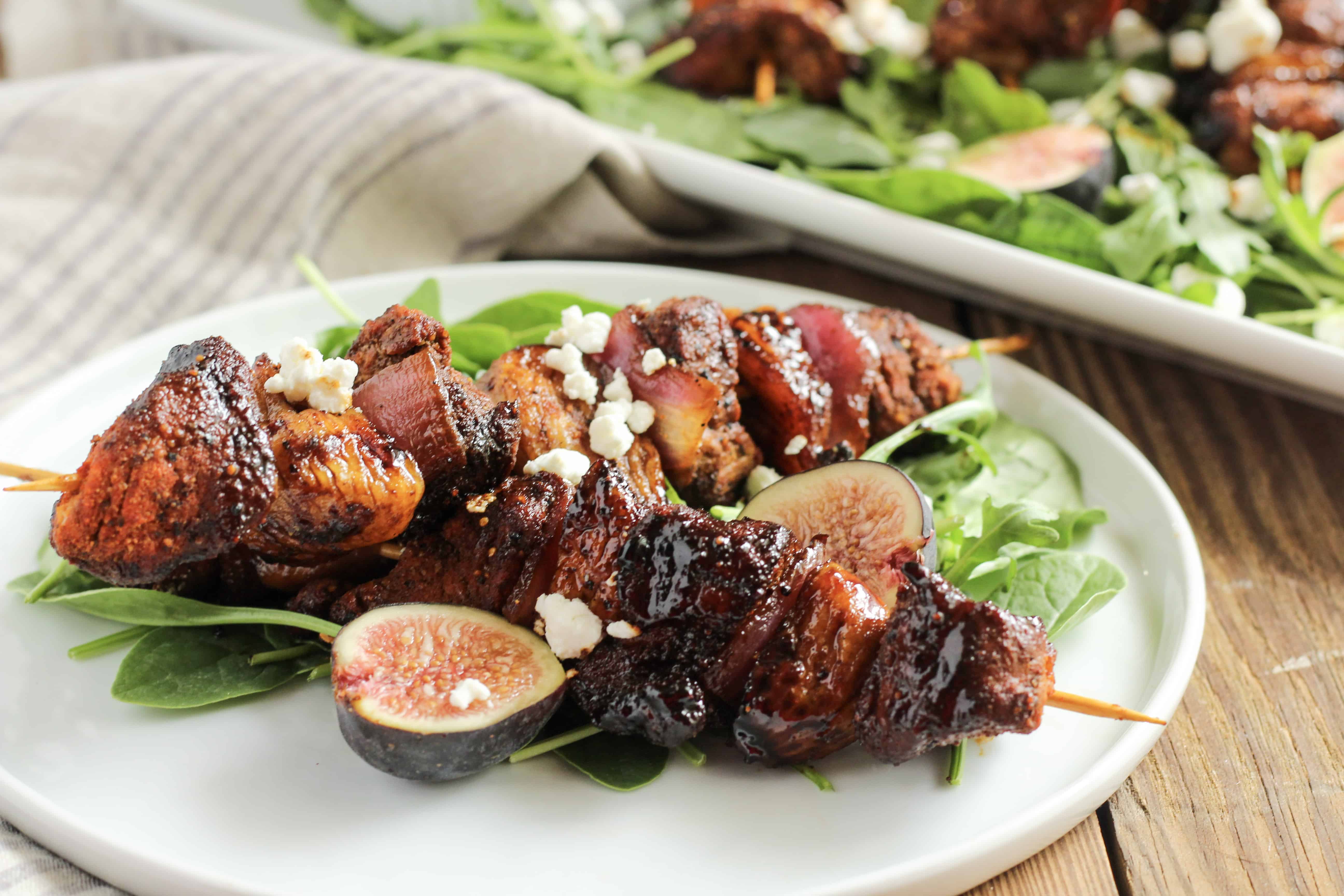 Do you have a favorite cut of pork? Or a favorite recipe for pork tenderloin?
Glazed Pork Tenderloin and Fig Kebabs
Pork and figs are a powerful flavor pairing. Serving them on top of salad greens to complete your meal!
Ingredients
1

tbsp

smoked paprika

1/2

tsp

fine sea salt

1

tsp

black pepper

1

tsp

onion powder

1

tsp

garlic powder

1/4

tsp

cayenne pepper

1 1/2

pounds

pork tenderloin

,

trimmed

1/4

cup

balsamic vinegar

3

tbsp

honey

1

tbsp

dijon mustard

2

tsp

olive oil

12

dried figs

,

halved

1

small red onion

1/2

cup

goat cheese crumbles

6

cups

leafy greens
Instructions
If using wood skewers, soak in water while other ingredients are prepped. Preheat grill or grill pan to medium-high heat.

Cut the pork tenderloin into 1-inch cubes. Combine the paprika, salt, pepper, onion powder, garlic powder, and cayenne pepper in a small bowl or cup. Add the cubed pork tenderloin to a gallon ziplock bag, then add the spice mixture. Vigorously shake until pork is evenly coated.

Chop the red onion into bite sized chunks. Skewer the pork, onion, and halved figs, alternating so each kebab is evenly filled. Continue until all the cubes of pork have been added. Combine the balsamic vinegar, honey, dijon mustard, and olive oil to create the glaze. Transfer everything to your grilling station.

Grill the kebabs for 8 to 10 minutes, or until pork reaches internal temperature of 145 degrees F. Generously brush with glaze during the last half of cooking, turning each kebab to allow for even cooking.

Allow the kebabs to rest 5 minutes after grilling. Arrange the leafy greens on a serving platter or on individual plates. Sprinkle with goat cheese crumbles and serve immediately.
Notes
In place of goat cheese, bleu cheese or gorgonzola may also be used. If desired, make a fresh batch of the glaze and drizzle lightly over leafy greens as a dressing.
Nutrition
Serving:
1
serving
,
Calories:
458
kcal
,
Carbohydrates:
39
g
,
Protein:
43
g
,
Fat:
15
g
,
Saturated Fat:
7
g
,
Cholesterol:
124
mg
,
Sodium:
552
mg
,
Potassium:
1050
mg
,
Fiber:
4
g
,
Sugar:
29
g
,
Vitamin A:
1883
IU
,
Vitamin C:
16
mg
,
Calcium:
113
mg
,
Iron:
4
mg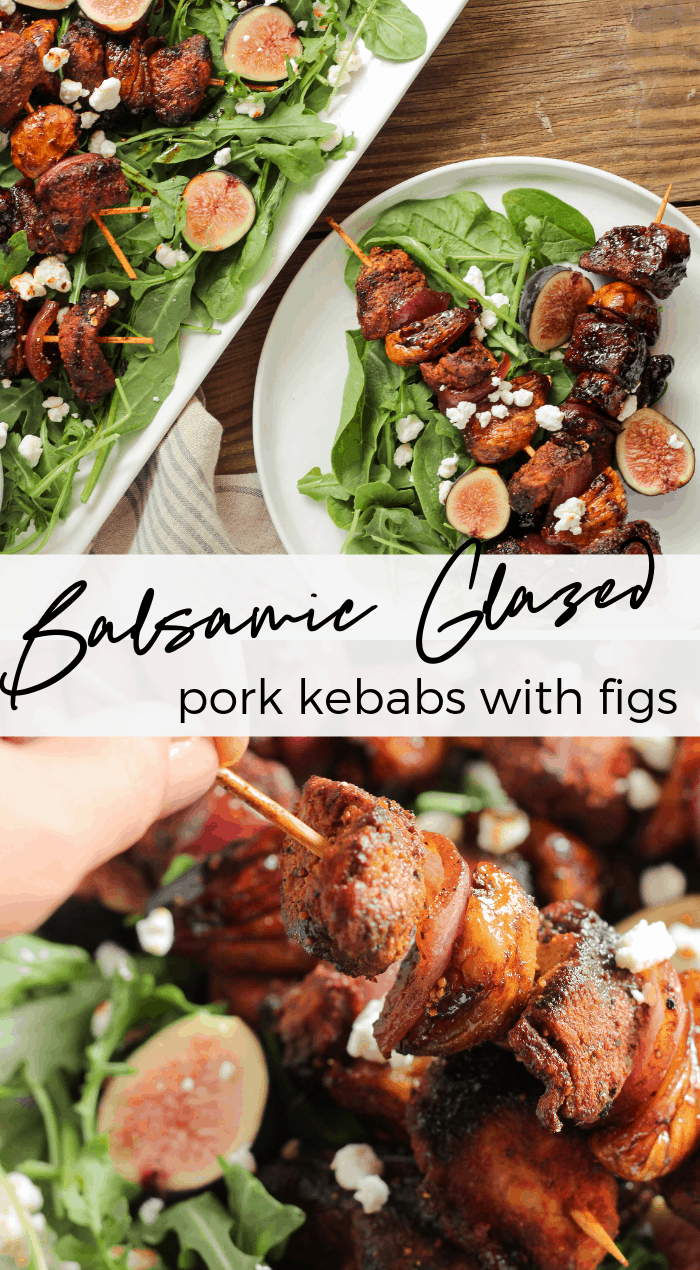 SaveSave
SaveSave
SaveSave
SaveSave