It's time to rethink the health benefits of prunes! New research shows that prunes can play an important role in bone health. Plus, they're a great option for simple snacks so be sure to check out the quick & easy recipe for prune puree below!
---
Disclosure: This post was created in partnership with California Prunes. I was compensated for my time.
Fresh fruit, dried fruit, frozen fruit…so much fruit to choose from and still so much confusion over what's best for health. In this post, I'll tackle what I think is one of the most underrated options: prunes!
I teamed up with California Prunes to share some of the basics of prunes nutrition, as well as a deeper dive into the health benefits of prunes for athletes and active people. Let's get started!
Are Prunes Good For You?
Short answer: You bet!
But there's more to the story, as with almost everything related to food and nutrition.
First up, it's worth taking a look at some of the basics of prune nutrition. Often, I'm asked about the sugar content of dried fruit as people tend to recognize the sweetness and concentrated flavor. Rest easy, the sugar content of prunes is nothing to worry about! A serving of dried prunes (four prunes, or 38 grams) packs a whole lot of nutritious goodness into a small package.
Here's an overview of what you get:
3 g of dietary fiber (both soluble and insoluble)
24 g total carbohydrates, which provide the energy our bodies need to perform at their best
280 mg potassium, an important mineral for muscle contractions and fluid balance. Potassium may also play a role in maintaining healthy bones (more on that later!)
23 mcg of Vitamin K, a key vitamin for blood clotting and bone metabolism
Prunes also contain magnesium, boron, riboflavin, niacin, and Vitamin B6
Next, we can zoom into the antioxidant capacity to better understand the health benefits of eating prunes. In addition to the nutrients above, prunes also contain polyphenols, a class of phytochemical found in plant foods. And because prunes contain several of these phenolic compounds, they're believed to contribute to bone health, GI health, and heart health in a few key ways.
And the great news is that you get all the same health benefits of prunes whether you eat them whole or blended, like in the prune puree shared below. The nutrition content may change when stewing or roasting, as you might find with some savory recipes, so please note the nutrition information listed above related to dried prunes and the prune puree only.
You can amp up the nutrition impact of good-for-you prunes by using them in recipes like my Pearled Couscous Salad with Lemon-Garlic Dressing!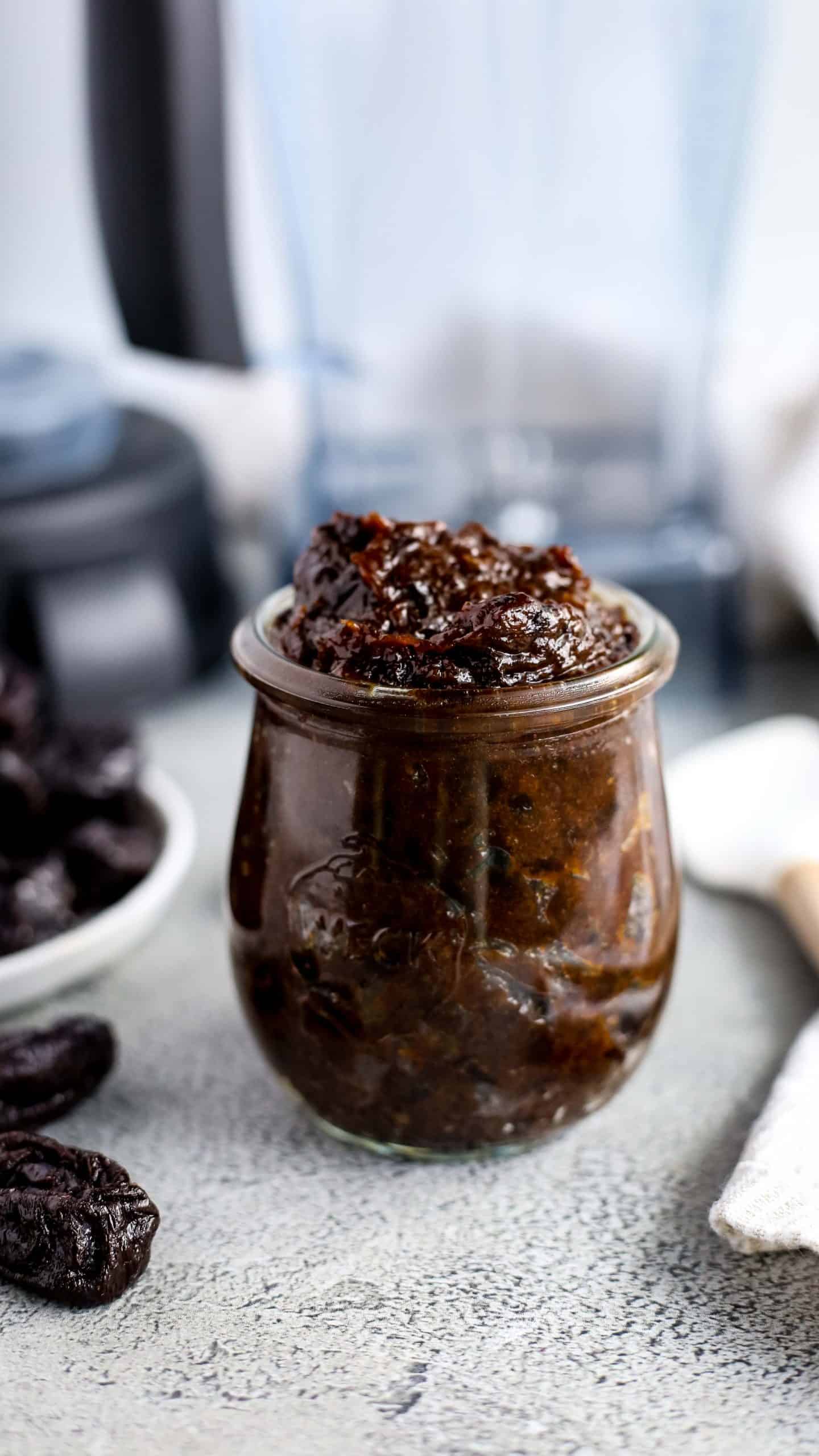 Health Benefits of Prunes for Bone Health
Prunes have many of the nutrients known to influence bone health, especially boron, potassium, and Vitamin K. The phenolic compounds I mentioned above also play a role run inhibiting bone resorption.
Bone resorption is the process where bone tissue is broken down, allowing minerals to leach out of the bones and are reabsorbed back into the blood for other functions. Preclinical animal and cell studies suggest that prunes and/or their extracts inhibit bone resorption and enhance bone formation because of their actions on cell signaling. This influences which cell differentiation (into osteoclasts or osteoblasts) and are consistent with clinical studies showing prunes can be beneficial for bone mineral density (BMD).
Peak bone mass is reached by age 30. I just celebrated that milestone birthday late last year, so lately I've been thinking about whether I'm doing all I can to support healthy bones! I'm a former college athlete and I remember having the opportunity to have my bone mineral density tested in one of my nutrition labs. The numbers at the time looked great, but we lose bone density as we age and it can be more difficult to preserve bone density as the years go by.
There is still a lot we don't fully understand about the role prunes play in bone health, but several small studies indicate a serving of just five to six prunes per day may be enough to support better bones. When compared to other dried fruits, only prunes are considered high in Vitamin K. The combination of nutrients, vitamins, minerals, and phenolic compounds in prunes makes them good for bone health.
Health Benefits of Prunes for Athletes
Athletes and active people are already doing a lot to keep their bones healthy. The recommendations for physical activity to build and maintain strong bones vary according to age, but 30-60 minutes of moderate to vigorous physical activity and strength training four times per week is shown to help.
But because athletes are consistently training at a high intensity, the wear and tear on their bodies tend to be greater, too. Although the impacts of training can be good for bones, it's important to provide the important nutrients needed to both maintain bone density and prevent the loss of bone density. Prunes may positively impact bone health from an early age (which is great news!) but the studies were done in older, post-menopausal women suggest a daily serving of prunes can be helpful. They are one of the groups most prone to bone health conditions like osteoporosis and osteopenia. As a former female athlete, I think it's important to highlight some of the things we can be encouraging now to minimize risks to our health later!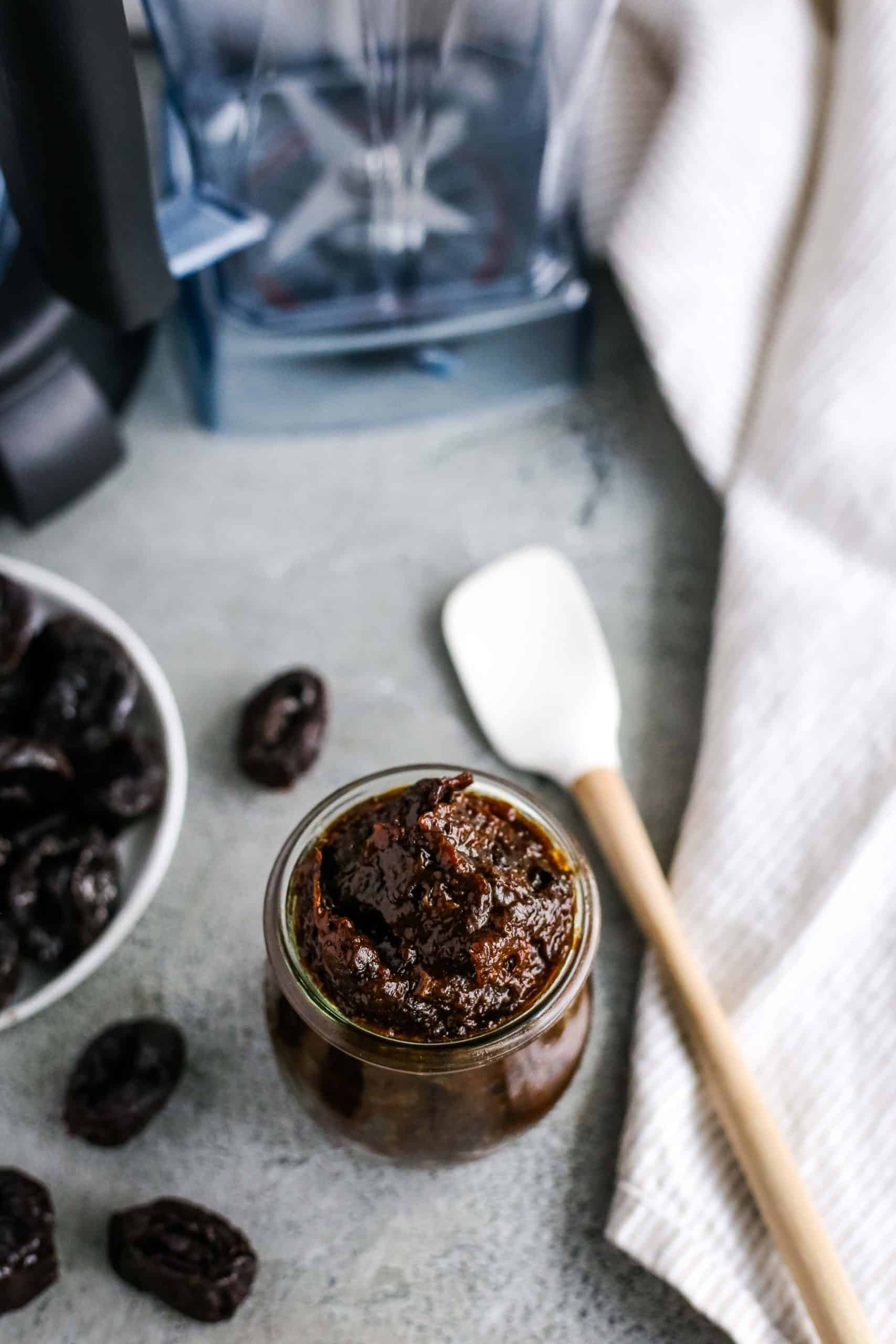 But the nutrition in prunes isn't the only reason I'm a fan. The flavor and culinary versatility of prunes are also a big factor in why I love them. It doesn't matter how you serve them – whole, diced, pureed – there are endless ways to easily add them to meals and snacks.
How Do You Use Prunes In Snacks?
One thing I wish I would have known in my college days was how key it was to always have convenient, grab-and-go snacks on hand. I spent years (literally, years) of my life sitting through classes or showing up to practice with a growling stomach because I didn't think ahead to bring snacks with me.
Well, those days are over and now prunes are one of the things I always keep in my pantry because they're just so easy! One thing that usually surprises people is that although prunes are just dried plums, the texture is not actually dry at all. In fact, the packaged ones I pick up in the canned/dried fruit aisle are always sweet, juicy, and moist. However, you can also find them in bulk bins. Those tend to be one the chewier side, which makes them a good choice for chopping and adding to trail mix, granola, or other uses where you don't want such a soft texture. That soft texture also helps make it easier to add them to smoothies, oatmeal, or blend into a prune puree for baking or other recipes.
I could spend all day just raving about all the yummy flavor pairings for prunes, but I want to highlight one favorite in particular. That's prunes + peanut butter!
For more simple snack ideas you can prep ahead of time with no cooking, check out this post: Meal Prep Snack Ideas for Busy People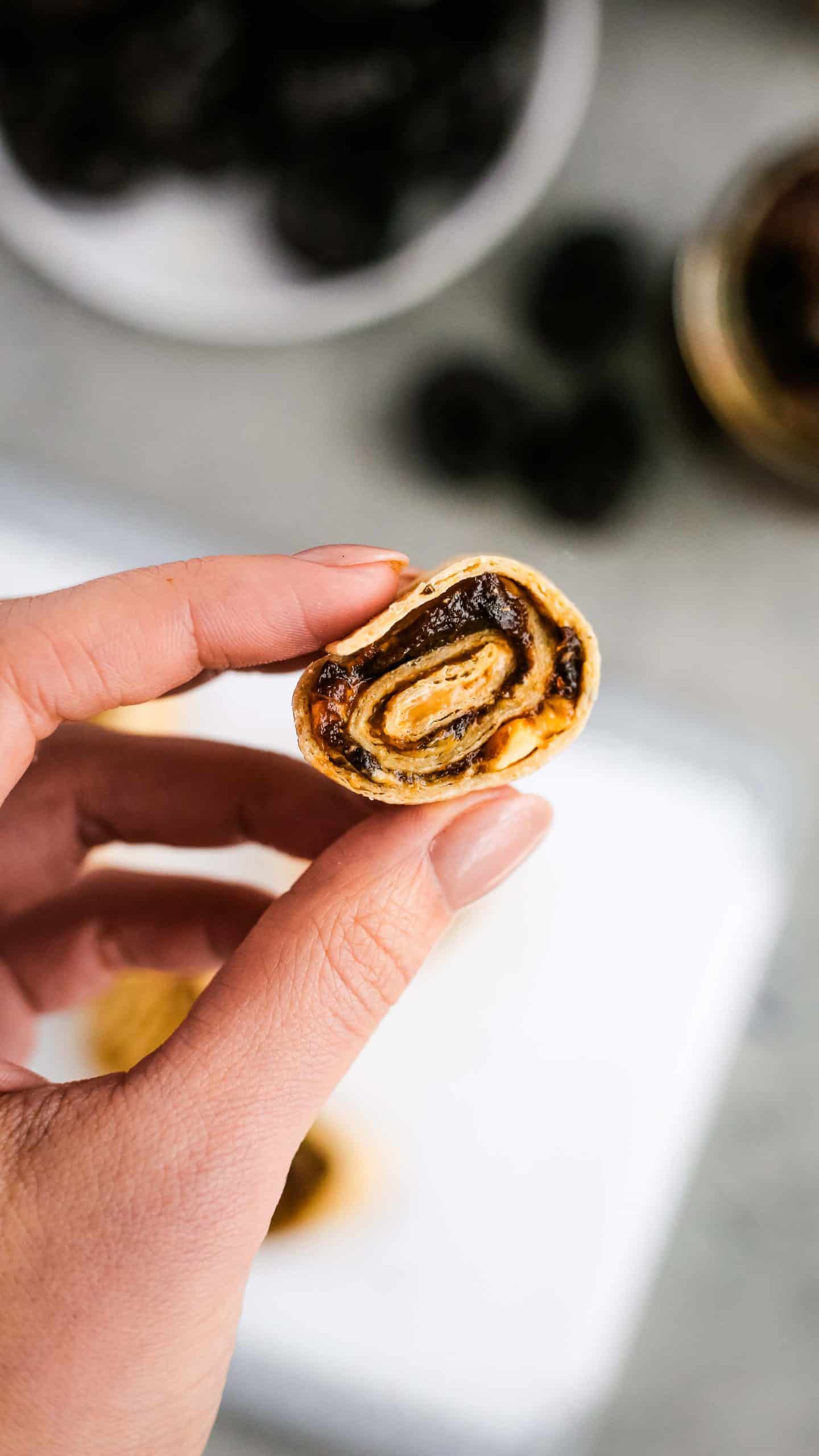 I've been a fan of PB & J sandwiches for a long time. I usually use a toasted English muffin and enjoy it as a breakfast option, but I really like replicating that concept for snacks and fueling options. Taking a prune and slapping some peanut butter on it is such a delicious one-bite snack and I can enjoy as many as I need to power up for a workout or refuel my body afterward.
Another highlight: no refrigeration needed. This is so, so key for athletes of all ages, but especially younger athletes who often need to go straight from class to practice or competition. Active adults struggle with this, too. I can't tell you how many times I've had to rush to my class or a workout straight from the office and needed a lil' something to pep me up.
So that's why I came up with this simple way to enjoy prunes in an easy snack.
If you're looking for even more delicious inspiration for prunes and prune puree, don't miss out on this recipes: What to Bake with Prune Puree
Here's the recipe for Peanut Butter & Prune Pinwheels!
First, you'll need to make a quick prune puree. And trust me, this could not be easier – just add a full bag (8 oz.) of pitted prunes to a high-speed blender with 1/4 cup hot water. Pulse to combine, then blend to a paste consistency.
Easy Prune Puree
It truly could not be any easier! Two ingredients, two minutes, and you have a simple spread to add to your favorite sandwiches, wraps, flatbreads, and more.
Ingredients
8

oz

pitted prunes

1/4

cup

hot water
Instructions
Add the pitted prunes and hot water to the blender. Pulse to combine, then blend until a paste consistency forms. If needed, use a soft spatula to scrape the sides of the blender.

Store the puree in an airtight container and keep in the fridge for up to four weeks.
Nutrition
Serving:
1
serving
,
Calories:
68
kcal
,
Carbohydrates:
18
g
,
Protein:
1
g
,
Fat:
1
g
,
Saturated Fat:
1
g
,
Sodium:
1
mg
,
Potassium:
208
mg
,
Fiber:
2
g
,
Sugar:
11
g
,
Vitamin A:
221
IU
,
Vitamin C:
1
mg
,
Calcium:
12
mg
,
Iron:
1
mg
Once you have your puree, you're ready to get spreading! Onto a whole grain tortilla, that is. If you've ever made a PB&J sandwich, you're already a pro.
PB & Prune Pinwheels
This version of the classic PB&J is created with on-the-go snacking and fueling in mind. No need for cold storage, so prep ahead of time and enjoy when you need them!
Equipment
Soft Spatula (small)

Cutting Board

Chef's Knife
Ingredients
1

whole grain tortilla or wrap

,

8 inches

2

tbsp

prune puree

,

(see recipe above)

1 1/2

tbsp

peanut butter

,

crunchy or smooth
Instructions
Lay the whole grain tortilla onto a cutting board. Use a soft spatula to spread the peanut butter in a thin layer, covering side-to-side but leaving one edge uncovered (to allow for spreading while rolling).

Repeat this step with the prune puree, spreading it in an even layer on top of the peanut butter.

Starting at one end, tightly roll the tortilla until you reach the uncovered edge. Use a sharp knife to slice cross-wise into pinwheels.

Enjoy immediately, or store in an airtight container or sealed bag until ready to eat.
Notes
If desired, postpone slicing your pinwheels until ready to enjoy. 
As with all recipes, please substitute with an alternative nut butter if you have a peanut allergy. 
Nutrition
Serving:
1
serving
,
Calories:
352
kcal
,
Carbohydrates:
46
g
,
Protein:
10
g
,
Fat:
15
g
,
Saturated Fat:
4
g
,
Sodium:
405
mg
,
Potassium:
156
mg
,
Fiber:
5
g
,
Sugar:
18
g
,
Vitamin C:
2
mg
,
Calcium:
92
mg
,
Iron:
2
mg
And that's all you need! Simple, nutritious, convenient. This checks all the boxes of what busy athletes and active people need, plus these ingredients tend to be relatively affordable and easy to find in any grocery store.
I think this is an easy way to work towards the recommended servings of 5-6 prunes per day, and the leftover puree can be used for sandwiches and wraps, flatbreads, or served with a cheese & charcuterie board. So many versatile uses to avoid food waste! And so many delicious ways to enjoy the health benefits of prunes.
I hope I've made a strong case that prunes are good for bone health, good for athletes, and good for snacks. You can find more information on any of these topics, plus some amazing recipes, on the California Prunes website, www.californiaprunes.org.