This Caramel Apple S'mores Dessert Board combines two favorites with a fun twist. Why wait for your next camping trip when you can break out this easy, no-cook dessert board the next time you're craving something sweet. Keep reading to learn how to build the perfect dessert board!
Disclosure: This post is sponsored by Envy™ Apples. I was compensated for my time. As always, thank you for supporting the partners who support Street Smart Nutrition.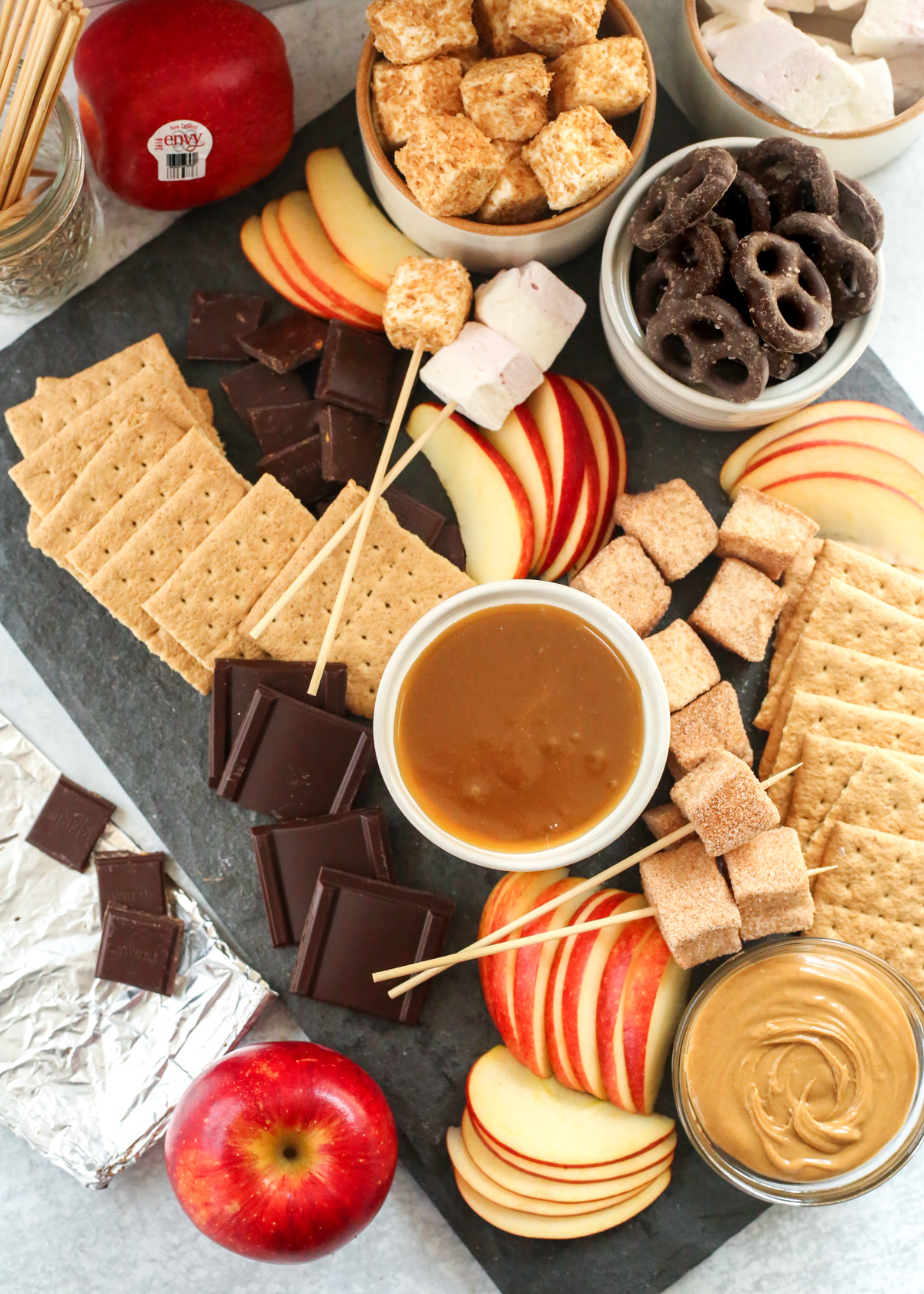 I'm teaming up with Envy™ Apples again! You might remember my Apple Margarita Mocktail from earlier this year. I'm back with another must-try seasonal idea: my Caramel Apple S'Mores Dessert Board featuring Envy™ apples!
If you spend time online, you might have seen some dessert charcuterie boards on social media. I love this concept as such a fun way to serve up a sweet spread. I decided to combine everyone's favorite fire-roasted treat and seasonal staple into one!
Why You'll Love This Caramel Apple S'Mores Dessert Board
It was seriously so much fun planning out this dessert board idea. I think you're going to agree!
There's no need to wait for your next camping trip. You can throw this dessert board together in a matter of minutes.
It's perfect for the next time you get a last-minute invite to a fall party, potluck, or family gathering.
The addition of fresh fruit takes a standard dessert board to the next level with fresh flavors and textures, bringing an unexpected element that's sure to be appreciated by anyone you share it with.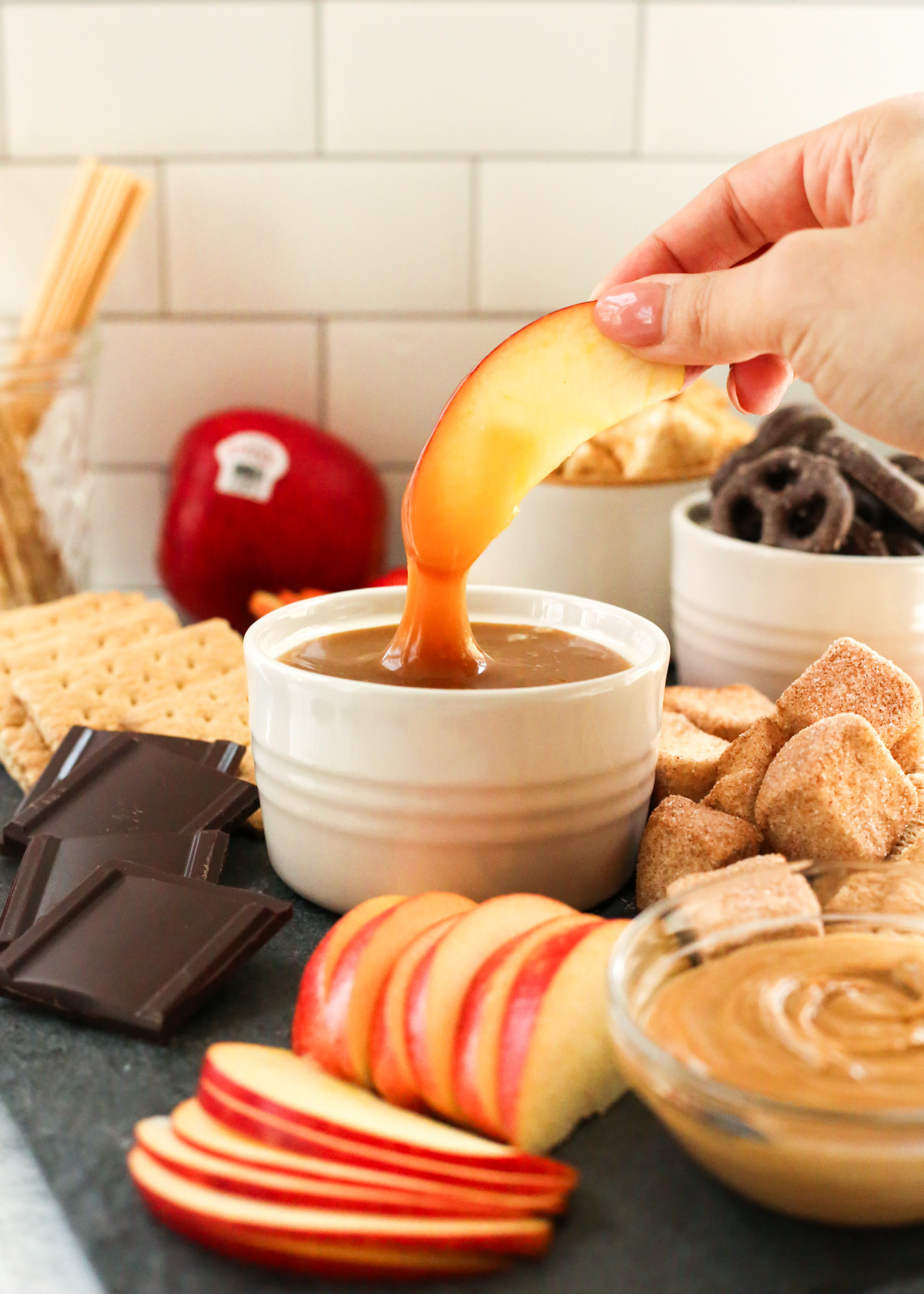 What Makes Envy™ Apples Special?
I shared about Envy™ apples for my Apple Margarita Mocktail recipe. But they're back again for this Caramel Apple S'mores Dessert Board!
That's because they have a unique ability to stay fresh and crisp longer. And the best part: they resist browning so they're literally made for snacking. Especially for something like a dessert board that needs to look as fresh and appetizing when you serve it as the moment you put it together. Envy™ apples are a cross between a Royal Gala and Braeburn apple. You'll get a sweet taste and aroma plus a bold red color on the outside with a crisp white flesh on the inside.
Try them in salads, snack plates, desserts, cocktails and mocktails, and more! Look for Envy™ apples in the produce section of your grocery store, or use this easy store locator to find them near you.
Ingredients You'll Need
​There's no limit to how much variety you include on your caramel apple s'mores dessert board. But start with this list to ensure there's plenty of options for everyone to choose from:
Graham crackers
A variety of large marshmallows for toasting. I like to feature different flavors, such as the strawberries & cream, toasted coconut, and cinnamon churro flavors pictured on my board. You can also use marshmallow fluff if you don't plan on toasting them.
Chocolate. Milk chocolate is a traditional s'mores favorite, but include dark chocolate squares, white chocolate bars, or different flavored chocolate bars if you'd like.
Caramel sauce
Peanut butter
Chocolate-covered pretzels or your favorite candy
You'll also need a baking sheet, large wooden board, serving tray, or anything else you might use for a traditional charcuterie board. Make sure you also grab some small bowls, prep dishes, or ramekins for the various elements, plus a cutting board and sharpened knife to slice the Envy™ apples.
And don't forget to include some kebab skewers so everyone can toast the perfect gooey marshmallow for their s'mores!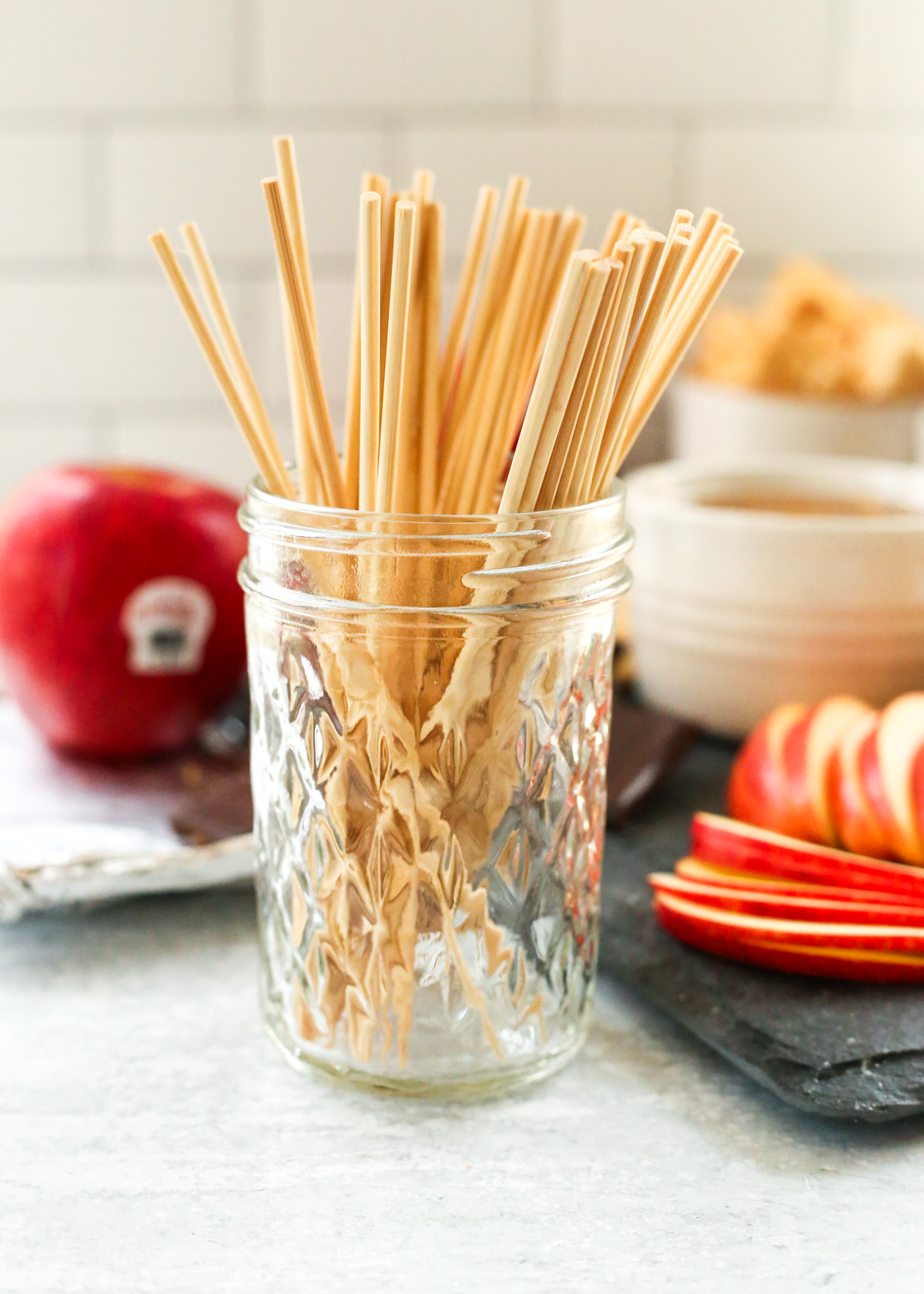 How To Make a Dessert Board
This "recipe" is really more like a tutorial. There's no cooking involved, and it's easy to customize based on what you prefer to use. Here are the best tips I can share for how to make a Caramel Apple S'Mores Dessert Board:
Start by counting how many people you plan to serve.
Estimate how many sheets of graham crackers each person will use, assuming one sheet (two squares) per s'more. Open one sleeve at a time so any that go unused won't become stale.
A good rule of thumb is 1-2 jumbo marshmallows per person, or 4-5 smaller marshmallows per person. Assume a few won't be used for s'mores combinations, so provide a few extra for snacking or dipping.
Keep the jars for the caramel sauce, peanut butter, or any other spread you include. Set out a small amount for the first round, as you can replenish or refill as needed based on what's most popular.
Core and slice the Envy™ apples into wedges ranging from thick to thin. Thicker wedges are perfect for dunking or snacking, while super thin slices are the best thing for stacking into a s'more sandwich. This gives everyone plenty of options and encourages them to try everything you display.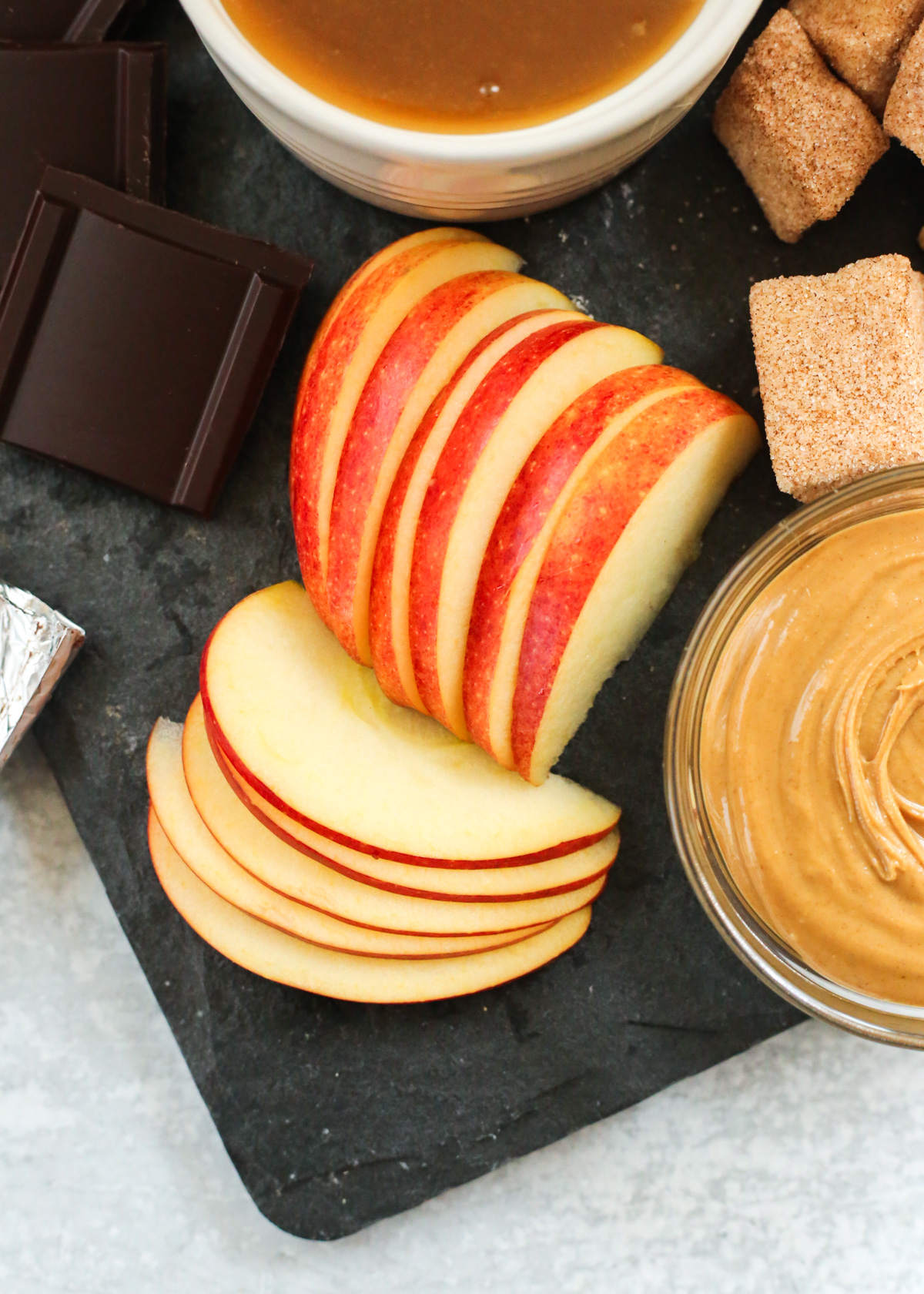 Build your board by randomly arranging the different elements throughout. Make sure to cover any open spaces and fill it to the outer edge of your serving tray or board for a beautiful presentation! If you follow these tips, you'll not only have a board that looks good enough to eat, but also the right amounts of each thing to avoid waste.
During the summer months, use an open fire (such as a campfire or backyard fire pit) to toast the marshmallows. If you're making them indoors, see my swap below for a version that doesn't require an open flame.
Swaps and Variations
​If you're creative juices are flowing, here are a few additional themes you can try:
Make it candy themed, using your favorite fun-size candy bars instead of a square of chocolate. There are endless combinations, especially if you make this dessert board around Halloween season.
Skip the backyard fire pit and try a fondue-themed version instead. Melt down some chocolate chips and lightly toast mini marshmallows in a small cast iron skillet, then dunk the graham crackers and apple slices in.
Go with a cookie sandwich instead of crunchy graham crackers, using small chocolate chip cookies, shortbread cookies, or even stroopwafels to build you perfect s'mores.
No matter how you choose to fill your dessert board, make sure to includes plenty of Envy™ apple slices to dipping, dunking, and stacking!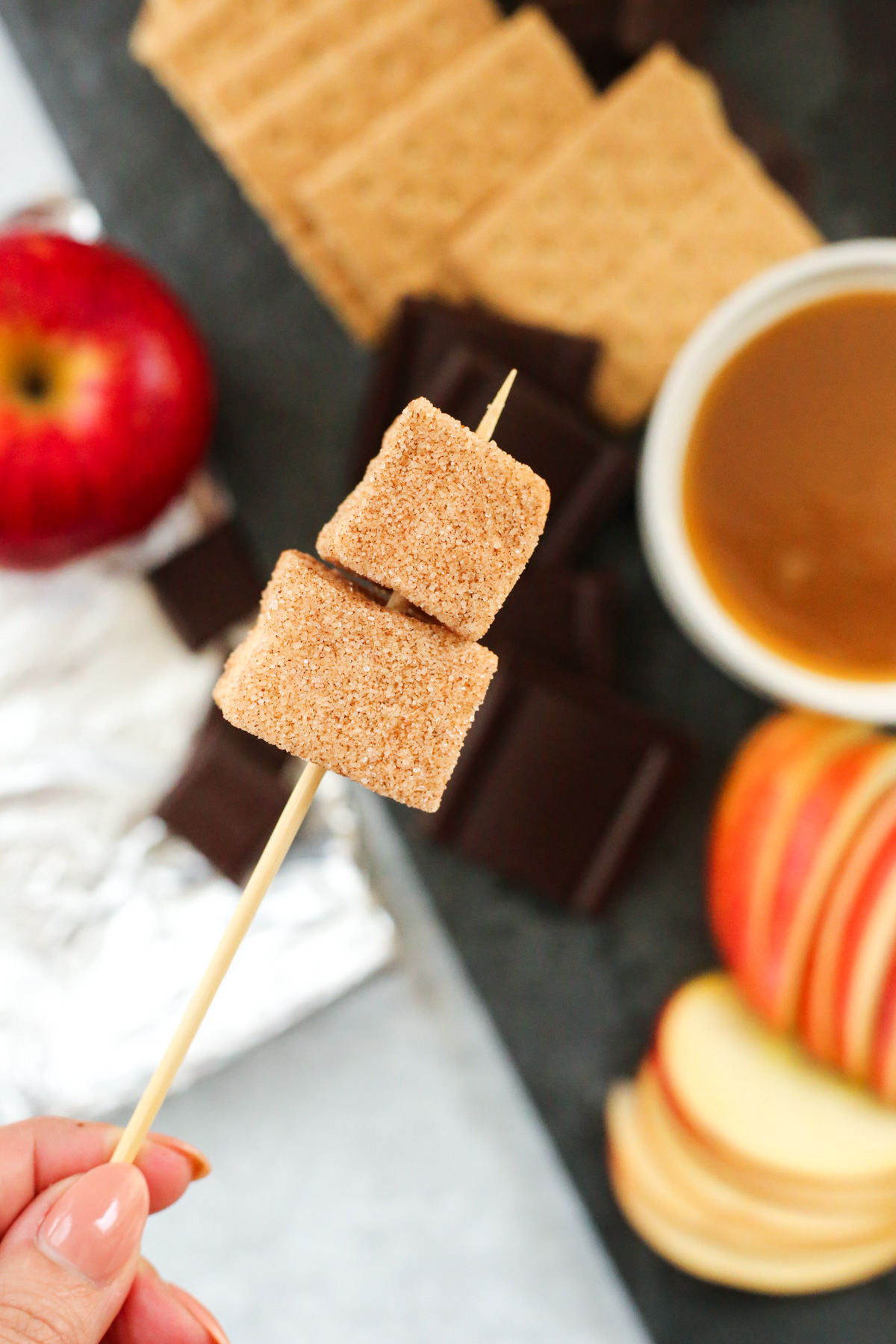 Storage Tips
As I mentioned above, hold onto any any packaging or jars you used to build the board. Some items, like graham crackers or chocolate-covered pretzels, can go stale rather quickly. Be sure to seal leftovers in an airtight bag or storage container. Same goes for leftover marshmallows, which can harden past the point of being appetizing.
With these tips in mind, and plenty of Envy™ apples to experiment, you're sure to have a fun time prepare this dessert board for your family or friends!
Caramel Apple S'Mores Dessert Board
This fun twist on a dessert charcuterie board combines the classic s'more with season caramel apples. It's easy to throw together in minutes, so try this next time you gather family or friends around a backyard fire pit or campfire!
Equipment
large serving tray or wooden board

small ramekins and prep bowls

cutting board and sharpened knife

apple corer
Ingredients
2-3

Envy™ apples

,

cored and sliced in varying thicknesses

graham crackers

,

1-2 sheets per person

marshmallows

,

jumbo or flavored, 2-3 or more per person

chocolate squares

,

milk, dark, white, or flavored chocolate

1/2

cup

peanut butter

1/2

cup

caramel sauce

,

store-bought or prepared in advance
Instructions
Set out a large serving tray or wooden board for display. Unwrap the graham crackers and break into squares, arranging them randomly on the board.

Add the marshmallows, graham crackers, and other elements for your dessert board, filling it to the outer edge.

Wash and dry the Envy™ apples before coring and slicing them into varying thickness. Place groupings of apple slices in the gaps between the other ingredients to fill any empty space on the board.

Serve with kebab skewers or other tools for roasting marshmallows. Use caution around any open flame and assist children with roasting marshmallows.
Notes
Quantities provided are estimates only. Adjust according to the number of people you plan to serve. 
Nutrition
Serving:
1
serving
,
Calories:
329
kcal
,
Carbohydrates:
65
g
,
Protein:
5
g
,
Fat:
9
g
,
Saturated Fat:
2
g
,
Polyunsaturated Fat:
2
g
,
Monounsaturated Fat:
4
g
,
Sodium:
142
mg
,
Potassium:
493
mg
,
Fiber:
10
g
,
Sugar:
51
g
,
Vitamin A:
215
IU
,
Vitamin C:
17
mg
,
Calcium:
40
mg
,
Iron:
1
mg
If you try making this Caramel Apple S'mores Dessert Board, I'd love to hear what you think! Leave me a rating or comment, and be sure to save this recipe or share with friends and family. And if you're planning any seasonal gatherings or events, remember to include Envy™ apples! You can learn more about them and find delicious recipe inspiration HERE.