Consider this the iced coffee combination you didn't know you needed! This Yuzu Espresso Tonic recipe is a fun way to hop on two trending flavors for summer coffee drinks: yuzu and espresso tonic. It's worth tracking down yuzu juice or yuzu puree to turn your kitchen into a coffee shop this summer.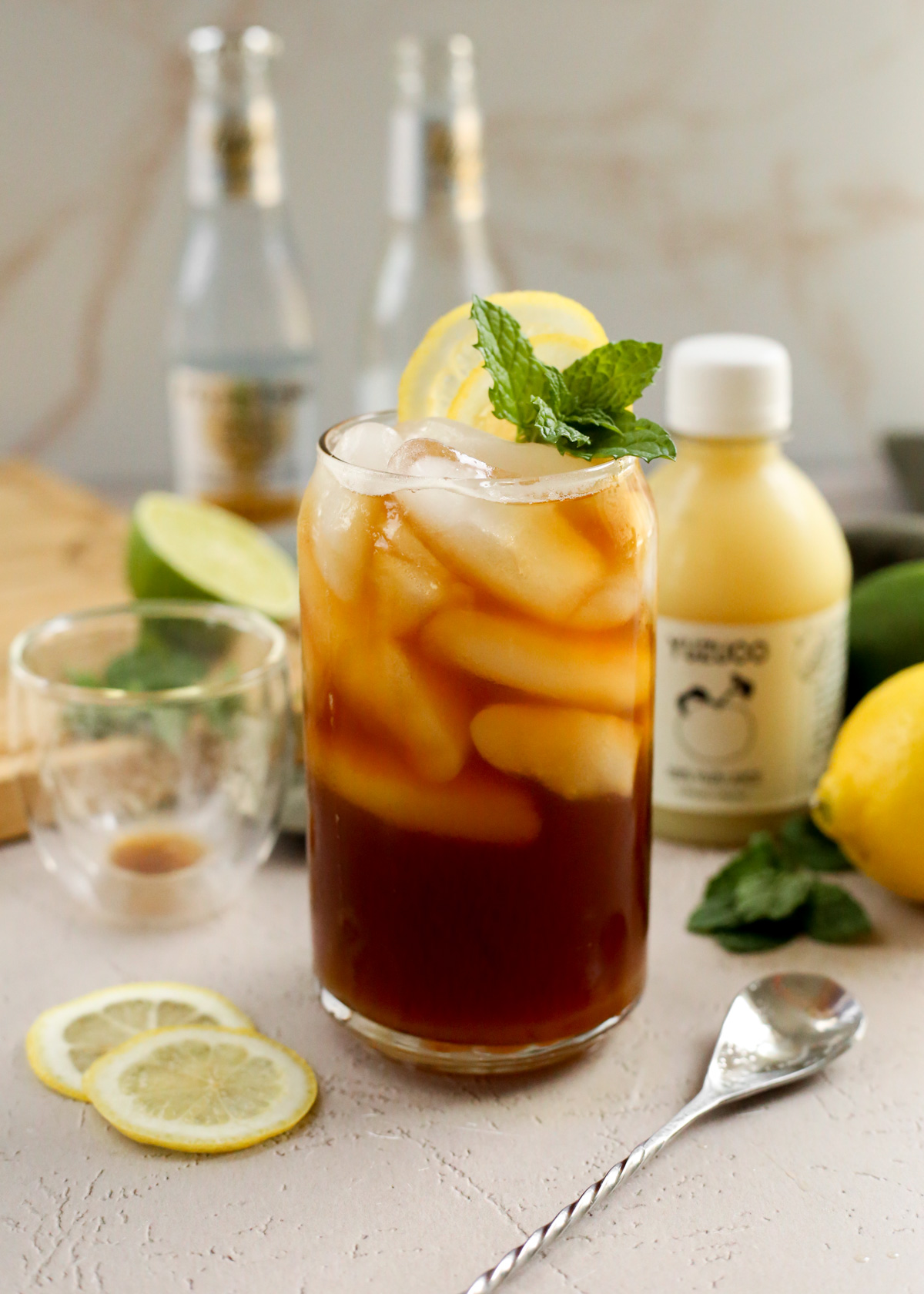 It's no secret I'm a yuzu fan girl. I've been posting virtually nonstop about it on social media as I experiment with it in all kinds of recipes. And I've finally dialed in what I think are the ideal ratios for adding it to espresso tonics!
Since I was so vocal about it on social media, a follower told me about yuzu coffee sodas. It got me thinking about how easy it would be to work yuzu into an espresso tonic, which is very similar to a coffee soda. And well, here we are!
Espresso Tonic Trend
An espresso tonic is basically the "It Girl" for summer coffee drinks. She's on top of the trends, she's effortlessly chic, she's simple but elegant. Coffee lovers can't get enough of her once the humidity hovers around 90% and the temps skyrocket.
Ok, maybe that's a stretch but that's sort of how I feel each time I drink one. And I'm totally into it!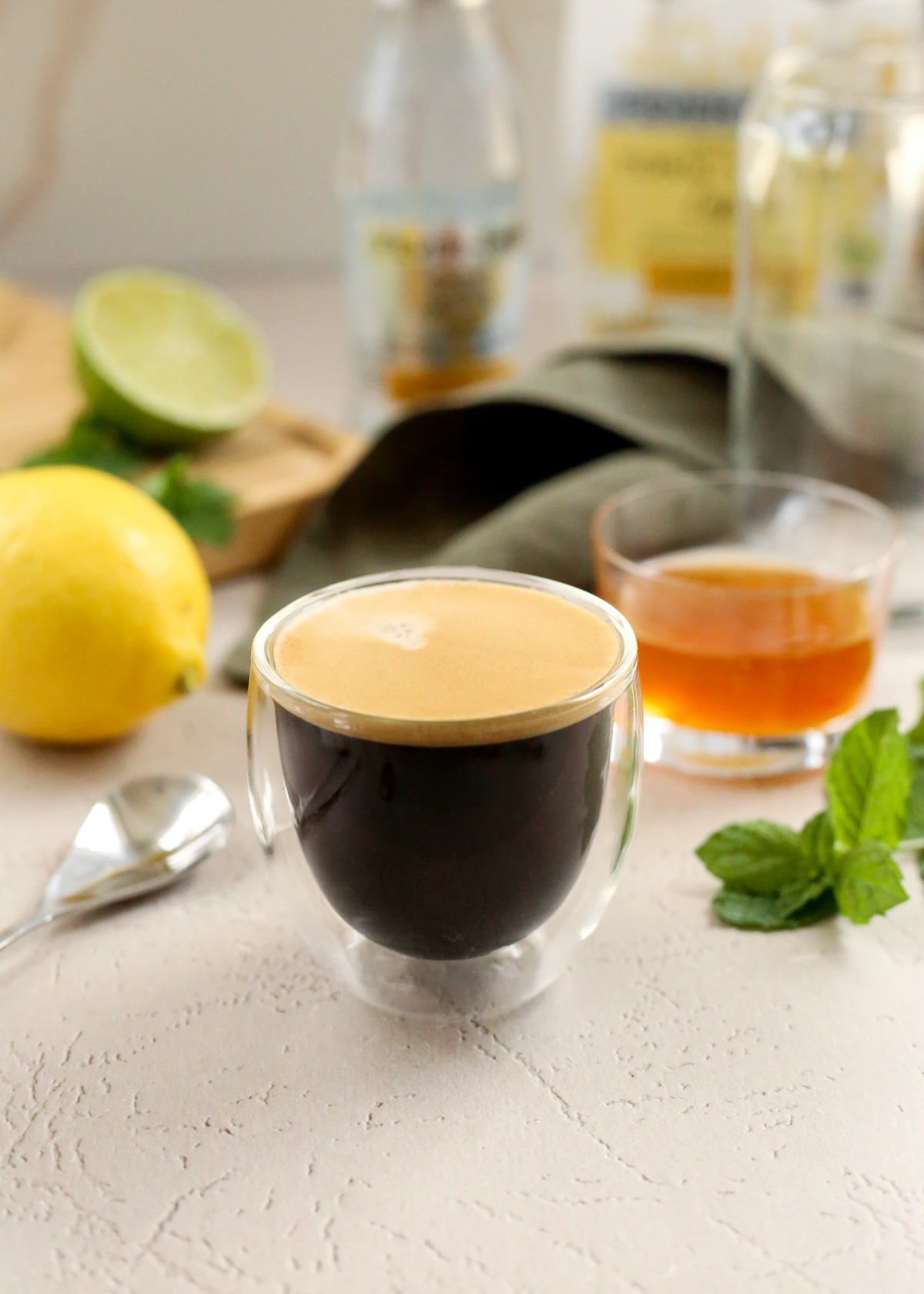 Espresso tonics started showing up on menus in specialty coffee shops a few years ago. Each summer the trend surges back with more and more enthusiasm. And when I say it's a simple drink, I mean it's about as simple as it gets! It's simple a double shot of good espresso poured over ice and tonic water. Yes, that's literally all it is.
I already threw out my basic Espresso Tonic recipe. And if you have never, ever tried an espresso tonic or coffee tonic before, start there first! I really think it's worth investigating the original trend before adding other unique ingredients. Although the recipe is super simple, there are a few tips and tricks in there, so check it out!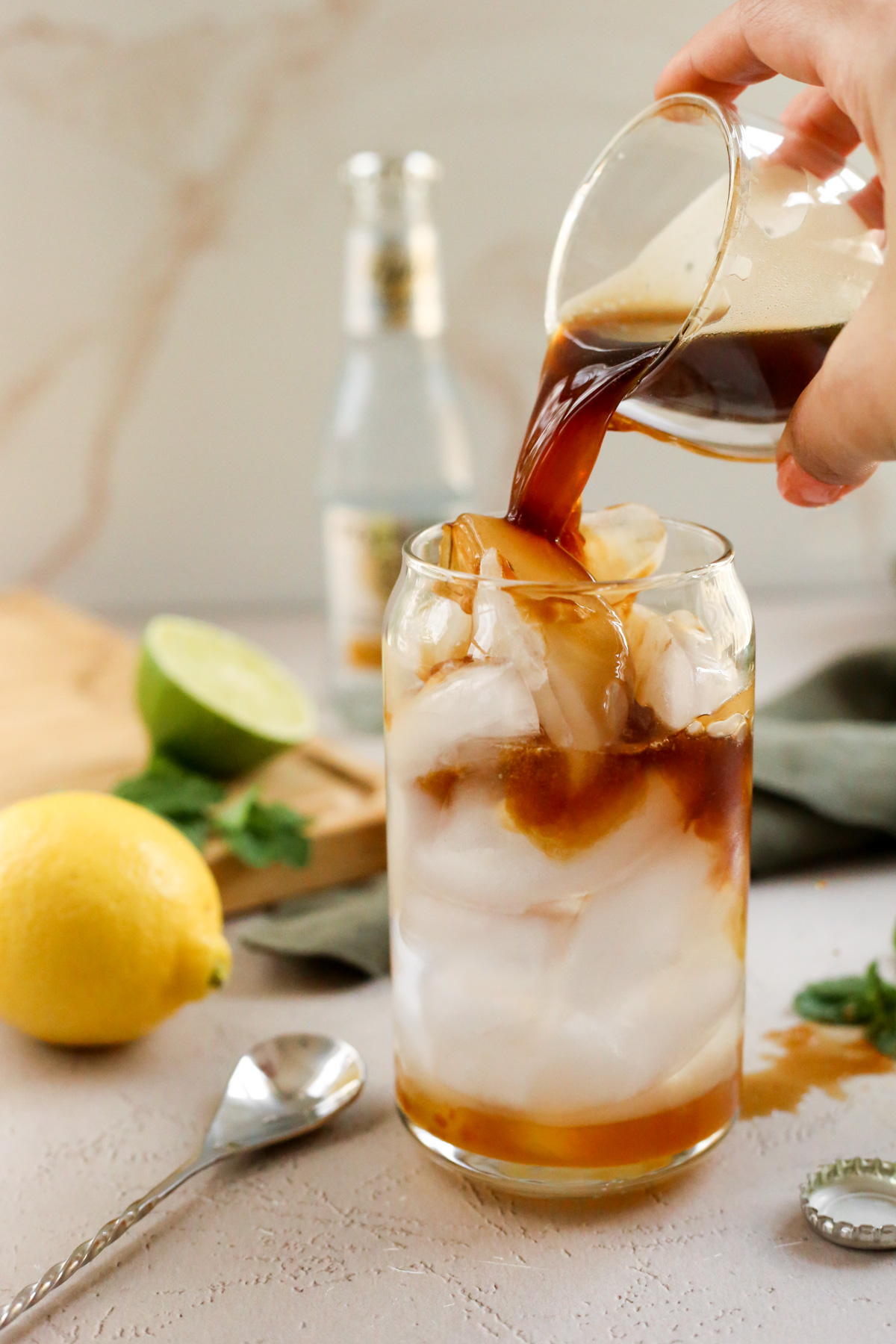 But if you already know and love the original espresso tonic, don't stop there. Come on, step into your Yuzu Espresso Tonic era…
Why This Yuzu Espresso Tonic Recipe Is So Good
Who doesn't love an iced-down summer coffee drink? I suppose maybe anyone who doesn't love coffee…but I am not that person. I'm guessing you probably aren't either!
You'll keep all the simplicity of an espresso tonic but with added citrus flavor to quench your thirst.
Use an espresso shot, cold brew, or anything you consider "good coffee" to make it from the comfort of home.
It's totally worth it to track down yuzu juice or yuzu puree, which you can use in all kinds of other recipes, from salad dressings and marinades to cocktails and mocktails.
Don't be intimidated if you're not familiar with yuzu. I share pretty much everything you need to know about it in this post: The Ultimate Guide to Cooking with Yuzu. I cover everything from what it is, to where to find it, to how to use each yuzu-flavored ingredient.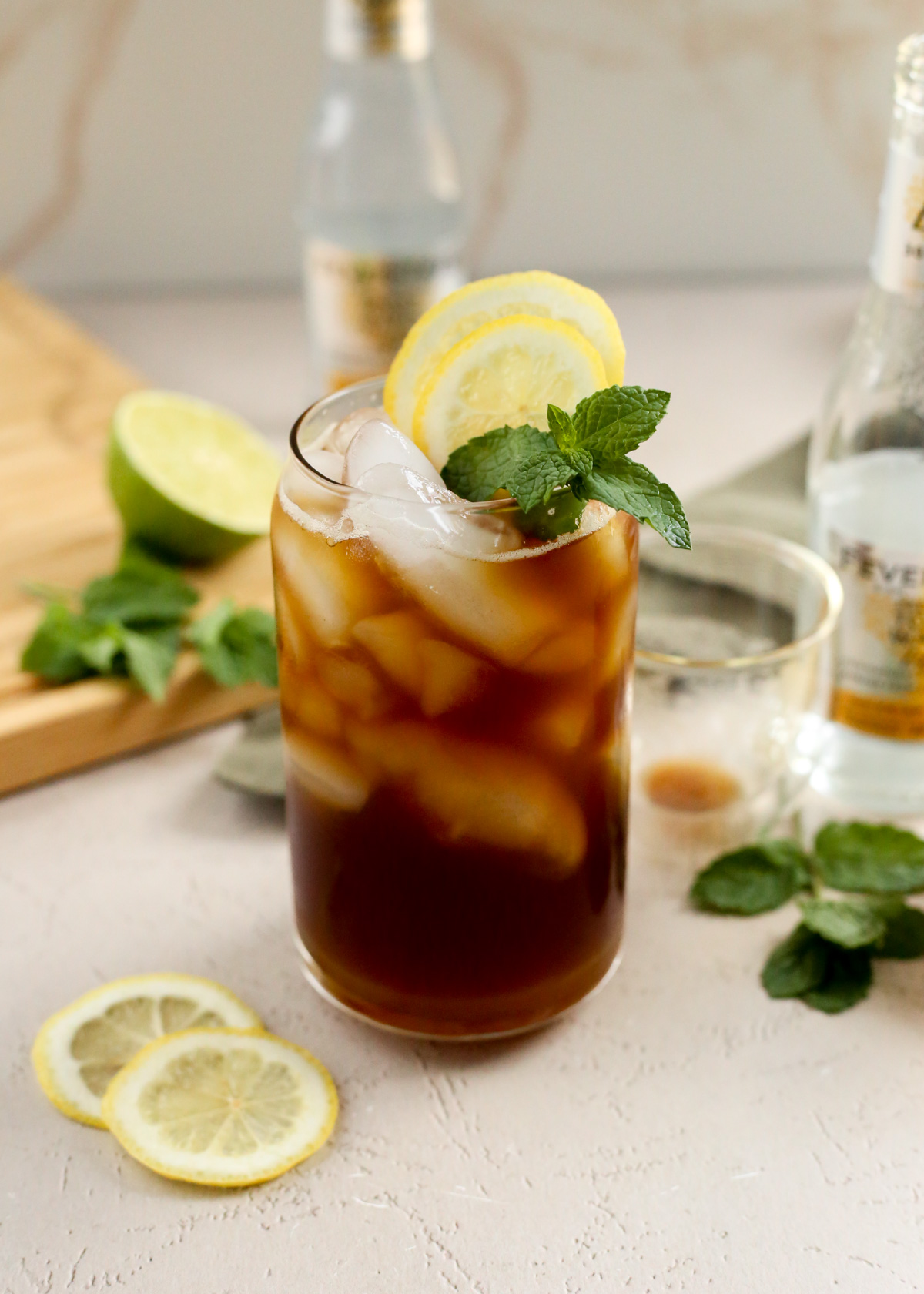 Ingredients You'll Need
Double shot of espresso (about 2 ounces total)
Yuzu juice or yuzu concentrate
Tonic water or diet/light tonic water, such as Fever Tree, Q Tonic, or Schweppes
Ice cubes
Note that the version with yuzu juice can be extra tart and sour. I'm kind of into that, but you might want a little sweetness. If that's the case, grab some simple syrup (which is just a 1:1 ratio of water and sugar, simmered then cooled) or honey syrup (same thing, but using honey instead of sugar). Adding about 1/4 oz or so, adjusting for your taste preference, can sweeten your Yuzu Espresso Tonic to taste just right.
What is yuzu?
Yuzu is a small, yellow citrus fruit that's popular in Japanese and Korean cuisines. It's aromatic, with flavor notes similar to mandarin oranges, lemons, limes, and grapefruits. While the rind is bitter, it can be zested similar to other citrus fruits. And the juice can be used in a variety of recipes. You can almost think of it as being interchangeable with anything calling for lemon or lime juice. That includes sauces, dressings, and marinades, cocktails, mocktails, or other beverages, and fruity desserts or baked goods.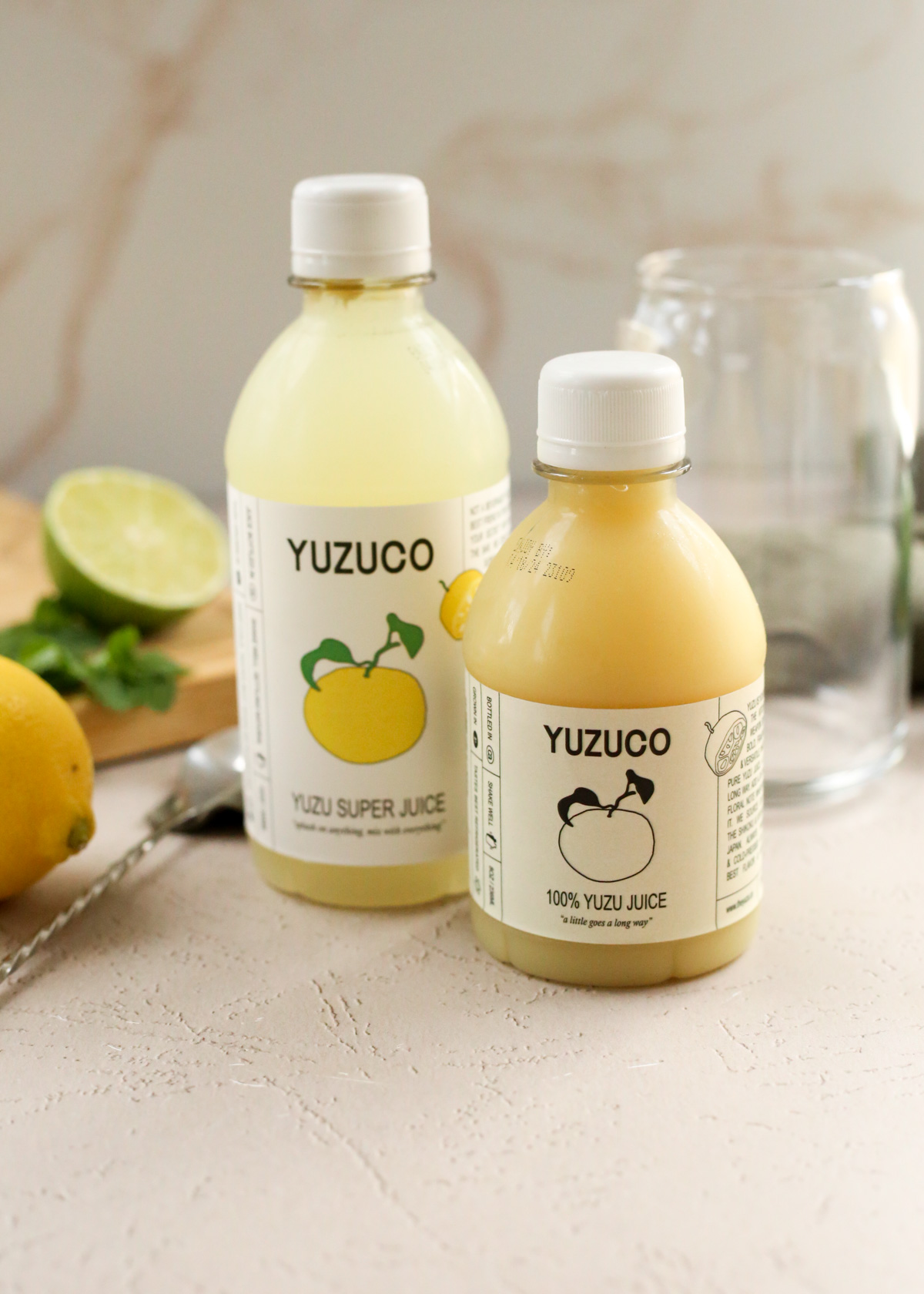 While the fruit itself can be tough to find or very expensive, there are now tons of options for yuzu-flavored ingredients and yuzu juice. One of my personal favorite brands is Yuzu Co, which you can buy online. They have both a 100% yuzu juice option as well as super juice. Super juices can be more sustainable, convenient and versatile than fresh squeezed juices.
Otherwise, look for yuzu puree from Monin (also available online) or other brands of imported yuzu juice in Asian grocery stores. Any of them can be an excellent choice for infusing yuzu flavor into your espresso tonic.
Street Smart Nutrition Tip: The yuzu puree option is pre-sweetened, which helps thicken it to a syrupy consistency. If you use this, you may not need any additional sweetness from simple syrup. However, 100% yuzu juice is very tart, similar to lemon juice so adjust according to your taste preference and tolerance for sweet drinks.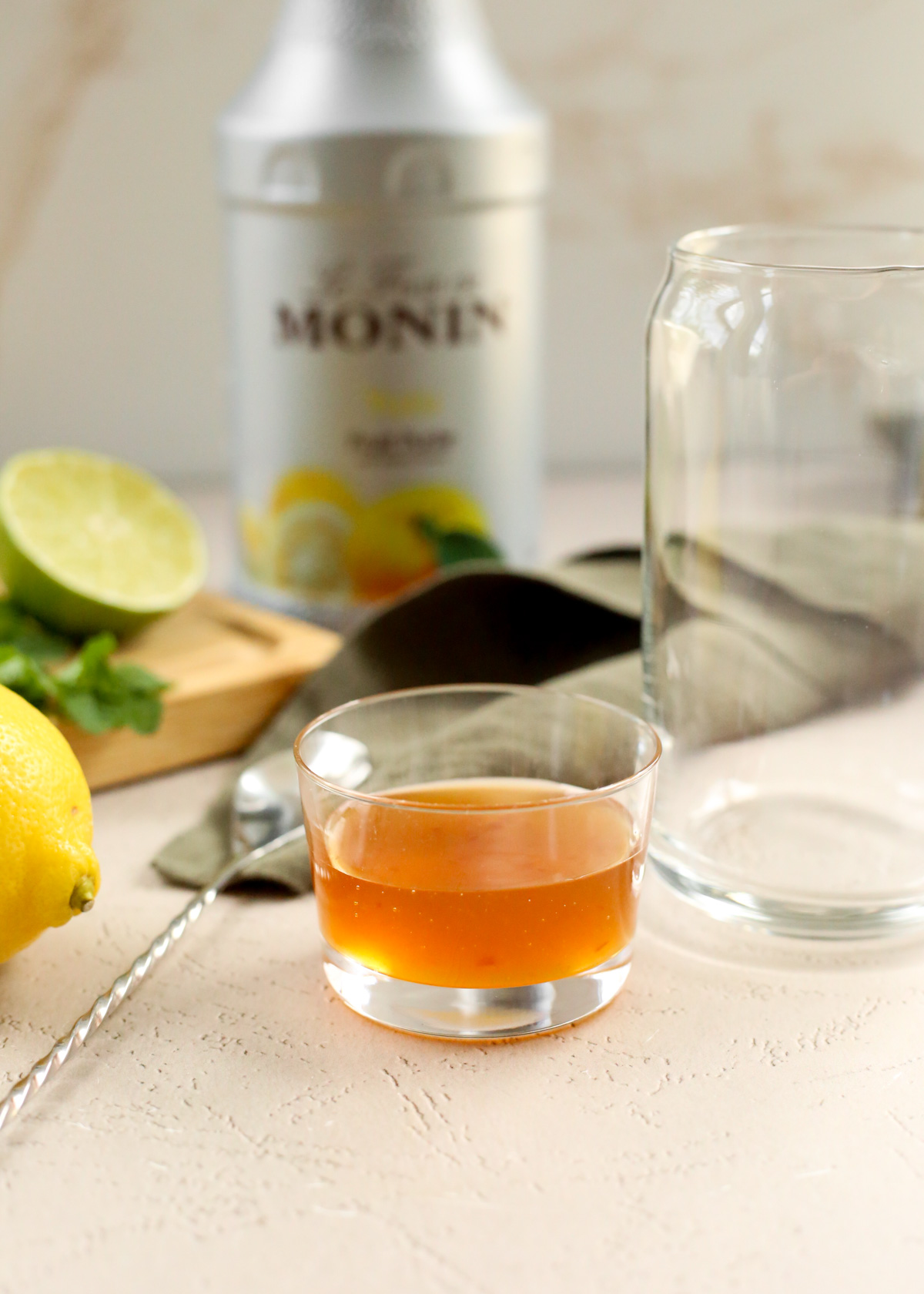 How To Make Yuzu Espresso Tonic
These steps differ slightly from making a basic espresso tonic or coffee tonic, but the general idea is the same:
Prepare a double shot of espresso using your espresso machine. This should amount to 2 ounces total, since each espresso shot is about 1 oz.
Add your yuzu juice or yuzu puree to the bottom of your serving glass. The yuzu puree is much thicker, so it will settle on the bottom and require some mixing, while the yuzu juice will instantly mix with the tonic water once it's poured on top.
Fill your serving glass with plenty of ice cubes. I like to use a 10 to 12 oz cocktail glass, or a highball glass or collins glass. Use enough ice to nearly hit the rim, as it will quickly melt down a little bit when the espresso is added.
Pour your tonic over the ice until the glass is about 2/3 to 3/4 full. Then pour the espresso shot on top of the tonic. Add any garnish you want (which is optional) and enjoy!
Like I mentioned above, you might want to add a small amount of simple syrup or honey syrup to sweeten your yuzu espresso tonic if it tastes too tart. And while a garnish is optional, I think it's a fun way to make this drink feel even more fancy. I used some lemon wheels and fresh mint, but you can add any slice of citrus or fresh herbs you have on hand.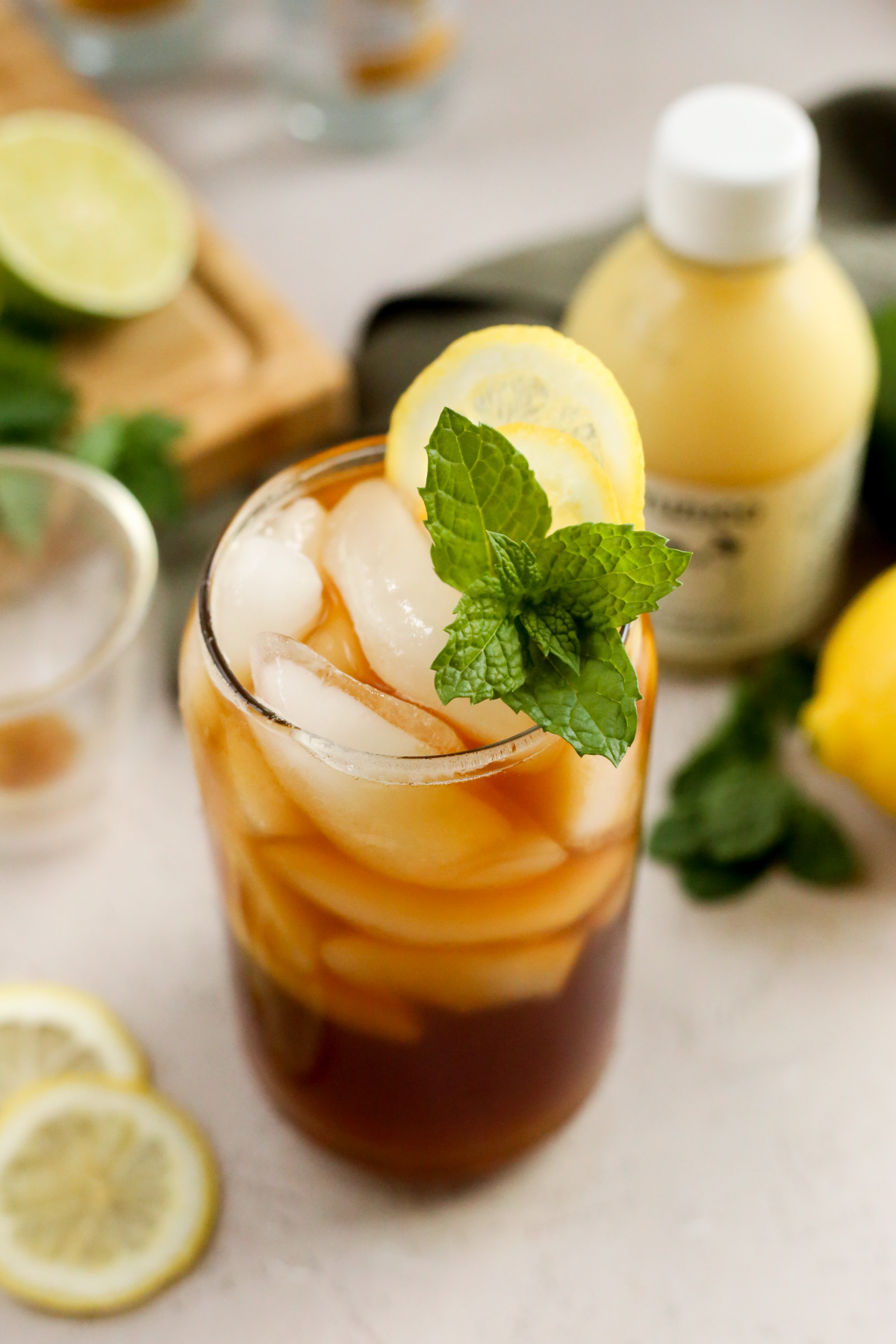 Just give it a stir to make sure everything is well mixed, then enjoy! It should taste refreshing, light, and effervescent thanks to the bubbles in the tonic water. The espresso and yuzu combine to create a unique aroma and delightfully fresh flavor.
Enjoy before all that ice melts, but I don't think you'll have a problem with that!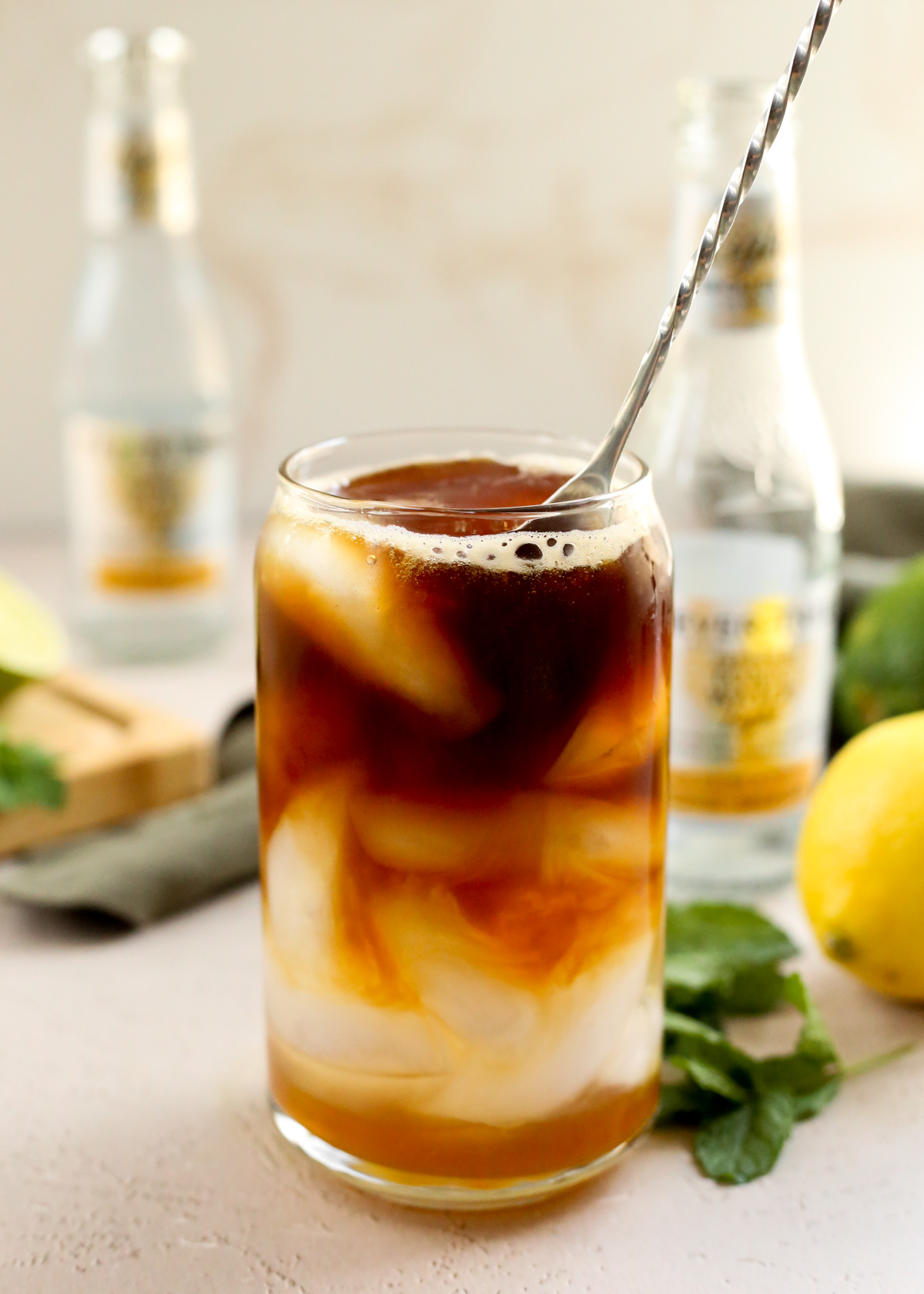 Yuzu Espresso Tonic
Make the most of two trends in this delicious summer coffee drink: yuzu and espresso tonics. It's worth finding yuzu juice or yuzu puree to be able to turn your kitchen into a coffee shop.
Equipment
espresso machine

espresso glass,

75 ml size 

heat-safe glass,

at least 10-12 oz size
Ingredients
2

fl oz

espresso

,

freshly brewed

1.5

tbsp

yuzu puree

,

or about 1/2 to 1 oz yuzu juice

4-6

oz

tonic water or light/diet tonic water

ice cubes

citrus wedges, fresh herbs, or other optional garnishes

1/4

oz

simple syrup or honey syrup

,

optional for sweetness if too tart
Instructions
Prepare a double shot of espresso.

As the espresso is brewing, add yuzu puree or yuzu juice to a heat-safe serving glass. Add ice cubes to your serving glass, filling to the top. 

Carefully and slowly pour the tonic water over the ice, filling to about 3/4 full. Pour the espresso over the ice and gently stir to mix. Add garnishes of your choosing, such as a citrus wedge (lime, lemon, or orange) or fresh herbs.

If needed, add a small amount of simple syrup or honey syrup if too tart. Top off your glass with additional tonic water, if desired. Serve immediately and enjoy.
Notes
To make a yuzu coffee espresso, adjust the ratios to allow for 1 part brewed coffee to 1 part tonic water (approximately 4 fl oz each). Adjust according to your taste preferences and the strength of the coffee. 
For a yuzu cold brew espresso, adjust the ratios to approximately 1 part cold brew to 2 or 3 parts tonic water.
Nutrition
Serving:
1
serving
,
Calories:
29
kcal
,
Carbohydrates:
8
g
,
Protein:
0.2
g
,
Fat:
0.1
g
,
Saturated Fat:
0.1
g
,
Polyunsaturated Fat:
0.1
g
,
Sodium:
36
mg
,
Potassium:
121
mg
,
Fiber:
0.1
g
,
Sugar:
5
g
,
Vitamin A:
0.2
IU
,
Vitamin C:
9
mg
,
Calcium:
12
mg
,
Iron:
0.4
mg
I'm so excited for you to try this unique version of an espresso tonic. If you're a fan of tonic and citrus while craving caffeine, I can't imagine you wouldn't enjoy this Yuzu Espresso Tonic recipe! If you try it, please leave a rating or comment to let me know what you think. I'd love to hear how your version turns out!
And as always, thanks for stopping by the Street Smart Nutrition blog! You can find more and follow along on Instagram and YouTube, and don't forget to sign up for my newsletter so you never miss a new post. Cheers to more fearlessly nourishing meals!