It will be love at first sip when you try this simple Espresso Tonic or Coffee Tonic recipe! Destined to become your new favorite cold coffee drink, they are both easy to prepare at home without splurging at the coffeeshop. Enjoy this delicious way to get your caffeine fix on a hot day!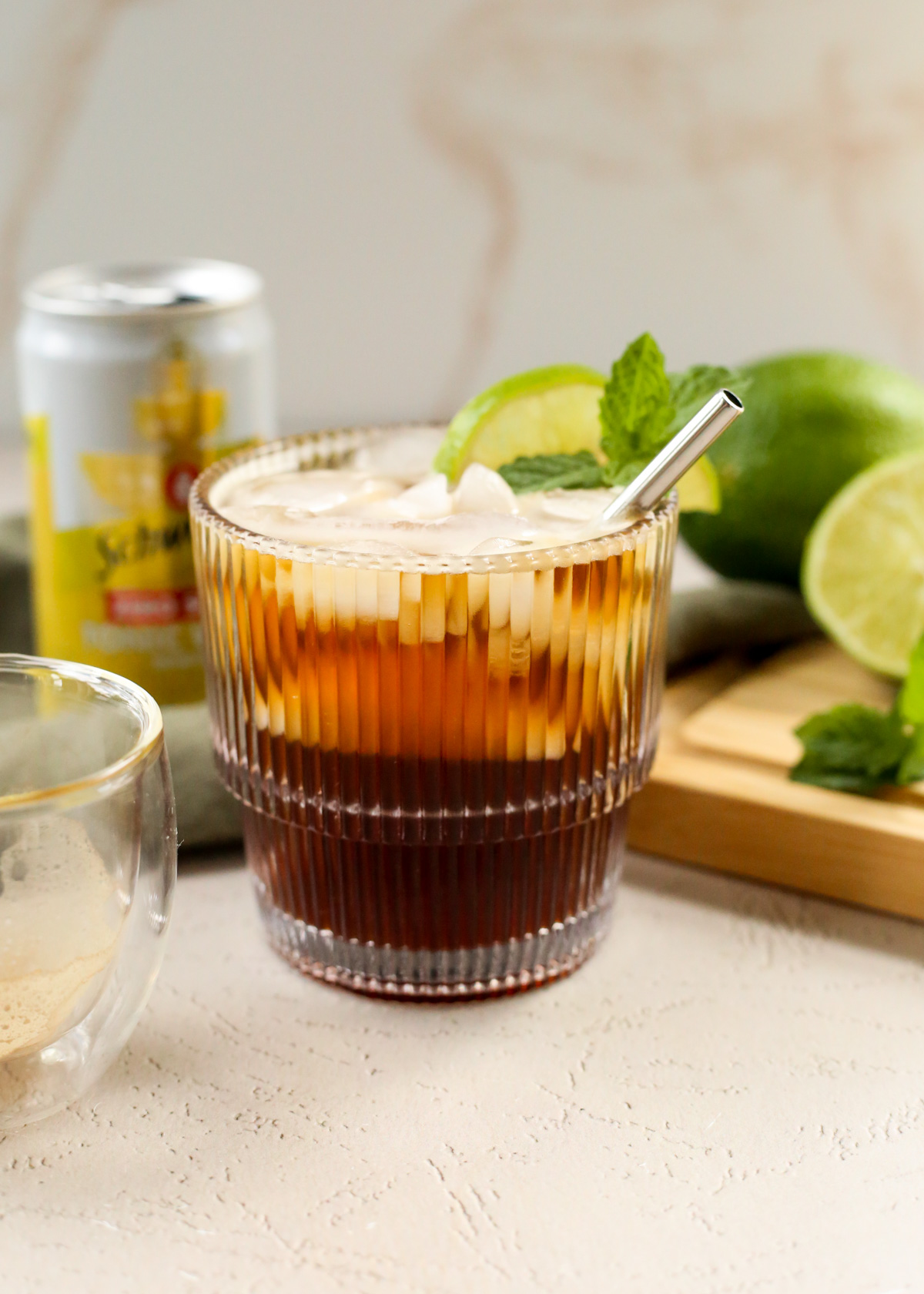 As an avid coffee drinker, I couldn't believe I missed the espresso tonic trend when it first appeared on the scene. But before long, it was all over social media and I even saw it featured prominently in foodie magazines and my local news. I didn't need any more convincing to try it for the first time! After hosting a cocktail night with some friends, I used some of the leftover tonic with my shot of espresso the next morning. And I've been hooked ever since!
​It couldn't be easier to make an espresso tonic (or a coffee tonic…more on that below). But first, I'll share a little background on this coffee trend that looks like it's here to stay.
What is an espresso tonic?
The name says it all, with just two main ingredients in an espresso tonic. First, a double shot of espresso. Then, tonic water, which is carbonated with a slightly bitter flavor. It's chilled down with ice and sometimes garnished with citrus or herbs for other complementary flavors. Truly a simple recipe!
If you already know and love a good espresso tonic, you might be ready to experiment with new flavor combos. I highly suggest my Yuzu Espresso Tonic, featuring the delightful addition of yuzu juice!
And if you don't have an espresso machine, you can also try a coffee tonic. This variation of an espresso tonic recipe uses cold brew coffee or regular brewed coffee. While not as concentrated as espresso, it's another way to hop on the trend of combining coffee and tonic during the summer. Espresso tonics and coffee tonics are popping up on cafe menus and in specialty coffee shops. Many baristas have put their own spin on it for their signature menus, but you can follow their lead and create great tasting iced coffee drinks from the comfort of home.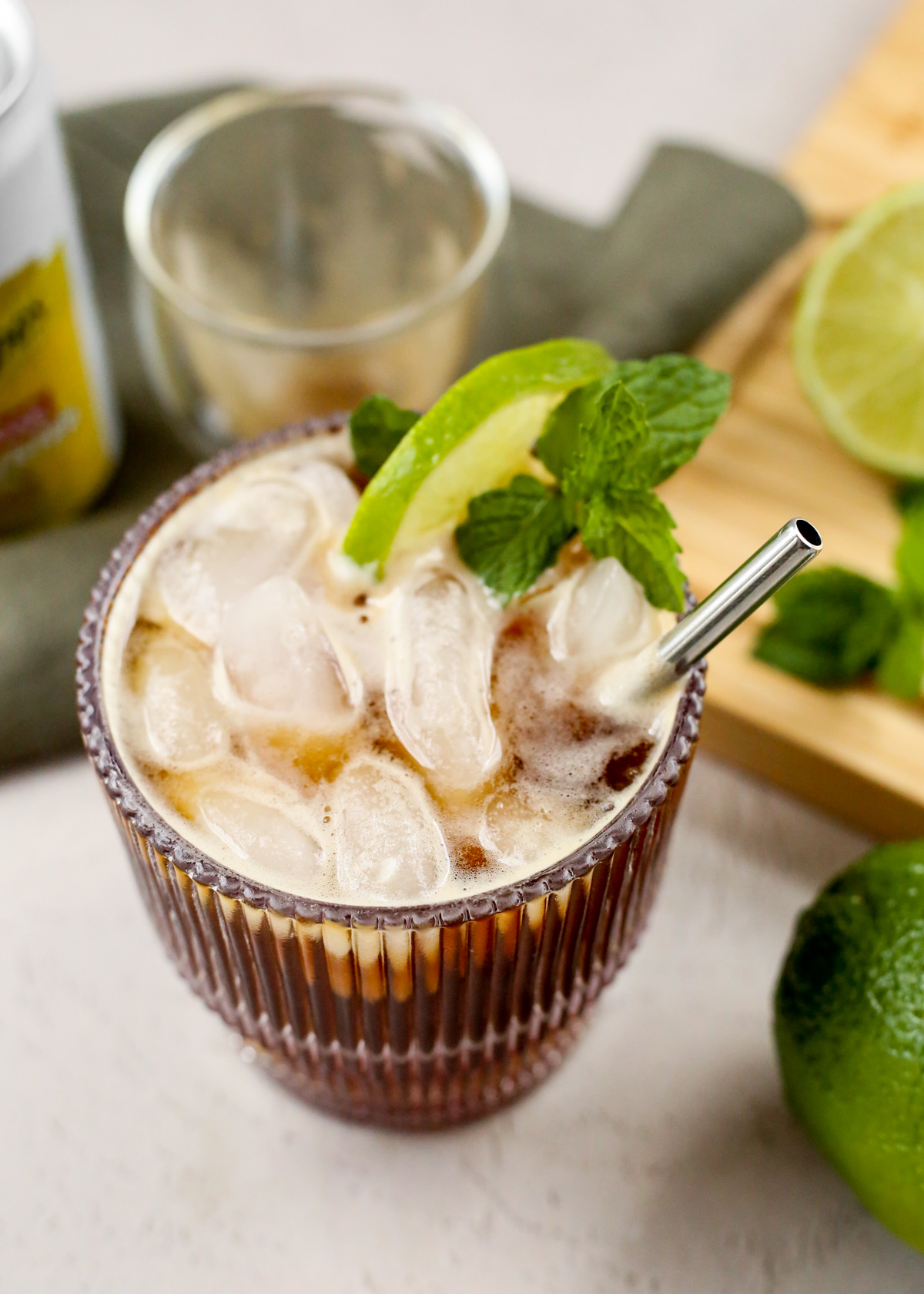 What does Espresso Tonic taste like?
It might sound like a strange pairing, since tonic is usually reserved for cocktails, mocktails, or other mixed drinks. But the distinctive flavor from quinine works well with coffee's flavor notes. Espresso is rich and bold while subtly sweet, while tonic is effervescent, bitter, and fresh to the senses. It all balances out when diluted and chilled with ice. The end result is a light, refreshing beverage with mellow flavor that many coffee lovers enjoy.
The exact flavor will vary depending on a few factors:
Type of coffee bean, roasting profile, and how the coffee is brewed or extracted.
Tonic brand, as some have more bitter or citrusy flavor than others.
Garnishes, which could include a slice of lemon or lime wedge on the rim, a squeeze of orange on top, or sprigs of fresh herbs like rosemary or mint.
Whether or not you include any sweetener. You might enjoy a splash of simple syrup, flavored syrup, or other type of added sugar to sweeten your tonic drink.
There are endless variations for an espresso tonic or coffee tonic that will highlight the coffee flavor in a new and interesting way. Don't be afraid to experiment to find what fits your taste preference the best. With all these fancy fixings, you'll feel like you're sipping on a coffee cocktail! What a luxurious way to start the morning, amirite? To be clear, an espresso tonic is a nonalcoholic drink, but making your own handcrafted beverages can elevate your morning routine into something that feels and tastes like a bit of the high life.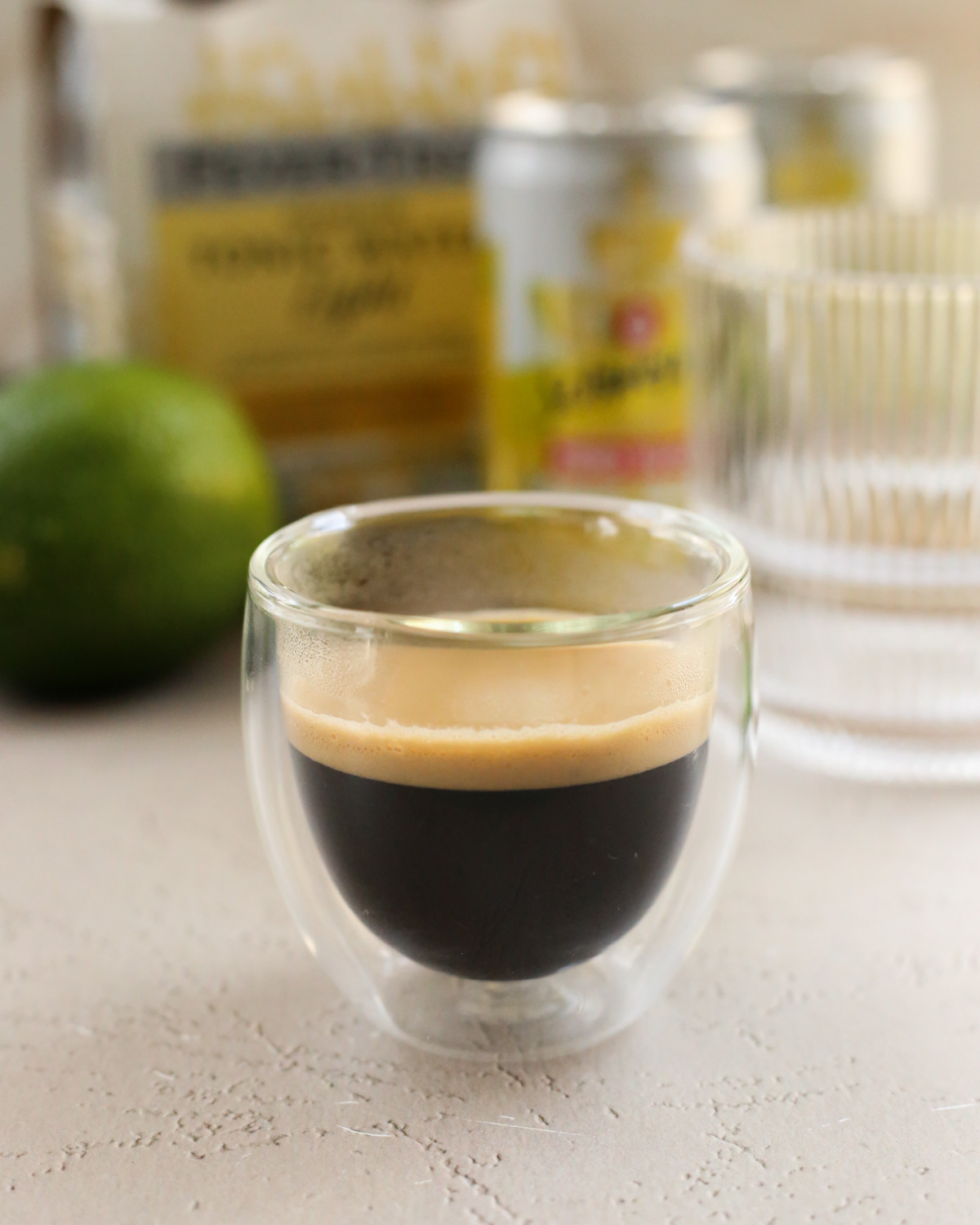 Ingredients You'll Need
2 ounces freshly brewed espresso
Tonic water. Fever Tree, Q Tonic, and Schweppes are common brands in most grocery stores.
Ice cubes
Garnishes (optional)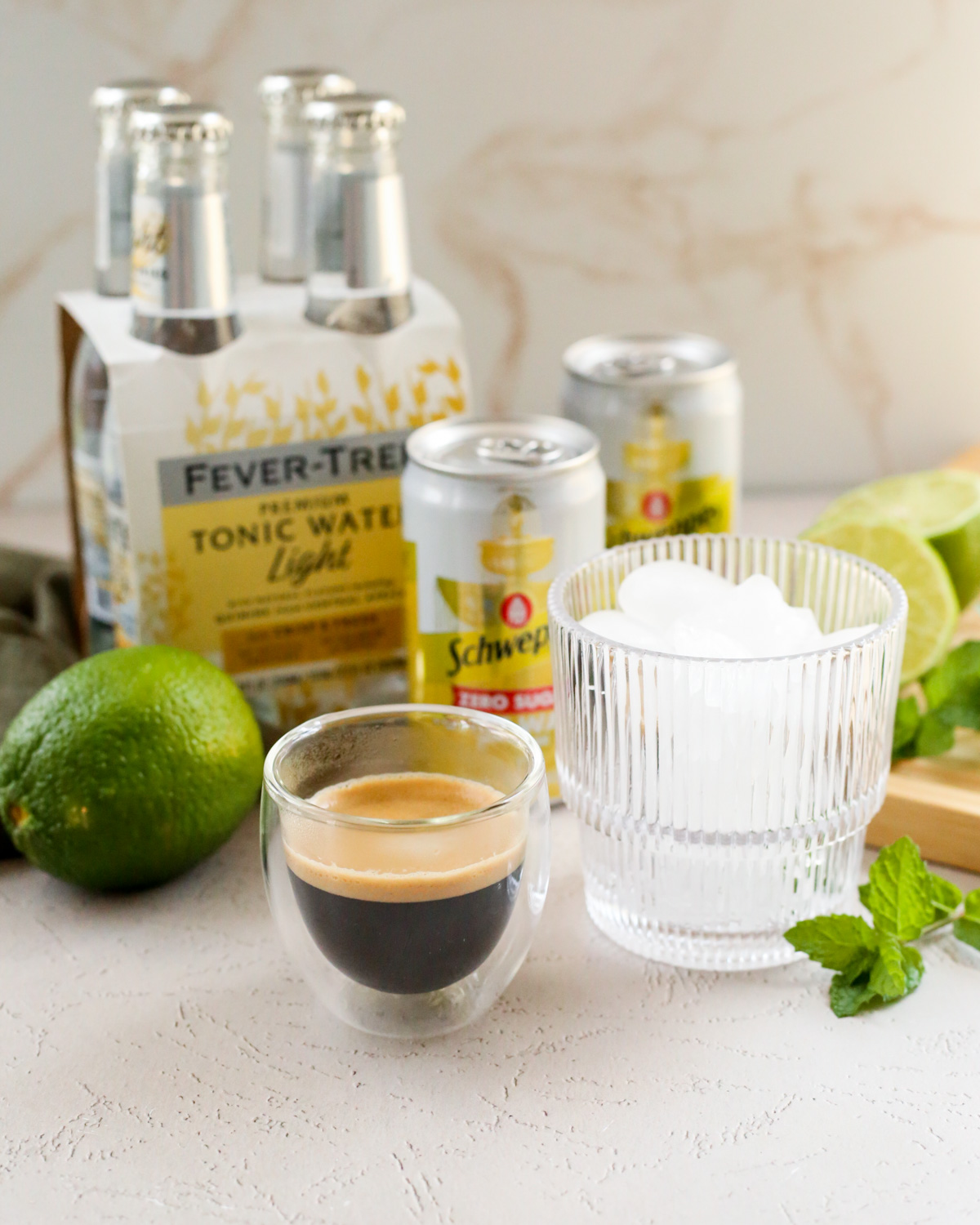 How to Make a Good Espresso Tonic At Home
Good coffee, especially espresso drinks, always starts with good beans. And again, taste is subjective so if you want to stick with what you already have and like, that's totally fine. But Ethiopian beans seem to be a popular choice for espresso tonic. They have more citrusy notes and a fruity terroir. When buying beans, look for Arabica beans with a country of origin listed on the packaging.
And if you really want to get into coffee connoisseur territory, use filtered water to eliminate any risk of off-notes interfering with the flavor of the espresso.
To make a good espresso tonic at home, just follow these three easy steps:
Prepare a double shot of espresso using your espresso machine. This should amount to 2 ounces total, since each espresso shot is about 1 oz.
Fill your serving glass with plenty of ice cubes. I like to use a 10 to 12 oz cocktail glass, or a highball glass or collins glass. Use enough ice to nearly hit the rim.
Pour your tonic over the ice until the glass is about 2/3 to 3/4 full. Then pour the espresso shot on top of the tonic. Add any garnish you want (which is optional) and enjoy!
​While the aesthetics of the espresso trickling down into the layer of tonic is visually stunning, there's a good reason to do it this way. You can avoid a bubbly mess or overly fizzy pour by adding the espresso shot last.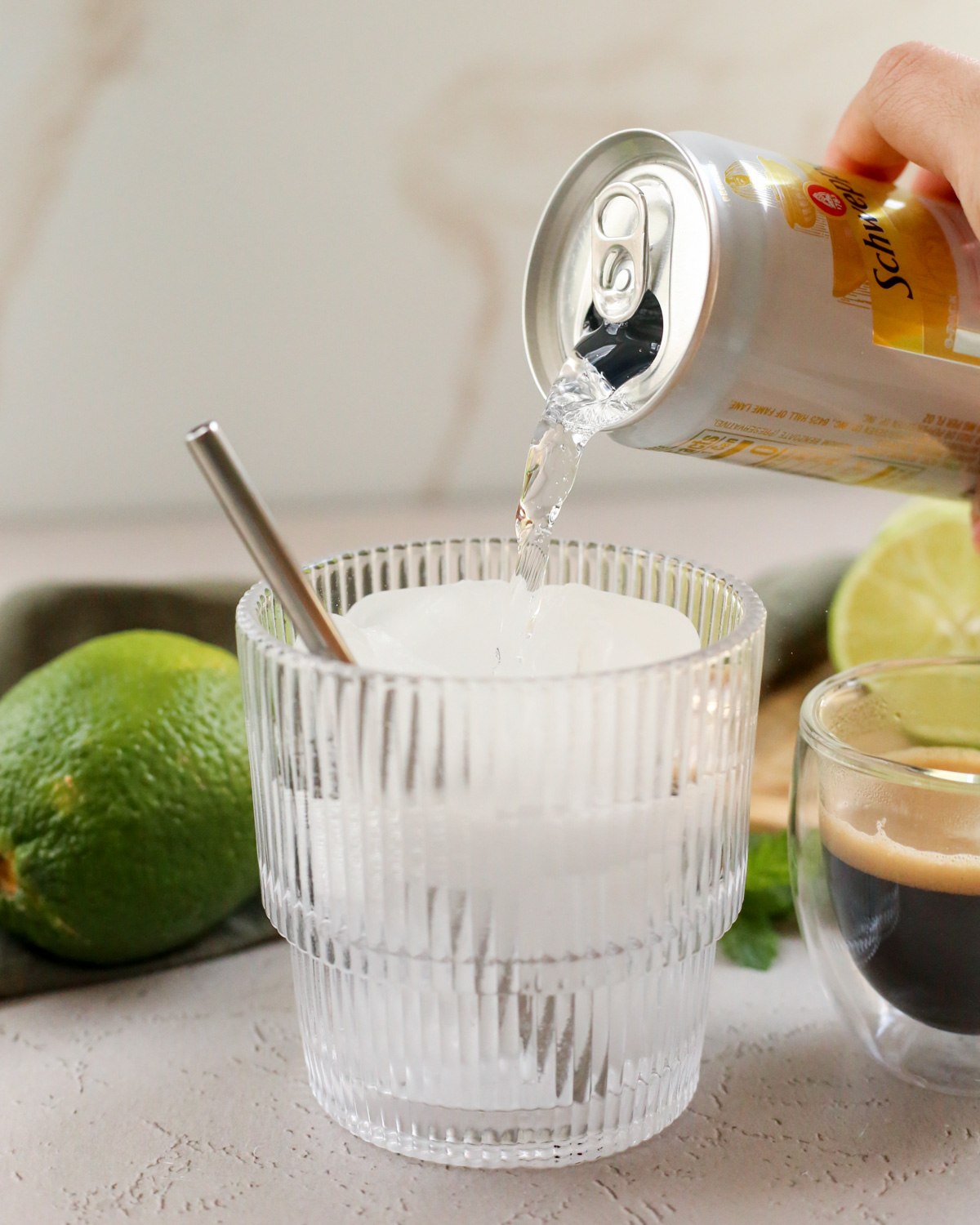 Street Smart Nutrition Tip: Use a thick-walled glass if possible, as pouring hot espresso straight on top of an ice cold liquid could crack glass that hasn't been tempered. You can either made the shot of espresso in advance and chill it in the fridge, or use a heat-safe serving glass.
How to Make a Good Coffee Tonic At Home
But what about a coffee tonic? Thankfully, the steps are nearly identical minus the use of an espresso machine. You can cold brew to make a cold brew tonic as well. Follow the same basic steps of adding ice and tonic first, before topping with chilled coffee or cold brew. A few important thinks to remember:
Cold brew is more concentrated than brewed coffee, so adjust the ratios accordingly. Try 1 part cold brew to 2 or 3 parts tonic for a cold brew tonic. And equal parts coffee and tonic for a coffee tonic that still retains some of the coffee flavor without becoming too watered down.
Cold brew concentrate is also an excellent choice, as are bottled, store-bought, or premade cold brews. Convenience is never a bad thing!
Best Garnishes for Espresso Tonic
Personally, I like to keep it simple and just use whatever we have leftover from mixing drinks or making other recipes. This is usually a lime wedge or other type of citrus peel. Lemon and orange work particularly well with the fruity flavors in coffee beans.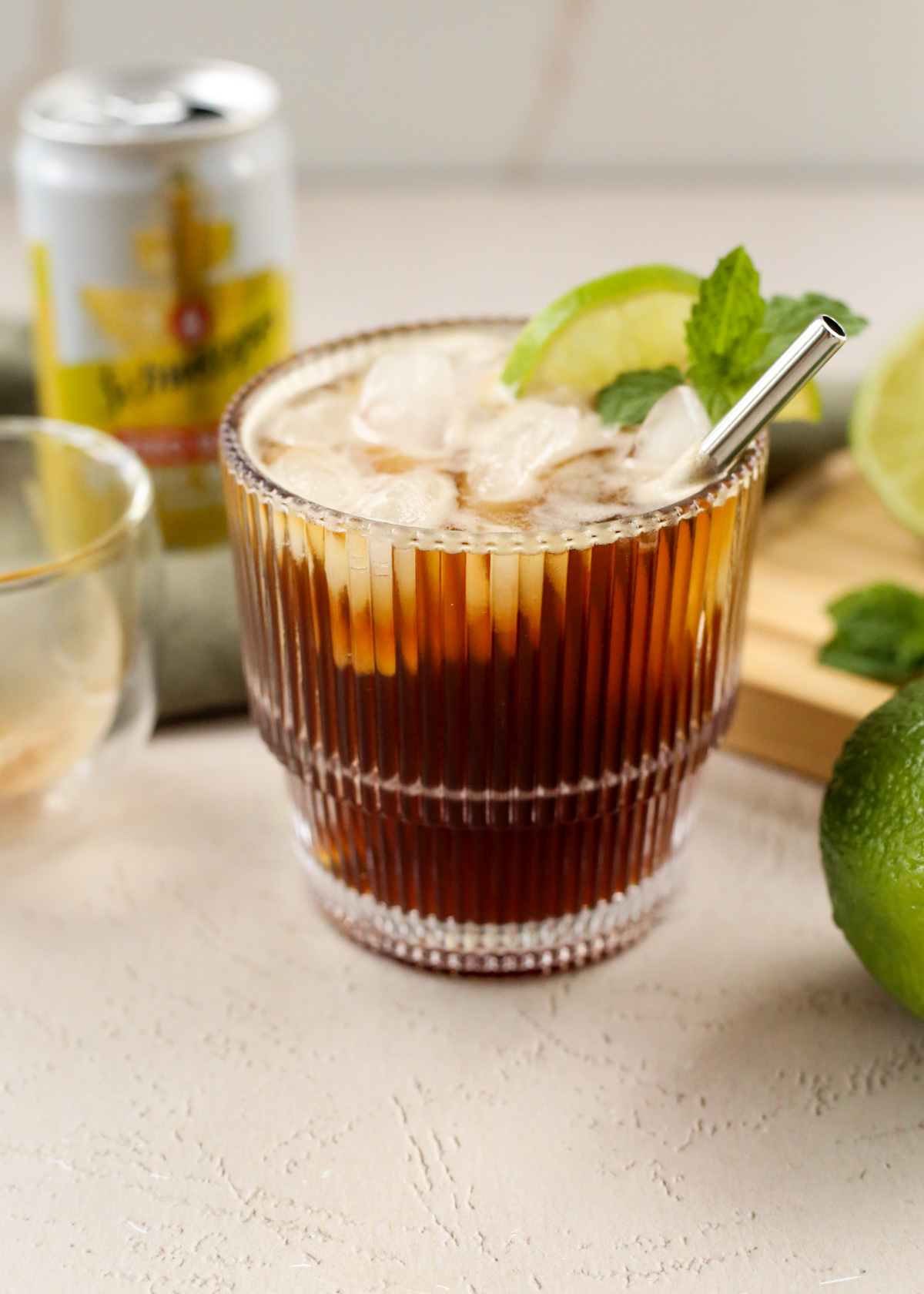 But there are so many ways to get creative, so try these out if you want to mix things up:
Pluck a fresh sprig of rosemary, mint, or other botanical herb and give it a smack in the palm of your hand before adding to the glass. This helps "wake up" the aromatics and release all the good stuff into your glass.
Drop in a maraschino cherry or dash of cherry bitters.
Add a layer of cold foam or a splash of sweet cream.
Try a little syrup, such as one sweetened with honey or brown sugar, or a lavender simple syrup like the one I use in this Homemade Lavender Vanilla Latte.
And I'll briefly acknowledge that tonic can be a love it or hate it ingredient. I, for example, love it while my partner can't stand it. If you're not sold on the distinctive bitter flavor of tonic, try club soda, sparkling water, or other type of carbonated water to make your own signature drink.
But with that being said, I strongly advise giving an espresso tonic (or coffee tonic) a shot first. See what I did there…shot…like shot of espresso. OK, I'll stop and just let you get to the recipe!
Espresso Tonic or Coffee Tonic
No need to stop by a specialty coffee shop, you can enjoy a refreshing espresso tonic or coffee tonic at home! This lightly carbonated iced coffee drink is a must-try drink if you're looking for a new way to get your caffeine fix.
Equipment
espresso machine

espresso glass,

75ml size

heat-safe glass,

at least 10-12 oz size
Ingredients
2

oz

espresso

,

freshly brewed

4-6

oz

tonic water or light/diet tonic water

ice cubes

lime wedge, fresh herbs, or other optional garnishes
Instructions
Prepare a double shot of espresso, preferably from Arabica beans. As the espresso is brewing, add the ice cubes to your serving glass, filling to the top.

Carefully and slowly pour the tonic water over the ice, filling to about 3/4 full.

Pour the espresso over the ice and gently stir to mix. Add garnishes of your choosing, such as a citrus wedge (lime, lemon, or orange) or fresh herbs. Top off your glass with additional tonic water, if desired. Serve immediately and enjoy.
Notes
To make a coffee espresso, adjust the ratios to allow for 1 part brewed coffee to 1 part tonic water (approximately 4 fl oz each). Adjust according to your taste preferences and the strength of the coffee. 
Nutrition
Serving:
1
serving
,
Calories:
5
kcal
,
Carbohydrates:
1
g
,
Protein:
0.1
g
,
Fat:
0.1
g
,
Saturated Fat:
0.1
g
,
Polyunsaturated Fat:
0.1
g
,
Sodium:
32
mg
,
Potassium:
67
mg
,
Vitamin C:
0.1
mg
,
Calcium:
7
mg
,
Iron:
0.1
mg
​If you try this espresso tonic recipe and enjoy it, let me know! Leaving a star rating or comment is always a good way to let me know what you think.
And as always, thanks for stopping by the Street Smart Nutrition blog! You can find more and follow along on Instagram and YouTube, and don't forget to sign up for my newsletter so you never miss a new post. Cheers to more fearlessly nourishing meals!