So remember when I made that amazing Spiced Pomegranate Syrup a while back? As much as I wanted to keep pouring it over pancakes, I wanted to see what it could look like with a more savory pairing, too. I've been on a huge salmon kick lately – every time I've baked or grilled it, it just seems to taste better and better. In an effort to showcase more variety in how to prepare salmon, here's a new recipe for you to check out!
When I said I was on a salmon kick, I wasn't kidding. I think there was one point recently when I had it almost every other day for a week or two straight. Even though I still gravitate to a mostly plant-based diet, I can't deny my love for salmon. I stumbled across one helluva deal when I was shopping so I picked up a larger fillet. Usually, I purchase frozen fish and seafood, because in a landlocked state I'm not always confident about the freshness of the fish at the seafood counter. But after talking to the seafood manager, he assured me this had been flown in that morning and I decided to go for it.
Freshness isn't the only thing I'm thinking about when shopping for seafood though. As someone who cares about the environment, as well as how fish are caught and processed, I want to make sure I'm conscious of how my choices impact the world around me. I first got connected with the Seafood Nutrition Partnership last year when I participated in one of their recipe contests. Since then, I've kept updated with their resources for Seafood & The Environment and list of partner organizations. If you're interested in learning more, that's a great place to start.
[Tweet "Wondering about seafood and the environment? Check out resources here, plus a new recipe for a salmon sheet pan meal!"]
And if you're curious, you can check out my prize-winning seafood recipe for Old Bay Shrimp Stacks!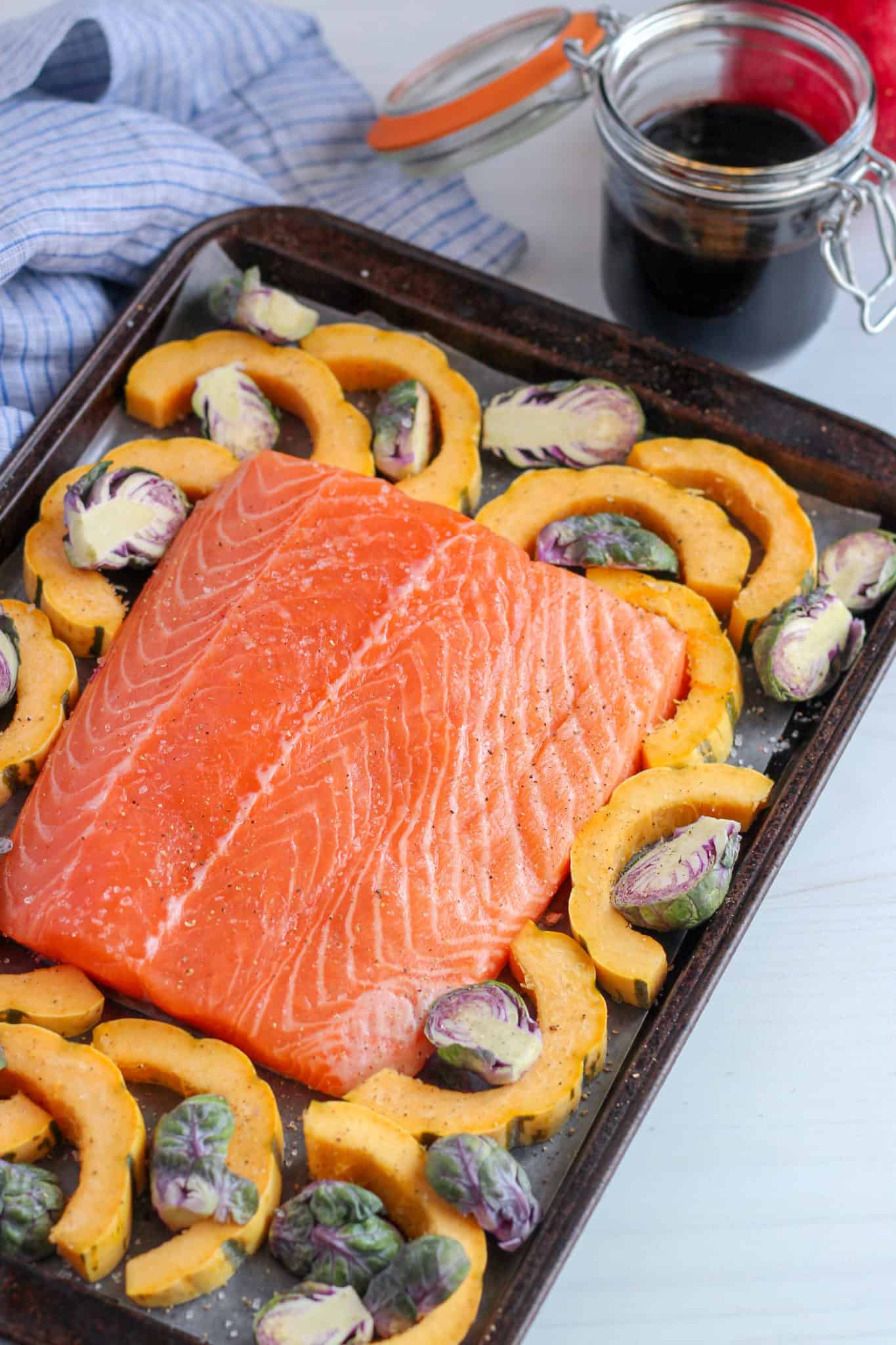 This recipe is a tasty way to get closer to the current recommendation of two servings of fish per week. A serving is just 4 oz. which leaves plenty of room on your plate or in your bowl to load up on other flavorful, nourishing ingredients. I was feeling inspired by all of the winter veggies I was seeing in recipes, both from friends as well as in restaurants and online. When I was doing my shopping I also stumbled upon some purple Brussels sprouts and thought, "Oh my…I must have these."
A lot of people were curious if they tasted any different than traditional all green Brussels sprouts – I gotta say, I didn't notice a difference. I roasted them as I normally would, on high heat for a pretty short amount of time (about 15 minutes) and thought they were nearly identical aside from the color. One mistake I see a lot of people making is over-roasting Brussels sprouts on low heat to the point that they become mushy and more flavorless than they would if they did high heat, less time. I just couldn't do that to these 🙂
Aren't they pretty?
I also wanted to work in a delicata squash I had been stashing on my countertop and the leftover Spiced Pomegranate Glaze I made for a breakfast recipe. Pomegranate glaze or more accurately, pomegranate molasses, is pretty common in Middle Eastern and Persian cuisines but not nearly as popular here. If you don't feel like taking the time to make your own (or simply like to use your pomegranate juice for other things) you can source a pre-made option from a specialty grocer or online. Here's one I've tasted before and enjoyed: Al Wadi Pomegranate Molasses 100% Natural
 (Amazon affiliate link).
The version I made was surprisingly simple – if you've ever reduced red wine or orange juice for other recipes, you're already familiar with the process. Simmering pomegranate juice on low heat eventually turns it to a sticky, syrupy consistency that continues to thicken as it cools. I added a few more flavors to mine, including ginger, cinnamon, and a hint of balsamic glaze.
You might also use pomegranate juice to create an easy DIY salad dressing. Try this Vegan Pomegranate Salad with a Creamy POM-Honey Mustard Dressing!
I drizzled my salmon before baking and tried to limit how much of it hit the veggies spread on the sheet pan around it. I assumed as it baked, some of it would spread anyway so I didn't want to drown the lil' guys! 15 minutes or so in a preheated oven and this sheet pan meal was ready to go! I stuck to my own advice for creating a good sheet pan meal and this version didn't let me down.
Afterward I loaded up on more green goodness with a bed of fresh arugula. The pomegranate arils help tie the flavors together, plus they have a nice little pop of texture since they burst as you bite into them. And finally, I added walnuts for another source of heart-friendly fat and fiber.
All in all, this was an impressive looking meal that was actually very, very simple to create. Using bright colors, strong flavors that pair well together, and different textures are tricks I use to make these recipes look like show-stoppers (but only take about 30 minutes to make).
Here's the full recipe!
Pomegranate Glazed Salmon with Roasted Veggies
This colorful platter is a complete meal in one. Use fresh or frozen salmon (just allow for additional thawing time if needed).
Ingredients
1 1/4

lb

salmon fillet

1

delicata squash

1/2

lb

Brussels sprouts

Fine sea salt and pepper to taste

1 1/2

tbsp

olive oil

1/4

cup

Spiced Pomegranate Molasses

4

cups

fresh greens

1/4

cup

pomegranate arils

1/4

cup

chopped walnuts
Instructions
Wash and dry the delicata squash and Brussels sprouts. Cut both ends off the squash, then slice in half lengthwise down the center. Use a spoon to scrape the seeds out. Slice into half moons, about 1/4″ to 1/2″ thick. Cut the Brussels sprouts in half. Add the squash and Brussels sprouts to a large mixing bowl with the olive oil. Toss to combine and season with salt and pepper to taste.

Line a large baking sheet with parchment paper. Place the salmon fillet in the center and lightly salt. Arrange the squash and Brussels sprouts in a single layer around the salmon. Spoon the pomegranate molasses over the salmon, then bake 15 minutes or until cooked to your preferred doneness.

Remove from oven and allow to cool slightly. Arrange the fresh greens on a serving platter. Place the salmon and roasted veggies on top of the greens. Garnish with the pomegranate arils and chopped walnuts. Serve immediately.
Notes
If not making the Spiced Pomegranate Molasses, a store-bought or remade version of pomegranate molasses may be used instead.
For fresh greens, I recommend arugula or baby spinach, or a combination of both.
If you prefer a more heavily dressed salad, mix two parts olive oil to one part Spiced Pomegranate Molasses. Drizzle over the salad just before serving.
Nutrition
Serving:
1
serving
,
Calories:
373
kcal
,
Carbohydrates:
19
g
,
Protein:
33
g
,
Fat:
19
g
,
Saturated Fat:
3
g
,
Cholesterol:
78
mg
,
Sodium:
92
mg
,
Potassium:
1437
mg
,
Fiber:
5
g
,
Sugar:
5
g
,
Vitamin A:
2487
IU
,
Vitamin C:
72
mg
,
Calcium:
85
mg
,
Iron:
3
mg
Have you ever cooked with pomegranate molasses? Leave a comment or tell me how you love to enjoy seafood – I'm sure there are tons of other great sheet pan salmon meals out there!
And if you're looking for another delicious salmon recipe, I recommend checking out my Summer Salmon Salad with Grilled Peaches and Chimichurri.
[Tweet "Try a salmon sheet pan supper to get your #Seafood2xWk "]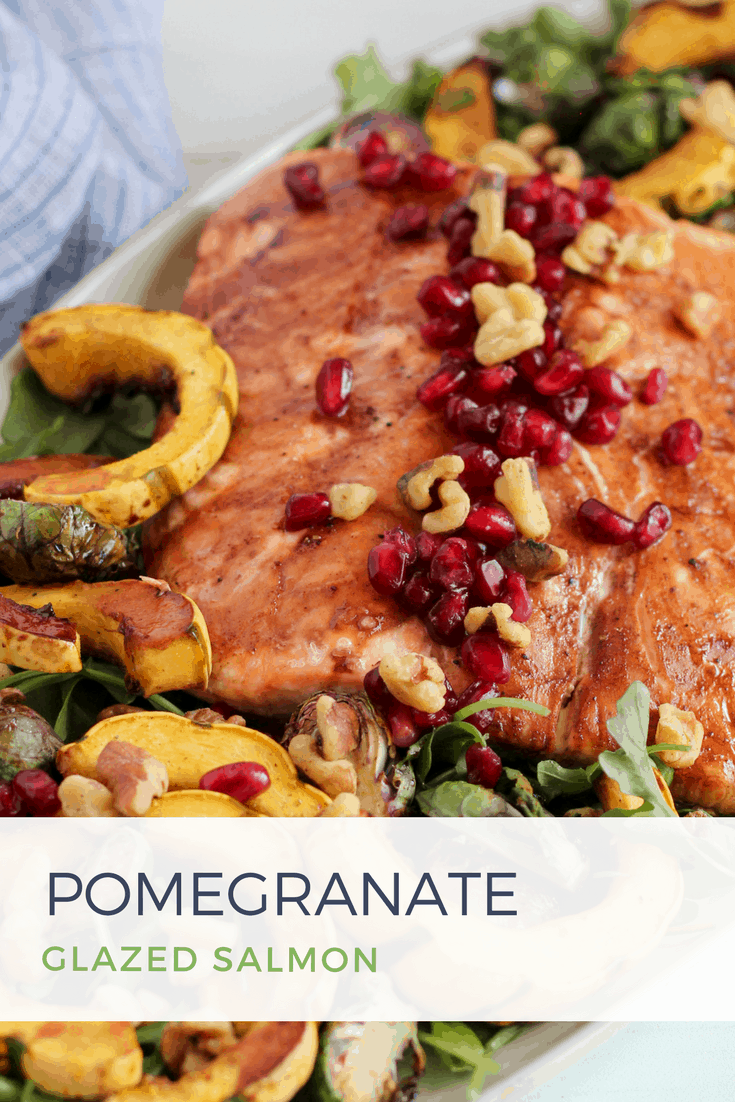 ---
Find this and many more tasty seafood recipes in my cookbook, now available on Amazon!

SaveSave
SaveSaveSaveSave
SaveSave
SaveSave