September is National Rice Month, and it's the perfect time to make this Caprese Chicken and Rice Bake! It's a simple one-pan meal that takes less than 10 minutes to prep. Plus, it's meal-prep friendly and makes great leftovers!
---
Disclosure: This recipe was created in partnership with the USA Rice Federation. I was compensated for my time. Thanks for supporting the brands that support Street Smart Nutrition!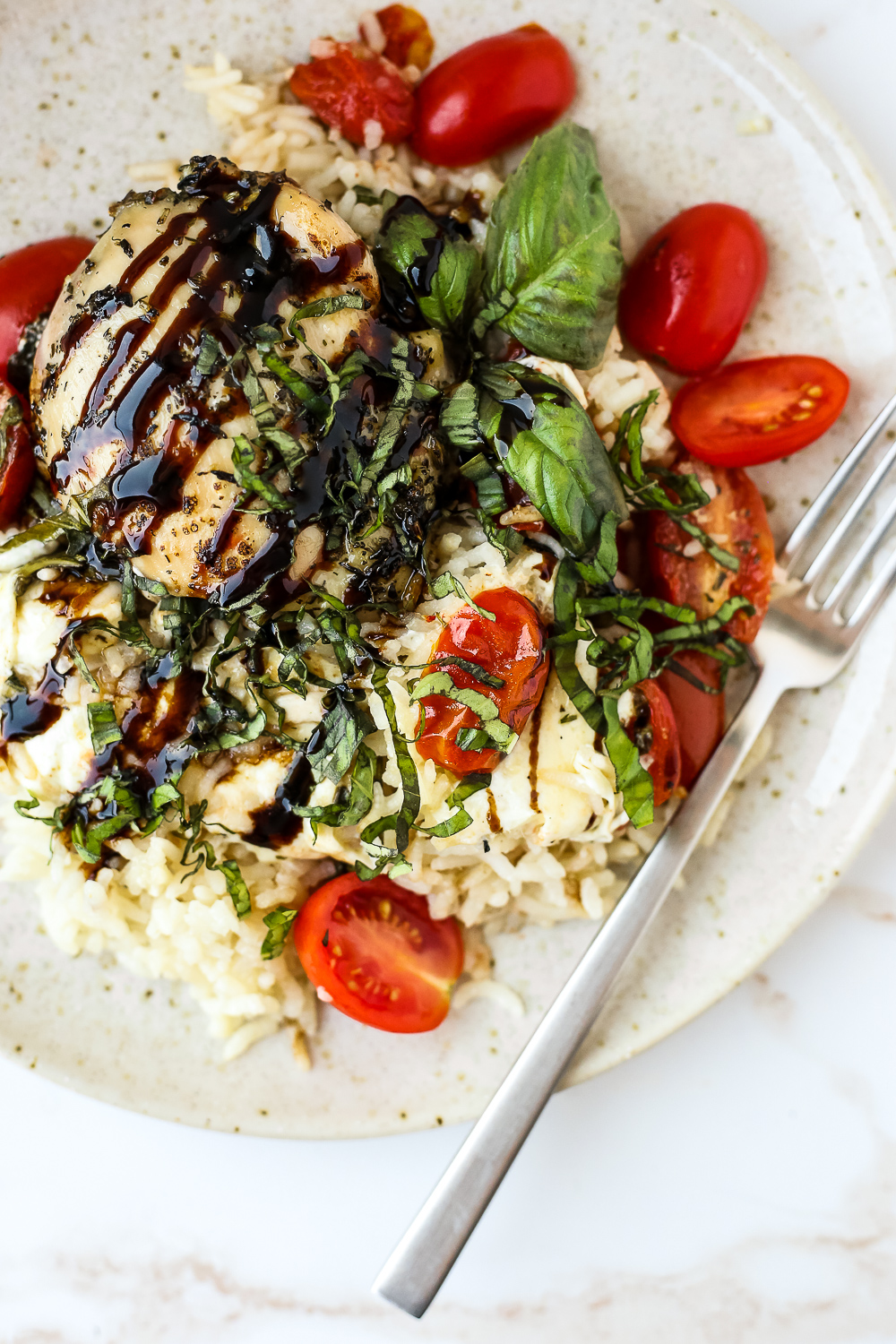 It's September, so that means it's time for National Rice Month! For over 30 years, this month has marked a celebration of the U.S. rice industry. I'm excited to continue my partnership with the USA Rice Federation and feature another delicious recipe with U.S.-grown rice at the center!
The weather is already cooling off in the Midwest, which is always an interesting time. Part of me wants to savor summer for as long as I can. Meanwhile, the other part starts craving cold-weather comfort food and casseroles. That's what inspired me to make this Caprese Chicken and Rice Bake. It's sort of the best of both worlds in one dish!
Here are a few reasons to love this Caprese Chicken and Rice Bake:
It's a one-pan meal, so put it together, pop it in the oven, and enjoy some hands-free cooking time!
Celebrate late summer flavors *just* a little bit longer with tomatoes, basil, mozzarella, and balsamic glaze, inspired by the classic Caprese-style salad.
Make ahead of time, then reheat for easy leftovers. Ideal for meal prep or sharing with friends or family!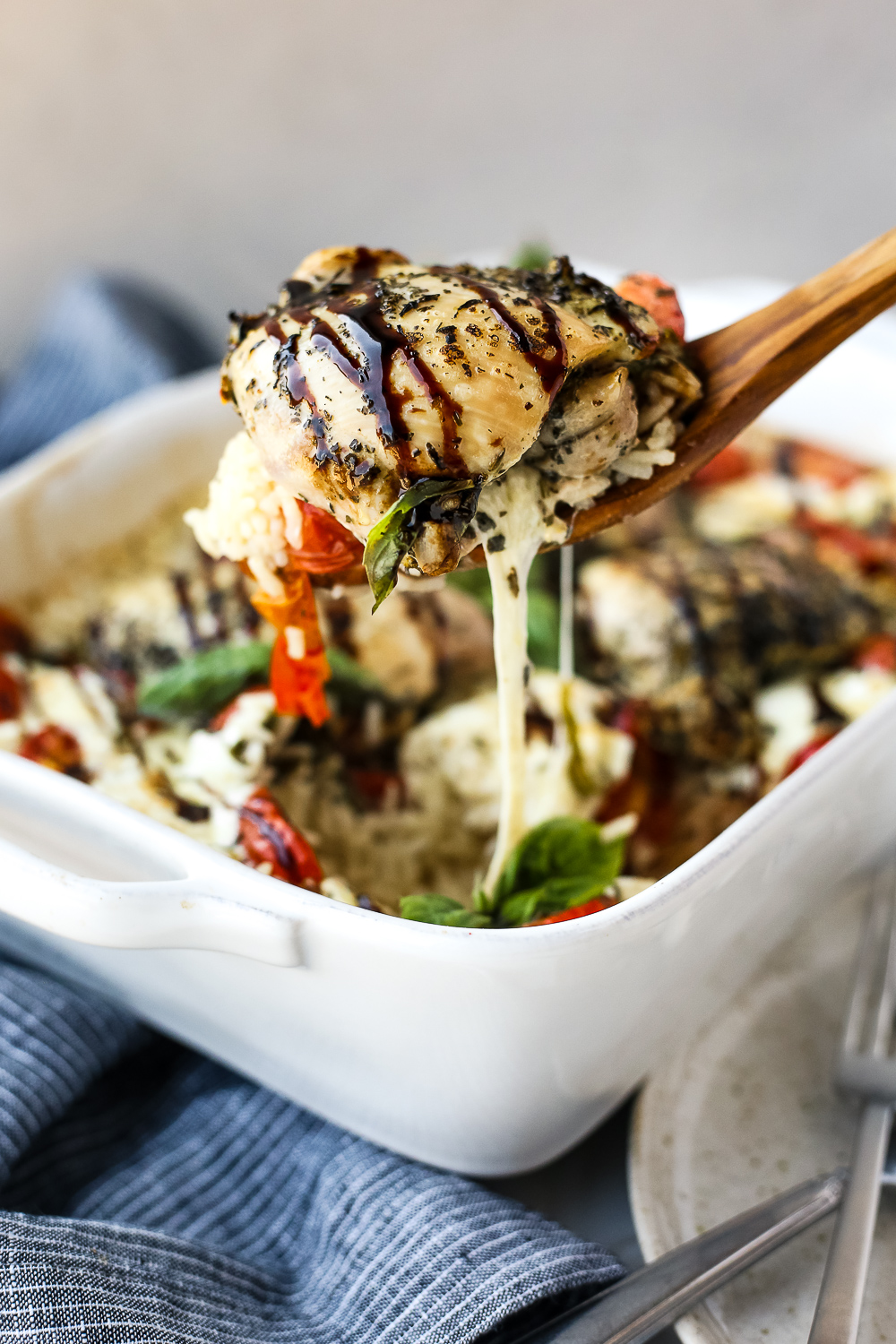 Caprese Chicken and Rice Bake
Fun fact: this is my third year of celebrating National Rice Month with a new rice recipe. I kicked off the partnership with Stuffed Poblano Peppers and Chimichurri Rice and Chorizo. Last year I made Slow-Cooker Korean-Inspired Beef and Rice Bowls. And here we are in Year 3 with a Caprese Chicken and Rice Bake!
This was a particularly busy season for me as I prepared to move the Street Smart Nutrition office to its new permanent location. So the appeal of hands-free, simple cooking was even greater than usual. I grew up in the Midwest so I'm no stranger to casseroles and hot bakes, and I appreciate the convenience and comfort of rice more than ever!
And even though I grew up in the Midwest, I didn't realize how much rice we actually grow in my home state of Missouri. We're one of the top rice-producing states along with California, Louisiana, Mississippi, Arkansas, and Texas. U.S.-grown rice is nutrient-rich and contributes more than 15 vitamins and minerals, including folic acid and other B-vitamins, as well as iron and zinc. Rice is also naturally gluten-free and the least allergenic of all grains.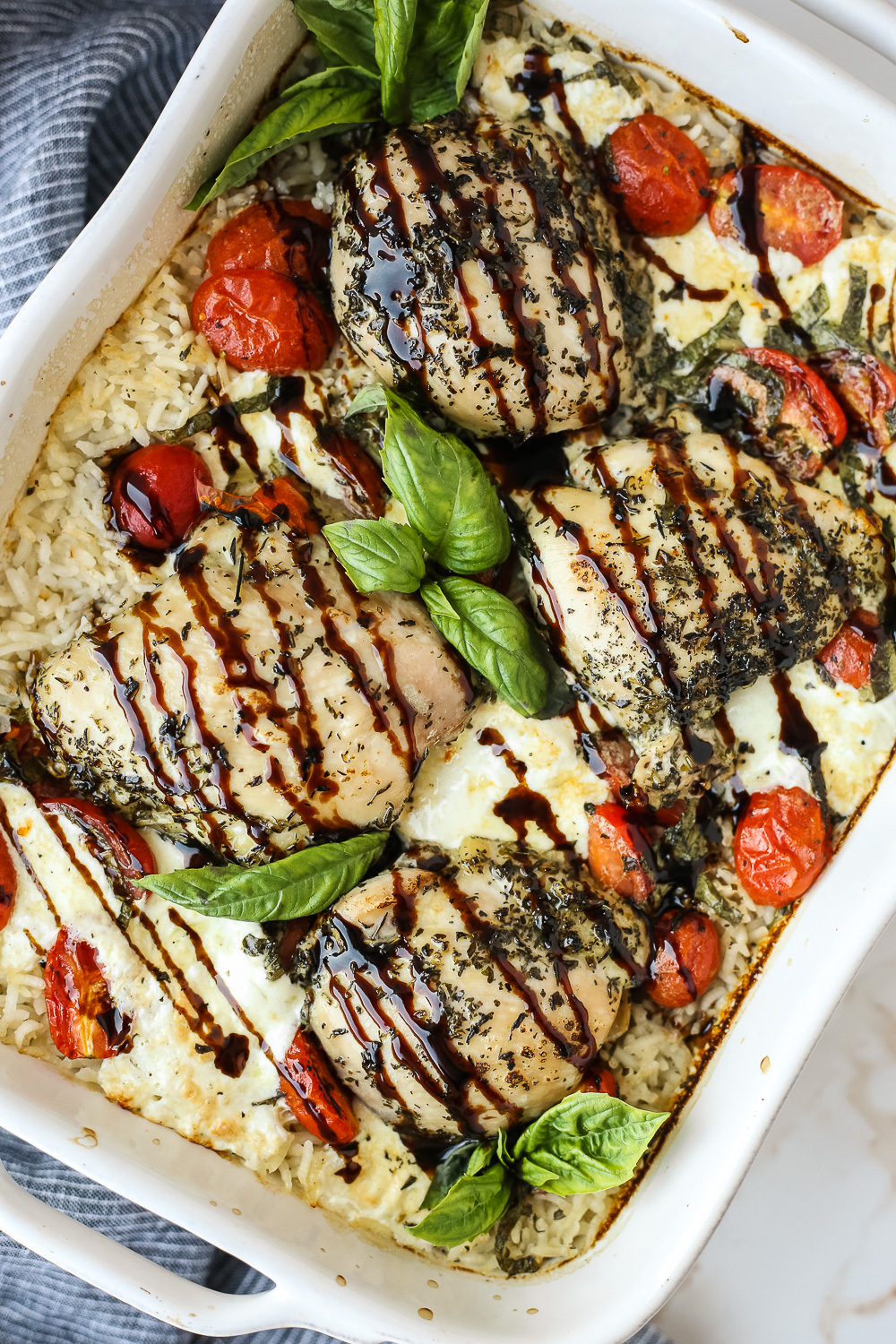 How to Bake Rice in the Oven
Rice is an incredibly versatile ingredient, and every culture and cuisine has its own preferred method for cooking. For this particular recipe, we're relying on a casserole dish and an oven instead of a stovetop method or electric rice cooker. Let's get started!
Here's what you'll need:
Ingredients: U.S.-grown long-grain white rice, chicken stock, cherry tomatoes, a package of fresh mozzarella pearls, and a hearty handful of fresh basil. For the chicken, use boneless, skinless chicken thighs with your favorite seasonings (details listed in the recipe below)
Street Smart Nutrition Tip: Cooking with long-grain white rice is my preference for baked casseroles like this because it ends up fluffy and soft. However, other varieties like medium-grain, jasmine, or basmati rice are suitable substitutes. Avoid swapping for brown rice, or specialty varieties like arborio rice, which will have a much different texture and cooking time.
Equipment: Grab your favorite casserole dish (at least a few inches deep) and aluminum foil. You'll also need the basics like a cutting board and sharpened chefs knife, measuring cups, and measuring spoons.
Street Smart Nutrition Tip: When handling raw proteins like chicken thighs, it's a good practice to have a separate cutting board and knife. You'll avoid cross-contamination (a big food safety risk) and keep your uncooked ingredients separated until the dish is ready to assemble.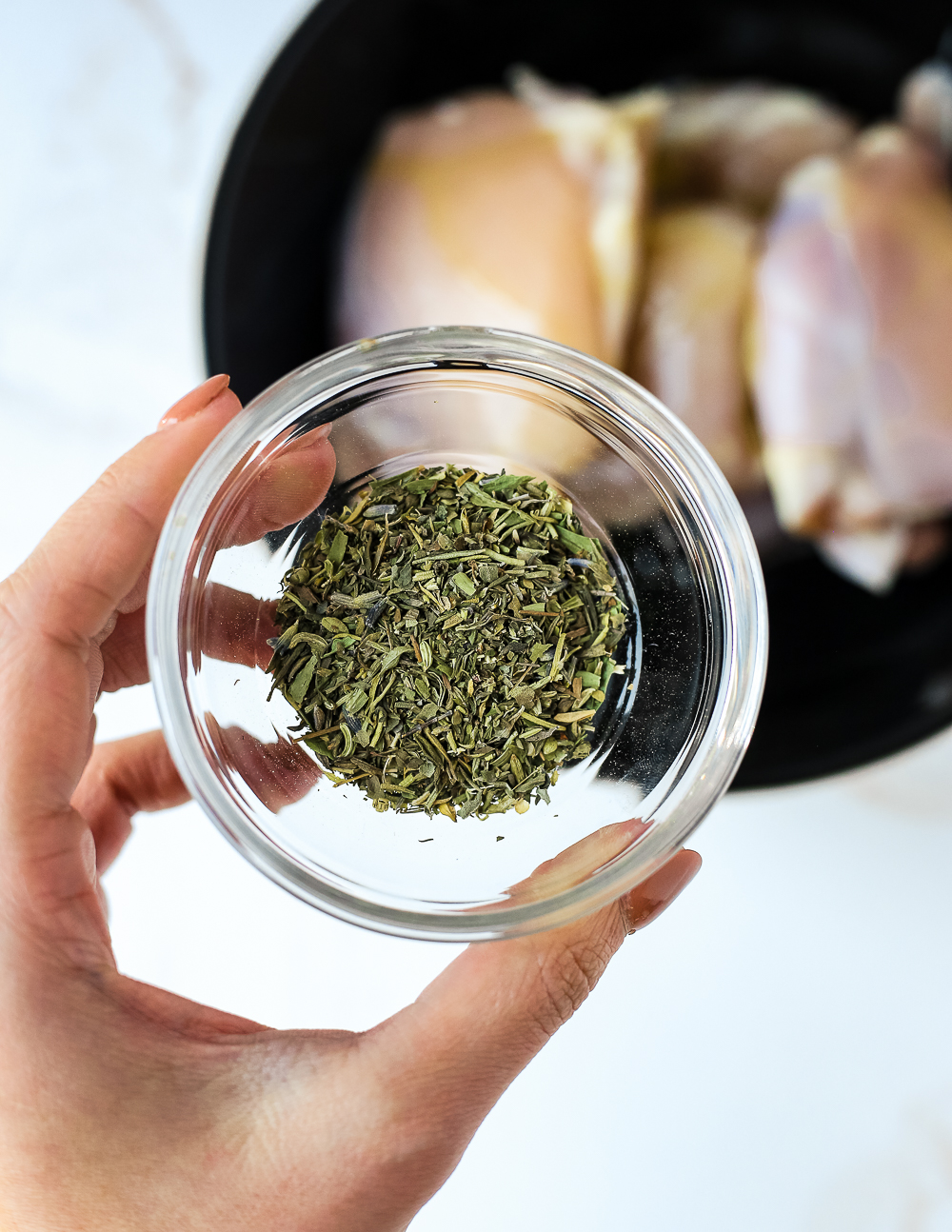 For me, the key to really delicious baked rice is infusing it with flavor and sealing in moisture during the first half of cooking. I used low-sodium chicken stock instead of water. The chicken is seasoned with herbs de Provence, which also lends a lot of aroma and flavor. This herb blend uses thyme, basil, rosemary, tarragon, savory, marjoram, oregano, and bay leaf. It's most often used in French cuisine but can complement the flavors of Mediterranean-style dishes like a Caprese salad (which originated in Italy).
Once you have the flavor component covered, it's time to literally cover this recipe. Seal it tightly with aluminum foil before placing it in your oven and cook for about 20 minutes. This will lock in the juicy flavor of your chicken, adding even more flavor to the rice base below. Remove the foil and finish the last 10-15 minutes uncovered. This helps the chicken develop some nice color before serving.

What about meal prep?
Yes, I did mention this recipe was great for that! As written, this Caprese Chicken and Rice Bake recipe makes at least four servings. If you're prepping more, I recommend doubling it and using two separate casserole dishes rather than one extra-large dish. This will help make sure the chicken is fully cooked to a safe internal temperature (165 degrees F) without drastically changing the cooking time.
Here's another tip for meal prep: reserve a few cherry tomatoes and spare mozzarella pearls for your leftovers. You can add these before or after reheating for some fresher flavors and textures. The same goes for fresh basil if you happen to have extra.
What about leftovers?
You can store leftovers of this Chicken Caprese Rice Bake recipe for up to five days in the refrigerator. Cooked rice can also be frozen, but since this is a mixed dish with proteins, dairy, and produce, it works better to freeze individual ingredients separately if you plan on storing leftovers for longer than five days.
To reheat leftovers, you can turn your oven to a lower temperature (275-300 degrees F). Just cover the casserole dish again and bake for about 15 minutes or until fully heated through. However, I'm usually in more of a hurry than that so I use the microwave. Reheat in 30-40 second increments, stirring occasionally, until heated through (about 1 1/2 to 2 minutes total).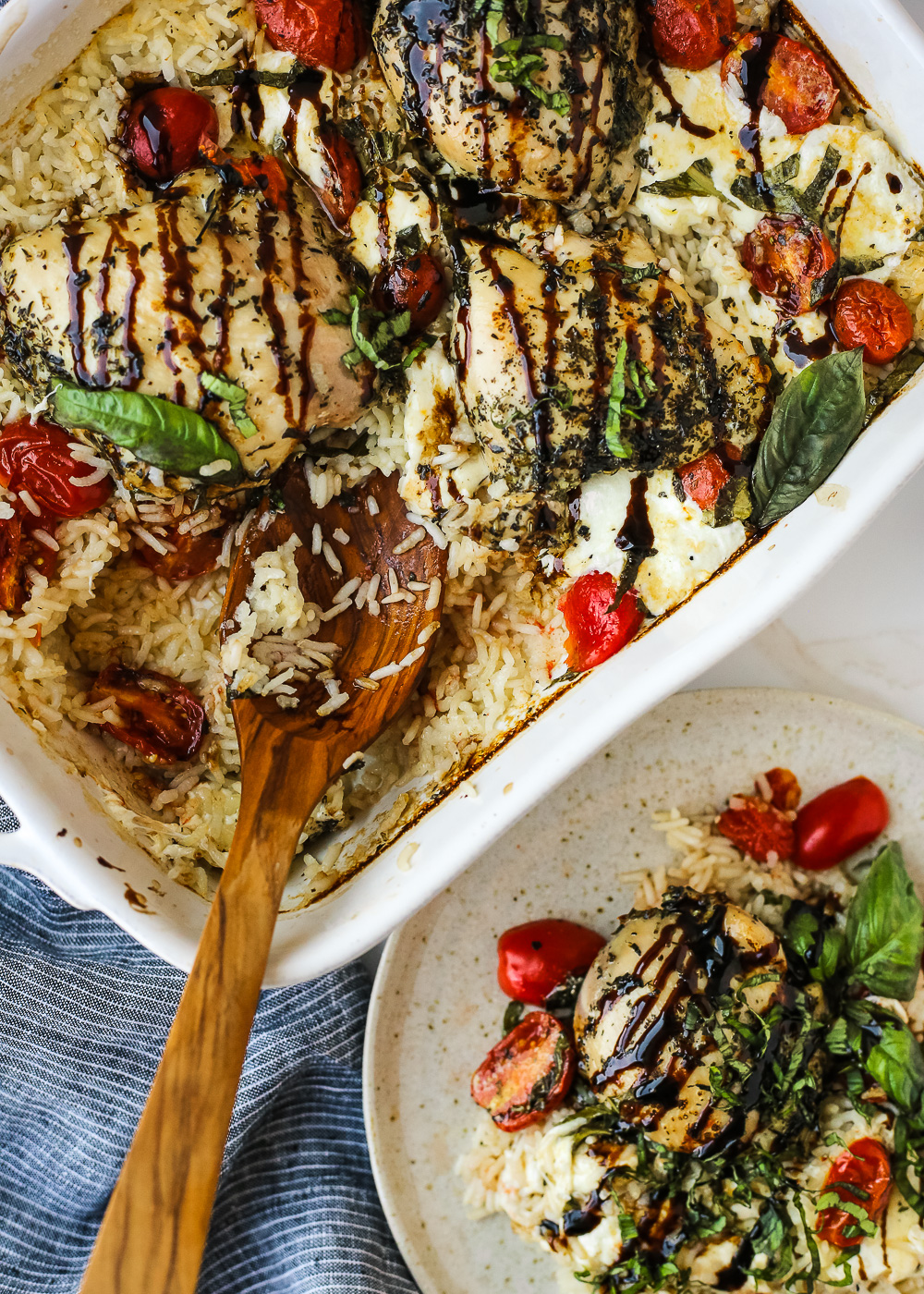 I think you're going to love this recipe! Creamy, melty cheese and juicy, tender chicken, plus colorful tomatoes and basil served up on a bed of fluffy, flavorful rice. Enjoy!
Here's the recipe for my Caprese Chicken and Rice Bake!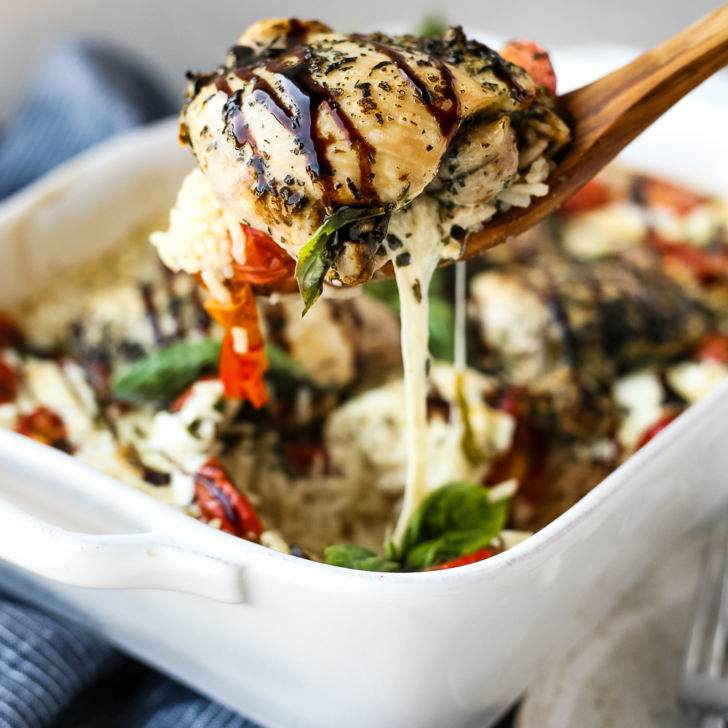 Caprese Chicken and Rice Bake
Find inspiration in the flavors of the classic capers salad for this simple, one-pot baked meal! Use flavorful, tender chicken thighs and as much fresh basil as you like.
Ingredients
1

cup

U.S.-grown long grain white rice

2

cups

low sodium chicken stock

2

tbsp

olive oil

1

lb

chicken thighs

,

skinless, boneless

1

tbsp

herbs de Provence

1/4

tsp

kosher salt

1/4

tsp

MSG (monosodium glutamate)

1/8

tsp

black pepper

8

oz

cherry tomatoes

,

one package

8

oz

mozzarella pearls

,

one package

1/4

cup

basil

,

chopped

2

tbsp

balsamic glaze
Instructions
Preheat the oven to 375 degrees F.

Season the chicken by coating with half of the olive oil (one tablespoon) the herbs de Provence, salt, MSG, and black pepper. Set aside.

Measure the rice and add it to an oven-safe casserole dish or baking pan. Add the cherry tomatoes (slicing larger tomatoes in half if needed), mozzarella pearls, and chopped basil. Add the seasoned chicken thighs on top, then pour the chicken broth into the casserole dish.

Cover with aluminum foil and seal tightly. Place on the middle rack of the preheated oven and bake for 30 minutes. After 30 minutes, remove the aluminum foil and drizzle the chicken thighs with the remaining olive oil. Bake, uncovered, for an additional 20-30 minutes or until the chicken is fully cooked and the rice has absorbed all of the liquid.

Remove from oven and allow to cool slightly. Garnish with additional sliced tomatoes, fresh basil, and drizzle with the balsamic glaze. Serve immediately or store leftovers for up to five days.
Notes
Option to replace the boneless, skinless chicken thighs with boneless, skinless chicken breasts. Adjust cook time accordingly to ensure the chicken is fully cooked with an internal temperature of 165 degrees F. 
Nutrition
Serving:
1
serving
,
Calories:
666
kcal
,
Carbohydrates:
45
g
,
Protein:
35
g
,
Fat:
39
g
,
Saturated Fat:
10
g
,
Polyunsaturated Fat:
5
g
,
Monounsaturated Fat:
13
g
,
Trans Fat:
1
g
,
Cholesterol:
132
mg
,
Sodium:
318
mg
,
Potassium:
524
mg
,
Fiber:
1
g
,
Sugar:
3
g
,
Vitamin A:
483
IU
,
Vitamin C:
14
mg
,
Calcium:
257
mg
,
Iron:
3
mg
If you enjoyed this recipe, be sure to give it a rating or leave a comment!
And there's plenty more where this came from! The USA Rice website has a recipe archive stacked with other amazing rice recipes, including many others I've developed as part of this partnership. While you're there, you can also learn more about rice nutrition, where rice comes from, and how it's grown.
While you're here, be sure to check out my One-Pot Creamy Spinach Rice recipe. It's another all-in-one rice dishes that's great for meal prep or big family dinners!