This delicious recipe for yogurt-marinated grilled chicken kebabs is worth the effort – one bite of these grilled chicken kebabs will convince you of that! 
---
If you're a fan of grilling, you've probably attempted to make grilled chicken kebabs before. And you probably know it can be challenging to get a flavorful, tender bite that isn't dried out or bland.
My yogurt-marinated grilled chicken kebabs turn out amazing every time and I'm here to share my best tips to help you get the same results!
If you love kebabs, you'll also like this recipe for Glazed Pork Tenderloin and Fig Kebabs!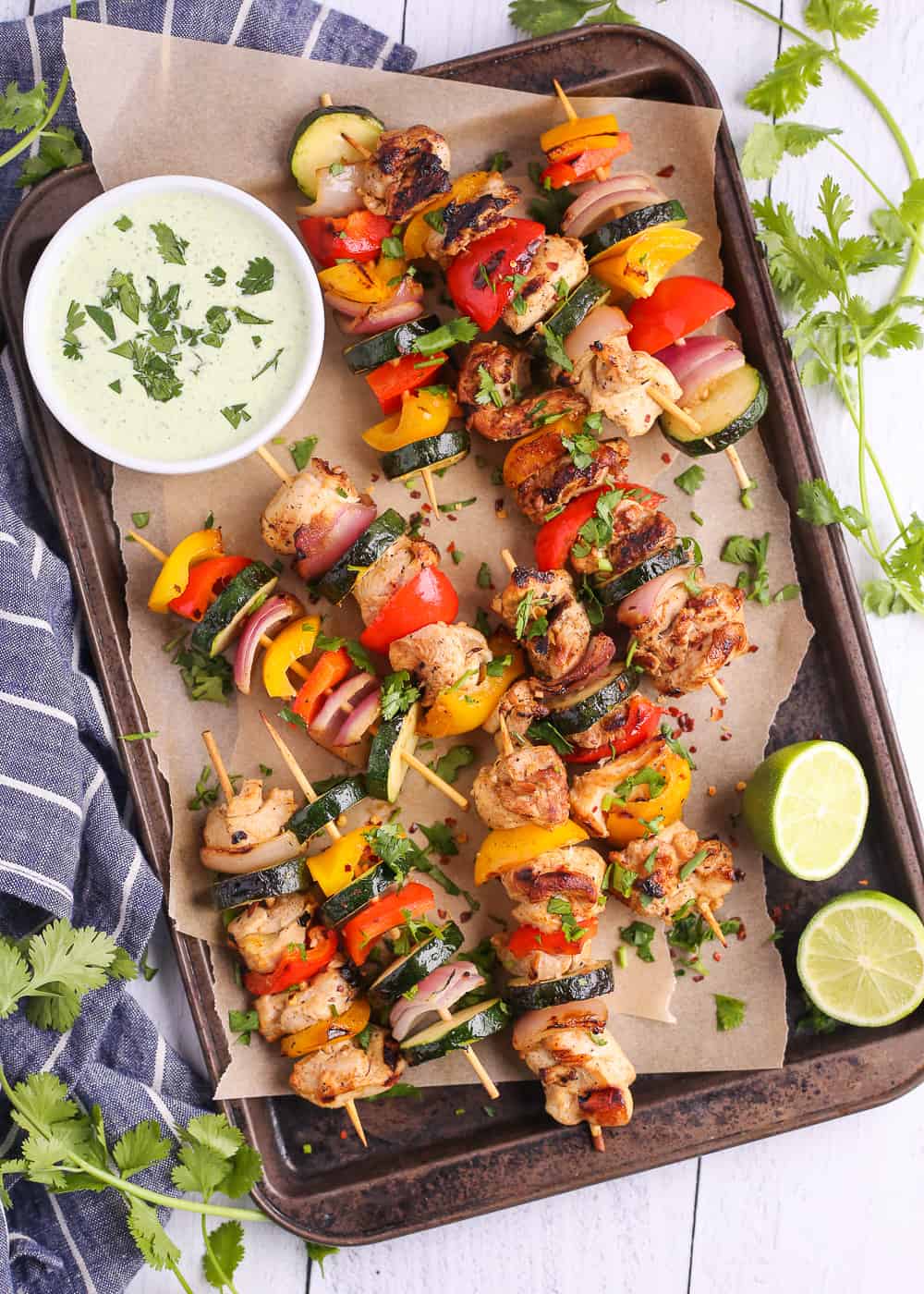 I mean, just look at these colorful beauties!
How to Make Grilled Chicken Kebabs
Yogurt marinated grilled chicken kebabs may sound fancy or intimidating, but I promise this recipe becomes incredibly simple once you break it down into a few easy steps!
Kebabs, or kabobs, originated in the Middle East and refer to a variety of cooked meat dishes. In the US, we typically see kebabs referring to grilled meats, like chicken, steak, or shrimp, cooked on skewers with vegetables, sauces, or other combinations of ingredients. Marinating meat for the grill is one of the best ways to infuse rich flavor and take meals from basic to next-level.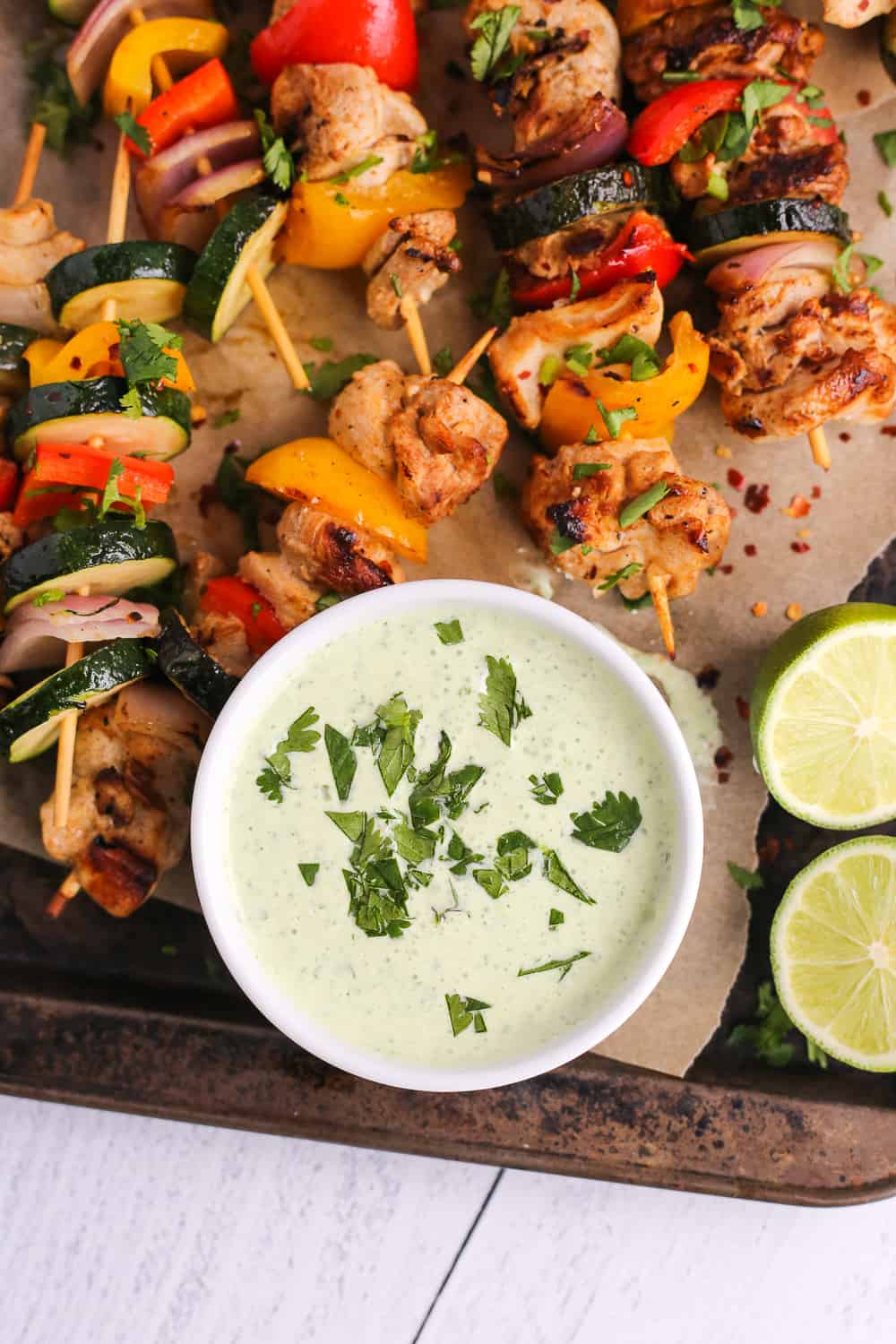 Step 1: Prepare the meat and marinade
This flavorful yogurt-based marinade tenderizes the chicken thighs, an already tender cut of chicken. If you prefer to use a different cut for your grilled chicken kebabs, go for it! 
Simply combine all ingredients in a mixing bowl and add the chicken thighs. They will need to sit for at least three hours to absorb all the delicious flavors. If you can let them rest overnight in the refrigerator, even better.
Step 2: Mix the sauce
This creamy cilantro-feta sauce uses any leftover yogurt you might have. The flavors taste even better when they've had some time to sit, so if you can, make the sauce in advance and let it chill in the fridge until you're ready to serve.
Step 3: Make the skewers for grilled chicken kebabs
If you have metal skewers, you can skip this step, but soaking wooden skewers in water before grilling helps them from burning away to nothing. Add them to a bowl with enough water to cover them while you prepare the vegetables, then you're ready to make your yogurt-marinated chicken kebabs.
The key to perfectly cooked kebabs is to cut pieces that will cook in roughly the same amount of time. Keep this in mind while you're cutting your vegetables and marinated chicken thighs.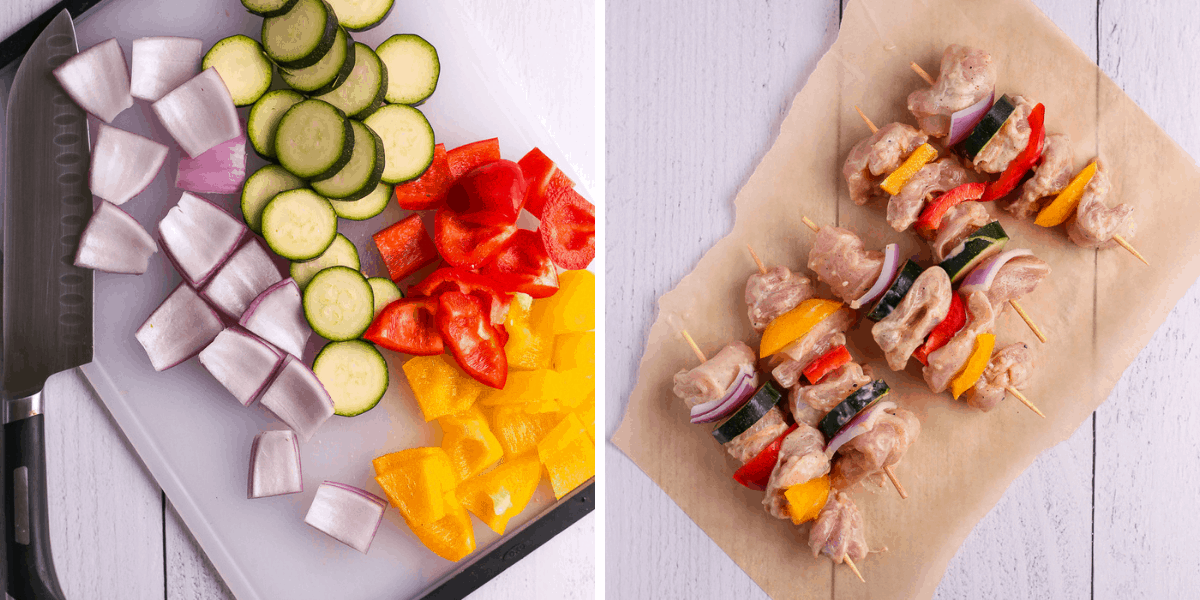 Thread the marinated chicken and vegetables onto the soaked skewers, alternating between a piece of chicken and a piece of zucchini, bell pepper, or onion. Get as creative as you want to customize the ratio and distribution of chicken and vegetables. If I have a little extra of either one leftover, I simply add whatever's left to a single kebab skewer and toss that on the grill, too!
Step 4: Grill, then serve!
Grilled chicken kebabs don't need a lot of time on the grill – because the pieces are rather small, a couple of minutes on each side should be enough. Carefully use tongs to rotate the skewers over high heat, making sure they cook evenly.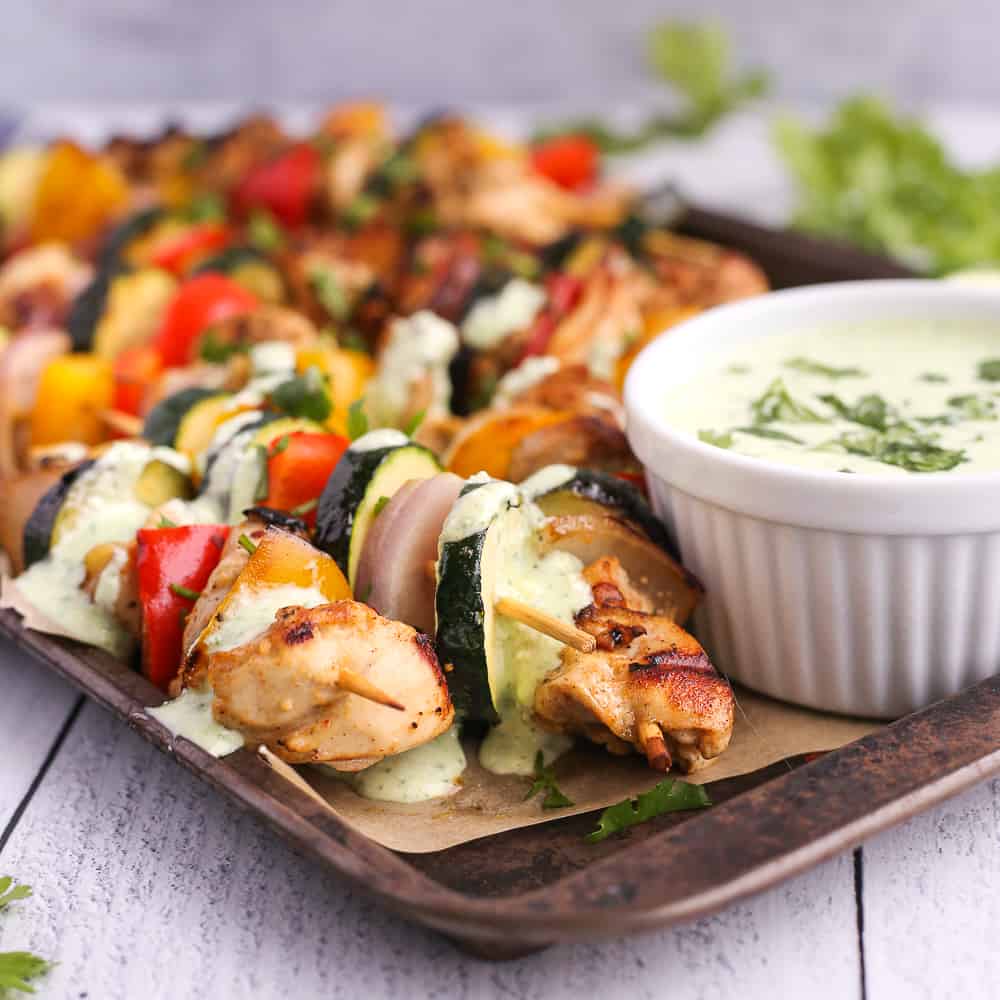 Here's the recipe for Yogurt-Marinated Grilled Chicken Kebabs!
Yogurt Marinated Grilled Chicken Kebabs
Marinate tender chicken thighs in a flavorful yogurt marinade, then pair with fresh veggies for a delicious, next-level grilled meal.
Ingredients
4

boneless

,

skinless chicken thighs

1

large red bell pepper

1

large yellow bell pepper

1

small zucchini

½

red onion

Water for soaking wooden skewers
For the Marinade
½

cup

plain Greek yogurt

1

tbsp

olive oil

Juice of one lime

½

tsp

chili powder

½

tsp

cumin

½

tsp

smoked paprika

¼

tsp

black pepper

¼

tsp

kosher salt

1-2

cloves

garlic

,

minced

¼

tsp

cayenne pepper

,

optional
For the Sauce
1

cup

plain Greek yogurt

¼

cup

feta cheese crumbles

Juice of 1 lime

1

tbsp

olive oil

½

cup

fresh cilantro

,

packed

Fine sea salt and pepper to taste
Instructions
Begin preparing the marinade. Combine all ingredients in a large mixing bowl. Cut the chicken thighs into bite-size or small pieces, then add to the yogurt mixture. Fold together to combine and evenly coat the chicken, then store in the refrigerator for a minimum of three hours (or overnight).

When ready to cook, soak the wooden kebab skewers in water for up to 30 minutes to minimize charing or burning. Meanwhile, prepare the sauce by combining all ingredients in a blender or food processor. Pulse to combine, then blend until smooth. Set aside until ready to serve.

To make the kebabs, cut the peppers and red onion into 1" pieces (large enough to thread onto kebab skewers). Slice the zucchini crosswise in ¼" to ½" coin. Remove the chicken from the fridge and fill the skewers, alternating veggies with chicken. Add any leftover veggies to a veggie-only skewer to avoid food waste.

Preheat the grill to medium heat. Clean the grates as needed and brush lighting with oil to avoid sticking. Grill the kebabs for 3-4 minutes on each side, rotating in quarter turns until fully cooked. Use a meat thermometer to verify doneness.

Transfer from the grill to a serving platter, adding the dipping sauce on the side or drizzling over the kebabs. Garnish with fresh cilantro, red pepper flakes, or fresh lime juice. Serve immediately.
Nutrition
Serving:
1
serving
,
Calories:
323
kcal
,
Carbohydrates:
12
g
,
Protein:
33
g
,
Fat:
16
g
,
Saturated Fat:
5
g
,
Cholesterol:
121
mg
,
Sodium:
398
mg
,
Potassium:
561
mg
,
Fiber:
2
g
,
Sugar:
7
g
,
Vitamin A:
1589
IU
,
Vitamin C:
105
mg
,
Calcium:
170
mg
,
Iron:
2
mg
If grilling isn't your style, check out these other easy chicken recipes. Since they use rotisserie chicken, you can make multiple meals without extra effort!
As always, if you give this recipe for grilled chicken kebabs a shot, let me know what you think! Share with family and friends who are looking for an easy chicken kebab recipe, and happy grilling!