This Kielbasa Sheet Pan Dinner is a mouth-watering meal that will have you lining up for seconds! With just a few simple ingredients like potatoes, kielbasa, sauerkraut, and shredded cheese, you can prepare this easy sheet pan dinner in less than an hour.
Smoky, salty, savory….check!
Starchy, cheesy, and a little bit crispy…check!
Tangy, sour, and just the right amount of crunch…check!
Yes, this kielbasa sheet pan dinner has it all and I'm so excited to share it with you! I'm celebrating the return of low-effort cooking with a sheet-pan meal that's just as satisfying and delicious as something that took hours to prepare.
And I mean, you can totally still do that. Just be sure to save this recipe for the times when you don't want to. It might be the perfect recipe to serve tonight!
Why You'll Love This Kielbasa Sheet Pan Dinner Recipe
What's not to love about a hearty meat & potatoes meal? It's humble comfort food at it's finest, but here are some more reasons to love this kielbasa sheet pan dinner:
Simplicity is key around here and this sheet pan dinner is no different. Just prep a few basic ingredients and let the oven do the work! It's hands-free cooking aside from the few times where you'll add ingredients at key moments during the cooking process.

The probiotic-rich sauerkraut adds just the right amount of tangy flavor to complement the savory kielbasa and cheesy hasselback potatoes. Simply delicious!

So easy to customize! Swap out of kielbasa for another type of sausage, use whatever cheese you already have, or add mushrooms or bell peppers for an additional serving of veggies.
This kielbasa sheet pan dinner is a great choice if you want a tasty, easy, and customizable meal. It's filling and satisfying, and won't break the bank for your grocery budget either!
If you're a fan of sheet pan meals, you might also like this version that uses chicken thighs and a similar honey-mustard glaze!
Ingredients You'll Need
Don't stress about a long list of hard-to-find ingredients. This Kielbasa Sheet Pan Dinner recipe is about as simple as it gets! Here's what you'll need to make it:
Polish-style kielbasa. This is usually a blend of beef, pork, and turkey but you can also use a turkey-only option. I look for these on sale and keep one or two in my freezer for an easy protein option that adds tons of flavor
Potatoes. I recommend Yukon Golds because they have an almost buttery flavor once cooked. Potatoes are nutritionally very similar, so swap for any variety you already have or prefer to use.
Shredded Cheese. The thinner the shred, the better it will melt into the little crevices in the hasselback potatoes
Sauerkraut. Any style of prepared sauerkraut will work for this kielbasa sheet pan dinner, just be sure to drain it well before adding it to avoid getting everything soggy
Yellow or Sweet Onion. Because it's nice to have another veggie! (yes, potatoes are a starchy vegetables…but a vegetable nonetheless)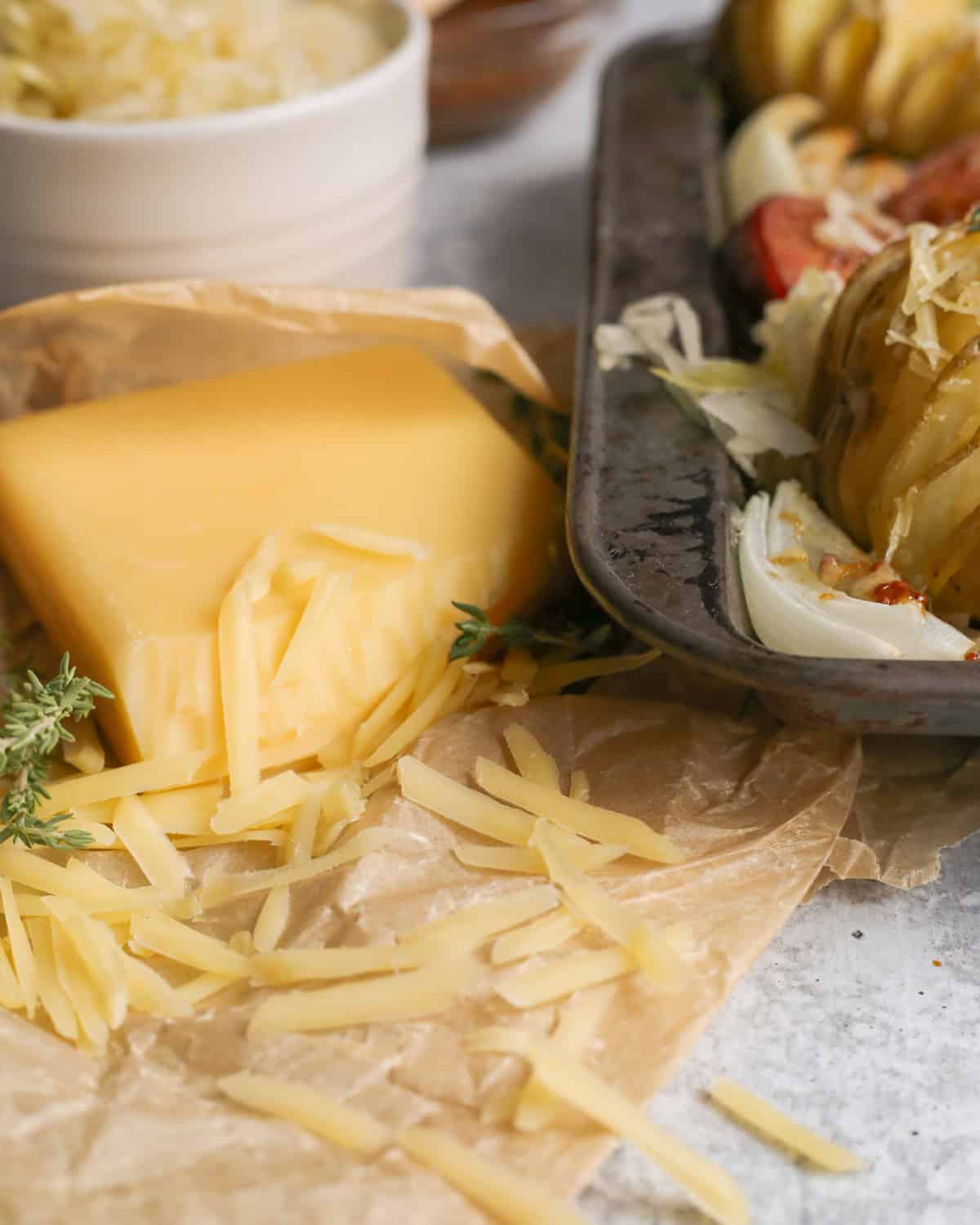 And for the sweet mustard glaze, you'll need some olive oil, whole grain or Dijon mustard, apple cider vinegar, and brown sugar. I really love Maille Old-Style Whole Grain Mustard, but use any brand or style you prefer!
Finally, don't forget some fresh thyme for garnish! This adds so much aroma before serving and I love the pairing of thyme and cheesy hasselback potatoes. But if you don't have fresh, sprinkle some dried thyme on top when you season with salt and pepper to taste.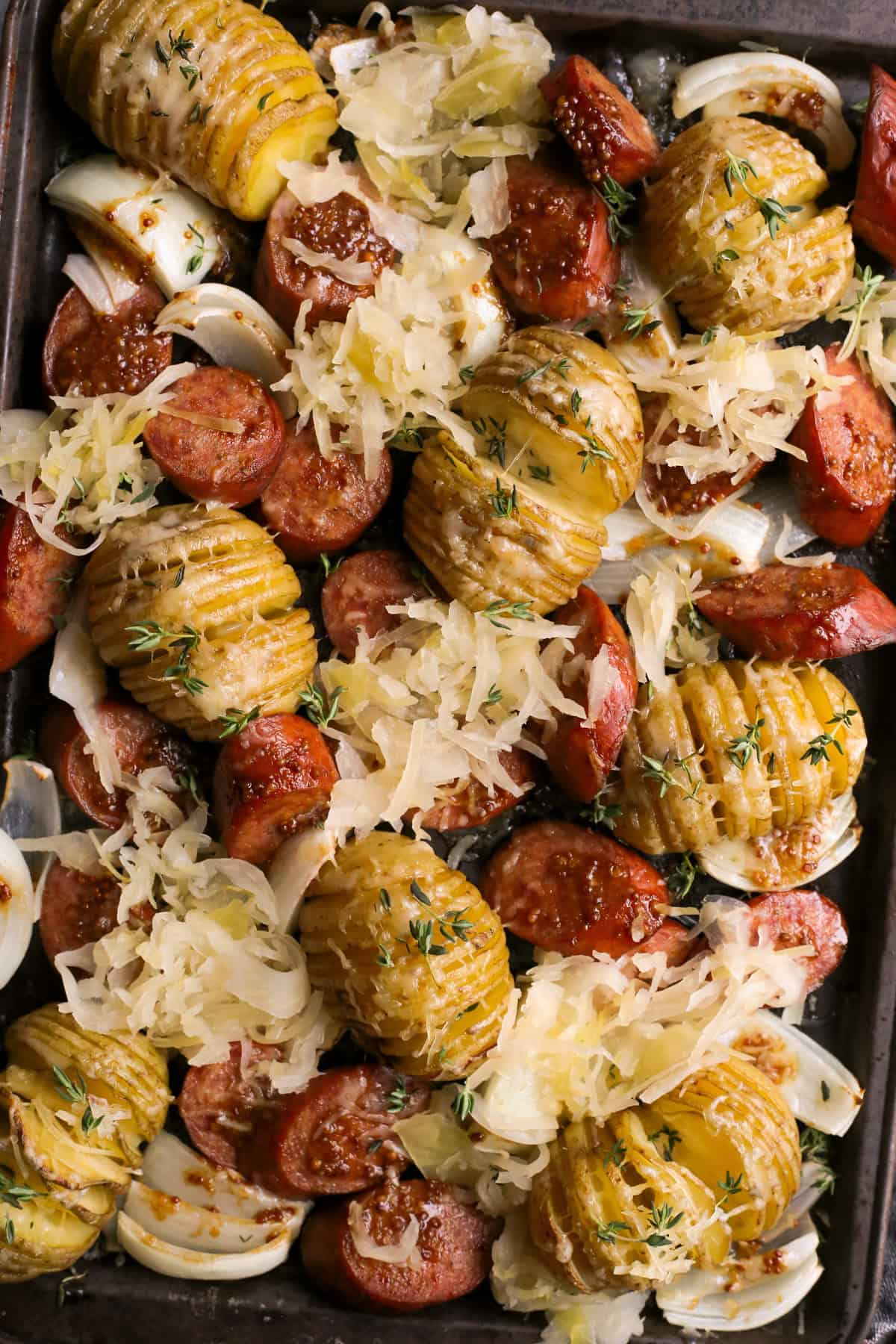 How to Make Hasselback Potatoes
This is (I promise) the only prep step that might take a little effort. If you aren't familiar with hasselback potatoes, they're deceptively easy to make despite how impressive they look. This style of baked potatoes comes from a Swedish restaurant, dating back to the 1950s in Stockholm. Now, you'll find recipes for hasselbacking pretty much anything that can be thinly sliced and fanned out.
So here's how I do it for cheesy hasselback potatoes like this:
Give your potatoes a good scrub and pat them dry. Lay them on a cutting board then take two BBQ skewers or chopsticks and put one on each side so the potato won't roll away.
Using a sharpened knife, carefully start slicing extremely thin cuts crosswise through the potato. Stop slicing before you cut all the way through, leaving the slices attached at the bottom of the potato.
Keep repeating down the length of the potato. The idea is that the skewers or chopsticks will serve as a buffer for you knife, stopping it before you finish the cut.
Do this process again for each of your potatoes, then continue with the rest of the recipe.
This is arguably the most tedious and time consuming step of this kielbasa sheet pan dinner recipe. So if you'd rather skip it, just cut or chop the potatoes into small pieces for roasting instead. In this case, you'll scatter the shredded cheese over everything on the sheet pan vs. stuffing it into the hasselback potatoes.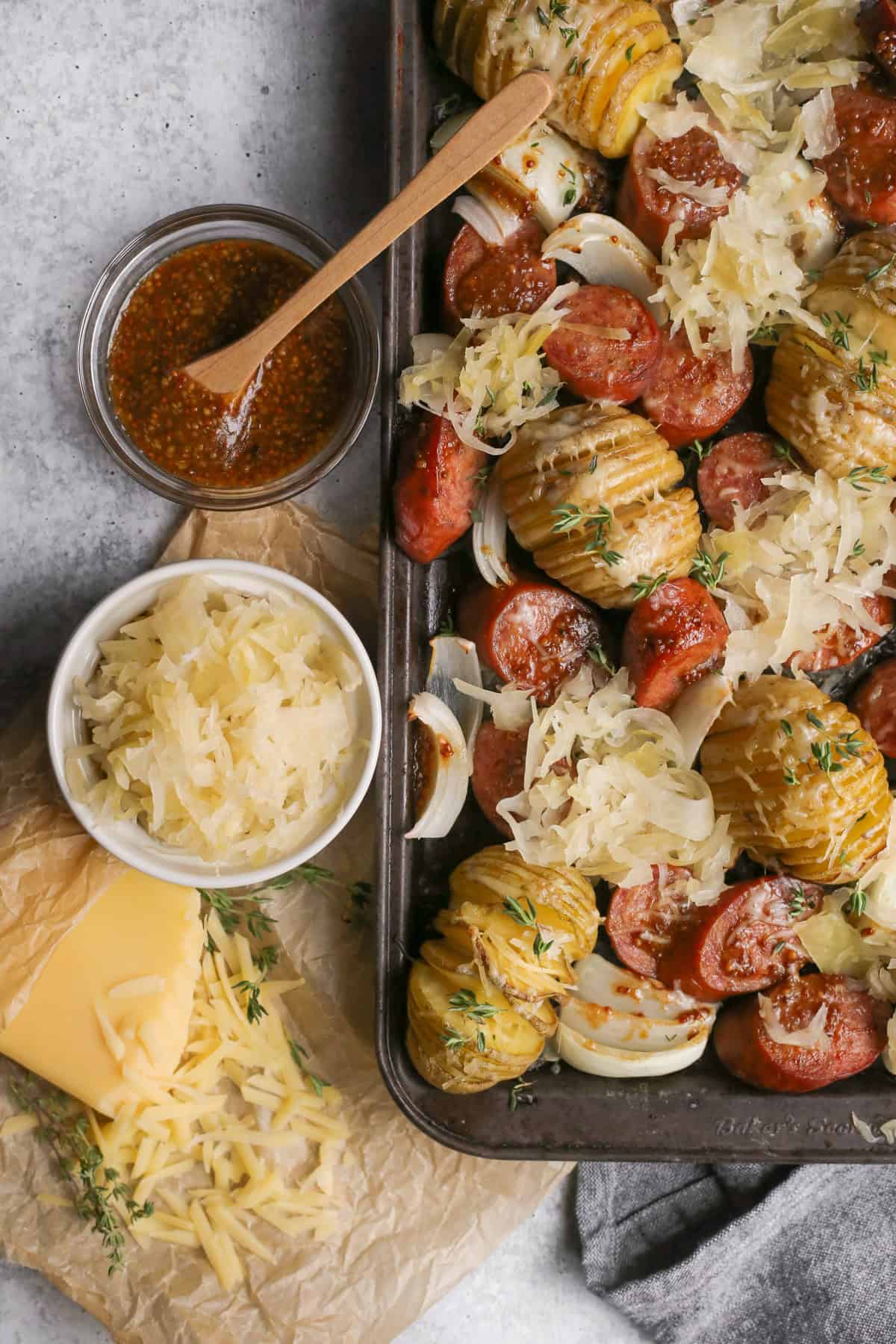 Cooking Tips for my Kielbasa Sheet Pan Dinner
Through the recipe testing process, I learned a few simple hacks that can save you a little time. Here's how to maximize flavor and keep things simple while you're cooking:
Preheating the oven is key! You want that high heat to start roasting the potatoes right away, so make sure you turn that dial up before you do anything else.
Next, prep the potatoes first and get them in the oven before any of the other prep steps. Since they cook for about 20 minutes before adding the kielbasa and onions, you'll have time to do those steps after the potatoes get going.
Slice the kielbasa at an angle to maximize surface area for browning. Whether it's in contact with the sheet pan itself or roasting from the top, it's more likely to develop that richer flavor.
Taste test the glaze first. You might want to add more mustard, more brown sugar, or another seasoning to make it your own. And while the recipe is written to provide plenty for the kielbasa sheet pan dinner, I recommend making a little extra if you like to dip or spread more sauce on your meals.
And if you're serving this for picky eaters or someone who's not as fond of sauerkraut, leave it on the side. This lets everyone decide if or how much they want to use. Sauerkraut is a probiotic-rich food, meaning it's fermented and contains some of the "good" bacteria that supports a healthy microbiome in our gut. But those beneficial bugs can die off under high heat (like a 425 degree F oven) so wait to add it until after you pull the sheet pan from the oven. The residual heat should be enough to warm it up. But honestly, sometimes I like the contrast of hot & cold temps in each bite!
Here's the full recipe for my Kielbasa Sheet Pan Dinner recipe with sauerkraut and cheesy hasselback potatoes!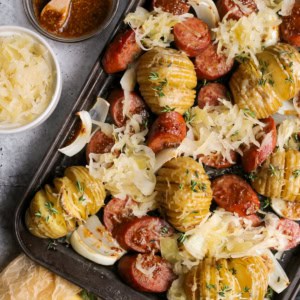 Kielbasa Sheet Pan Dinner
Enjoy this easy sheet pan dinner recipe for a simple weeknight meal. It features probiotic-rich sauerkraut and a sweet mustard glaze for maximum flavor to complement kielbasa and potatoes!
Equipment
2 skewers or chopsticks

large sheet pan
Ingredients
1 1/2

lbs

small Yukon Gold potatoes

1

large

yellow onion

1

lb

Polish kielbasa

2

tbsp

olive oil

2

tbsp

whole grain or dijon mustard

1

tbsp

apple cider vinegar

1

tbsp

brown sugar

1

cup

sauerkraut

,

drained

1/2 to 3/4

cups

shredded Gruyere or Swiss cheese

4-5

sprigs thyme

All-Purpose MSG Seasoning,

to taste (or swap for salt and pepper)
Instructions
Preheat the oven to 425 degrees F.

Meanwhile, wash and scrub the potatoes, then pat dry. Carefully slice the potatoes crosswise, in thin sections, stopping just before slicing all the way through. Set the potatoes between two BBQ skewers or chopsticks to avoid slicing too far.

Place the prepared hasselback potatoes on a sheet pan. Divide the olive oil in half and use one portion to brush the potatoes, coating as evenly as possible. Season with salt and pepper to taste, then bake for 20 minutes or until the sliced potatoes start to fan out.

While the potatoes are roasting, slide the onion into thick slices. Slice the kielbasa into bite-sized slices of even thickness. After 20 minutes, remove the sheet pan with the potatoes and add the onions and kielbasa. Return to the oven and bake for another 20 minutes.

To make the glaze, combine the remaining olive oil, mustard, apple cider vinegar, and brown sugar in a small dish and whisk to combine. Remove the sheet pan from the oven and brush the onions and kielbasa with the glaze. Before returning the sheet pan to the oven, add the shredded cheese to the tops of the potatoes. Bake another 5-10 minutes, or until the cheese is melted and bubbling.

To serve, drain the sauerkraut and scatter it over the kielbasa so the residual heat can warm it. Garnish with extra cheese and sprigs of fresh thyme. Serve immediately with any remaining glaze for dipping.
Notes
To save time, slice or chop the potatoes instead of using the hassleback method. Adjust the roasting time to avoid overcooking the potatoes.
Nutrition
Serving:
1
serving
,
Calories:
655
kcal
,
Carbohydrates:
40
g
,
Protein:
24
g
,
Fat:
44
g
,
Saturated Fat:
15
g
,
Polyunsaturated Fat:
5
g
,
Monounsaturated Fat:
22
g
,
Cholesterol:
92
mg
,
Sodium:
1348
mg
,
Potassium:
1134
mg
,
Fiber:
6
g
,
Sugar:
7
g
,
Vitamin A:
175
IU
,
Vitamin C:
44
mg
,
Calcium:
185
mg
,
Iron:
4
mg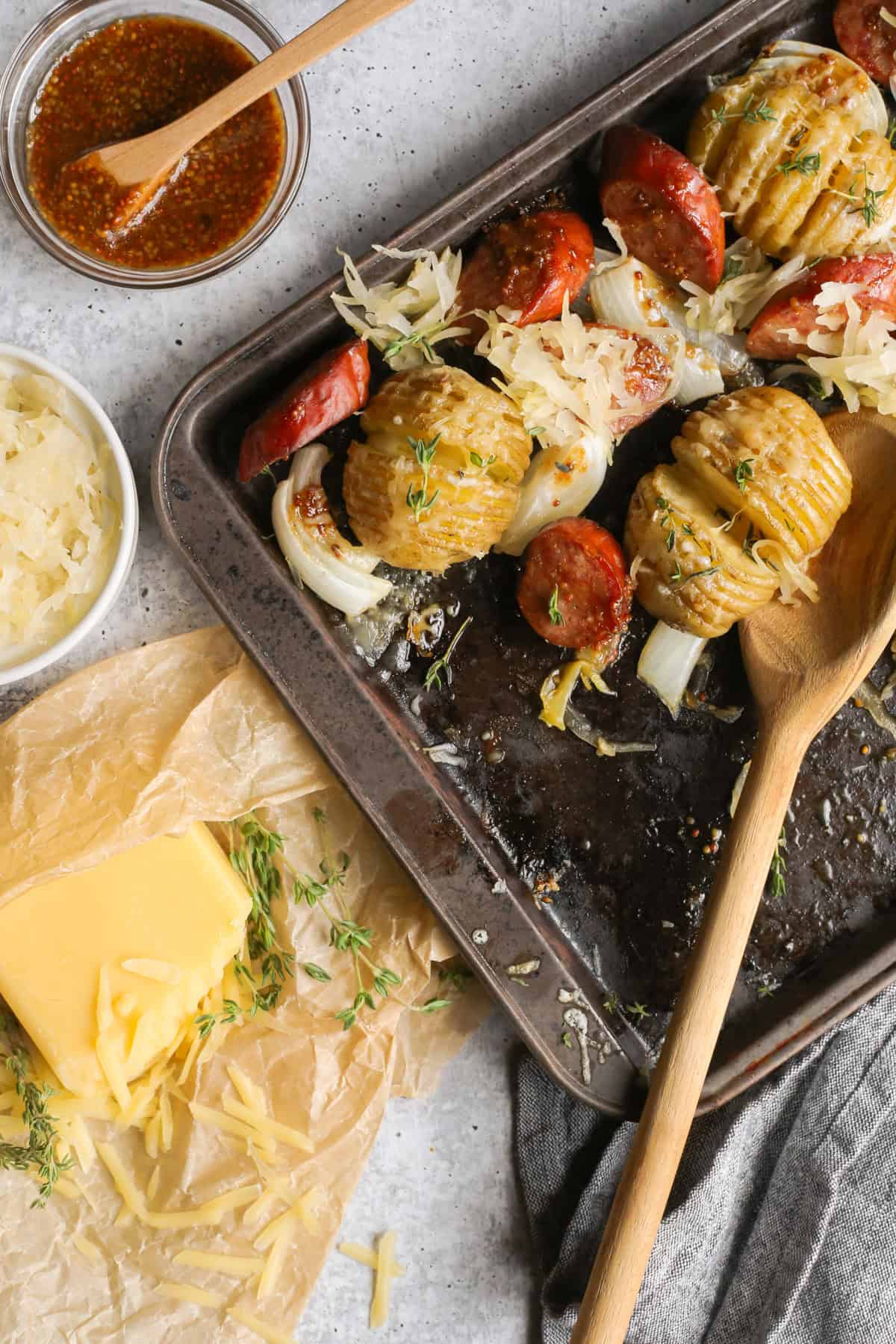 If you try this Kielbasa Sheet Pan Dinner recipe, leave a comment and rating to let me know what you think.
As always, thanks for stopping by Street Smart Nutrition. Cheers to more fearlessly nourishing meals!