These Leftover Turkey Spring Rolls will help you use up whatever turkey is lingering after your big holiday feast! Packed with fresh veggies, each bite is filled with vibrant colors and crunch. Add these delicious spring rolls to your post-holiday menu and master the rolling technique so you can enjoy again and again!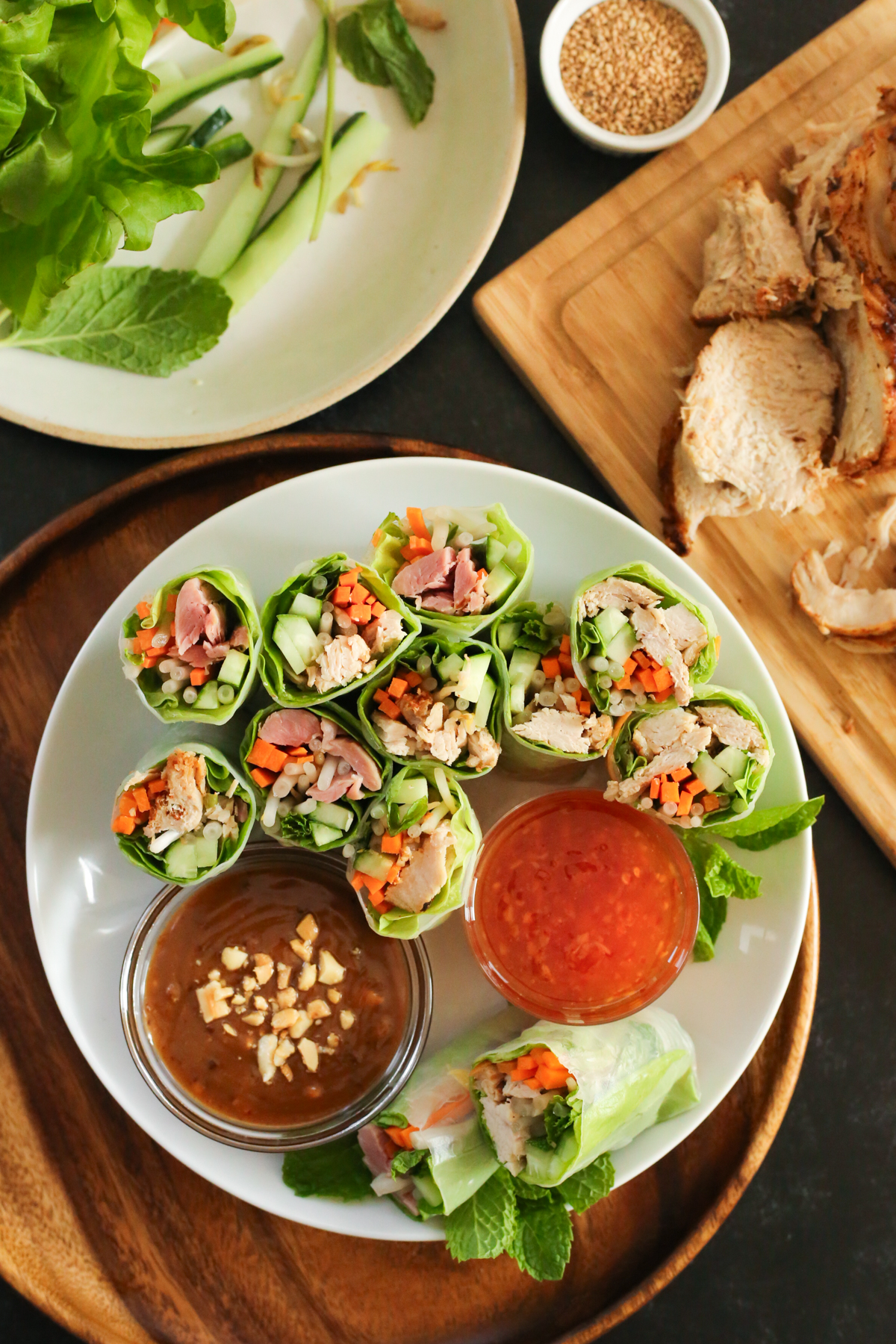 When I think of the perfect spring rolls, they're deliciously chewy, densely packed with a variety of flavors and textures, and colorful to the point of looking too good to eat. These Leftover Turkey Spring Rolls fit the bill!
I was inspired by traditional Vietnamese-style spring rolls that are often featured on menus at Vietnamese or Southeast Asian restaurants. I used to think they were too difficult to make, as I never quite figured out the best way to roll them. But with a little practice and patience, it's no problem!
When we make homemade spring rolls, we usually use steamed shrimp or rotisserie chicken. It's just an easy, convenient way to add some lean protein to a snack or appetizer. But we always end up with leftover turkey post-Thanksgiving and if chicken will work, so will turkey!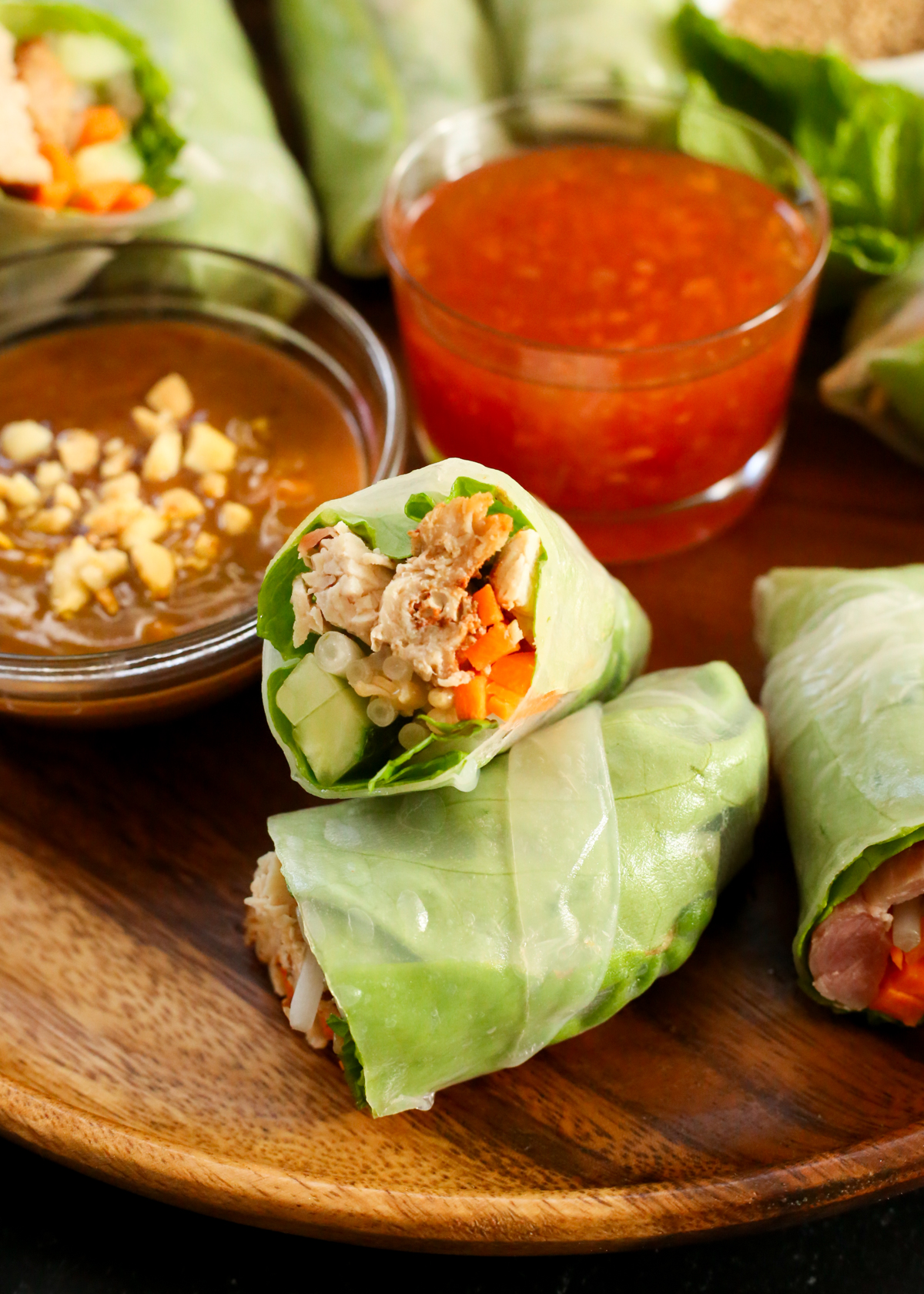 Why You'll Love This Recipe
The fresh veggies are colorful, crispy, and crunchy, providing satisfying texture and flavor.
If you're overly stuffed from a heavy holiday meal, this lighter option can be a simple snack or small meal.
The hand-rolling technique is easy to learn, and might even provide an edible activity option if you're hosting friends or family.
​It's also incredibly easy to customize this "recipe" – which is really more about the technique – and not have to worry about precise measurements. Let's get started!
But first, be sure to also check out my other leftover turkey recipes: Leftover Turkey Fried Rice and Turkey Ramen Bowls with a 7-Minute Egg!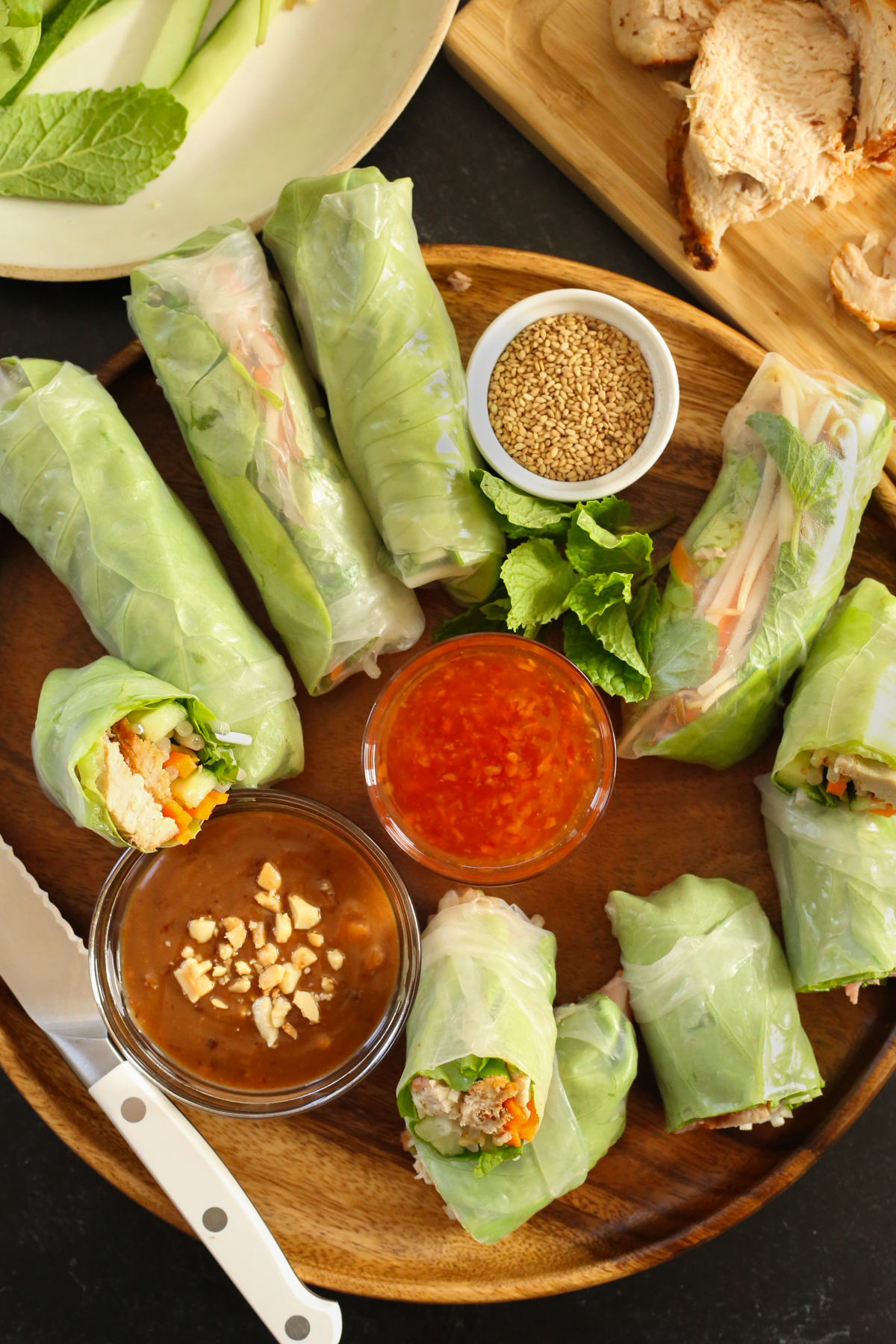 Turkey Spring Roll Ingredients
Leftover turkey. You can use white meat, dark meat, or a combination.
Spring roll wrappers (AKA, rice paper wrappers). There are many brands out there and honestly, they are all pretty similar with slight variations in shape, size, and thickness. You can buy them online or at a local Asian grocery store. I personally like Three Ladies or Emperor brand because they have both worked consistently well for me.
Lettuce, such as red or green butter leaf lettuce leaves
Carrot
Cucumber
Bean sprouts
Fresh mint leaves. A little bit goes a long way, especially since mint is not in season during the winter holiday months and may be more expensive.
This list is only a suggestion, however, as this Leftover Turkey Egg Roll recipe is more about the technique than the exact ingredients.
Street Smart Nutrition Tip: Since this recipe calls for cooked turkey, there's no need to reheat or re-cook the turkey. However, you must ensure the turkey was previously cooked to the correct minimum internal temperature of 165 degrees F. Invest in a digital meat thermometer if you haven't already, it's an invaluable tool for food safety while cooking at home!
Here are some additional fresh vegetable and filling options that will work well:
Bell peppers, any color. Although I think a red bell pepper adds subtle sweetness and vibrant color to the turkey spring rolls.
Shredded red cabbage or Napa cabbage (Chinese cabbage)
Sliced green onion
Jicama
Cilantro leaves
Rice noodles, vermicelli noodles (maifun), cellophane noodles, or sweet potato glass noodles (dangmyeon, a Korean-style noodle used for japchae)
Tools and Kitchen Equipment
Make sure you have a cutting board and sharpened knife to be able to cut the cucumber into thin strips. If you aren't using matchstick carrots, also grab a vegetable peeler. You'll need a large bowl for hot water and a small bowl for any sauce you choose to serve the turkey spring rolls with.
Finally, keep a clean dish towel or paper towel nearby so you can quickly and easily dry off your fingers or work space if you need to.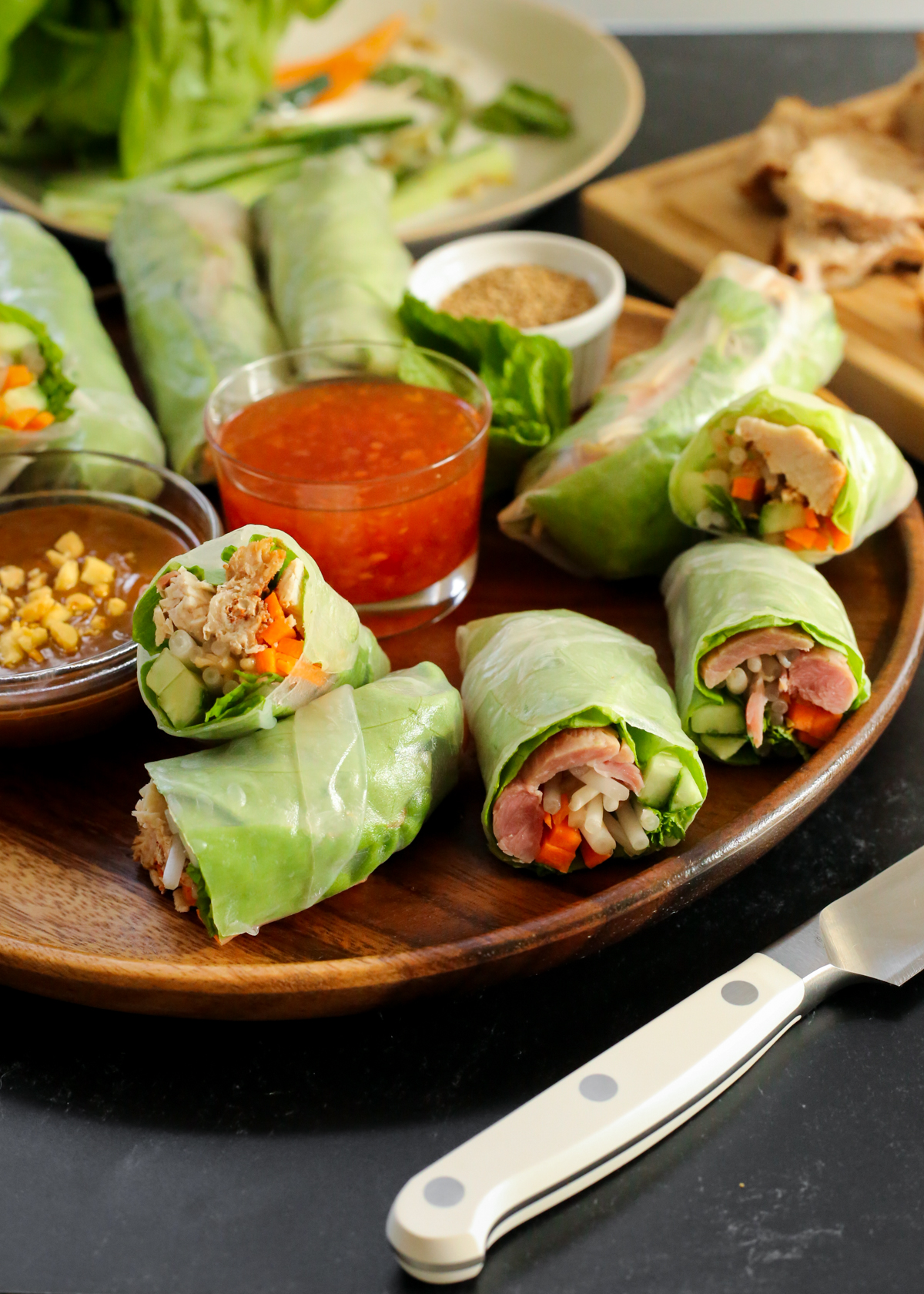 How to Make Turkey Spring Rolls
Prepare your work area with all the filling ingredients you plan to use. Fill a large bowl with warm water and set it nearby. If you make spring rolls often or plan on making a big batch, you might like a dipping bowl like this one for more efficiency, but it's not essential to be able to make leftover turkey spring rolls.
Soak the rice paper sheet in the bowl of water for a few seconds before rotating and soaking again, making sure the full sheet is moistened. It will continue to soften once it's out of the water so there's no need to hold it underwater for more than a few seconds at a time.
Spread the rice paper flat on your work surface, as pictured below.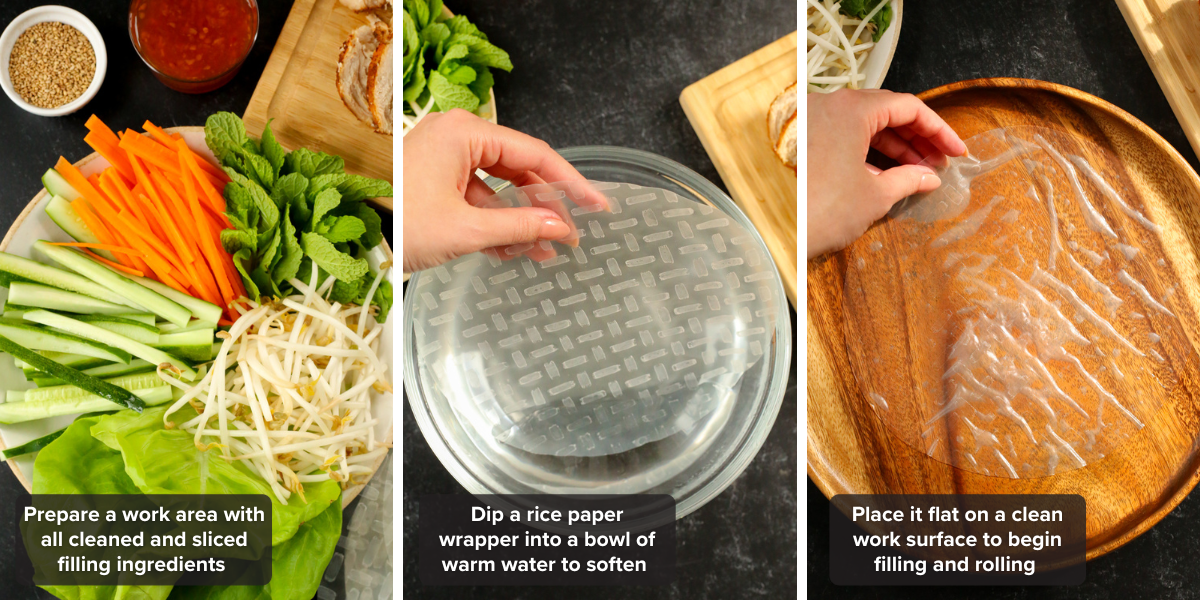 Tips for Filling and Wrapping Spring Rolls
This next part takes a bit of practice, but don't stress! Your spring rolls don't have to look perfect, they will still taste just as good even if they look a little messy.
The key is to work quickly enough that the rice paper doesn't stick to the surface. But don't rush too much or you may end up ripping or tearing it as you work.
I like to place the filling in the upper 1/3 of the flat rice paper wrapper. I start with lettuce because it offers some protection to keep the other pieces from piercing the wrapper and poking a hole into it. Similar to filling a taco or burrito, try to fit enough to ensure you will taste some of everything in each bite but not so much it's impossible to close it up.
If this method is too challenging, try spinning it around to roll away from you instead of towards you. You may also try an open-ended method where instead of tucking the ends in to seal them, you focus on just rolling the filling inside the edges of the wrapper.
With a bit of practice, I think you will get the hang of it! Don't worry if the first few tries feel awkward or uncoordinated. Soon you will figure out the best way for you.
Serving Suggestions
Spring rolls are typically served as a small dish or appetizer. Try these as a snack option. Or you can even use them as a side dish or small meal. Maybe add a few additional sides, or simply reheat any other leftovers you want to eat through to avoid food waste.
You can serve them at room temperature. But if you make them ahead of time, place spring rolls in the refrigerator until you're ready to eat. I recommend making them fresh for best results, so this isn't the best option for meal prep.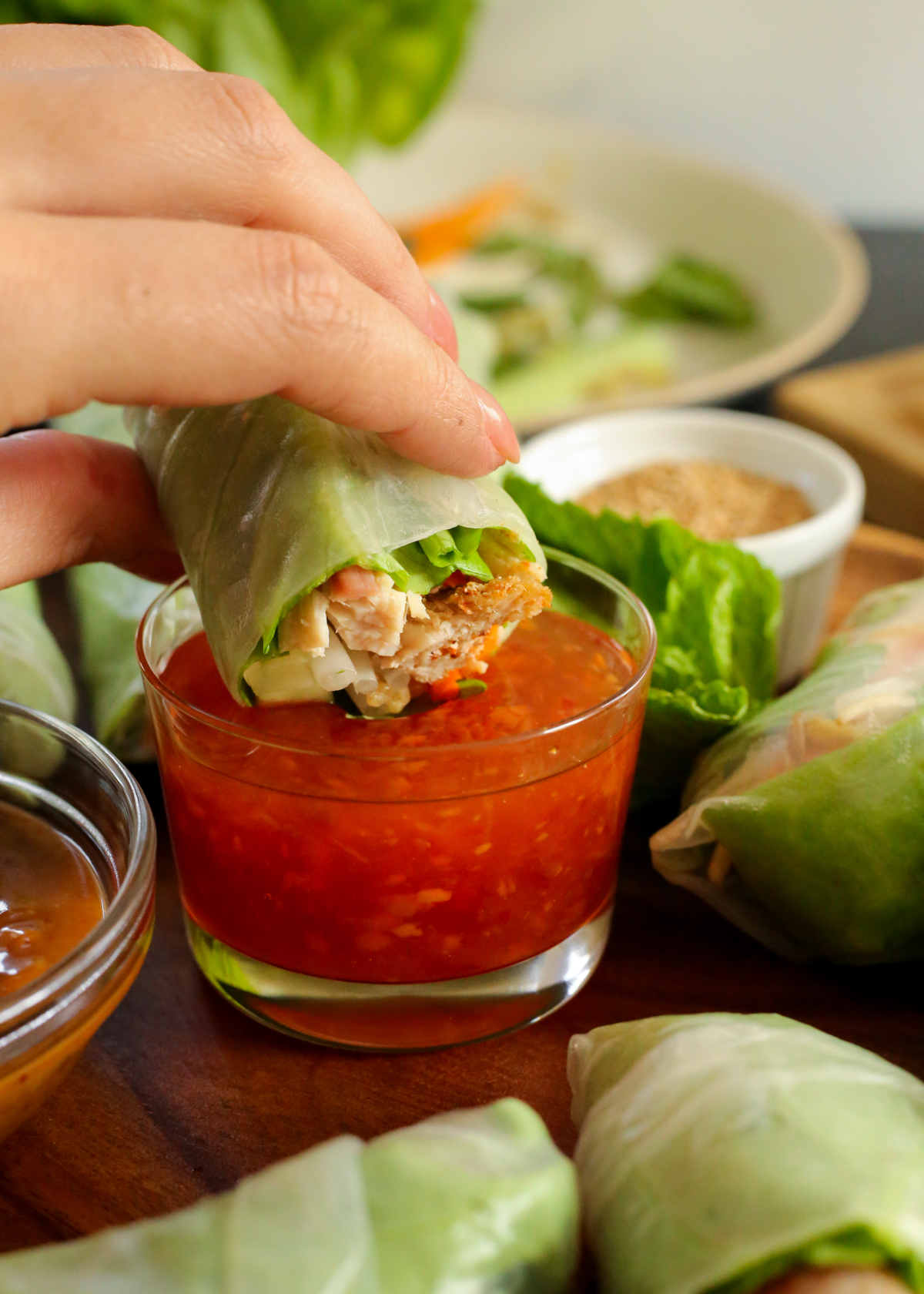 But leftover turkey spring rolls are practically BEGGING for a good dipping sauce. So consider this an essential piece of the finished recipe! The flavors, while fresh and crispy, are rather bland. And if you're using white turkey meat it can be a bit dry. This isn't necessarily a bad thing, as a holiday meal can be incredibly dense. Something light and fresh like this can offer a little balance.
But if you want a little sauce on this side, go with one (or more!) of these options:
A creamy, gingery peanut sauce, maybe with some roasted peanuts chopped on top
A sticky sweet chili sauce, teriyaki sauce, or oyster sauce
A simple ponzu sauce (which you can also make at home with a soy sauce base and splash of yuzu juice)
Something with a little kick, like a sriracha-style hot sauce or something similar
Or maybe even just some leftover cranberry sauce from the big holiday meal?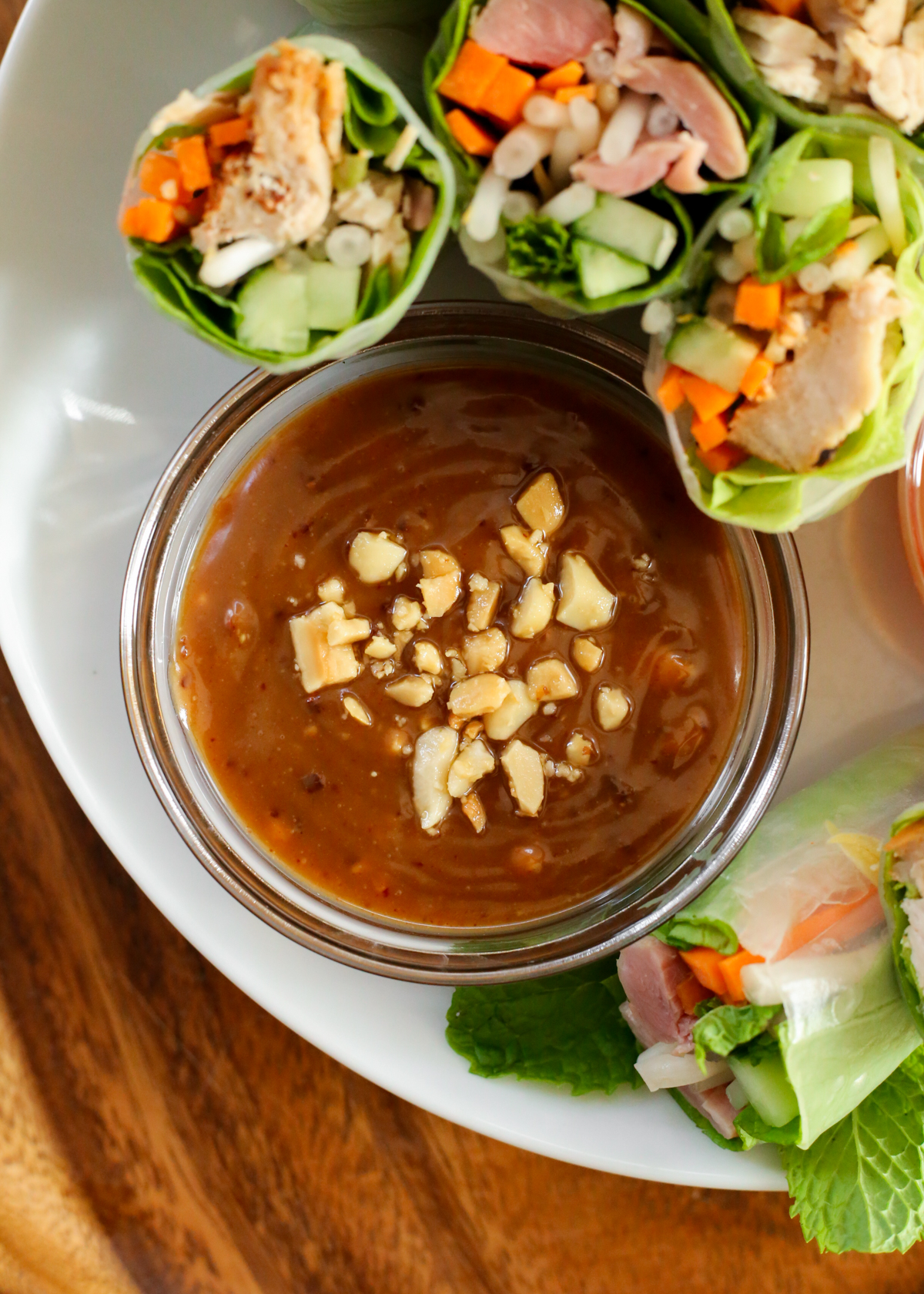 And when it comes to store-bought vs. homemade sauces, go with the sauce of your choice. It's totally up to you!
We are very accustomed to whipping up a last-minute sauce without a recipe. So it's pretty easy considering we have all the base ingredients and know how to adjust the flavor according to what we like. But if that doesn't sound like you (or you're just prioritizing ease and convenience) a store-bought sauce is no problem.
Leftover Turkey Spring Rolls
This recipe will help you use up whatever turkey is lingering after your big holiday feast! Packed with fresh veggies, each bite is filled with vibrant colors and crunch. Add these delicious turkey spring rolls to your post-holiday menu and master the rolling technique so you can enjoy again and again!
Equipment
cutting board and sharpened knife

vegetable peeler,

if needed for the carrot

serrated knife,

if cutting in half before serving
Ingredients
8

round

spring roll wrappers

1 1/2

cups

leftover cooked turkey

,

shredded, white meat or dark meat

8

medium leaves

butter leaf lettuce

,

red or green

1

medium

carrot

,

cut into thin strips or shredded

1

small

cucumber

,

cut into thin strips

1 1/4

cup

bean sprouts

,

washed and dried

1/2

cup

fresh mint leaves

,

washed and dried

Dipping sauce of your choice
Instructions
Wash and dry the bean sprouts, mint, and lettuce leaves. Cut the carrot and cucumber into very thin strips or matchsticks and place near a clean, flat work area.

Shred or tear the leftover turkey into small, bite-sized pieces.

Fill a large bowl with warm water. Once ready to make the spring rolls, dip a spring roll sheet into the water, submerging it for a few seconds before rotating it and dunking the other side. Once fully moistened and starting to soften, spread it flat on a clean work surface.

Place a lettuce leaf in the upper 1/3 of the wrapper, then stack a small amount of turkey with a few strips of carrot, cucumber, and bean sprouts on top. Spread it evenly in a roll shape, and top with a few mint leaves to finish the filling.

Fold the top portion of the rice paper over the fillings before folding over each side to seal the ends. Tightly roll it towards you, using your finger to keep the filling packed inside. Let the sticky rice paper stretch and adhere to itself to close the spring roll.

Use a serrated knife to slice in half, cross-wise (optional), and serve with your favorite dipping sauce or sauces.
Notes
As written, recipe is estimated to yield approximately 8 spring rolls. Final yield may depend on how much filling you include for each one. Adjust quantities as needed to wrap additional spring rolls to use anything that remains. 
Nutrition
Serving:
1
roll
,
Calories:
47
kcal
,
Carbohydrates:
3
g
,
Protein:
7
g
,
Fat:
1
g
,
Saturated Fat:
0.1
g
,
Polyunsaturated Fat:
0.2
g
,
Monounsaturated Fat:
0.1
g
,
Trans Fat:
0.001
g
,
Cholesterol:
18
mg
,
Sodium:
45
mg
,
Potassium:
190
mg
,
Fiber:
1
g
,
Sugar:
1
g
,
Vitamin A:
1916
IU
,
Vitamin C:
5
mg
,
Calcium:
23
mg
,
Iron:
1
mg
I hope you enjoy these Leftover Turkey Spring Rolls! I think this is such a great recipe because it's so versatile and easy to customize. It's also a fun hands-on activity for family gatherings or Friendsgiving events.
If you try them out, be sure to leave a rating or comment to let me know what you think.
Thanks for stopping by the Street Smart Nutrition blog! You can find more and follow along on Instagram and YouTube (plus all the other social media platforms), and don't forget to sign up for my newsletter so you never miss my latest recipes.
Like I always say, cheers to more fearlessly nourishing meals – and snacks!