What should you make with winter citrus fruit? Let your fresh ingredients shine in this Winter Citrus Caprese Salad, featuring California Olive Ranch extra virgin olive oil.
Disclosure: This post is sponsored by California Olive Ranch and OXO. I was compensated for my time. As always, all opinions are my own. 
---
Can it please be spring yet??
I'm so over this winter weather (and I'm sure you feel the same). So, I'm doing my best to wait out these last chilly days of winter with a bright and colorful salad using some of the best seasonal produce I can get my hands on: winter citrus fruits!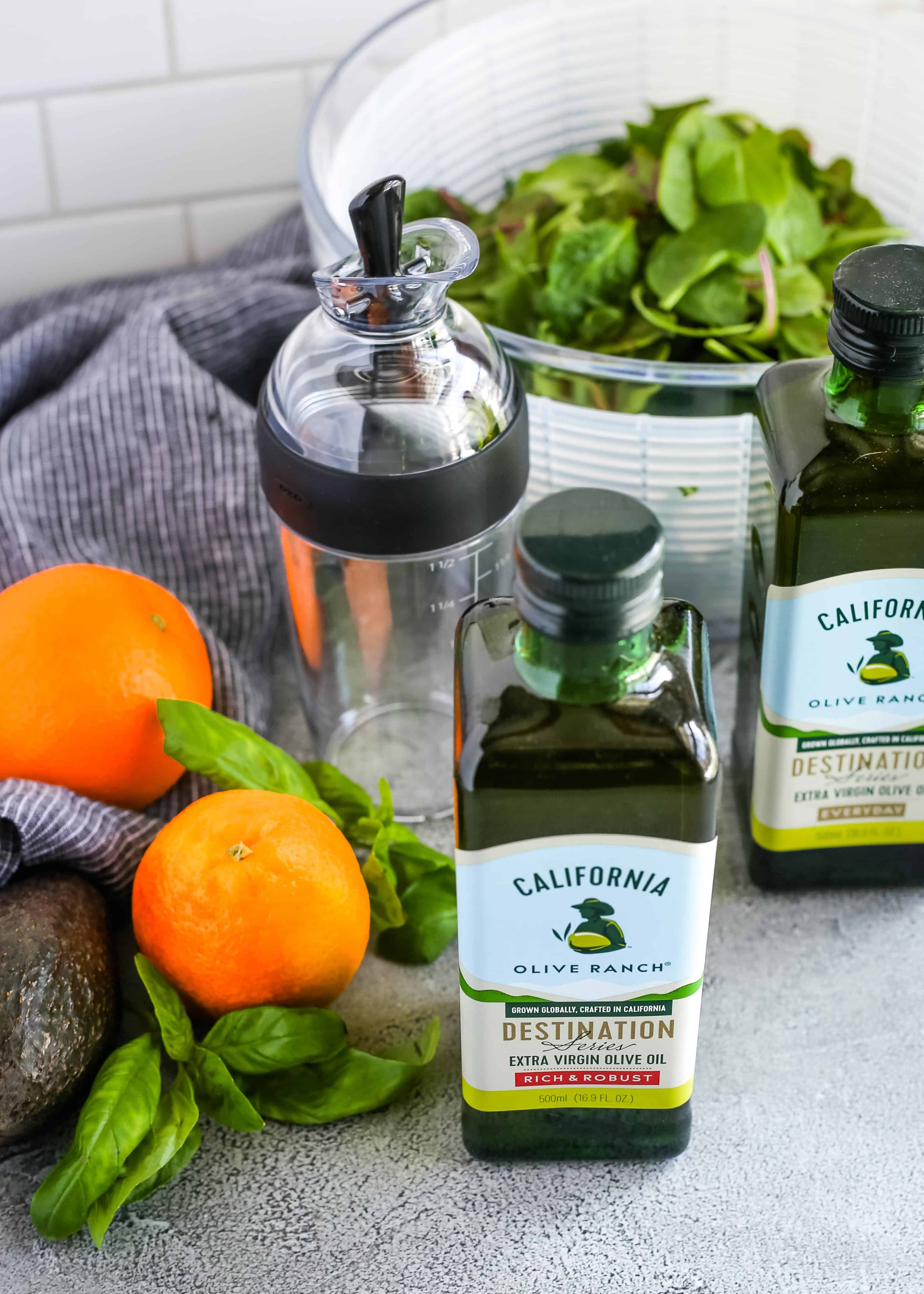 I partnered up with California Olive Ranch and OXO to create this Winter Citrus Caprese Salad. It features winter citrus like pink grapefruit, cara cara or navel oranges, and my personal favorite: blood oranges. I just can't get enough of their tart but sweet flavor and you really can't beat that vibrant color when the days are dark and dreary.


I'm in love with salads like this that can flip-flop between an easy side dish and a full-blown meal. You'll see how easy it is to make the switch, but first, I want to share more about how this Winter Citrus Caprese Salad comes together!
California Olive Ranch Extra Virgin Olive Oil
I think starting with quality ingredients can really bring a meal to life and this Winter Citrus Caprese Salad is no different. And in this case, starting with a great extra virgin olive oil really lets the food shine. If you're not familiar with California Olive Ranch, they began as one of the first brands to elevate American extra virgin olive oil. Now, they have a wide range of flavors in their lineup to showcase all the nuanced flavors of high quality olive oil.

There are plenty of options for this Winter Citrus Caprese Salad, but I narrowed it down to two options. One is the Rich & Robust flavor in California Olive Ranch's Destination Series. This is their boldest extra virgin olive oil, made with olives from their California olive orchards and partner growers from around the world. It's full-bodied with a stronger olive flavor, but I really like it because of the peppery flavor that also comes through.
If that's a little strong for your tastes, I recommend the Everyday Extra Virgin Olive Oil, also from their Destination Series. It's a great go-to extra virgin olive oil that's versatile enough for any use. You can use it for roasting, sautéing, and even baking. The flavor notes of herbs, fruit, and green grass also make it a perfect pairing for winter citrus in this recipe.
OXO Salad Spinner and Kitchen Tools
And speaking of perfect pairings, I like to keep my favorite kitchen tools around for meals like this. I'm all about working smarter, not harder, and I don't like going through unnecessary steps when I'm trying to get food on the table. I hear from a lot of my clients that the time, mess, or hassle of cooking is something that keeps them from venturing into the kitchen more often.
I totally get that.
It's also really intimidating to tackle a new recipe or try something out of your comfort zone if you're not confident you have the right tools to get the job done. That's why I love how OXO tools help make cooking easier (and more fun)!

Take the OXO Salad Spinner for example. Washing fresh greens is always a good idea (hello, food safety!) but it can get messy. Using something like a Salad Spinner makes this key step so much easier because I can wash, drain, and spin my leafy greens without ever moving them from one bowl to another. It's easy enough that I can do it one-handed, and the best part is I don't have to waste paper towels or add to my laundry pile because there's no water getting splashed everywhere.

And speaking of something that's easy to use one-handed: I love the clever design of the OXO Salad Dressing Shaker! You just add the ingredients of your salad dressing, shake to combine, then flip the stopper open so you can pour it out and dress your salad. Literally could not be any faster or easier. It's another way to minimize mess because I don't have to stir my dressing mixture with anything and I can easily store leftover dressing in the shaker.
Talk about keeping it simple in the kitchen!
Winter Citrus Caprese Salad
And now for the main attraction: this bright and colorful Winter Citrus Caprese Salad! I love the flavors and textures in the traditional version, but fresh tomatoes that actually taste like tomatoes can be tricky to find in the dead of winter. I personally try to shop seasonally when I can, so that's why I swapped them for winter citrus instead.
Although it might seem like an odd pairing, the texture, acidity, and moisture in winter citrus is similar enough to tomatoes that it works really well. I even lucked out and found a regional greenhouse grower that keeps fresh basil in stores all year round. Add in some leafy greens, a ripe avocado, and the gang's all here! I just peeled and sliced a pink grapefruit, cara cara orange, and blood orange and layered them into a bed of leafy greens. This gets a little slippery, so be sure to use a sharp knife. It's much safer to slice produce with a sharp knife than a dull one.
For more tips on how to prep winter citrus for recipes, check out this step-by-step guide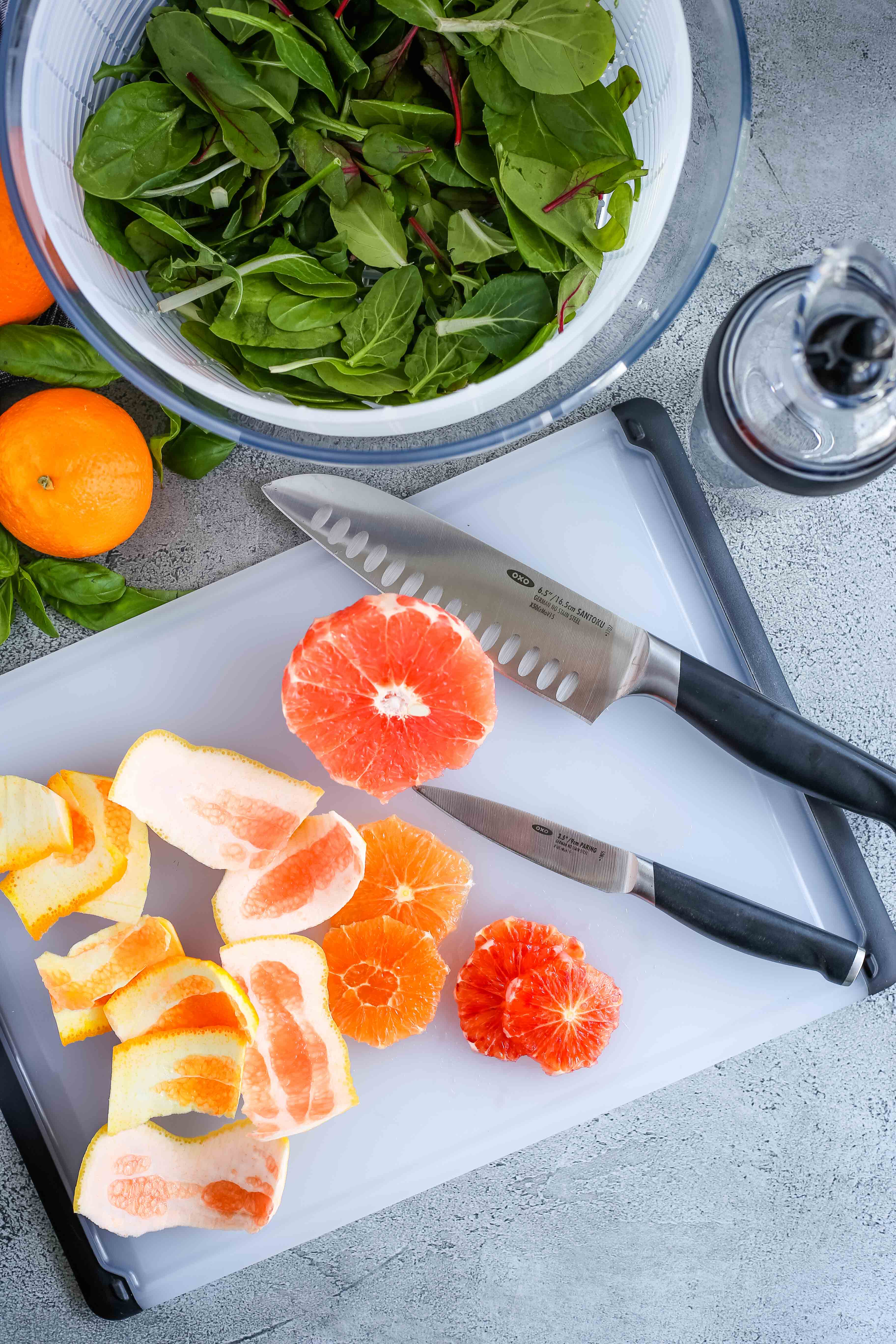 From there, I added the avocado and burrata. Burrata is similar to fresh mozzarella, so if you have a hard time finding that where you shop, feel free to make a substitution! And if you can't find fresh basil, you can always opt for dried sweet basil instead (or skip it altogether).
Earlier I mentioned how easy it is to take this from a side salad to a main entree. When I'm prepping meals like this one, I really don't want to drag out additional kitchen tools or add to the mess I have to clean up afterwards. So adding a pre-cooked protein like a salmon fillet or chicken breast is an easy step that makes it more nourishing and filling. After all, I need a little more than just greens and fruit to fill me up!

Here's an important tip if you're planning to try this recipe at home: hold off on dressing your salad until you're ready to eat it! There's enough moisture in the winter citrus fruits that you might end up with an overly soggy salad if you prep it start to finish ahead of time.
And let's be honest, no one likes a soggy salad.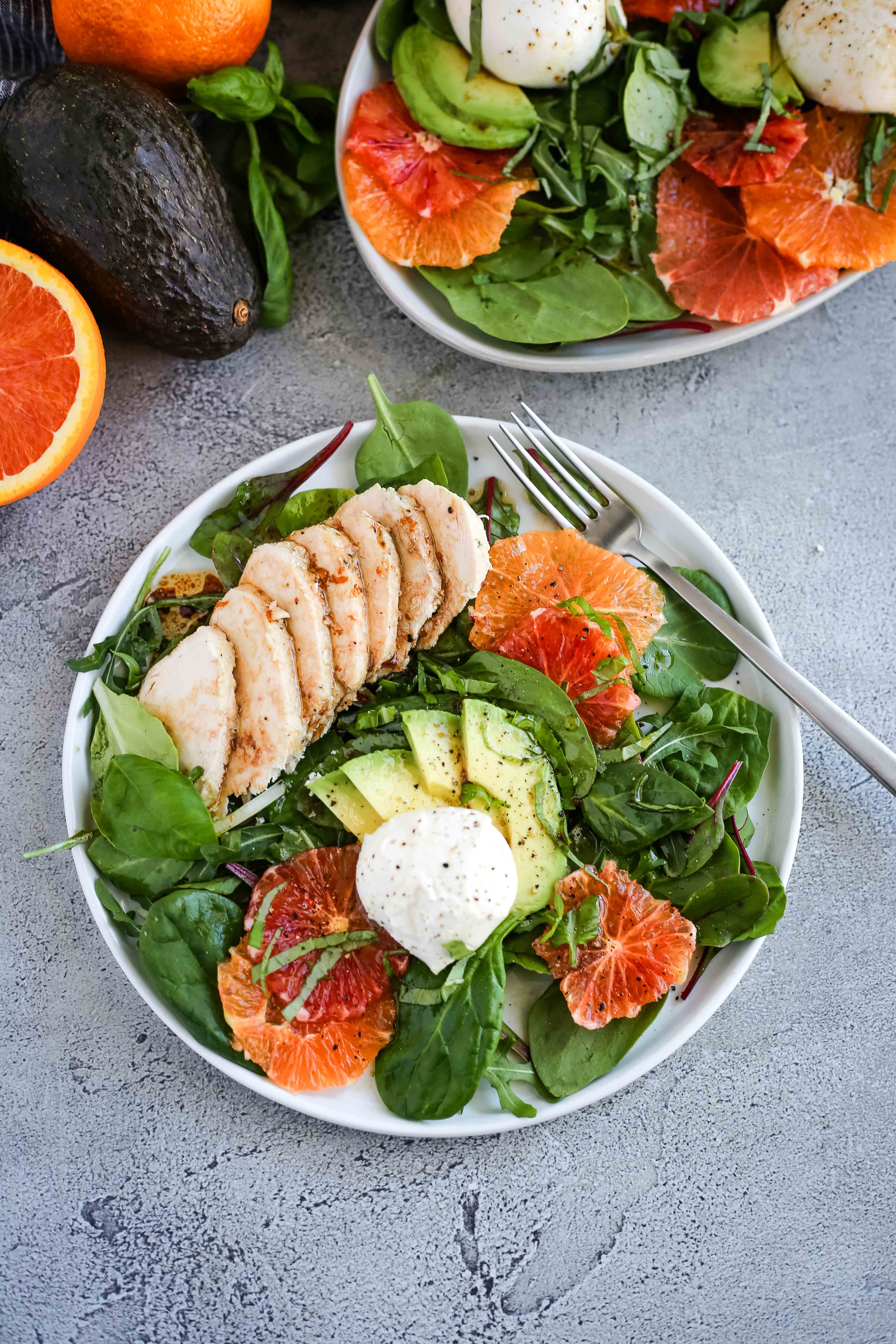 Here's the recipe for Winter Citrus Caprese Salad
Winter Citrus Caprese Salad
Brighten up the last days of winter with this Winter Citrus Caprese Salad, featuring California Olive Ranch Extra Virgin Olive Oil and seasonal citrus fruit
Ingredients
4

cups

fresh salad greens

1

cara cara or navel orange

1

blood orange

1/2

pink grapefruit

1/2

avocado

8

oz

burrata

,

or fresh mozzarella

Coarse sea salt and pepper to taste

fresh basil

,

optional
For the Dressing
1

tbsp

balsamic vinegar

1

tbsp

orange juice

,

fresh squeezed

1/2

tsp

orange zest

Kosher salt and pepper to taste
Instructions
Prep the citrus fruit by turning it on its side and slicing off the top and bottom of the fruit. Turn the fruit upright onto one of the flat sides and use a sharp paring knife to slice the skin and pith away from the fruit, angling the knife to follow its shape.

Work your way around the entire fruit, being careful not to squeeze too hard. When the fruit is fully peeled, turn on its side and slice into thin rounds. Set aside. Repeat with the remaining fruit.

Arrange the fresh greens on a serving platter. Slice or dice the avocado, then add to the top of the greens along with the slices of orange, blood orange, and pink grapefruit. Place the burrata sachets or slices of fresh mozzarella among them, then season with salt and pepper to taste.

To mix the dressing, place all ingredients in a salad dressing shaker, such as this one from OXO. Shake to combine, then drizzle over the top of the salad.
Notes
This recipe will yield four servings if preparing as a side salad. To convert to a main entree, add your preferred protein and reduce the yield to two servings. 
Nutrition
Serving:
1
serving
,
Calories:
345
kcal
,
Carbohydrates:
13
g
,
Protein:
11
g
,
Fat:
31
g
,
Saturated Fat:
10
g
,
Cholesterol:
40
mg
,
Sodium:
14
mg
,
Potassium:
292
mg
,
Fiber:
3
g
,
Sugar:
7
g
,
Vitamin A:
1342
IU
,
Vitamin C:
47
mg
,
Calcium:
331
mg
,
Iron:
1
mg