"Eating healthy is so expensive."
"It's just cheaper to go out and grab something."
"I don't really spend that much on food."
Sound familiar? Comments like these play like a broken record sometimes and as a dietitian I've heard them all far too often. I consider it a personal mission of mine to prove that a healthy, balanced diet doesn't come with a hefty price tag. In fact, employing smart shopping tactics can actually lower your grocery bill and help motivate us to cook more meals at home.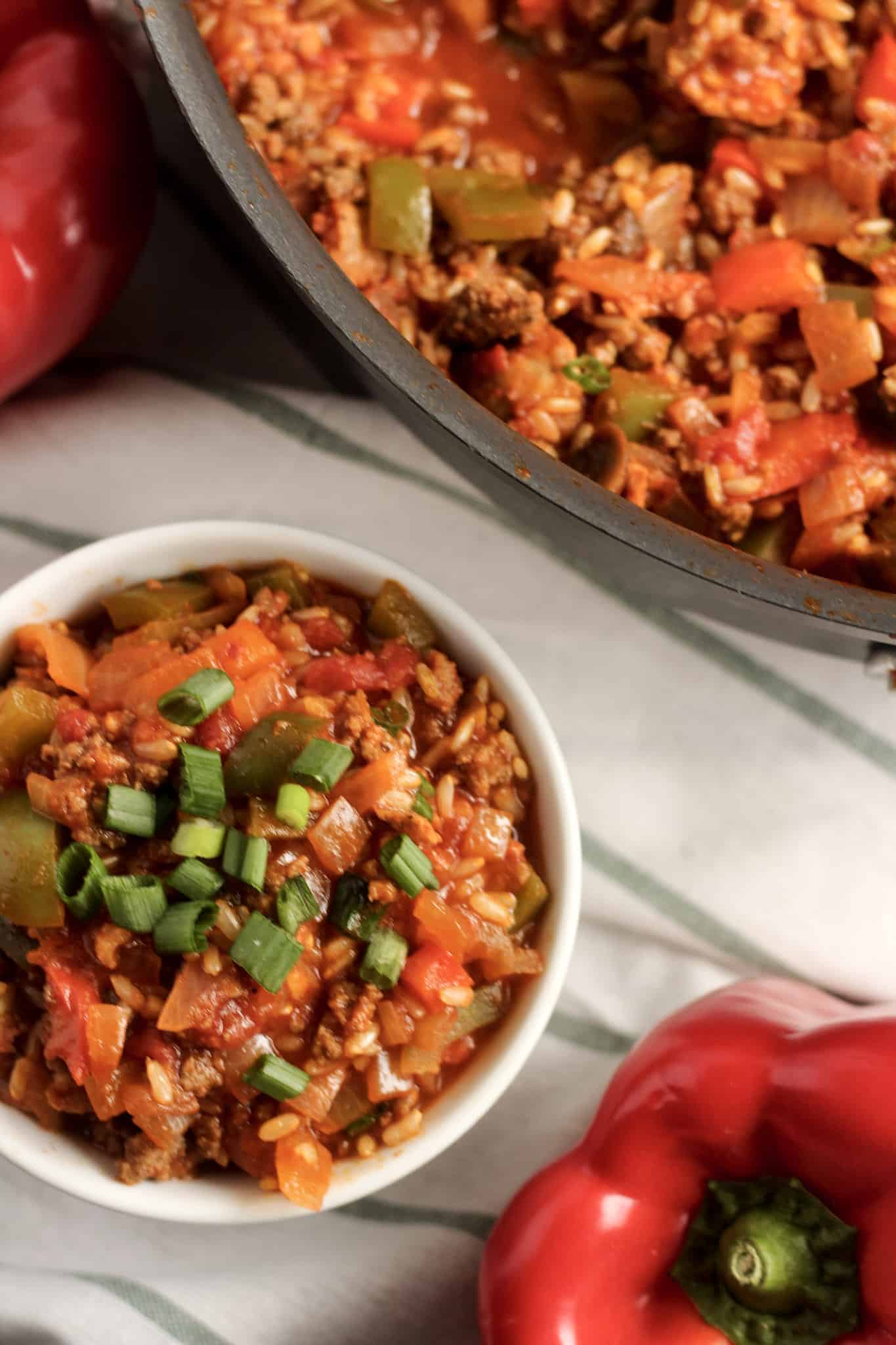 We love Cajun food in our house. Mr. Street Smart and I love it so much, we decided to highlight it on our wedding menu. Of course, we don't get married every day so we also wanted to find some convenient ways to work it into our weeknight routines. Introducing one of our favorite skillet meals: Weeknight Jambalaya.
[Tweet "Want to stretch your grocery dollar further? Try this Weeknight Jambalaya recipe"]
This also happens to be one of the cheapest meals we cook together – between the two of us, we usually have enough for dinner, lunch leftovers the next day, and occasionally another small container of leftovers for a third round. What makes it so cheap? A combination of looking for in-season ingredients, hitting the canned food aisle, and sourcing from the bulk section.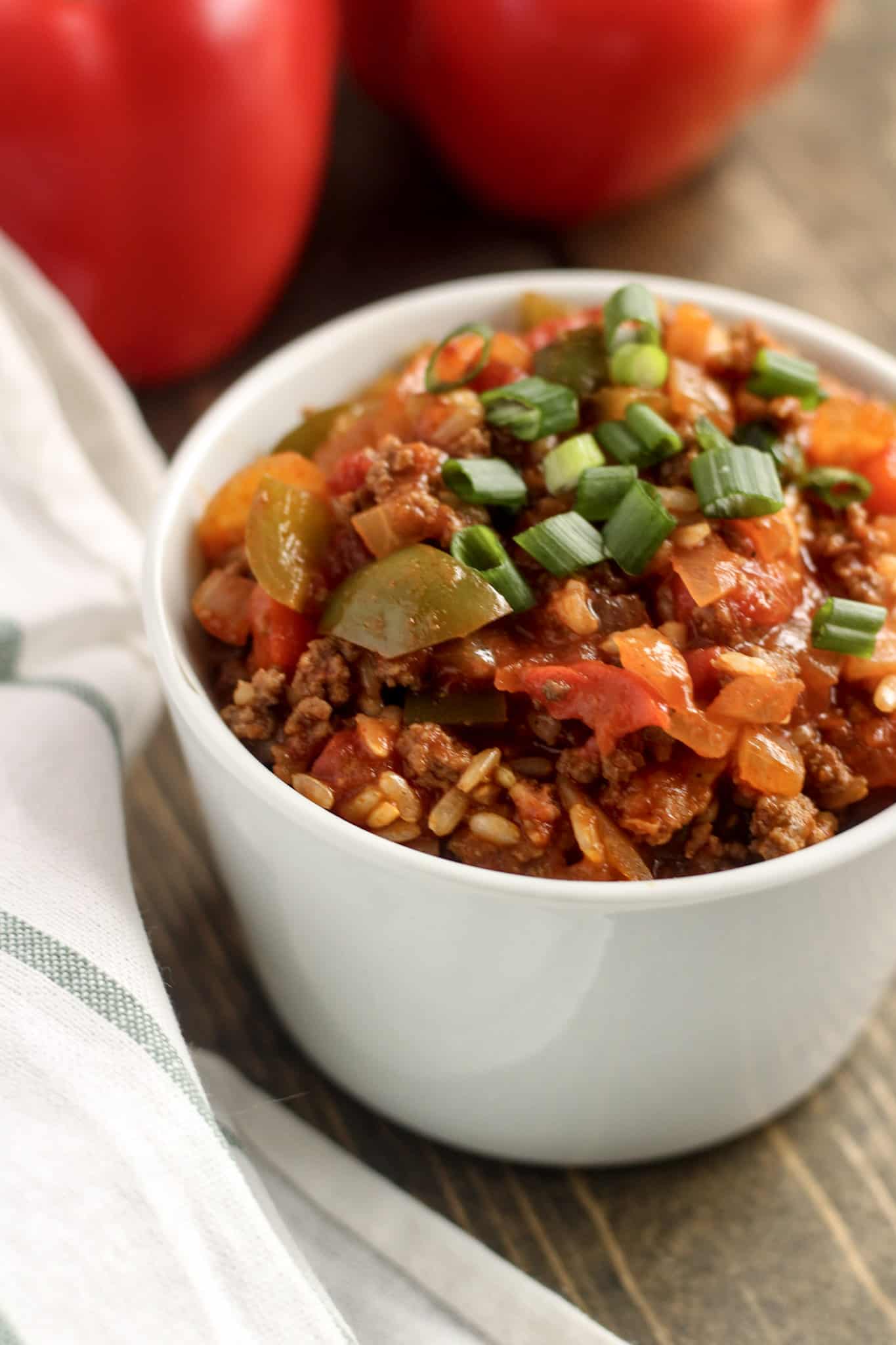 I interrupt this blog post to make a plea with you: PLEASE stop thinking the perimeter of the grocery store is the only place to find healthy food.
Sure, that's where you find produce and milk and meat. But that's also where you find cakes and pastries (bakery), ice cream popsicles (frozen section), and all sorts of impulse-purchase temptations (checkout aisles). It's just flawed logic, and anyone who knows me well knows I just really can't deal with flawed logic. And for someone who follows a plant-based diet, shopping the perimeter is generally less-than-helpful for finding protein alternatives.
So it's not about avoiding "unhealthy" foods – I still eat all of those things. But more about knowing where to get the best bang for your buck, from both a budgetary and nutritional standpoint. Canned foods are among the cheapest items in the grocery store. I stick to options that are lower sodium or have no salt added, since they can become a pretty hefty sodium bomb. And I love the bulk section because I don't pay for fancy packaging or pretty labels. I can also measure the amount I need, which in turn helps me waste less food.
Wasted food = wasted money.
For this month's Recipe ReDux theme, we were challenged to develop a recipe that costs less than $3 per serving. How low can we go? Let's break it down here:
| | | |
| --- | --- | --- |
| Ingredient | Total Price | Recipe Price |
| Yellow onion | $0.99/pound | $0.26 |
| Red bell pepper | 4 for $5.00 | $1.25 |
| Green bell pepper | 3 for $1.00 | $0.34 |
| Mushrooms, 8 oz. | $2.49 | $2.49 |
| 1 can tomato paste | $0.79 | $0.79 |
| 1 can diced tomatoes | $0.99 | $0.99 |
| Rice, bulk | $0.99/pound | $0.50 |
| Andouille sausage | $2.99/pound | $2.99 |
| Seasonings and Spices | Varies | $1.00 |
| Green onions | $0.50 per punch | $0.12 |
| TOTAL | | $10.73 |
| PER SERVING | | $1.78 |
Not too bad, eh? I don't know of too many places you can go and purchase a meal for a measly $1.78 – even dollar menus are deceiving because nothing on there actually costs $1.00.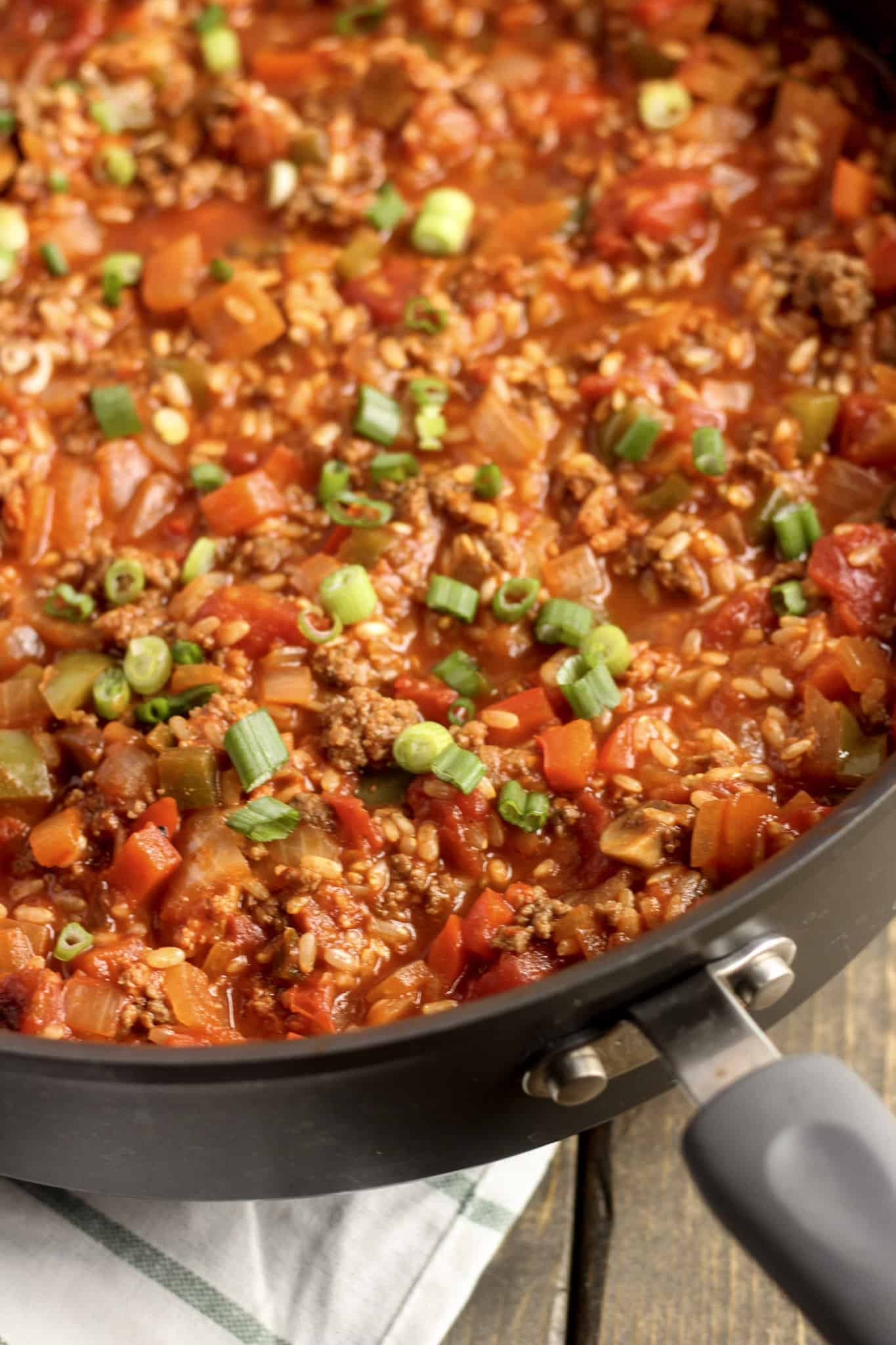 Skillet meals and leftovers are one of my favorite ways to save money on food. The average sandwich shop is going to run me at least $8 to $10 (or more!) for a sandwich, bag of chips, and drink. Not the healthiest and certainly not the tastiest meal I could be having. We have some big money goals for this year (including digging ourselves out of the deep pit of wedding-related credit card purchases) so I see many more skillet meals in our future!
[Tweet "Weeknight Jambalaya is a cheap skillet meal that won't break the bank – check it out, plus more from #TheRecipeReDux"]
How do you shop smarter to stretch your grocery budget further? Have you ever broken down the cost of your favorite recipe?
Weeknight Jambalaya
This version of jambalaya comes together in no time, making it perfect for a busy weeknight when you're short on time.
Ingredients
1

yellow onion

,

diced

2

bell peppers

,

chopped

8

oz

white or button mushrooms

1

can

tomato paste,

6 oz

1

can

diced tomatoes

,

14 oz, undrained

1 1/4

cup

white rice

2 1/2

cups

water

2

tbsp

cajun seasoning

1

tbsp

smoked paprika

1/2

tbsp

ground cumin

1

tsp

crushed red pepper

3

cloves

garlic

,

minced

1

pound

Andouille

,

chicken, or pork sausage
Instructions
Prep the veggies and set aside. Heat the olive oil in a large skillet over medium-high heat. Add the diced onion and cook 2-3 minutes. Add the rice, water, tomato paste, and diced tomatoes. Bring to a simmer, then reduce heat to medium.

Add the bell peppers, mushrooms, Cajun seasoning, paprika, cumin, crushed red pepper, and garlic. Stir well to combine. Cook for another 15-20 minutes, stirring occasionally, until the rice is fully cooked and nearly all liquid is absorbed.

While the rice is cooking, heat a smaller non-stick or cast iron skillet over medium-high heat. Carefully slice open the casing on the sausages and peel back to remove. Add the ground sausage filling to the pan and brown, breaking it apart with a spatula or wonder spoon. Continue until fully cooked, about 10 minutes, then add to the larger skillet with the rice mixture.

Stir well to combine. When rice is fully cooked, remove from heat and garnish with chopped fresh parsley or thinly sliced green onions. Serve hot.
Notes
Brown rice may be substituted for white rice. Add an additional 10-15 minutes cooking time or more as needed.
For a vegan-friendly option, replace the Andouille, chicken or pork sausage with your preferred meat substitute, or omit altogether.
Nutrition
Serving:
1
serving
,
Calories:
475
kcal
,
Carbohydrates:
47
g
,
Protein:
22
g
,
Fat:
23
g
,
Saturated Fat:
7
g
,
Cholesterol:
64
mg
,
Sodium:
927
mg
,
Potassium:
1015
mg
,
Fiber:
5
g
,
Sugar:
9
g
,
Vitamin A:
3608
IU
,
Vitamin C:
66
mg
,
Calcium:
77
mg
,
Iron:
4
mg
And be sure to check out other affordable meal inspiration from The Recipe ReDux – it's the first and only recipe challenge founded by registered dietitians. Click on the icon below to see more!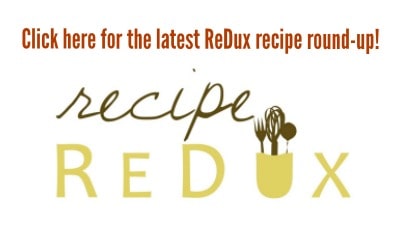 And keep in mind that cooking on a budget doesn't include splurging on high-end kitchen equipment or utensils. Here's a couple of my favorite, budget-friendly kitchen items (all of the following are affiliate links):
A good quality cast-iron skillet in a size that can handle a meal large enough for leftovers. Check out Lodge L8SK3 10-1/4-Inch Pre-Seasoned Skillet
You'll probably want somewhere to store leftovers, unless you're feeding a crowd. This is my favorite set that we snagged off our wedding registry back in the day: PYREX 10-pc Storage Set w/ Plastic Covers
A counter-gripping cutting board is another kitchen essential I can't go without. Check out

OXO Good Grips Utility Cutting Board.

 I like that this one is sturdy and doesn't slide – an absolute must for kitchen safety. It's a good idea to stock up on at least a couple, that way you can avoid cross contamination while prepping veggies and meat/poultry/seafood.
And one thing I'm willing to splurge on: a workhorse chef's knife that I can use any day, for any recipe. Personally, I'm a fan of the Santoku because the shape of the blade is easier for me to handle – check out Zwilling J.A. Henckels Twin Signature 7-Inch Hollow Edge Santoku
 for an example of what this type of knife looks like.
SaveSave