It's time for the Super Bowl!!!
Yeah…actually, at my house, it's more like….It's time for the Soup-er Bowl!!!
Because I actually care less than 0% about football, particularly the NFL, but I care 100% about the food that pops up at tailgates and game day get-togethers. I mean, if there's no chili somewhere in the mix, is it even worth going?
Whether your feelings towards Super Bowl weekend match mine or not, it's a big weekend for foodies. We like to put together fun appetizers or break out traditional recipes we love. I wanted to highlight a few favorites of mine for these reasons:
I'm a huge nerd and I couldn't resist the chance to incorporate a food pun into its very own blog post
Soups and stews are the ultimate comfort food and they're amazing when it's freezing outside
My fellow dietitians come up with killer recipes All. The. Time. and I want to share the love!
So here you have it, a recipe roundup featuring some of the best soups and stews out there. There's a little something for everyone here, so no matter what kind of crowd you're feeding you'll be sure to find something tasty!
CHILI
A classic game day option that never gets boring. I love the addition of extra veggies like sweet potatoes or pumpkin to sweeten it up, and I ALWAYS sneak in at least a few more onions, peppers, tomatoes, or beans. Change up your protein by trying a version with bison, ground turkey, or chicken and crank up the heat as much as you want!
Slow Cooker Sweet Potato Chili by Street Smart Nutrition
Bison and Kale Chili by My Menu Pal
Mexican Chicken Chili by Nutrition to Fit
Real Texas Chili (with slow cooker option) by Back to the Book Nutrition
Pumpkin Turkey Chili by Meal Makeover Moms
[Tweet "Celebrate Super Bowl Weekend with these "soup-er" recipes from registered dietitians"]
BEEF STEW
If chili isn't your style, try a hearty, satisfying beef stew instead. Stews are a great way to transform tough or lean cuts of beef into something tender and savory that melts in your mouth. Not a fan of beef? Most recipes can use pork as a substitute. Sky's the limit!
Instant-Pot Beef Stew by The Lean Green Bean
Hearty and Comforting Beef Stew by Snacking in Sneakers
Feast Day Soup by KISS in the Kitchen
CHICKEN AND TURKEY 
There's also tons of ideas for using turkey or chicken – use up leftovers to cut down on food waste, or shop smart and use a rotisserie style chicken for your soup. Use the skin and remaining pieces to make a homemade chicken stock with veggie scraps and garlic cloves. Not only is it simple to do, but you're all set with a base for your next soup recipe!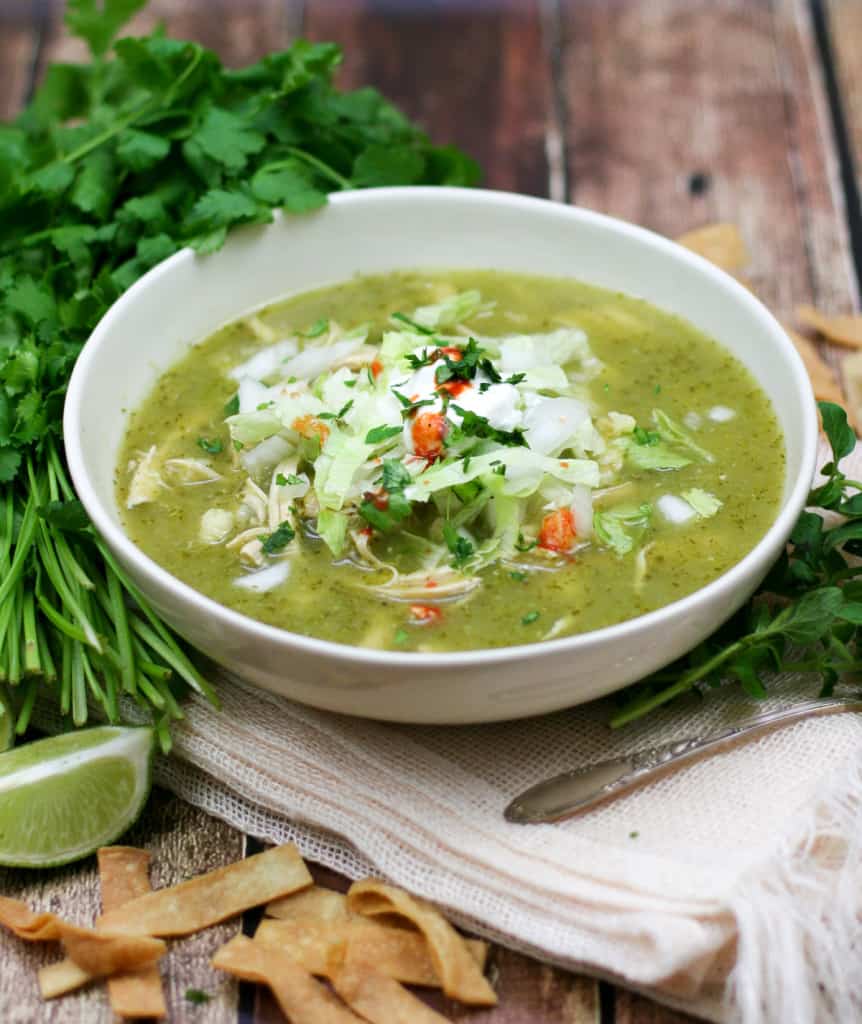 Turkey and Wild Rice Soup by Lively Table
Green Posole with Shredded Chicken by Erica Julson
White Chicken Chili by Kati Mora
VEGETARIAN OPTIONS
If you're on Team Veggie, have no fear! There are just as many, if not more, delicious soup and stew options as there are for the omnivore crowd. From hearty stews with lentils and legumes, to creamy blended soups and globally inspired options, you'll find all that and more with these tasty recipes. 
Sorghum Black Bean and Veggie Chili by Triad to Wellness
Hearty Winter White Bean Chili by One Hungry Bunny
Tortilla Soup by Sharon Palmer, The Plant-Powered Dietitian
African Almond Butter and Root Veggie Stew by Katie Cavuto
Easy Butternut Squash Soup by Create Kids Club
Creamy Carrot Cauliflower Soup by Amy Gorin Nutrition
Easy Moroccan Split Pea Soup by Dishing Out Health
Vegetarian Stuffed Bell Pepper Soup by The Nutritionist Reviews
Roasted Corn and Green Chili Soup by A Pinch of Grace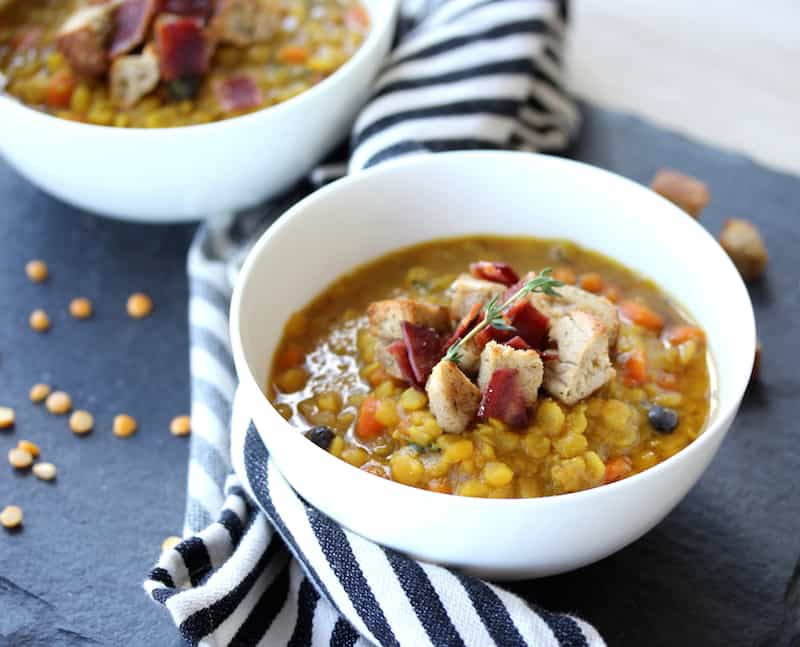 CHOWDERS
And last but certainly not least, we have amazing chowders that pay homage to regional influences. It's hard to pick a favorite in this category but if you're looking for something creamy, savory, and oh-so-satisfying, you've come to the right place!
Poblano Roasted Corn Chowder by Dr. Jen Bowers Nutrition
New England Clam Chowder by My Cape Cod Kitchen
Cauliflower and Chicken Chowder by Erin Dishes Nutrition
Slow Cooker Chipotle Corn Chowder by Kara Lydon, The Foodie Dietitian
Corn, Potato, & Turkey Bacon Chowder by Euphoria Nutrition
What's on your game-day menu? Check out these recipes and get your starting lineup planned before the weekend – you know how crazy grocery shopping can be before Soup-er Bowl Sunday!
[Tweet "Check out this list of my Top 25 Soups & Stews to fuel your gameday feast "]