QUESTION: I'm coming off a pretty long history of diets and have finally embraced the idea of intuitive eating. But I notice I really, honestly cannot tell when I'm hungry sometimes. Have I actually lost my appetite and what can I do about it? How do I know if I'm hungry?
---
ANSWER: Because dieting takes us out of our connection to our body and directs food choices based on external tools (calorie counting, macro tracking, meal plans, food rules, etc.) it's not unusual to look up from that and realize it's difficult to tell when you're truly hungry. A lot of people coming from a long history of dieting have spent years numbing or ignoring their hungry. Other people with a history of eating disorders or disordered eating have also disconnected from hunger signals or lost the ability to sense hunger accurately.
But this doesn't have to be permanent.
And before we get any further, PLEASE please do not google "how do I know if I'm hungry?" Immediately disregard any clickbait title that tells you your appetite can't be trusted, that you don't deserve to eat unless [fill in the blank], or that you have to decide whether you're ACTUALLY hungry. No. Stop. If you're hungry you're hungry, no ifs, ands, or buts about it. And the best appetite suppressant (who knew?) is food. Hunger is a signal to eat, and we all need to eat.
How Do I Know If I'm Hungry?
A couple of key principles of intuitive eating have to do with hunger and fullness and there's an easy tool that can be helpful for that. It's often called the hunger fullness scale for intuitive eating because it's just a simplified way to assign a number or value to your current level of hunger or fullness. On a scale of zero to ten, zero is like, "Holy s***, someone better feed me before I lose it/pass out." AKA, we are past the state of hangry and can think of nothing but eating. It may even be painful, unpleasant, overall no good. Ten is like the "Oh wow, I really can't breathe, I need to unbutton my pants or I'll throw up" kind of full. Think Thanksgiving dinner but even beyond that to the point of feeling painful, nauseous, overall no good. Checkout the Hunger-Fullness Scale from Intuitive Eating here: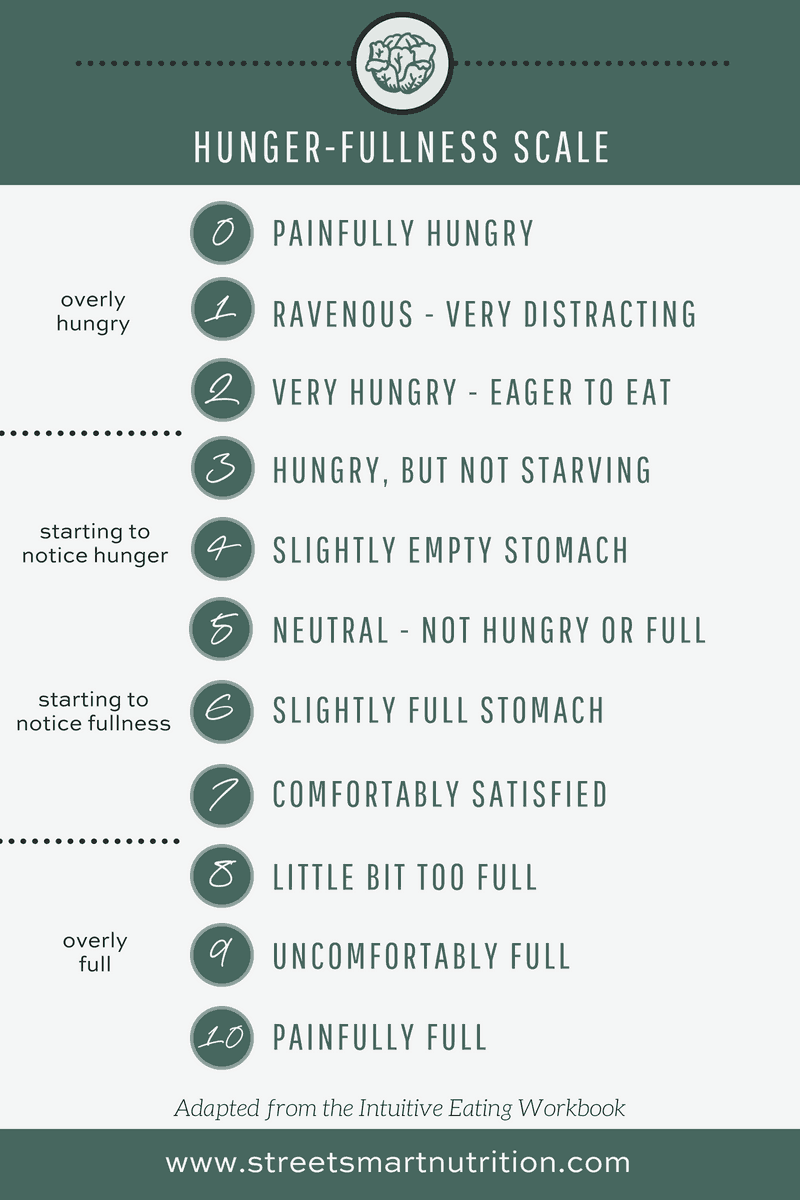 Why Am I Hungry Right Now?
There are a lot of potential reasons, but you're the only one who can answer that question is you. You might feel like you shouldn't be hungry because you just ate, haven't been as active today, will be eating soon…there are plenty of reasons to talk yourself out of feeling hungry but guess what? It's OK to be hungry. We don't have to question it, it's just our body's way of telling us that it needs something.
You can also ask "How hungry/full am I?" Eventually you can just make a snap assessment and move on. But in the beginning it's not that easy. We can sit and ponder, "Just how hungry AM I right now? I think I'm this, but I'm not sure – what if I'm hungry again in an hour?" The irony is that in the beginning, intuitive eating might feel like anything BUT intuitive because you have to think so hard about something simple like whether or not you're hungry.
That's OK. Don't be too hard on yourself because the process of unlearning food rules and relearning body signals isn't easy. It might even feel impossible to assign a number to your appetite because you don't sense hunger in your stomach. You might feel it as irritability or moodiness, maybe you feel lethargic, distracted, unable to focus. Maybe you get a headache or your hunger manifests in some other way. Pay attention to all of these body signals and over time you'll recognize them as hunger instead of an annoying sensation that pops up during your day.
What If You Still Can't Tell?
That's OK, too. The number system for the hunger-fullness scale isn't a perfect system and if it's not working for you don't stress. Try another visual, like an inflated balloon to represent your stomach. When the balloon is completely deflated, that's like a one or a two. When it's got some air in it but the sides are still soft, that's like five or six. And when it's stretched tight and about to burst, maybe that's your nine or ten.
Another idea is to practice using the scale of zero to ten with other body sensations. It's sometimes use with exercise, like gauging how out of breath you are. A zero is like sitting quietly at rest – normal breath, absolutely no effort or thought. A six is like a brisk walk, you notice your breath but you're not uncomfortable and might even enjoy it. Then a nine or ten is like a dead sprint, you're sucking wind and gasping for breath.
Or (cue the jokes about the dietitians always talking about bowel movements) maybe it's the urge to go to the bathroom. A zero is like, yep, just went, I'm feeling good and I don't even have to think about it. A five or six might be, yeah, I could go, I'll keep an eye out for the next opportunity. And a ten is like, WHOA if I don't find a bathroom in the next three seconds it's gonna be bad.
Sounds a little silly, right? In a way it is because we don't question these other body functions like we do hunger. We just trust what our body is telling us, respond, and move on without judgment. But in a way it isn't silly at all because practicing with these other familiar and trusted sensations can help us connect to hunger in a way we likely aren't used to doing.
Hunger is Not Something to Fear
Diets teach us that hunger is something to manipulate, control, avoid. The tricks of dieting teach us how to stave off hunger for as long as possible using ridiculous things like drinking water or zero-calorie beverages, distracting ourselves, or replacing what we really want to eat with diet-y versions of something else. No, No, No. None of these help us understand how to properly nourish and feed our bodies and it doesn't promote body trust.
I have another post about "What is Normal Eating" that might be worth checking out if you're wondering what to do about potentially eating over or under your fullness.
Until you reach that point, some structure or guidance might actually be a good thing (and in the case of eating disorder recovery, a necessary thing). Jumping head first into intuitive eating can be exhilarating because you're rebelling against diets and giving them a huge middle finger. But you may not be fully equipped to take on everything at once. As always, that's totally OK. Some structure can support this healing process, especially when done with the support and guidance from a non-diet dietitian with experience using intuitive eating. Something like meal planning, when used as a form of self-care and nourishment vs. rigid food rules, can potentially help. But again, I strongly recommend reaching out for individualized help if this is something you're struggling with!
You might ask:
Do I need to eat on a more regular schedule in order to adequately nourish my body?
What are some reliable meals or snack options I can use when I don't feel hungry?
Which foods do I enjoy the most and bring me satisfaction?
Can I change my schedule or structure my day to allow for more consistent meals and snacks?
What can I do to avoid going long periods without eating?
In the meantime, give yourself some grace and time. Reestablishing body trust and learning to speak the same language again takes time and a lot of trial-and-error as you accumulate the body knowledge to determine whether or not you're hungry. Eventually you'll get to a place where you use the Hunger Fullness Scale from Intuitive Eating and can ask, "Am I hungry?" and make that snap assessment and respond confidently. Until then, maybe start with some of these tips.
Have you learned to reconnect to your hunger? Have you tried the Hunger Fullness Scale for Intuitive Eating? What was helpful to you along the way?
[Tweet "How do you know if you're hungry? Find out with Intuitive Eating FAQs with Street Smart Nutrition"]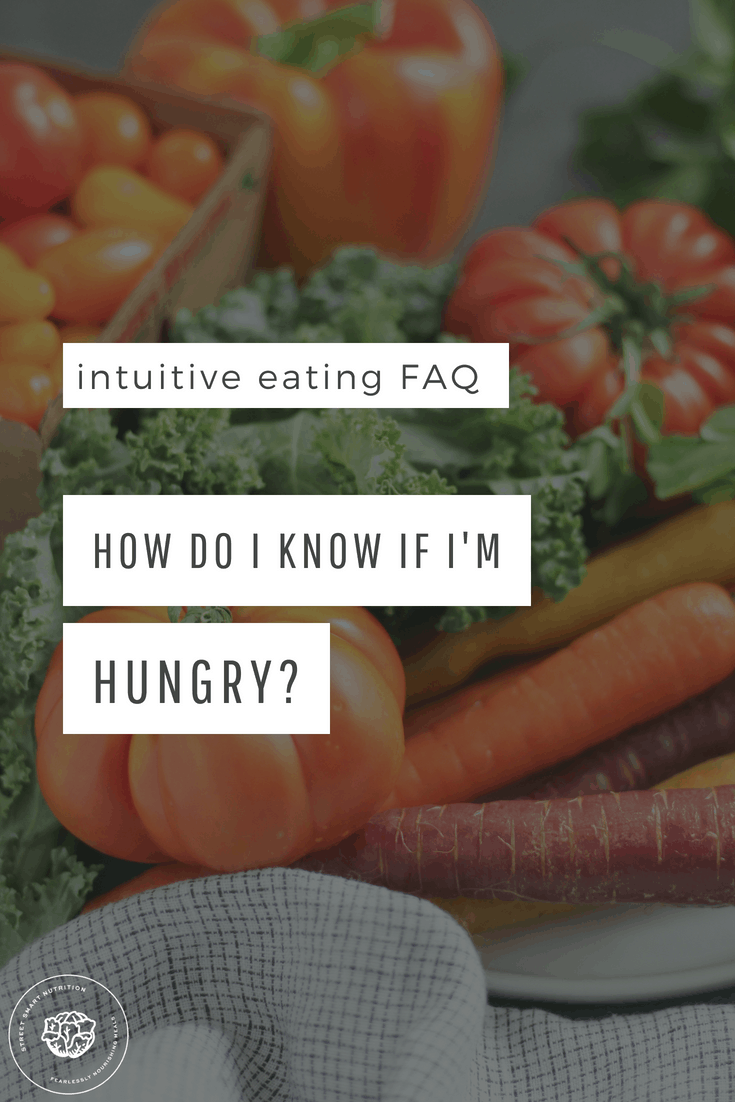 And if you're looking for more support for a non-diet approach and intuitive eating, be sure to check out my Intuitive Eating Workbook. It's full of resources and tools to help you kick the dieting mentality and find food freedom!

SaveSave
SaveSave
SaveSave
SaveSave
SaveSave
SaveSave
SaveSave