Change up your hot breakfast routine with this simple & filling recipe for cinnamon apple breakfast quinoa made with Arctic® Grannys and ApBitz™ dried apples!
Disclosure: This is a sponsored post written in partnership with Arctic® apples. I have been compensated for my time and for the creation of this recipe and associated images. As always, all opinions are my own. This post contains affiliate links.
---
I'm back at home and back in the kitchen! Finally…whew…after what felt like a whirlwind couple of weeks of spring travel, I'm settling back into my "normal" routine (whatever that is) and that means I'm back to prepping breakfast and snacks again. If you're like me, it's a lifesaver to have a few options for quick and simple meals that you can prep in advance so you have them when you're trying to rush out the door. Today's recipe is just that, plus there's an exciting new ingredient I can't wait to share with you!


Introducing ApBitz™ Grannys
Remember when I shared this recipe for Cinnamon ApBitz™ Dried Apple Bars last year?

It highlighted the newly released ApBitz™ snacks, which are dried apples made from Arctic® Goldens. I've been talking a lot about food waste lately – specifically, how to create less of it. The folks at Arctic® apples are focused on the same goal, which is why they worked to create the world's first non-browning apple.
However, there were still some apples that weren't suitable in size for slicing (which is how you'll find fresh Arctic® apples in stores right now). Instead of allowing those apples to go to waste, they began producing Arctic ApBitz™ dried apple snacks. This version is sliced into a fry shape, then dried and dehydrated before being packaged. This year they are available in 1 oz and 3 oz. bags. Plus, their newest variety features Arctic® Grannys, in addition to the Arctic® Goldens.
Want to learn more about Arctic® Apples? Check out this post about my field tour where I learned how they're grown.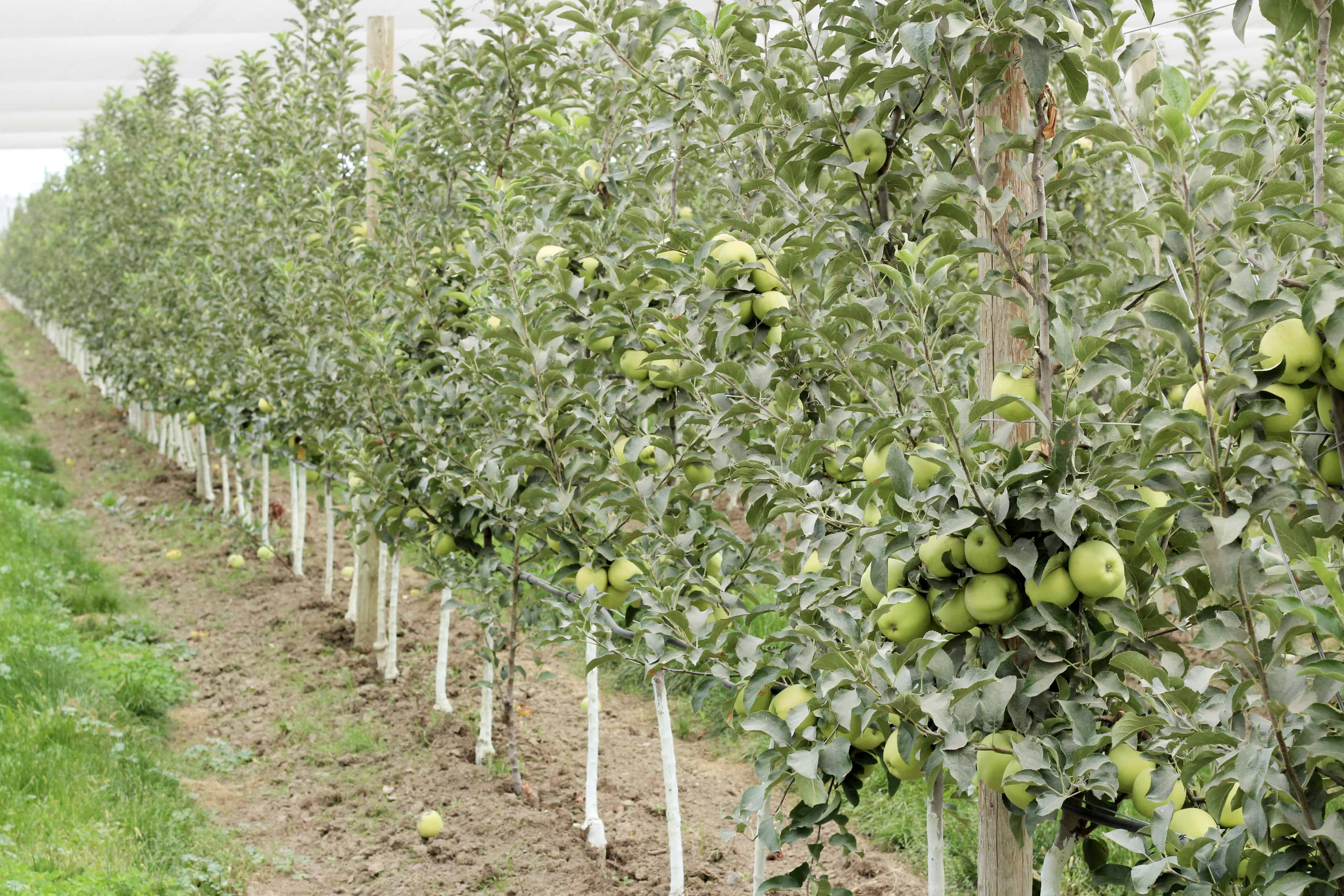 Note: Although Arctic® apples are genetically engineered to silence the gene that produces the enzyme that leads to browning, you will not find "GMOs" on the ingredient list. That's because GMOs are not an ingredient. Genes are found in all plants and animals, including humans and you don't see us going around with an ingredient list attached!
Cinnamon Apple Breakfast Quinoa
This cinnamon apple breakfast recipe was inspired by other common breakfast favorites like oatmeal and porridge. However, since quinoa is the main ingredient, it offers some unique differences that could help you switch up your breakfast routine!
Quinoa is an easy way to boost the protein in your morning meal – per cup, cooked quinoa provides 8 grams of plant-based protein. Not only that, but you'll be getting 5 grams of fiber. And if you know me, you know I'm all about encouraging more fiber! Most of us don't get enough of it consistently, and when combined with the apples and pecans in this recipe, you can know that you're getting a good start to your day with your very first meal.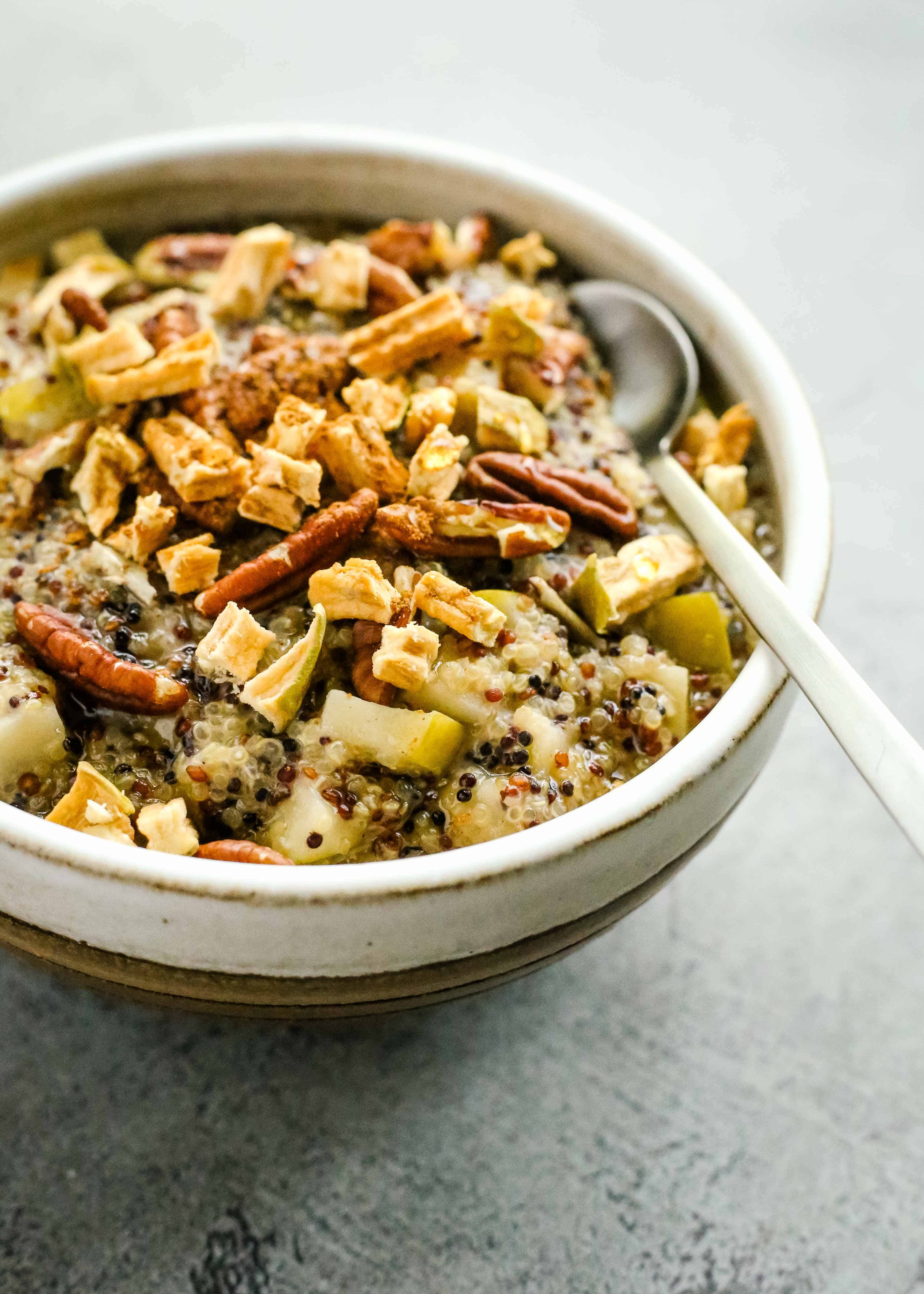 The recipe for these cinnamon apple breakfast quinoa bowls is written for two servings. That's because it makes for some easy meal prepping if you find yourself needing breakfast options that can be reheated and enjoyed in a hurry. If you like to prep breakfast for multiple mornings, try doubling the recipe.
Have a Plant to Start Your Day
This recipe is just one of the many ways you can start your day with a filling dose of plant-based protein, fiber, and carbohydrates to fuel your busy lifestyle. In the past several weeks, I've attended multiple nutrition and foodie events, and there was a common theme throughout nearly all of them. And it was incredibly simple: we can support good health by doing something as simple as adding more plants to our meals and snacks.
That's it!
So it just made sense to me to use Arctic® apples in a plant-based recipe. They're a member of the Produce For Better Health Foundation, who brought me on board as a Fruits & Veggies in Action Ambassador for this year. However, just because this recipe is fully vegan doesn't mean you have to stick to it! It will also work with your favorite milk alternative or traditional dairy milk (just be sure to reduce the liquid ratio, otherwise the final consistency will be less thick and porridge-like).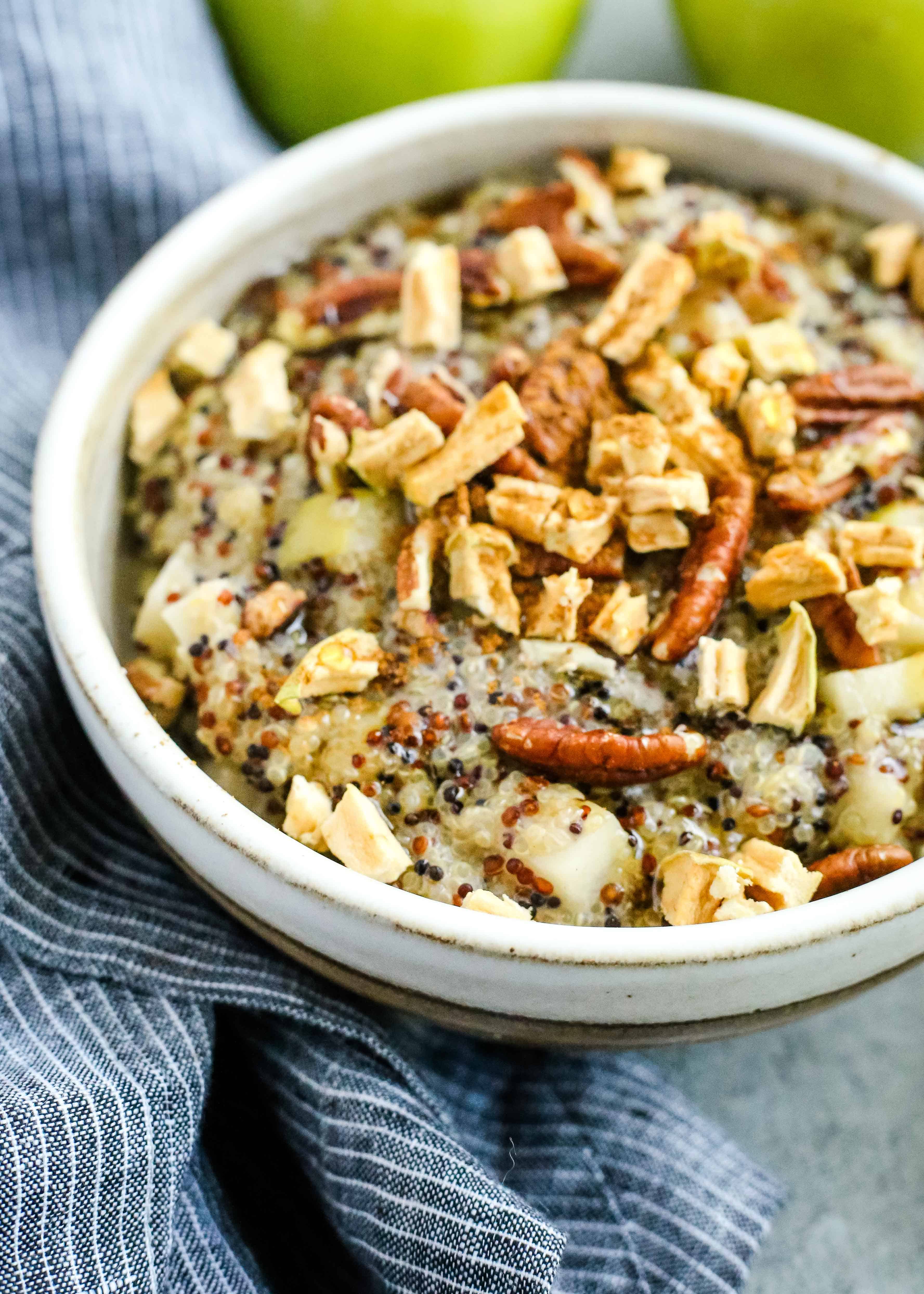 Here's the recipe for my Cinnamon Apple Breakfast Quinoa
Cinnamon Apple Breakfast Quinoa
Change up your hot breakfast routine with this simple and filling recipe! Quinoa goes sweet with this flavor combo of cinnamon and Arctic® Apple Grannies and ApBitz™.
Instructions
Core the apple and chop into bite sized pieces. Set aside.

Bring the coconut milk to a simmer in a small saucepan. Add the uncooked quinoa and simmer, uncovered, for about 8 minutes or until the quinoa begins to absorb some of the liquid. Add the chopped apples, cinnamon, apple pie spice, and salt. Stir to combine, then continue simmering another 3 to 4 minutes to allow quinoa to finish cooking. (If using an unpeeled apple, the vibrant green will start to fade).

Remove from heat and stir in half of the honey. Allow to cool (quinoa mixture will continue to thicken).

Meanwhile, chop the ApBitz™ and pecans into small pieces. To serve, divide the quinoa mixture evenly then top with the ApBitz™ pieces, pecans, and remaining honey. Serve immediately.
Notes
Leftovers may be stored up to four days. To reheat, place in a microwave-safe container and heat in 15-20 second increments to your desired temperature, stirring occasionally for even heating.
Nutrition
Serving:
1
serving
,
Calories:
474
kcal
,
Carbohydrates:
56
g
,
Protein:
8
g
,
Fat:
25
g
,
Saturated Fat:
11
g
,
Sodium:
163
mg
,
Potassium:
389
mg
,
Fiber:
6
g
,
Sugar:
20
g
,
Vitamin C:
1
mg
,
Calcium:
38
mg
,
Iron:
3
mg
Don't forget to check your local grocery store for ApBitz™ dried apples! They're gradually rolling out across the US, so if you don't see them yet you can always ask your store's manager to start stocking them. In the meantime, they're also available online through Amazon in both the 1 oz. and 3 oz. sizes in both varieties. (affiliate link)
So give this recipe a try or pin it for later! Have you tried any fun recipes with cinnamon apples lately?