Welcome to the Intuitive Eating FAQ Series. This is where I answer some of the most frequently asked questions about Intuitive Eating and a non-diet approach. Read more to learn how to tell the difference between diets and dieting behaviors!
---
QUESTION: What's the difference between diets and dieting? Sometimes I see them used interchangeably but as I work on my relationship with food, it gets confusing. Are they one and the same?
ANSWER: This question is pointing to the spectrum of various dieting behaviors and the wide range of ways they can show up. As with nearly everything, there is no clear-cut, black & white distinction between Diets with a capital "D" and dieting, which might allow for some flexibility.
Let's start by talking about where dieting behaviors fall on the spectrum of disordered eating and eating disorders (EDs).
I tend to think of it like this:
For any given person, this spectrum will look different, but the various behaviors that show up may be clustered somewhere between a diagnosed eating disorder (as determined by DSM-5 criteria and a professional screening and assessment) and dieting.
Street Smart Nutrition Tip: Even though registered dietitians can work to treat eating disorders and support people in eating disorder recovery, they cannot diagnose them. A diagnosis is made by a physician or mental health professional. Be wary of anyone else who tries to declare a diagnosis. They are likely unqualified and may cause more harm than good with attempts to treat or manage symptoms!
The key distinction here is that you don't need to have a formal diagnosis of an eating disorder to experience distress as a result of dieting behaviors. In fact, because of the weight bias and stigma that's inherent in eating disorder treatment, many people in various body sizes who don't fit the harmful stereotype of what EDs "look like" will go undiagnosed for years, if they're ever diagnosed at all.
Diets and Dieting Behaviors
You might be engaging in dieting behaviors even if you're not formally "on a diet". That's because they're usually encouraged and normalized, with little regard to how harmful they might be in the long run. It can become harder and harder to tell what "normal eating" is.
This can make it really tricky to distinguish between something that's disordered (like what is illustrated in the graphic above) and what is dieting for the goal of weight loss or suppressing body weight. Dieting behaviors show up in how we relate to and use food and movement (exercise). They can be remnants of past diets/weight loss attempts or holdovers from an eating disorder that persist during recovery.
Here are just a few of the many ways dieting behaviors might be showing up: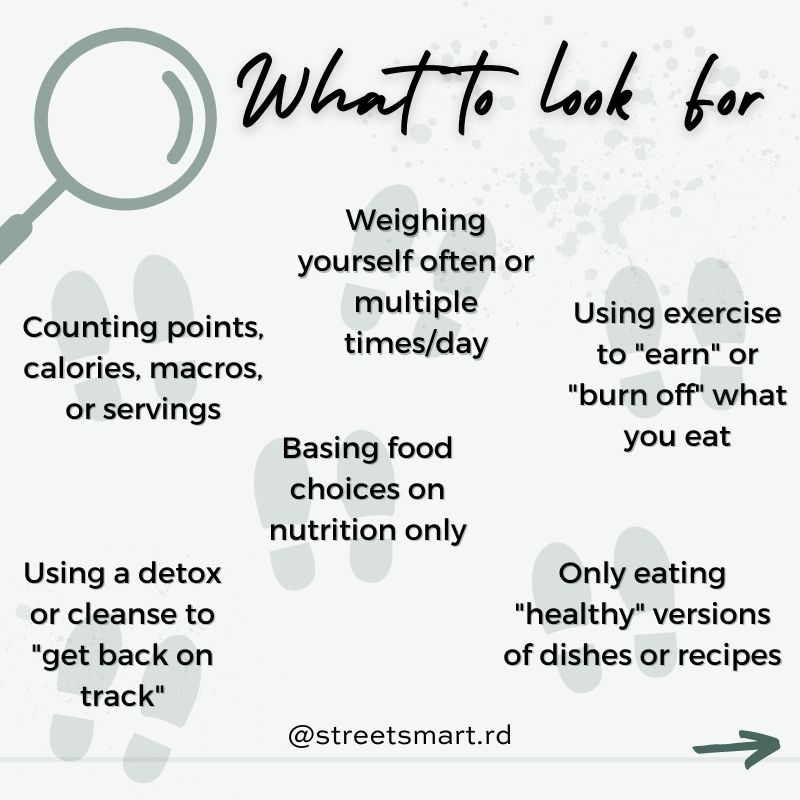 If you want to think of it another way, here are some more distinctions I use to separate Diets from "dieting".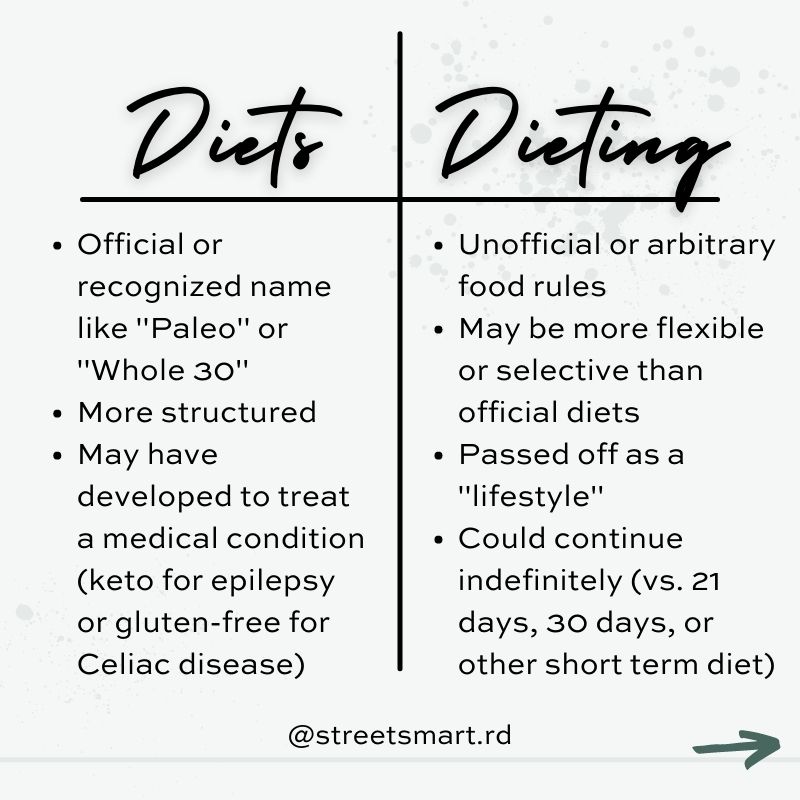 Diets tend to be more formal in nature and come with a set of rules that govern how, what, and when you eat or exercise. Dieting, on the other hand, might be more a la carte, with some of those rules loosening and relaxing, while maintaining or doubling down on others.
There is a great deal of overlap between Diets and "dieting" despite the differences mentioned already. Both can:
Promote restrictive behaviors and thoughts
Lead to guilt or shame about eating
Become intertwined with your identity
Increase anxiety and stress around food, eating, or movement,
Use labels to denote how "good" or "healthy" something is, as opposed to "bad" or "unhealthy" (binary or black & white thinking)
Promote an "all-or-nothing" approach for achieving and maintaining health
Be commonly accepted and celebrated in our fatphobic society
Another common feature of both Diets and "dieting" is that they may increase your risk of developing an eating disorder or disordered eating behaviors. Many people who have dieted in the past display signs of orthorexia.
Orthorexia is an unhealthy obsession with healthy eating. Although it isn't a formal eating disorder diagnosis and does not appear in the DSM-5 diagnostic critera for EDs, it is very common. Estimates for the prevalence of orthorexia range from 6.9% to 75.2% [1] depending on various evaluation tools and population demographics. 
The bottom line: both Diets and "dieting" can wreak havoc on your relationship with food.
So are diets and dieting the same thing?
Yes. And no. It just depends. Think back to the visual about distress as a result of dieting behaviors or EDs. It can look very different from person to person.
For example, someone who does high-intensity exercise most days of the week might not feel distressed if they skip a day or take a break. They may be doing it as a means of enjoying time outdoors or releasing stress. For someone else, they might feel a high level of distress trying to fit the same amount and type of activity into their day. If they push it at the expense of their mental/emotional well-being or physical capabilities, that's a big red flag for some lingering disorder around movement.
In the same vein, someone might follow a vegan or plant-based diet for ethical reasons and/or personal taste preferences. They might feel little to no distress in maintaining that eating pattern indefinitely. Someone else might make the switch to veganism in an effort to lose weight. If they struggle with intense cravings for some of their favorite foods or feel incredibly guilty for desiring animal proteins, that could be another big red flag.
Or, consider reading nutrition facts labels and ingredient lists. Someone with a food allergy might scan labels to make sure a food is safe to eat. Someone rooted in dieting or restriction might do the same thing, but it's to make sure they don't go over the recommended serving size.
It's normal to question whether your behaviors around eating and movement are rooted in diets or dieting. Here are some questions you can ask yourself:
What are some of the subtle or obvious ways that dieting lingers around in your life?
Are you ready to let go of any of these things to become a more intuitive eater?
Do you feel the need to label your lifestyle according to a particular diet? If so, why is that?
Remember, there is no right or wrong way to answer these questions. It's simply a chance to get curious! Depending on your answers, you might reveal another layer for your recovery from an eating disorder, orthorexia, or dieting.
References:
Niedzielski, A., & Kaźmierczak-Wojtaś, N. (2021). Prevalence of Orthorexia Nervosa and Its Diagnostic Tools-A Literature Review. International journal of environmental research and public health, 18(10), 5488. https://doi.org/10.3390/ijerph18105488